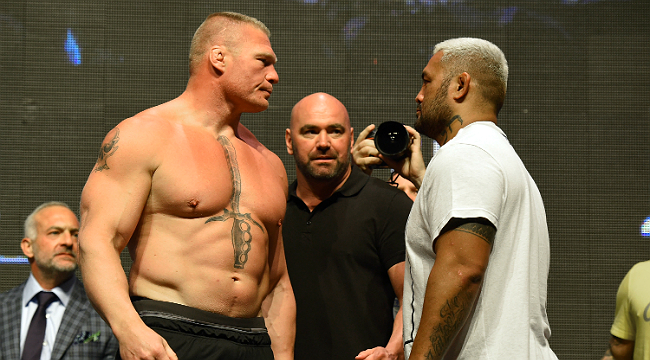 Brock Lesnar's love of living amongst nature in the cold north of Saskatchewan, Canada has seemingly shielded him from Mark Hunt's lawsuit seeking damages from both Lesnar and the UFC, stemming from his loss against the former UFC heavyweight champion at UFC 200. According to MMA Payout, who took a dive into the Hunt's response to the UFC's motion to dismiss Hunt's lawsuit, Lesnar has yet to be served any paperwork.
That very well could change if he gets his summons when he's back in the states. Say, for Wrestlemania? That's what MMA Payout's resident lawyer thinks about the situation, at the very least.
With that said, Lesnar has wrestled in the states at least a half-dozen times in the last few months since Hunt brought about his lawsuit. If Hunt's team was going to try to serve Lesnar, you would think they would've found him by now.
And regarding his suit, we now know more about the details of said suit. Hunt's lawyers have countered the UFC's motion to dismiss by doubling down on the premise that Hunt lost money and his brand was hurt due to his loss to Lesnar. Hunt is beloved by fans all over the world, and losses somehow seem to make that love grow stronger. But, if Hunt had beaten Lesnar, he would've been back "in the mix" for a title shot, and thus a big payday.
So, Lesnar's doping violation, in essence, gave him the advantage to beat Hunt, which cost Hunt not only some brain cells but brand sales and title shot/PPV money.
(Via MMA Payout)