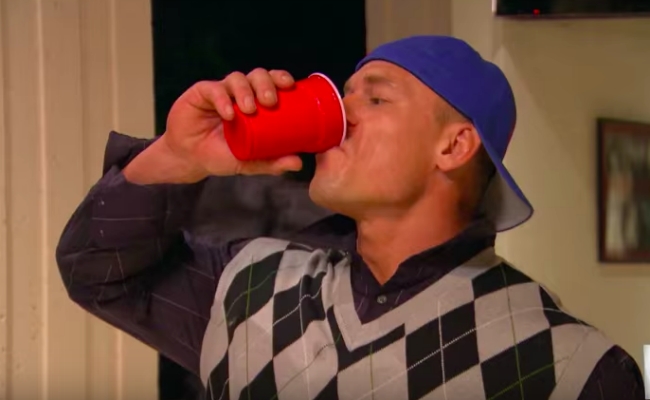 I don't know if you guys have heard, but WrestleMania 34 is coming up this Sunday. Over the course of the seven-hour show we're sure to get memorable entrances, great matches, and maybe even a crazy feat of strength. While you watch Ronda Rousey debut, Daniel Bryan return to in-ring competition, and hopefully nothing involving Hulk Hogan, will you be family-friendly and sober, or use the Grandest Stage Of Them All as an opportunity to get absolutely sh*tfaced?
If you're choosing the latter and want to get creative about it, the internet has some drinking games to help you out!
406 Northlane has an annual WrestleMania drinking game with rules that carry over from year to year, and new rules specific to each WM. The regular rules include three drinks for a wrestler bleeding, one for a small package attempt, and four for a finisher reversal. The only WrestleMania 34-specific rule they have so far is drinking "every time Michael Cole refers to Roman Reigns as 'The Big Dog,'" but they'll be updating the game as Sunday approaches.
Sportskeeda has an easy-to-follow drinking game for WrestleMania as well. The rules include a drink for every Shinsuke Nakamura taunt, one for every running powerslam, and downing an dirty drink if the Undertaker loses.
I'm very concerned, however, by their first rule: "Take a drink every time you can clearly hear the word 'Yes' being chanted by the audience." Depending on the length of Daniel Bryan and Shane McMahon vs. Sami Zayn and Kevin Owens and it's place on the card, this could leave you waiting to be medically cleared. Unless you have a Brie Bella in your life, you might want to modify this one.
This is nowhere near as dangerous, however, as the drinking game created by reddit user Coldcoffees.:
That's only a section of the rules (there are different ones in for every match; you can see the whole thing by clicking the link) and you can see how this could add up. Drinking for every half-minute of Undertaker's entrance, every time someone rolls or flips in the cruiserweight match, every time Michael Cole mentions Bourbon Street, every tag in a tag match, and every mention of The Grandest Stage Of Them All could get precarious, but the match that could really put you over the edge is Lesnar vs. Reigns, for which the rules are to drink for:
Lesnar using a suplex
Reigns using a Superman Punch
Every Reigns "ooah!"
Every Lesnar scream or use of the word "bitch"
Finish your drink if Lesnar wins after an F5
Absolutely brutal.
Do you and your friends have a creative WrestleMania drinking game? Are you planning on attempting one of these while participating in our lived discussion thread and need to get a fellow commenter to be your emergency contact? Let us know!