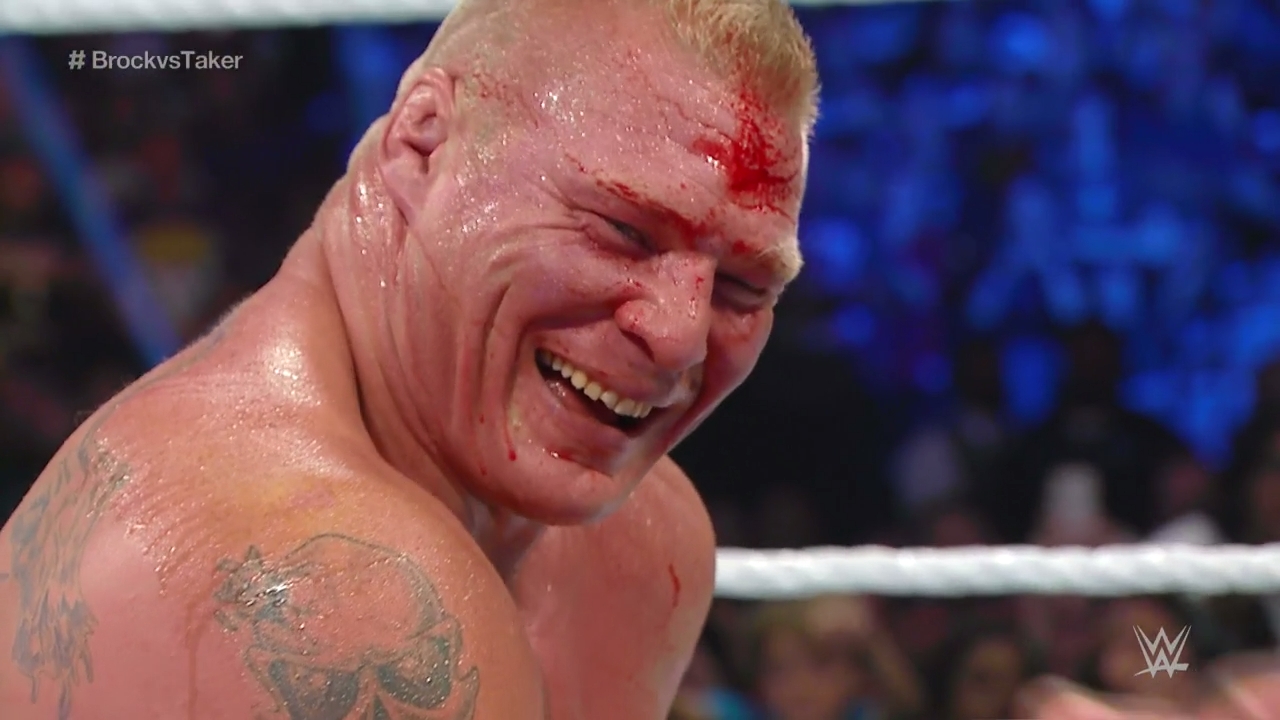 For the past few months, it seemed inevitable that Roman Reigns was the one man to take the rarely-defended WWE Universal Championship away from Brock Lesnar at WrestleMania 34. That is, until it didn't happen and Lesnar held onto the title, continuing his streak of championship excellence. When he happens to be booked.
The third chapter of this "rivalry" between Lesnar and Reigns has already been added to the Greatest Royal Rumble card later in the month. This time it's personal, because it's in a [insert dramatic pause here] steel cage.
According to Dave Meltzer in the latest Wrestling Observer Newsletter, the initial plan for WrestleMania 34 — as we had heard for over a year — was for Reigns to win the title, a coronation after a years-long buildup for a new title run for Reigns. WWE officials instead decided to change the storyline in the 23rd hour, even brokering a new deal to Lesnar after the penultimate Raw before WrestleMania 34 on April 2nd.

To maintain that the finish of the main event would be as shocking as possible, Meltzer reports that only a handful of people knew about Lesnar retaining, up to and including the referee, who didn't know the actual finish and was told in the ring by Lesnar, "Just make sure you count three when the shoulders are down," and Michael Hayes, who was the producer on the match. Hayes helped Lesnar and Reigns lay out the match, and he, like everyone else in the production truck and backstage, assumed the finish was what was written on the script: Reigns pinning Lesnar after a fifth spear to win the title. Reigns himself was also told of the finish on the day of WrestleMania.
Meltzer reports that after the match, Lesnar did go backstage and yell at Vince McMahon, and then threw the title and immediately left the building. This is believed to be just Lesnar and Paul Heyman deciding to work everyone and continue the air of something going awry. Vince and Shane McMahon were apparently unaware this was going to happen.
Regarding the change being made to have Lesnar retain, Meltzer reports that Vince changed his mind about the finish a week ahead of the show, as he realized the fans would not be getting behind Reigns at the Superdome. He brokered what is understood to be a short-term deal with Lesnar in Atlanta at Raw the Monday prior to WrestleMania, and at that point only Lesnar, Heyman, and McMahon knew about the new WrestleMania finish.
It's not known how long Lesnar's new short-term deal is for, but it is at a higher rate, rather than an extension on his previous deal. It's possible that the deal is just for the Greatest Royal Rumble steel cage match in Saudi Arabia on April 27, where Reigns is expected to win the title in front of a more receptive crowd. Heyman will be around for as long as Lesnar is, and is still expected to be tied to the Beast Incarnate and will not be taking on any new clients if Lesnar departs.
Lesnar is, while under WWE contract, still approved for one UFC fight, although due to his USADA suspension, he will not be able to fight in UFC until after he has re-entered the drug testing pool for six months, which he has not yet done. The current belief is that, at some point, Lesnar will eventually sign another multi-year deal with WWE, even if that happens to be after he leaves for a while. He'll do a massively big money UFC fight from time to time, and continue to sign rich deals with light workloads for WWE. The system works!