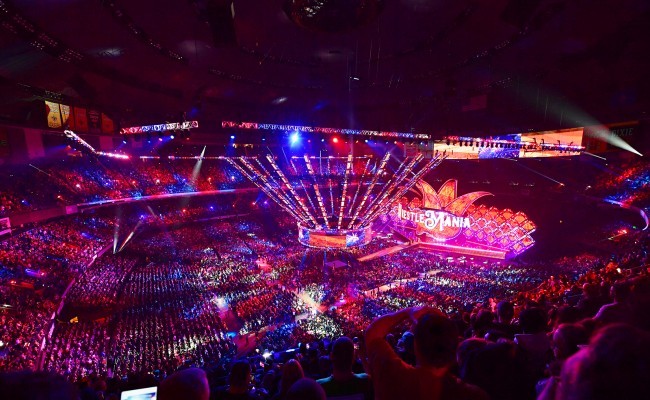 Whenever WrestleMania is in town, not only are the host city officials happy about the revenue it brings in, but it'll likely set some records along the way. WrestleMania 34 will continue an impressive trend, as WWE managed to break their own records for revenue and attendance this year.
The week-long event in New Orleans that started on Thursday with AXXESS, continued on Saturday with NXT Takeover, and will run all the way through Tuesday with Smackdown Live has already brought in $14.1 million in revenue thus far. This surpasses the $10.9 million record the company had already set in New Orleans four years prior during WrestleMania 30.
On top of the revenue breaking records, Mercedes Benz stadium saw their own attendance record broken as 78,133 fans packed the arena. This number surpasses WrestleMania 30, which packed in 75,167 fans. Both of these attendance numbers are in the top-ten of WrestleMania attendances of all time, with WrestleMania 34 coming in at 6th place (just 250 fans below WrestleMania 28) and WrestleMania 30 coming in 9th.

In a statement released to the media, both New Orleans city officials and WWE officials thanked the fans for coming out in massive numbers. WWE Officials also thanked the city of New Orleans for its tireless support of WrestleMania 34.
"New Orleans was extremely proud to make WrestleMania Week part of our Tricentennial celebration," said New Orleans Mayor Mitch Landrieu. "It was so exciting to host WWE fans from around the world who traveled to experience the grandeur of WrestleMania, and all that our beautiful city has to offer. Thank you to everyone who makes it possible to stage such an epic event.

"WrestleMania's return to New Orleans once again delivered record results," said WWE Executive Vice President of Special Events John Saboor. "This would not have been possible without the tireless support of Mayor Landrieu and our Local Organizing Committee partners throughout New Orleans. We now look forward to a historic WrestleMania 35 celebration next year in New York and New Jersey."
Next year, WrestleMania will return to MetLife Stadium in New Jersey. The previous Mania there, WrestleMania 29, is third on the all-time WrestleMania attendance list with an announced attendance of 80,676. Something tells me there will be a new No. 3 in 2019.