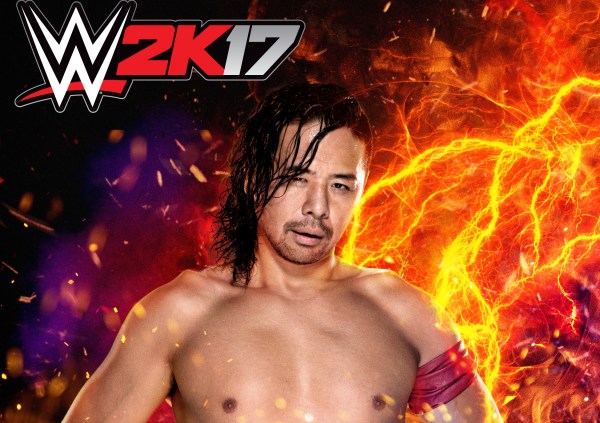 It has become an annual summer tradition to watch the slow and steady roll-out of news and roster announcements for the latest edition of WWE 2K. The latest big news to come from 2K Sports regarding WWE 2K17 is that the game will have an exclusive "Collector's Edition" focused on the NXT brand, featuring Shinsuke Nakamura and a whole lot more.
The NXT Edition was announced to press during a conference call with Nakamura and Paul "Triple H" Levesque. Levesque claimed the game will be "the biggest and the baddest" edition to date. He went on to discuss the Collector's Edition and spoke about how thrilled he is that NXT has grown into a legitimate global third brand. He said NXT is one of the most-watched programs on the WWE Network and referred to the brand as "the bedrock" of their over-the-top platform.
Levesque insisted that he wanted to make sure the NXT Edition of the game would offer something truly special for NXT fans. It will be available exclusively for the PlayStation 4 and Xbox one. The NXT Edition will be limited to 50,000 copies worldwide and will be available for pre-order beginning on Thursday, July 14. The collector's edition retails for $99.99 in the United States, but you'll be getting a whole lot of bang for your buck. Levesque listed all of the things you will get in this collector's edition bundle:
– A copy of the WWE 2K17 NXT Collector's Edition video game
– NXT enhancement package with playable characters like Nia Jax, Apollo Crews and Shinsuke Nakamura
– 50 percent boost for points earned while playing in NXT career mode
– Rob Schamberger lithograph autographed by Shinsuke Nakamura
– 8-inch exclusive "Demon" Finn Bálor figurine
– One of 14 trading cards with an authentic piece of ring canvas from the NXT TakeOver: London live event
– Access to the Goldberg pre-order content for WWE 2K17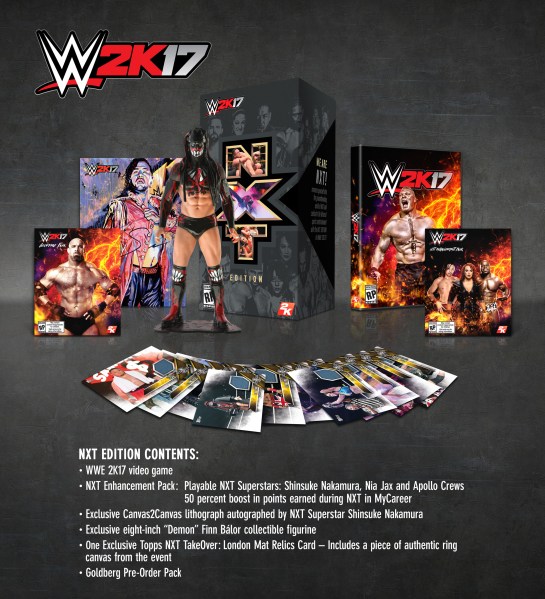 Levesque then introduced Nakamura, who he joked was still shaking his wrists due to carpal tunnel syndrome after signing 50,000 lithographs. "I still need to sign 10,000 more," Nakamura lamented. Shinsuke talked about how excited he was to finally be a part of the WWE video game, and that fans no longer have to edit a custom create-a-wrestler to play as him. He said this week, he is completing his promise to fans by becoming an official video game character.
The NXT content in the new game was described by Levesque as "the most in-depth NXT experience you can get," and anticipated that NXT content would only become more and more a part of WWE video games in years to come. During the Q&A session of the conference call, Triple H was unable to confirm whether all Four Horsewomen of NXT would be in the game, but he promised that announcement would be made at a later date.
And in a bit of internet rumors leaking into the conference call, Levesque was asked about how he felt that Bret Hart was upset about Triple H's video game ranking was higher than his. Levesque laughed and said he hadn't heard about that. He said he doesn't know how the rankings work and that the wrestling locker room is a competitive place.
This news follows the announcements of Goldberg as the pre-order exclusive character, Brock Lesnar gracing the cover of the standard edition and Sasha Banks' WWE video game debut. You can be sure there is a whooooole lot of WWE 2K17 news yet to come. WWE 2K17 will release worldwide on October 11.