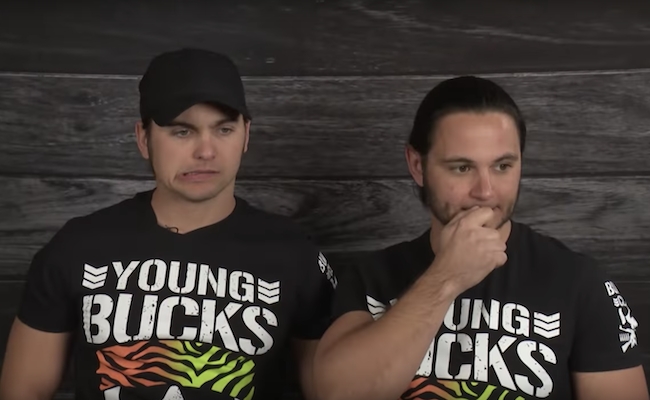 Nearly a year after WWE reportedly forced the Young Bucks to stop using the "Too Sweet" gesture, it appears Vince McMahon's behemoth may have flat out piggy-backed off one of the biggest independent shows in history.
Cody Rhodes and the Bucks have been building up ALL IN, their self-funded, 10,000-seat independent show for months. With the massive event just around the corner, WWE released an oddly coincidental promo for E! Network's next season of Total Divas. The Season 8 promo used the same phrase, in almost the exact same style mere months before the big show:
Thus far, Nick Jackson and Cody Rhodes haven't responded. But it didn't take long for Matt Jackson to react:

The Bella twins, in response, agreed with the sentiment.
If imitation is the sincerest form of flattery, then the Bucks and Rhodes should feel honored. The strange turn of events does, however, make for an awkward continuation of the relationship between WWE and Rhodes, who famously left WWE more than two years ago to go out and build his own brand. He's done just that, pairing with the Bucks to sell their merch at Hot Topic, have Funko collectibles created, and soo, will have one of the most successful independent shows ever.
Whether the Bucks can ever be convinced to finally make the jump to WWE remains to be seen. Neither Rhodes nor the Bucks really have any incentive to do, especially if the worldwide leader in sports entertainment continues taking their phrases for promotional use.