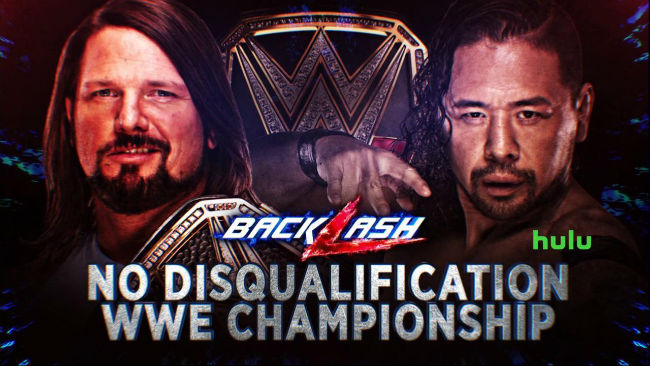 WWE Backlash 2018 — arguably the greatest Backlash — airs this Sunday, May 6, live on WWE Network. The co-branded pay-per-view (they're doing that now) features a no disqualification match for the WWE Championship, as well as Daniel Bryan's first singles match since his return and more. Here's the complete Backlash card as we know it.
WWE Backlash 2018 Card:
1. No Disqualification Match for the WWE Championship: AJ Styles (c) vs. Shinsuke Nakamura

2. Roman Reigns vs. Samoa Joe

3. Smackdown Women's Championship Match: Carmella (c) vs. Charlotte Flair

4. Raw Women's Championship Match: Nia Jax (c) vs. Alexa Bliss

5. United States Championship Match: Jeff Hardy (c) vs. Randy Orton

6. Intercontinental Championship Match: Seth Rollins (c) vs. The Miz

7. Braun Strowman and Bobby Lashley vs. Kevin Owens and Sami Zayn

8. Daniel Bryan vs. Big Cass
A kickoff match — probably Cedric Alexander vs. Buddy Murphy for the Cruiserweight Championship — will probably be added after we put together our predictions, because that happens. Below is a complete rundown of the show and what we think will happen, so check it out and let us know what we got right and what we got wrong in our comments section below.
Programming note: We've had a lot of unexpected turnover at UPROXX this week, so our normal staff picks are being handled by the wrestling fans over at UPROXX Sports proper. They're also kinda short because, come on, it's Backlash. Pardon our dust.
Daniel Bryan vs. Big Cass
What Should Happen: Cass gets kicked in the head so hard he's suddenly good at promos.
What Will Happen: Ostensibly we've only got three options here.
Daniel Bryan wins, because he's Daniel Bryan and Big Cass has the wrestling ability of a head of lettuce
Miz helps Cass win, revealing they've been in cahoots all along
Cass wins clean, because Bryan is an eternal underdog and Cass is a new monster they're trying to push