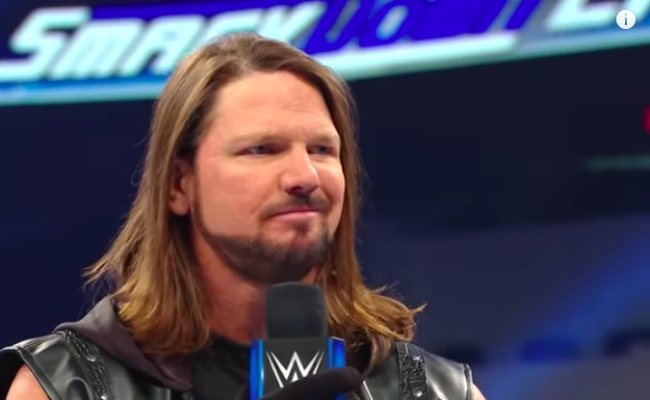 It's been an exciting month or so for wrestling fans who like to keep up with contracts and inter-promotional maneuvering. AEW is a new player with a billionaire's backing in the North American wrestling scene, ROH replenished their roster with popular performers from the indies and Mexico, and in sports entertainment land, Dean Ambrose and Hideo Itami KENTA gave notice to WWE, with Ambrose's impending departure even acknowledged by the company.

According to Mike Johnson of PW Insider, this led to WWE officials "meeting with talents whose deals are set to expire in the next year or two, seeking to lock them into new deals" backstage at this week's Smackdown. There's no word so far on exactly who these wrestlers are, but, as listed in Fightful's handy list of confirmed contract expiration dates, they could include AJ Styles, Shinsuke Nakamura, Paige, Karl Anderson, and Luke Gallows, whose contracts are up in 2019. (Other WWE talent whose contracts expire this year include Maura Ranallo and Jim Ross, and Brock Lesnar's contract negotiations are ongoing.)
None of these wrestlers have given strong hints that they're interested in leaving WWE. Styles reportedly wants a reduced WWE schedule to spend more time with his family. Paige has been off TV but has been promoting her biopic with the Rock. Gallows and Anderson seem to be bringing back their pre-WWE podcast, but haven't expressed dissatisfaction with their position in the company. Nakamura tends to be more cryptic on social media and elsewhere, with the closest things someone could point to as evidence he might be leaving his end-of-the year message and tweet of "WCW" after the Smackdown on which he lost the United States Championship to R-Truth.

Rumors and reports will be sure to continue over the next few months, and it'll be interesting to see where everyone lands.