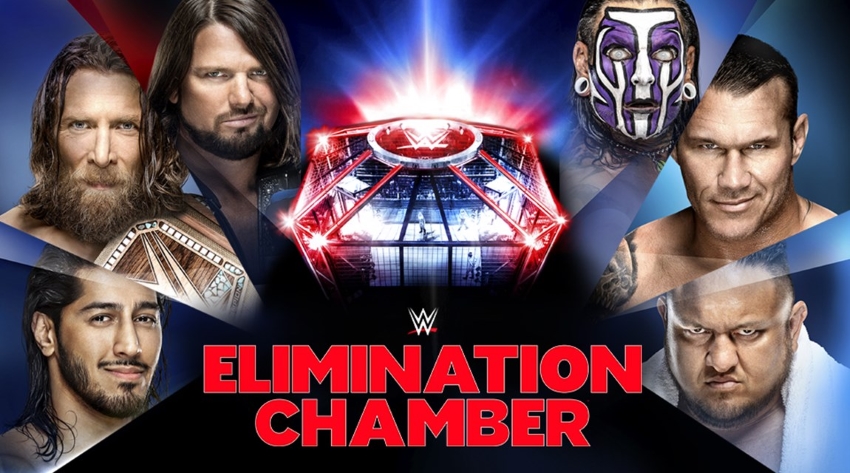 WWE Elimination Chamber (which still sounds like the name of a branded toilet) airs this Sunday, February 17, live on WWE Network. The show features an Elimination Chamber match for the WWE Championship, a second Chamber match to crown Women's Tag Team Champions, and more. Make sure you're here on Sunday for our complete coverage, including an open discussion thread, news, results, jokes … you know the drill. Here's the complete card as we know it.
WWE Elimination Chamber Card:
1. WWE Championship Elimination Chamber Match: Daniel Bryan (c) vs. Kofi Kingston vs. Randy Orton vs. Samoa Joe vs. AJ Styles vs. Jeff Hardy

2. WWE Women's Tag Team Championship Elimination Chamber Match: Boss n' Hug Connection vs. Nia Jax and Tamina vs. The Riott Squad vs. The IIconics vs. Fire and Desire vs. Naomi and Carmella

3. Smackdown Tag Team Championship Match: Shane McMahon and The Miz (c) vs. The Usos

4. Raw Women's Championship Match: Ronda Rousey (c) vs. Ruby Riott

5. Handicap Match for the Intercontinental Championship: Bobby Lashley (c) and Lio Rush vs. Finn Bálor

6. No Disqualification Match: Braun Strowman vs. Baron Corbin

7. Cruiserweight Championship Match: Buddy Murphy (c) vs. Akira Tozawa
As always, we've got your complete rundown of the card and analysis below, featuring predictions for all seven matches. Make sure to drop a comment and let us know who you think's winning, and be here on Sunday to see if you're correct.
Here's what we think will go down at Elimination Chamber 2019.
Cruiserweight Championship Match: Buddy Murphy (c) vs. Akira Tozawa
What Should Happen: While I love Akira Tozawa more than I love most people or things, he definitely seems like a replacement opponent for Hideo Itami, and unless I'm horribly mistaken, Murphy should win. You're probably tired of reading, "my biggest complaint is that this isn't on the actual show," so I'll phrase it oddly to sneak it in. Isn't it weird that they put cruiserweight matches on the pre-show because people don't know who they are, even though more people would know who they were if they put cruiserweight matches on the show?
What Will Happen: Buddy will continue hot-dogging it and win with Murphy Slaw.
Staff Picks
Raj Prashad – Going with Buddy Murphy as there's no reason to believe he'll slow anytime soon.
Elle Collins – The honest truth is that I'm behind on 205 Live, and that makes this hard to predict because I don't know how much effort they've put into building up Tozawa. I'm picking him, though. In the absence of data, I'm going with the guy I like the most.
Emily Pratt – Every title match Murphy's had I think I've predicted he's losing, not that I even really want him to lose… and I'm going to guess that again here! Tozawa's one of the most lovable guys on 205 Live and I would love to see him as Cruiserweight Champion again. Whoever wins, this match should rule.
Bill Hanstock – Well, there isn't a lot of suspense in this one. If Hideo Itami had stuck around, maybe he would have won during that banger four-way at the Rumble, but Tozawa is a nice stopgap opponent before we start building to Murphy vs. Humberto Carillo or whatever at WrestleMania. I anticipate this match will be fantastic, but Murphy retains. Always glad to see former Cruiserweight Champion Akira Tozawa get some time to shine, though!
No Disqualification Match: Braun Strowman vs. Baron Corbin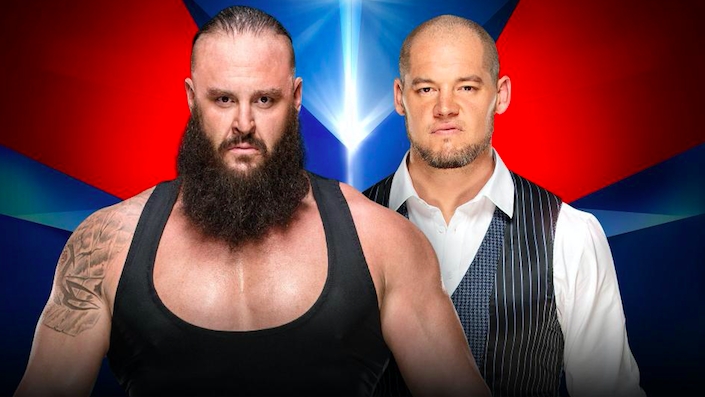 What Should Happen: We all get up and go to the restroom, and when we get back, the match is over.
What Will Happen: I'm not sure why we're still sticking with evil manipulative waiter Baron Corbin over a month after he was "fired" as GM, but here we are. I'm assuming this is a rehab start for Strowman, and the no disqualification rule allows him to just kinda wander around and throw Corbin into stuff without having to do much or bump a lot. Really hoping this ends with Strowman throwing Corbin into a cement mixer or something so Corbin can stay off TV until like, SummerSlam, where they bring him back as the werewolf biker guy we'd grown to kind of like.
Staff Picks
Raj Prashad – Audible groan, another Strowman-Corbin match. Going with Strowman to end this rivalry at least for the next two weeks or so until they go to battle all over again.
Elle Collins – Braun wins, and we all get to remember those four months or so when he was the hottest thing in WWE.You can tell how far he's fallen by how little I have to say about this match.
Emily Pratt – Is there a way I can disqualify myself from watching this? I literally could not care less. It seems like Strowman should win.
Bill Hanstock – Drew McIntyre isn't doing anything on this show so far, right? Big Mac will try to intervene on Corbin's behalf and fail, Corbin will lose, McIntyre and Corbin will attack Braun after the match, Angle will make the save, and we'll set up the tag match at Fastlane and the singles or retirement matches at Mania. Or who even cares anymore? Not me! Next.
Handicap Match for the Intercontinental Championship: Bobby Lashley (c) and Lio Rush vs. Finn Bálor
What Should Happen: The Raw parts really bring this card down, don't they? I'm not sure what the thought process is in having Baron Corbin removed from a general manager position and still having his friend get 2-on-1 Intercontinental Championship defenses, but again, here we are. It seems like a match like this should only happen if the babyface is going to overcome the odds, doesn't it? Maybe Finn pins Lio to win the match, Lashley gets mad that he lost the championship without actually getting pinned, and that sets up something for Fastlane. Or WrestleMania, either/or.
What Will Happen: In my brain, the finish is Finn hitting Coup de Grace on Lio Rush and covering him only for Lashley to deadlift all 115 pounds of Finn Bálor and Dominator him. But again, why do a match like this if you aren't gonna have Finn overcome the odds? Maybe this is the "don't go to AEW, please," match of the night.
Staff Picks
Raj Prashad – Well, if Bálor was going to win this one, he'd probably pin Lio Rush. Naturally it'll be Rush pinning Bálor to keep the belt on Lashley, Lashley, Lashley. Going with Lashley and Rush here.
Elle Collins – For the love of God, let Finn win. It's time for this underdog story to pay off, and there's no reason to let Lashley go into Mania (or even Fastlane) as the IC Champ. I want it to be Finn, and I'm predicting Fin, because I honestly can't figure out the point of this otherwise.
Emily Pratt – All I want from Bobby Lashley in WWE at this point is a match with Brock Lesnar, and it would be very nice to get a confirmation that Finn's going to do something meaningful at WrestleMania this year. So I'm rooting for Finn and I think he has a good chance of winning, but who knows what's going on with either of these guys.
Bill Hanstock – No one knows why this is a handicap match, but I imagine Bálor will Overcome The Odds™ and win his first(?!) Intercontinental Championship, sending us caterwauling into the Zack Ryder/Luke Harper Memorial IC Clusterf*ck at WrestleMania 35. I'm excited about it!
Raw Women's Championship Match: Ronda Rousey (c) vs. Ruby Riott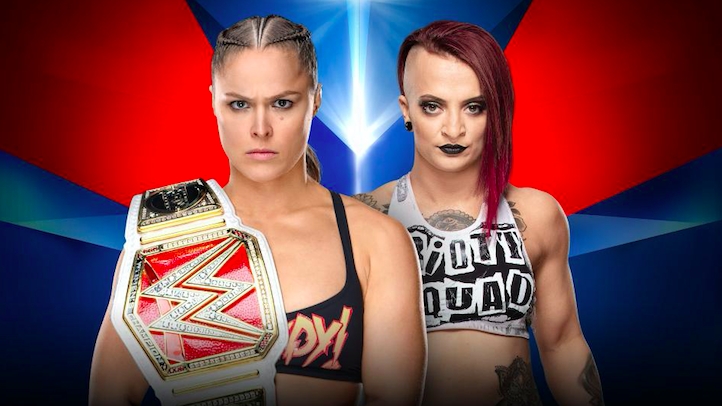 What Should Happen: You'll read from … pretty much everyone how obvious a pick this is, so I'll just say the What Should Happen is "a good to great match," and count on it. Ronda's an overachiever in the ring, Ruby Riott's the exact right person to hand an in-ring overachiever to, and maybe even with the women's tag Chamber match we can get through this without Liv Morgan and Sarah Logan interference becoming the focus.
What Will Happen: Eddie Guerrero has a better chance of coming back to life and winning the WWE Championship in the Elimination Chamber than Ruby Riott does of beating Ronda Rousey right before a WrestleMania main event.
Staff Picks
Raj Prashad – This is probably the easiest match on the card to pick as Rousey moves on to focus on Charlotte (and Becky Lynch).
Elle Collins – Obviously this is Ruby's time to win the belt. She's one of the best workers in the division, and she's done every ridiculous thing WWE has asked for her to since arriving. She's been wrestling for nine years, while Ronda's been wrestling for one, so she has the clear advantage. Plus, she's the one who has friends. Assuming this either happens before the women's Chamber match or Liv and Sarah don't get too demolished in it, they can give Ruby a sneaky hand and help her beat the rookie. Ruby will be a really fun champion, and her match with Becky and Charlotte in the main event of WrestleMania will be awesome.
If you're inclined to tell me that I'm stupid for predicting this, ask yourself if it would have been more fun to read me lamenting another inevitable Rousey win.
Emily Pratt – Ronda Rousey is obviously winning this, but this match should deliver. All the Rousey title defenses have delivered at least on some level so far, and I'm sure Riott will bring it, especially since this is her first big PPV match in a while. I guess there's the possibility of Charlotte and Becky getting involved, but I really hope they don't in a way that screws with the match. (They really might in a way that screws with the match.)
Bill Hanstock – Ruby has been crushing it in all facets, including on social media, and nothing would be more hilariously terrific than for her to win the women's title and send everyone into full-blown panic mode for a month about WrestleMania main events before Ronda regains it at Fastlane. That's what I'm hoping for, but what will actually happen is Ruby will try to outdo what Sasha Banks did last month and lose a close match in another of Rousey's shockingly good matches.
Smackdown Tag Team Championship Match: Shane McMahon and The Miz (c) vs. The Usos
What Should Happen: This should be fun, hopefully nothing crazy happens in the news this week to call the match into question!
What Will Happen: It's a tough call, but given what we know about the incident with police and how something almost happened instead of very much happening, I think the Usos win here. I know WWE's big on keeping certain teams and stars happy with WrestleMania and AEW's Existence coming up, and frankly we don't need a lengthy Shane McMahon Tag Team Championship run ever. Give it to Uce and Uce, hopefully we've learned all the most damning details of what happened already, and we can move into Mania season proper with some good-ass Smackdown tag team matches.
Staff Picks
Raj Prashad – Shane and Miz roll with the win again, maybe setting up a heel turn at WrestleMania?
Elle Collins – It's absurd to imagine that the Miz and Shane could beat the Usos. But Miz and Shane have an ongoing storyline that hasn't climaxed yet, so alas I expect them to beat the Usos, as little sense as that makes.
Emily Pratt – I will be so legitimately upset if the Usos lose. In no universe should they lose to freaking The Miz and Shane McMahon, emphasis on Shane McMahon! However, I believe that in this universe the Usos will lose to the Miz and Shane McMahon.
Bill Hanstock – Miz finally turns on Shane, setting up the Shane McMahon WrestleMania Match, and the Usos begin their road to WrestleMania as champs. Again!
WWE Women's Tag Team Championship Elimination Chamber Match: Boss n' Hug Connection vs. Nia Jax and Tamina vs. The Riott Squad vs. The IIconics vs. Fire and Desire vs. Naomi and Carmella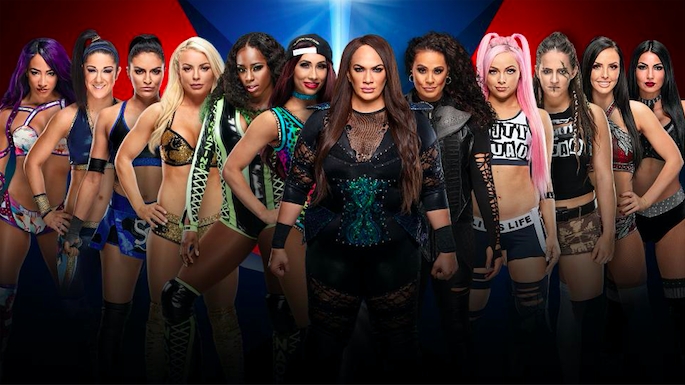 What Should Happen: Bayley and Sasha Banks are the obvious choice for winners here, but there's maybe more money in having them chase the champs for a couple of months and getting the marquee WrestleMania match they've deserved in one form or another for years. So which team should win? Oh, I don't know.
What Will Happen: What I said above, but with Nia Jax and Tamina. With the way they've been pushing and presenting Nia Jax since she got briefly famous for breaking the face of a much better wrestler, it feels like maybe they'll want to keep using her heat to elevate a WrestleMania tag match. Tamina making a WrestleMania card in a championship match in 2019 is some buck wild shit.
Staff Picks
Raj Prashad – WWE is certainly ready to tout Boss N Hug Connection as the first-ever women's tag team champs. I have a weird feeling Nia Jax is going to steal the belts, but my official pick is Sasha and Bayley.
Elle Collins – I personally would like it if the IIconics won and then Bayley and Sasha get to take the titles at WrestleMania. The things is, I know WWE, and I feel like if a heel team wins it'll be Nia and Tamina. However, since they won the triple threat on Raw this week and WWE has put so much effort into making Sasha and Bayley look like underdogs, I think Boss 'n Hug actually are leaving the Chamber with those belts.
Emily Pratt – Unless some of these women decide to start cage-climbing like the dudes in the only previous tag team EC match, I think this could be a huge mess. I feel like the natural winners are a heel team that Sasha Banks and Bayley can challenge at WrestleMania… but also, I kind of want Fire and Desire to win because they're getting better all the time, have a team dynamic I really like, and then Naomi can maybe finally put her Temptation Island feud to rest in a meaningful wrestling way.
Bill Hanstock – There's only one reasonable result: The IIconics (one of two actual tag teams in the match) outwit everyone else and leave as the inaugural champs, and we prepare for their amazing title match against the Bossannugg Connection at WrestleMania 35. Bayley and Sasha winning the tag team titles in Brooklyn-adjacent? Bet on it!
WWE Championship Elimination Chamber Match: Daniel Bryan (c) vs. Kofi Kingston vs. Randy Orton vs. Samoa Joe vs. AJ Styles vs. Jeff Hardy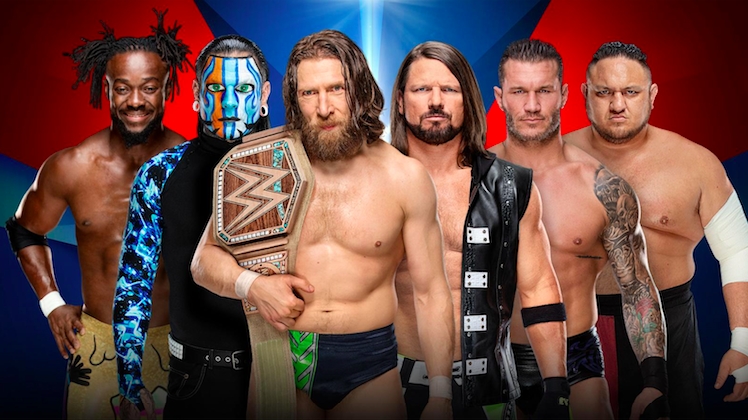 What Should Happen: I never want The Planet's Champion™ The New Daniel Bryan® to lose his WWE Championship — especially not the hemp and wood one, at least until they start selling replicas — but I'm all-in on a Kofi Kingston win. That guy deserves something special for the great work he's been putting in for years, and hell, if you really want to send Bryan into Mania as the champion you can have him drop it here and win it back at Fastlane. "Former WWE Champion" is just something Kofi should get to have on his résumé.
What Will Happen: Randy Orton wins, and John Cena returns to challenge him for WrestleMania. I'm only half kidding. Okay, 35% kidding. I'm about 10% sure this won't happen. This is definitely what's happening.
Staff Picks
Raj Prashad – Kofi Kingston breathed some life into his standing as a legit contender for the WWE crown Tuesday night, but unfortunately he's likely not suddenly running away with the title on the road to WrestleMania. Going with the Planet's Champion to keep with the Earth-friendly title.
Elle Collins – It would be pretty great if it was Kofi. Mustafa Ali would have been exciting too. But I can't deny the majesty of Daniel Bryan's heel work right now, and he just had his own belt made. I think he's keeping it.
Emily Pratt – After Tuesday, everybody in the world including me wants Kofi Kingston to win this, but my money's on Daniel Bryan. (I am betting on him in Bitcoin so as not to waste our planet's precious resources.) I'm pretty sure Kingston, booking-wise, was the Dolph Ziggler at Survivor Series 2014 to Mustafa Ali's Roman Reigns in that gauntlet match, and Bryan seems too hot (MUCH LIKE OUR PLANET) to take the belt off anyway. This match has a lot of potential though, and Orton as the last entrant seems like the exact best use for him in this type of match in 2019.
Bill Hanstock – I'm stupid enough to believe there's an actual possibility of Samoa Joe or Kofi Kingston winning the WWE Championship on Sunday, but I'm pretty confident our precious hero The New Daniel Bryan will somehow manage to Surprise Luke Harper his way into retaining his beautiful burlap title. Really, the only unacceptable options in this match are Styles or Orton winning.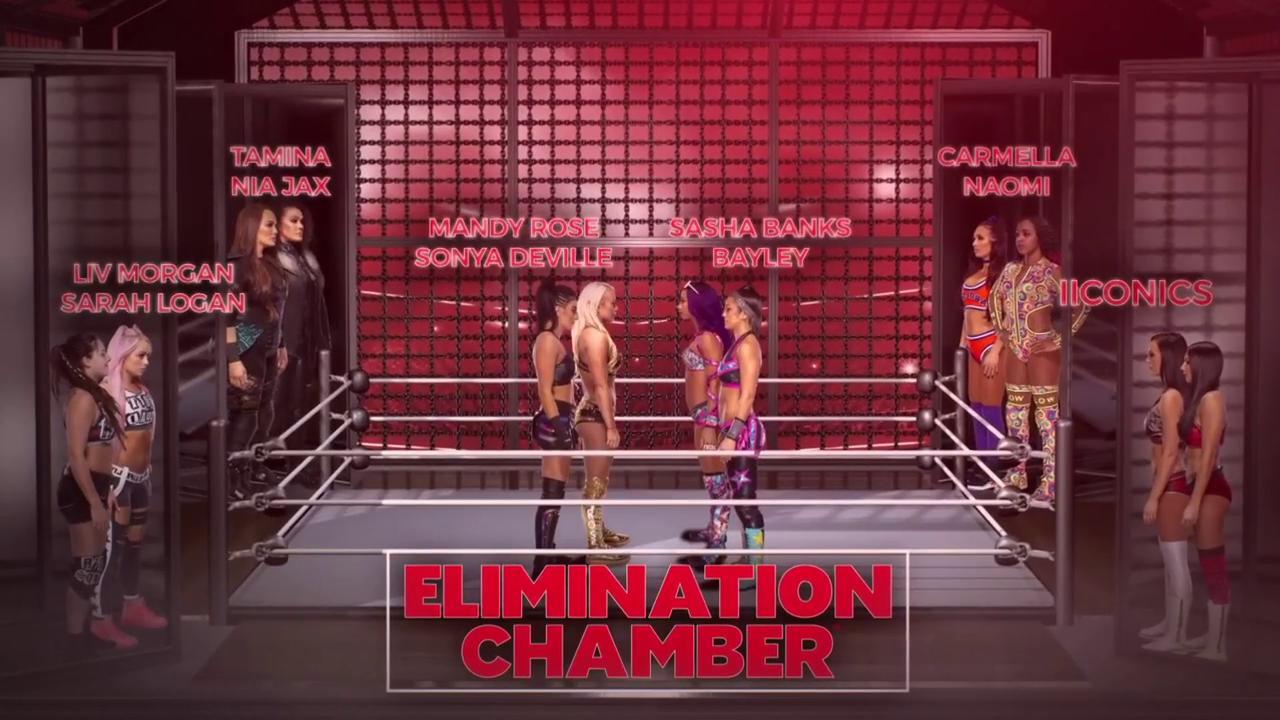 Those are our thoughts on Elimination Chamber 2019, the third-to-last stop not counting Raw or Smackdown on the Road to WrestleMania. Who do you think's winning what, and why? Let us know down in the comments section, and make sure you're here all weekend for our Elimination Chamber coverage!
Then be sure to join us again in May for the Greatest Elimination Chamber!