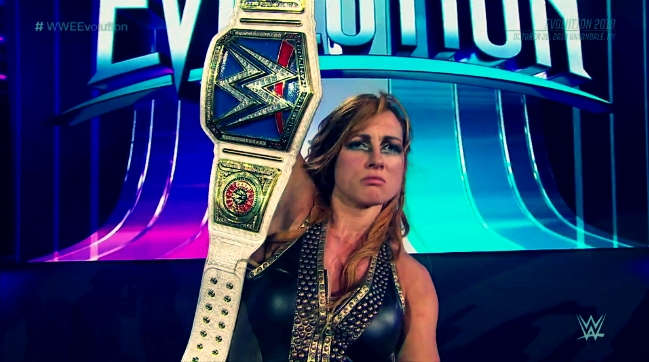 Previously on the Best and Worst of WWE Evolution: There wasn't one! We're making history®. Although a 2003 version where Sherri Martel comes out of retirement to beat the piss out of Carmella DeCesare would've been pretty awesome. Bull Nakano vs. Dawn Marie, sign it!
If you haven't watched Evolution yet, you can do that here. Remember that With Spandex is on Twitter, so follow it. Follow us on Twitter and like us on Facebook. You can also follow me on Twitter. BUY THE SHIRT.
One more thing: Hit those share buttons! Spread the word about the column on Facebook, Twitter and whatever else you use. Be sure to leave us a comment in our comment section below as well. Let's talk about wrestling a lot when it's good!
Here's the Best and Worst of WWE Evolution, originally aired on October 28, 2018.
Best: Holy Shit This Show Was A Banger
Before we get into a recap of the show, here are a few inalienable truths about the event and everything around it:
the build to the show was terrible. Matches were announced and removed due to spoiler timing and then WWE social spoiled them anyway — Rhea Ripley, I'm looking in your direction — major feuds were set up without a lot of explanation, and too much of the cycle was taken up by …
WWE attempted to promote three shows at the same time. They had Super Show-Down in Australia to advertise before Evolution and Crown Jewel in Saudi Arabia to promote AFTER it, so without any men on the Evolution card, most of Raw and Smackdown ended up working toward building the dude shows
WWE Crown Jewel has been a PR nightmare, which takes even MORE focus off Evolution, especially since …
there is a fairly widespread belief that WWE only did an "all-women's pay-per-view" because they chose to do two shows from Saudi Arabia this year, where women aren't allowed to compete or even be shown for fear of death threats and/or being called "indecent"
WWE originally announced "over 50 women" for the show, then when it got to be about two weeks before broadcast realized they'd only put together six singles matches. So two singles matches got turned into a tag, a six-woman tag without any real reason to be happening suddenly appeared, and everyone else got thrown into an extremely unpopular battle royal
Incidentally, the go-home Raw before Evolution opened with Roman Reigns announcing he's battling leukemia, taking even MORE focus and conversation off Evolution and leaving it pretty much on the level of a free house show aired on the Network
not to mention constant rumors of dangerously low ticket sales
In spite of all of that, every woman on the show and every person who bought a ticket to be there seemed to join together in a spirit of competitive fellowship and turned Evolution into what I would consider without a doubt the best main-roster WWE pay-per-view of the year. Easy.
It's not a thing I really want to wish on them, but WWE is always best creatively when backed into a corner. If everything's going great and sales are up and they've announced their highest grossing quarter ever or whatever, the shows are almost always uniformly terrible. Creatively terrible, at least, judging it on the evolving standard of like 100+ years of what people like about television and pro wrestling. When something bad happens, like a death or a PR disaster or someone getting sick at the last minute, WWE goes into this weird, awesome, creative auto-pilot where they stop micromanaging everything, let the talent do their jobs to the best of their abilities without a bunch of bullshit reasoning and conjecture and politicking getting in the way, and the shows get better.
If you want the easiest example ever, look at Raw BEFORE Nitro starting kicking their asses in the ratings and threatening to put them out of business, then look at it after. Then look at Raw again when WCW goes out of business. Everything slows to a mind-numbing crawl. It's an observable phenomenon, and while I don't want the only remaining big leagues wrestling company in the United States to constantly be in danger, I sure don't hate getting some good wrestling shows out of it. One day I hope WWE realizes they should stop scripting everything to death and let these people who have trained their entire lives to be good at the product and make crowds happy (or mad) have more input and do their thing.
ANYWAY! Now that we've gotten the "whew, that was a tough month, and it's going to be an even worse week" disclaimer out of the way, let's talk about Evolution.
Evolution is a mystery. Full of change that no one sees. Clock makes a fool of history. Yesterday's too long ago. Dont agree with what I know. Tomorrow becomes the place to be! It's all in the song!
The Only Two Things On The Entire Card Approaching 'Worst' For Me
Let's get these out of the way early.
Up first was definitely the weakest match on the card for me — Trish Stratus and Lita vs. Mickie James and now Alicia Fox, because Alexa Bliss (the entire reason for the match to be happening) is injured — but even it isn't bad, and for a boost of nostalgia was placed in exactly the right place on the card. If you want to celebrate the history of women's wrestling in WWE and know there's an entire couple of decades where it was just terrible, you put your two biggest names out there early in Trish and Lita, have them play the hits against someone who knows how to make them look good (Mickie), and boom, you've got a great opener.
It felt a lot like a house show match, which isn't a bad thing, especially not on a show with an "enhanced house show" look that may become the norm for a lot of these live specials. I really like the look, honestly. I think the crowd should be darker than it ever is on TV, and I think the intimate vibe (at least as intimate as you can be in an arena) made the show better. It felt like a passionate collective, and I think the crowd exhibited that throughout the night. This was a good ass crowd, and it made the entire event better. Even the stuff that dragged felt important to somebody.
Another truth about this match is that … well, Lita has never been very good. She was GREAT at flying high against men who could catch her and provide a reliable base, but when she tried that stuff against women her size or smaller, it usually resulted in violent injury. I mean, she almost broke her neck in the Royal Rumble. Plus, subbing in Alicia Fox for Alexa Bliss is a pretty substantial downgrade. As much as I love Fox as an absurd personality and think she's underrated as a wrestler, she's got a real Dana Brooke thing going on when it comes to remembering spots and hitting her cues. At one point the referee has to visibly stop counting three and look at her because she's supposed to be breaking up a pin. Even those criticisms are mild, though, as Lita kept things basic and only had a few noticeable miscues, and Fox was serviceable outside of that one big fuck-up.
I think Bliss vs. Stratus would've been better in every way, but it is what it is. Good (but not great) stuff to open the show and get everyone in the right mood. Effective, and there aren't many times when WWE pay-per-views open with something that lets you know the rest of the show's been meticulously and purposefully put-together. That's always felt like a TakeOver thing.
Oh, also, the "hearing aid" stuff with Trish is pretty hilarious. Helpful reminder that she's five years younger than R-Truth, the same age as Bobby Roode, and like eight years younger than the youngest person in that Crown Jewel tag match.
The other match that didn't completely work with me as the main event, Ronda Rousey vs. Nikki Bella, and I understand why. It wasn't a match for me. It was a match, as a lot of talented people including our own Emily Pratt have pointed out, to get eyes that aren't necessarily expected to tune into the wrestling show to watch the wrestling show. It's the biggest female name in combat sports taking on the star of an E! reality show. Really, all the stuff about Divas being powerful or sleeping with John Cena is just catty soundbite window dressing.
I wish they'd actually done a pro wrestling build for this and paid attention to who the wrestlers are and what they mean to hardcore fans, because an argument about whether sports or entertainment are more important to the life of "sports-entertainment" could've been really engaging and fun. But then again I was hoping this would involve 30 seconds of judo throws into an arm bar for the Goldbergian victory, so maybe I'm not the person to ask.
As a match, it's structured fine. Rousey's clearly Bella's physical superior, so they have Brie get involved and let Nikki shove Ronda into the post. Brie throws her into it a second time, and suddenly you have a reason why Bella can be in control. Bella controls, Rousey ends up shaking it off, fights off further interference and wins the match. You couldn't have put it together better. It's exactly the match it "needs to be" on paper to justify those casual eyes tuning in and expecting something to see.
My major criticism, I guess, is that Ronda Rousey really needs to stop selling her ass off for everyone she faces. I know there are times when she NEEDS to sell, especially when she's in there with someone like Nia Jax, but the Bliss/James or Bella/Worse Bella matches are asking her to like, pretend she's not as much of a bad ass as we know she is. I'd say keep the heat segments in there, but shorten them considerably. But hey, I guess UFC taught us that Ronda can't actually take any damage without completely falling apart, so maybe it's staying in character.
So yeah, those two things are the "worst" things on this show. We get to follow that up with a battle royal (my favorite), three four-star matches, and a six-woman tag that's way better than it had any right to be.
Best: Sasha And Bayley Should've Had Marquee Matches, But At Least They Got To Shine
Speaking on that six-woman tag, yeah, Bayley and Sasha Banks getting relegated to a meaningless mid-card match on the first-ever women's pay-per-view about how much better women's wrestling in WWE has gotten when they are more or less #1 and #2 on the list of people who made WWE audiences notice women's wrestling could get better was a travesty. The actual "women's revolution" started with that AJ Lee promo on Raw and was put into action by Paige and Emma in NXT, but it was the Bayley/Sasha feud that really blew it up and got people changing their minds and tuning in. Their efforts down in NXT really can't be overstated, and you can see it continuing to get better and better.
So putting them into a match with the Riott Squad and Natalya was initially a bummer. The good news is that they ended up getting about 13 minutes and had, again, a house-show-ass match in all the best possible ways. One of the stories you always read from women in the "Divas" era is that they felt demoralized because they'd go to live events and have these great 10 minute matches, then show up to TV and be told they've got 90 seconds to shake their butt and go home.
Whatever the reason for putting the match together, whether it was always planned like this or put together at the last minute to keep Sasha Banks from losing her smile — look at her face during that Ronda Rousey championship celebration — I'm glad it happened like this, because it showed Sasha and Bayley's ability to compete on a variety of levels and bring the people they're working up to their level. This was definitely the best Riott Squad match we've ever seen, not counting that boot in the corner Liv Morgan "took", and was honestly the closest they've ever come to having discernible personalities in the ring. I think the Halloween costumes helped.
I was happy to see Sasha looking emotional after the win, and I hope she keeps her smile on. She might've not been enough of the focus of the first-ever women's pay-per-view, but she's a big part of WWE's improvement in women's wrestling in our minds, and I'm sure she'll get to be important again soon. The Riott Squad continue to be total losers, which is weird — hashtag save Ruby Riott — but I suppose Evolution needed a familiar and feel-good moment between the Mae Young Classic tournament final and the heel-as-shit NXT Championship match.
Best: Victory Royale
You know what I love about battle royals? That when they're done right, they're like little microcosms of complete wrestling shows. You can put 20 people in there, have them tell like 10 stories at once, and when you're done you feel like you've really maximized your time.
That sounds crazy and robotic I'm sure, but let me put it this way. In this one 17-ish minute battle royal, we got:
IIconics mic time, featuring Billie Kay fainting (pictured) and Peyton Royce pronouncing "Long Island" as "lawn GUYland." Also, these faces. Of course they are immediately thrown out, because everyone (except me) hates them.
Appearances from a lot of the same people we saw in the women's Royal Rumble, with two MAJOR additions: Ivory, who ensures that someone who has worn the GLOW crown will be on the show if they aren't going to bring back Kharma to kill the Bella Twins, and Alundra Blayze, aka Madusa, aka the woman who valiantly attempted to revolutionize women's wrestling in the WWF like 25 years ago.
Absolution being best friends and eliminating everyone, until Mandy Rose makes the terrible decision of eliminating Sonya Deville. It's either great character work that puts over Deville and makes Rose look like a total scumbag, or at worst a reason to have them stop hanging out all the time without Paige there to contextualize it
A loving tribute to Roman Reigns from Nia Jax and Tamina
A Carmella dance break, complete with R-Truth in the crowd to stand up and dance with her from her seat, and the confirmation that Ivory is definitely 56 years old
Molly Holly, who will always get a Best from me because she is Molly Holly
A continuation of the amazing and always pitch-perfect Ember Moon and Asuka feud, which got a big "NXT" chant and ended how it should, with Ember having Asuka's number unless she cheats. GIVE ME AN ASUKA EMBER MOON PAY-PER-VIEW TAKEOVER MATCH PLEASE
Zelina Vega trying the Santino Marella Gambit and dying for her sin
Seriously, never ask a Snuka to catch somebody.
I think Nia Jax as the winner was a pretty safe call, and probably the most boring decision they could've made, but it gives us another placeholder challenger for Ronda Rousey between now and WrestleMania, where you know a billion percent she'll be champion. It's probably good to give Rousey a strong win over Jax, too, since her previous match was ruined by Alexa Bliss cashing in the Money in the Bank briefcase. It's good, easy storytelling, just not the way I would've went when you could've put the spotlight on Ember Moon for once. Y'all don't want to see Ronda counter an Eclipse with an arm bar? Come on.
Best: YES YOU MAE
The first in our trilogy of "oh my god this was SO DOPE" matches is the finals of the 2018 Mae Young Classic, and good lord, if this is your first exposure to Io Shirai, I'm happy she's in your life now. Watch that clip and tell me that Charlotte Flair should ever do her terrible moonsault again. HAVE THE AUDACITY TO SAY IT, COWARD.
While I wish this had gotten 20 minutes instead of 10, 10 is probably for the best. It was a match that a decent chunk of the audience hadn't been following, between two people casual main roster fans probably don't even know exist. Just speaking from the point of view of fans like my parents, who watch inconsistently and probably couldn't name five female wrestlers. It told the story it needed to tell; that Io Shirai is the GENIUS OF THE SKY, and while Toni Storm seems pretty cool and talented, she's going to have to do her fucking homework if she's going to take out Shirai. I think the win over Meiko Satomura made her a lock to win the tournament, because it proved she CAN do the homework, against even the toughest opponent. She got her feet up — not her knees, her FEET — to block Shirai's moonsault, then Storms Ended her for the win. Big ups to the Tiger Driver for having a different name every time someone in WWE uses it, by the way, I would've hated for Storm to win with a Tyler Driver '97.
If anything, I hope this match sticks in people's minds and gets them to check out more of Shirai's Japanese work, or at least catch up on the Mae Young Classic and tune into what Storm's doing over on NXT UK. An annual women's wrestling tournament based on how good a bunch of women are at wrestling is the truest "evolution" of WWE's product, and matches like the one Io Shirai and Toni Storm had in front of more eyes on WWE PPV here can only make subsequent tournaments more prestigious. Really exceptionally good stuff.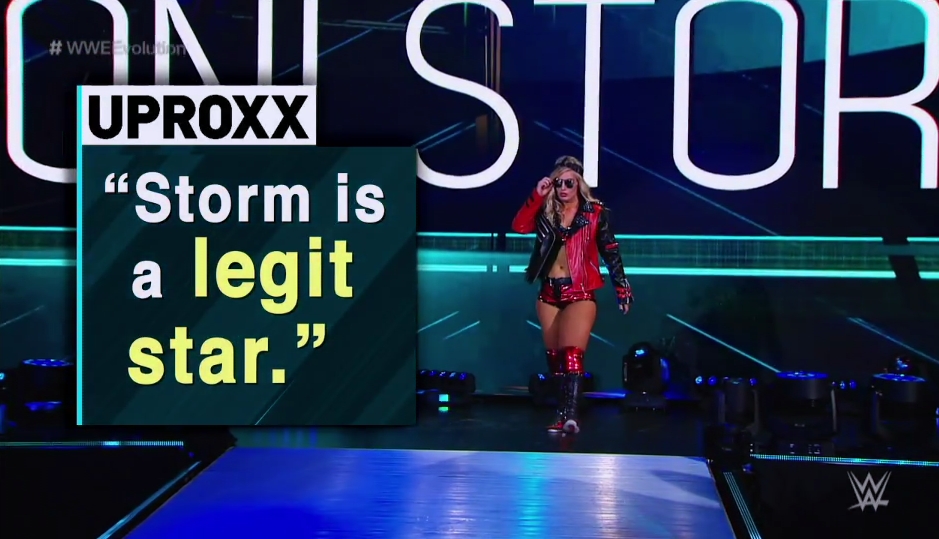 Oh, and shout-out to WWE for giving us a pull quote on pay-per-view. I hope the first NXT UK TakeOver features a big graphic of Wild Boar and Ligero with, "I'm typing out these jokes like I'm not super into watching British El Generico fight Welsh Rhyno in the train station to Hell — UPROXX" underneath.
Best: A Horse Is A Horse, Of Course, Of Course
Here's something you probably already knew before you click on this column: my favorite match of the night was Shayna Baszler vs. Kairi Sane for the NXT Women's Championship. It combined the blood feud of Charlotte Flair vs. Becky Lynch with the technical brilliance of Io Shirai vs. Toni Storm, featured cameos from Jessamyn Duke and Bianca Belair and Lacey Evans at ringside, made Baszler the first-ever two-time NXT Women's Champion and set the stage for the Four Horsewomen running wild on NXT television and being an actual, functional pro wrestling faction.
The match was all about the history. There are callbacks to EVERY Baszler vs. Sane match, including a great bit where Sane once against reverses the Kirifuda Clutch and gets a nearfall. She exploits the same weakness that won her the championship back at TakeOver Brooklyn, but Baszler has been training for situations just like that and is able to escape. Baszler amps up the Dickhead Fonzie routine to eleven here, especially during that incredibly memorable arm bar on the outside of the ropes using Sane's own body weight to hurt her. Magical.
I had a few people tweet at me that they weren't happy with how the match ended, but I loved it for a couple of reasons.
Shayna Baszler is a heel, so while she should win most matches fairly and on her own because she's an unimaginable bad-ass, the occasional underhanded "way out" is great. Especially since they've built up the story that Sane's invulnerability to Baszler's bullying has gotten into Baszler's head, and she's kind of intimidated by it (even though she'd never show it) and needs to take shortcuts. Same thing they did with Asuka and Ember Moon, which as you can see in the battle royal is still relevant despite neither of them being on NXT and not even sharing the same main roster brand
most important, KAIRI STARTED IT. Jessamyn Duke and Marina Shafir are just sitting in the front row alongside Lacey Evans and her grumpy daughter when Kairi backdrops Shayna onto them. The way it's set up it doesn't look like Kairi was specifically trying to hit Shayna's friends and training partners, but she did, so the shit was on.
again, the Four Horsewomen as an actual faction on NXT TV could be INCREDIBLE. When was the last time we had a female faction that actually ran things and needed to be stopped? All those "Women's Revolution" teams Stephanie McMahon drafted on the fly were terrible. The Horsewomen are an actual real-life faction of bad-asses, can play on the history of the "NXT Four Horsewomen" who were important but NEVER a real team, and shit, don't you want to see them all come up to the main roster at the same time and try to get Ronda Rousey to team up with them again? Ronda can be the DDP to their nWo.
And for another reason, it sets up another Baszler vs. Sane match, hopefully at NXT TakeOver War Games. One of the things I love so much about NXT's booking is that since so much emphasis is put on wins and losses, especially on big shows, rematches and continuations of feuds feel important, even when they should feel tired. Like, Johnny Gargano and Tommaso Ciampa wrestled too many times in a row, but if they have another match announced, we might go "wow that's soon" but also we're gonna lose our goddamn minds over Gargano vs. Ciampa. Baszler and Sane have managed to stay at each other's throats since the ending of the first Mae Young Classic, through NXT TakeOver Brooklyn IV, and now onto Evolution. That's three different "brand" platforms for the same WWE feud. That's awesome.
Oh, and the Four Horsewomen team have been competing against some grouping of Kairi Sane, Io Shirai, and Mia Yim at live events. Don't you want to see that? Immediately?
Best: The Champ
Finally we have most people's choice for the match of the night, and I won't dispute them if they pick it: the "first-ever cough cough loud coughing noises" Last Woman Standing match between The Champ, Becky Lynch, and Not The Champ, Charlotte Flair. The short version: they beat each other to death. THEY BEAT EACH OTHER TO DEATH.
This was head and shoulders above ever "first-ever" women's match WWE's put on in the last year or so. It's better than the Hell in a Cell match, it's better than the street fights, it's better than the Elimination Chamber, it's better than the battle royals. It's certainly better than either Money in the Bank ladder match. It's two people who are at the top of their game — or in Becky's case, higher in prestige and popularity than they've ever been — simultaneously blowing off and exacerbating a feud by eschewing the traditional feeling out process and rest holds in favor of jumping off stuff onto each other, putting each other through furniture, and smashing each other in the face with sticks. Becky beat Charlotte's fake eyelashes off her!
The longer version is that the match was just a ton of brutal fun, and really stood out on a show where nothing else was like it. That's the key, man. If WWE books an "extreme rules" show where every match is kinda like this with some different window dressing, nothing really stands out. When the show has been formula house show tag matches and a couple of great one-on-one technical affairs, having the two biggest actual wrestling stars on the show beat the mess out of each other with objects was exceptional. The elbow drop from the ladder through the table, simple stuff like the bodyslam on the ladder that looked like it could've paralyzed Charlotte, the powerbomb that finished it off, all of it. Plus, BECKY WON. Nuts to WWE's weird narrative of her "cult following" while everyone in the arena and most of the people at home are chanting her name.
My only complaints here are:
that "last man standing" matches tend to kill the drama of wrestling matches because you have to stop and wait for 9 seconds after everything they do, and could be better if you just had it be an extreme rules match with pins and submissions, or at least the "Texas Death Match" rules where you have to pin the person before the 10-count starts to limit the constant ref counting
Charlotte's moonsault somehow managed to miss both her opponent and the larger-then-the-opponent-sized furniture her opponent was lying on
the goddamn referee
For real, the referee (or Charlotte's execution, or some combination of both) really hurt this match. I'll put it to you this way. The referee considered this "Charlotte getting to her feet to beat the 10 count" …
… and somehow considered THIS "Charlotte getting to her feet to beat the 10 count" …
… but counted her out for this, because it was supposed to be the finish, I guess.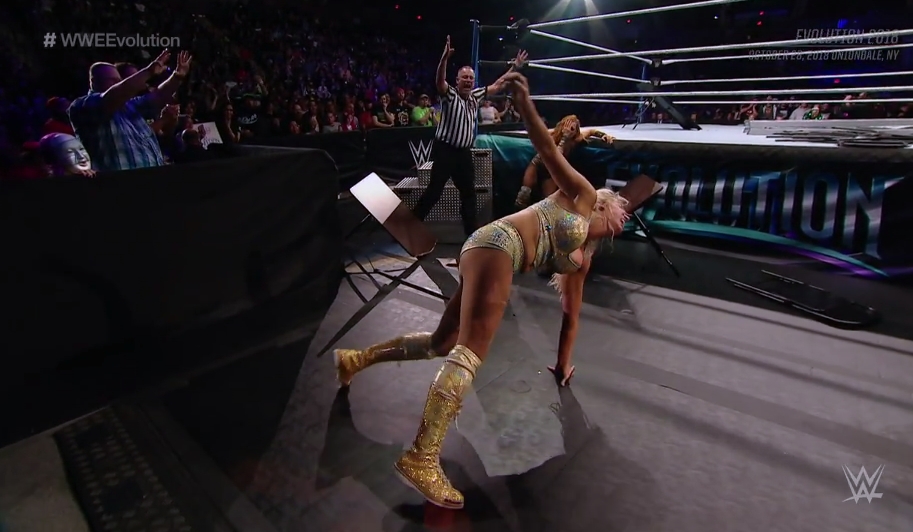 Consistency, Mike. CONSISTENCY.
Best: Top 10 Comments Of The Week
Martin Morrow
It's gonna be weird when at the end of Crown Jewel all of the wrestlers come our and celebrate with Lesnar.
FeltLuke
My feed just froze for about 6 seconds and I fully expected a Futurama-esque time jump where the feed would come back and it would be Ronda standing in a ring absolutely covered in blood and body parts.
Brute Farce
Destroyed: Tables, Ladders, and Flair.
Mr. Bliss
Renee: "Any weapon you bring into a match like this can blow up in your face, just ask my husband about his TV."
Dave M J
Damn, the table won't even catch Charlotte's Moonsault
IC champion Pdragon619
Charlotte's in the back shaking her head at Io for missing the air and accidentally hitting her opponent on that moonsault.
The Real Birdman
Edge:"Becky, you'll be left at home years later full of regret with how life turned out"
*Cut back to the announce desk*
Beth Phoenix: "Wait, what???"
Cami
Are we getting War Dames at NXT Takeover War Games?
SHough610
Liv Morgan: We all float down here.
Ruby Riott: What?
Liv Morgan: Well… we're not pushed or buried. So we're sort of floating.
Daniel Valentin
Cole: "Sasha talked about how her cousin Snoop inspired her to be a boss!"
Renee: "Did you know Snoop was once on trial for murder?"
Beth: "…"
Cole: "…"
Renee: "…"
Cole: "She's so fun to watch!"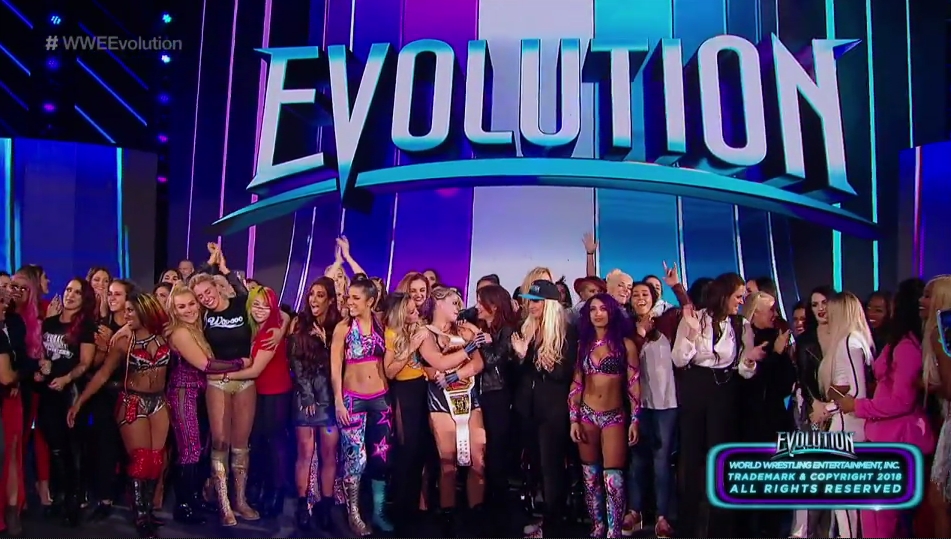 That's it for WWE Evolution. Hell of a night, and a hell of a show. Let's make this a regular thing, and make them all this good!
Drop a comment down below to let us know what you thought of the show and what your favorite match was, and share the column to help us out. Make sure to join us next week for … football, I guess, because we aren't watching Crown Jewel.