WWE Evolution, the first-ever WWE all-women's pay-per-view event, airs live this Sunday, October 28, on WWE Network. The show features championship matches for the Raw, Smackdown, and NXT brands, as well as the Mae Young Classic tournament finals and more. Make sure you're here this weekend for our live thread, results, and ongoing news updates.
WWE Evolution 2018 Card:
1. Raw Women's Championship Match: Ronda Rousey (c) vs. Nikki Bella

2. Last Woman Standing Match for the Smackdown Women's Championship: Becky Lynch (c) vs. Charlotte Flair

3. NXT Women's Championship Match: Kairi Sane (c) vs. Shayna Baszler

4. Mae Young Classic Finals: Io Shirai vs. Toni Storm

5. Trish Stratus and Lita vs. Mickie James and Alexa Bliss

6. Riott Squad vs. Natalya, Bayley, and Sasha Banks

7. Battle Royal
As always, we've got your complete rundown of the card and analysis below, featuring predictions for all seven matches. Make sure to drop a comment and let us know who you think's winning, and be here on Sunday to see if you're right.
Battle Royal
What Should Happen: The announced battle royal participants are Asuka, Naomi, Carmella, Nia Jax, Ember Moon, Alicia Fox, Dana Brooke, Lana, Billie Kay, Peyton Royce, Mandy Rose, Sonya Deville, Tamina, Torrie Wilson, Michelle McCool, Alundra Blayze, Ivory, Molly Holly, Kelly Kelly, Maria Kanellis, and Zelina Vega. So of course my only two booking ideas are, "the IIconics go over strong, pose together in the ring afterward," or, "Bull Nakano shows up and wrecks everybody, but is eventually eliminated by Alundra Blayze. AND THEN AJ LEE POPS UP FROM UNDER THE RING AND ELIMINATES BLAYZE FROM BEHIND."
What Will Happen: As you might've seen on social media, even the people in this battle royal think this battle royal is a lame idea. That said, this is still where most of the talent on the show got crammed, so maybe they'll pull out something super entertaining. Asuka stood tall on Smackdown, so the smart money's on who, Michelle McCool? I just hope Layal El shows up to help her.
Staff Picks
Emily Pratt – The preview matches for this were pretty bleak! But a big strength in almost all WWE's Historic Women's Matches has been the inclusion of a lot of character moments, and I think those will carry this match. Also, according to cagematch, this will be Alundra Blayze/Madusa's first match since 2000 and I think she'll have some kind of moment with Asuka or Nia Jax, whoever WWE feels is closer to Bull Nakano. Also, I hope Asuka wins this and goes into a title program with Becky, but I suspect if they're doing some kind of women's tag team thing the winner might have to be someone who isn't paired up with anyone right now, so my second guess is… Kelly Kelly?
Raj Prashad – Asuka isn't in a major match on the show, so imagine she'd walk away the winner in yet another historic over-the-top-rope match.
Elle Collins – Things are so messed up right now that I'm rooting against women that I like winning this match — specifically Asuka and Naomi — because it will immediately feel so much like a consolation prize, or another promise to be broken, if either of them does win. I'd like to see it go to somebody young — somebody for whom just winning this match feels like enough of a rub, even if the title match leads nowhere. I'd be really excited if it was Sonya Deville, but I think Ember Moon is probably the most likely, and she'd be great too.
Riott Squad vs. Natalya, Bayley, and Sasha Banks
What Should Happen: Sasha Banks and Bayley (and Ruby Riott, as well) shouldn't have to get stuck in a six-woman tag team match made like a week ago to keep them from being thrown into a battle royal. Sasha and Bayley could feel bad about their placement on the card due to how important they were to the actual success of women's wrestling in WWE, but hey, you could be Paige and Emma.
What Will Happen: Is WWE catty enough (pun only loosely intended) to have the Riott Squad go over here? It seems like it's right up their alley to respond to their employees being visibly upset about being passed over for important spots on the card by giving them something, then immediately destroying them with it. That's probably the most doom and gloom prediction I'll write, so I'll curb it with, "of course this ends with Sasha Banks tapping out Liv Morgan, and Sasha, Bayley, and Natalya hugging about revolutions."
Staff Picks
Emily Pratt – This is the Evolution match I'm least looking forward to because I have no idea why it's happening. I'm hoping the Riott Squad wins because they're closer to an actual trios team. My only real prediction is that Sasha will do something crazy.
Raj Prashad – We've gotta get some heel love in here somewhere, so taking the Riott Squad to keep things fresh.
Elle Collins – I'd really love it if something unexpected happened in this match. Like if the Riott Squad split up and somebody turned face. Maybe one of the faces turns heel. Basically anything that's not just one of these teams winning and it leading to nothing. But if it does just go to a regular ending, I'm guessing Nattie, Sasha, and Bayley win. Why would they give it to the Riott Squad unless they have some kind of plan?
Trish Stratus and Lita vs. Mickie James and Alexa Bliss
What Should Happen: If it's anything other than Alexa Bliss going over strong, we're doing it wrong.
What Will Happen: This should be a really interesting one, as we'll get to see how much legs the Trish and Lita team will have after Evolution, and because we'll see if thsi is a pure nostalgia pull or if they're actually going to try to put the one young active member of the WWE women's championship scene over. Imagine if at Crown Jewel they were doing Triple H and Shawn Michaels vs. The Undertaker and Finn Bálor. Kind of the same deal. You're happy to see what they're doing and why, but you sure as shit hope Finn's winning.
If I have to predict something, it's Trish pinning Mickie. And Lita hopefully clearing the ground on her moonsault. That Royal Rumble spot was scary.
Staff Picks
Emily Pratt – I think this will probably be on the short side, but let everybody get enough stuff in. I hope Bliss is cleared before Sunday, but if not, I still like the idea of having an Attitude/Ruthless Aggression vs. Divas era match. It'll be a fun midcard nostalgia tag on a card of largely high-stakes singles matches and it'll be an opportunity to appreciate some of the brightest women wrestlers stars from eras when they didn't get as much opportunity to shine. Bonus points for the likely weird vibes Trish-Mickie moment.
Raj Prashad – WWE isn't just trotting out Trish Stratus and Lita to get rolled over by Mickie James and Alexa Bliss. Stratus and Lita take the win and maybe eventually head up the women's tag division?
Elle Collins – I don't really understand this match. It's like they wanted an inter-generational feud, but then they put Mickie James in it, and she's from the wrong generation. On the other hand, while it would seem exciting at first if the younger team were real up-and-comers who'd yet to prove themselves, that would also make it a much bigger problem when Trish and Lita inevitably win. At least this team can afford that loss.
Mae Young Classic Finals: Io Shirai vs. Toni Storm
What Should Happen: WWE should open the show with the Mae Young Classic tournament finals, follow it up with the NXT Championship match, then go straight into Becky Lynch vs. Charlotte Flair so we can tap out on the rest of the show. I know it sounds like I'm being pessimistic for laughs or whatever, but for real, any WWE pay-per-view with 2-3 can't miss great matches on it it something I want to watch.
What Will Happen: This is another tough one, but I think if Toni Storm could knock Meiko Satomura out of the tournament (and the pay-per-view!) she's got enough in the tank to take out Io. Plus it makes sense to put over one of the stars of your new NXT UK brand, and having Io go over would give you two (then-) visiting joshi stars winning in a row. It's all lining up for Toni to take it. This should rule.
Staff Picks
Emily Pratt – With Toni Storm set to be the babyface ace of NXT UK's women's division, I think Io Shirai wins this one to give her some WWE-recognized clout as she starts her NXT TV career. Whoever wins, I think this match will bang and be pretty different from the rest of the show.
Raj Prashad – What a match this should be. As incredible as it would be for Storm to take the win, I just don't see Shirai falling in the finals.
Elle Collins – This has been a great tournament, and it's going to end with a great match. As much as I'd like to see Io win here, I suspect Toni's going to go over, if only so she can carry some heat back to the new NXT UK women's division.
NXT Women's Championship Match: Kairi Sane (c) vs. Shayna Baszler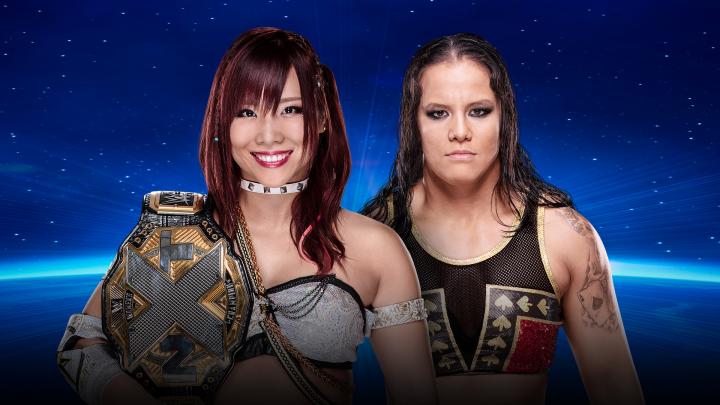 What Should Happen: Dear WWE: this is how you do a women's championship rivalry. These two met in the finals of the inaugural Mae Young Classic, and while Sane was a total underdog there, she pulled out a win. Shayna Baszler took the loss to heart and took training seriously, and was able to not only win the NXT Women's Championship in record time, but defeat Sane in their second match. In the third match, Baszler had the match won but slipped up, and Sane got a surprise roll-up win to take the championship. Now they're on match four, evenly matched even though they're very very different, and we can count on almost any match result to be a satisfying continuation of a story that could go on for years. [chef kiss]
Also, Kairi Sane's about to get got.
What Will Happen: It's my heart vs. my brain here. My brain says, "Kairi Sane will probably retain, especially if they switch the titles in any of the other matches." Then my brain is like, "BUT WAIT, wouldn't NXT want to have a title change on a big important WWE PPV?" And then my heart goes, "YEAH BRAIN, SHAYNA BASZLER'S GONNA WIN, YOUR FAVORITE IS GONNA CHOKE KAIRI SANE THE HELL OUT." Pretty hype for this no matter what.
Staff Picks
Emily Pratt – Guessing who wins this feels more like guessing which wrestler will go up to the main roster. Having both Io Shirai and the other half of the MMA Four Horsewomen at Full Sail now makes this trickier. Ultimately, I think this match will rule hard enough that I won't care who wins.
Raj Prashad – Baszler gets the win here and celebrates at ringside with Duke and Shafir, setting up their return later in the evening.
Elle Collins – I'd like to see Kairi retain, and Baszler move up to make room for Bianca Belair at the very top of the NXT women's division. It seems like Baszler already did just about everything she can as a heel champion in NXT, so I think that outcome is pretty likely. Plus WWE may have some kind of plan for the MMA Horsewomen (I kind of hope they don't).
Last Woman Standing Match For The Smackdown Women's Championship: Becky Lynch (c) vs. Charlotte Flair
What Should Happen: The Champ retains. Becky Lynch is one of the hottest and best acts going in the company right now, and they can't seem to do much wrong. Having Flair puff out her chest and win this match instead of leaning into the Becky run would be a very large wrong.
What Will Happen: I definitely think Becky Lynch retains here. If she doesn't, man, what's the rationale? Charlotte Flair doesn't need the championship, especially since we know she'll win it at least 12 more times before she retires, and Becky has finally paired momentum and buzz with her EVERYTHING ELSE to be a Top Guy. Since we got a cheap finish at Super Show-Down and in the Smackdown rematch, I'm gonna be brave and say Lynch wins by duct-taping Charlotte to the floor and Disarming both of her arms. DO IT FOR THE KIDS, THE CHAMP.
Staff Picks
Emily Pratt – Last Wrestler Standing is not my most beloved type of gimmick match because of all the slow counting spots and often dumb finishes, but I think this should be good (outside of maybe the finish.) Becky and Charlotte have been going extra hard in this feud, and I think they (like all the women on this very high-pressure card) will go even harder than they have been on TV and other PPVs. I think Becky retains.
Raj Prashad – Charlotte has taken beatdown after beatdown over the last month or so, and if Becky weren't riding the hotted streak of her life I'd probably pick Flair to win. Going with Lynch only because she's probably the best thing going in WWE right now.
Elle Collins – Becky should win this. Becky should hold the belt at least until WrestleMania, and Charlotte should have to take a long hard journey to get back to it. I'm 100% sure that Becky should win this match. I'm like 80% sure that Becky will win this match. I think she will, but I'm less certain. I hope she does.
Raw Women's Championship Match: Ronda Rousey (c) vs. Nikki Bella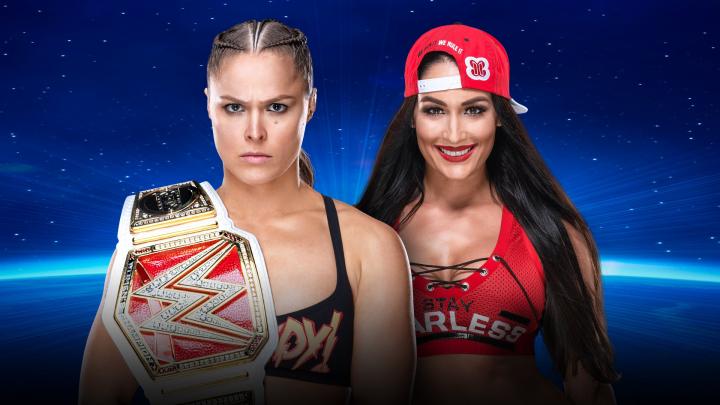 What Should Happen: Bad Reputation, thirty seconds of judo tossing, arm bar, Bad Reputation.
What Will Happen: I get why this is a big win for bringing casual fans to the WWE product, and I'm fine with it main-eventing, especially since I'm not crazy enough to convince myself that the Mae Young Classic, NXT, or Smackdown are seen as more important than Raw + UFC + E! I do hope this is an excuse to throw Brie into a figurative woodchipper though, and not a screwy thing to set up three more matches with diminishing returns. You've set up Ronda as Goldberg; don't break out the cattle prod already.
Staff Picks
Emily Pratt – It seems like Rousey should retain, but I could see some Brie interference costing her the title so they can keep the feud going with a rematch. I think I've said this for every Rousey match in WWE so far, but I'll say again that I have no idea how this match is going to go.
Raj Prashad – Would WWE turn Shayna Baszler, Jessamyn Duke and Marina Shafir all at the same time? My money is on Rousey getting the win, the Bellas stomping her after the bell and the 4 Horsewomen of UFC standing tall to end the show.
Elle Collins – I get why this match had to happen, and I think it will probably be pretty good. Unfortunately there's no suspense involved, because I know Ronda's definitely winning. They've never let her lose, and there's no sign they're about to start. So it is what it is.
So there you have it; our picks for all seven matches at Evolution. Who do you think wins? Does Ronda Rousey lose to Nikki Bella's high head kick? Baszler or Sane? Can Kelly Kelly pull out a battle royal win for the ages? Let us know in our comments section below.