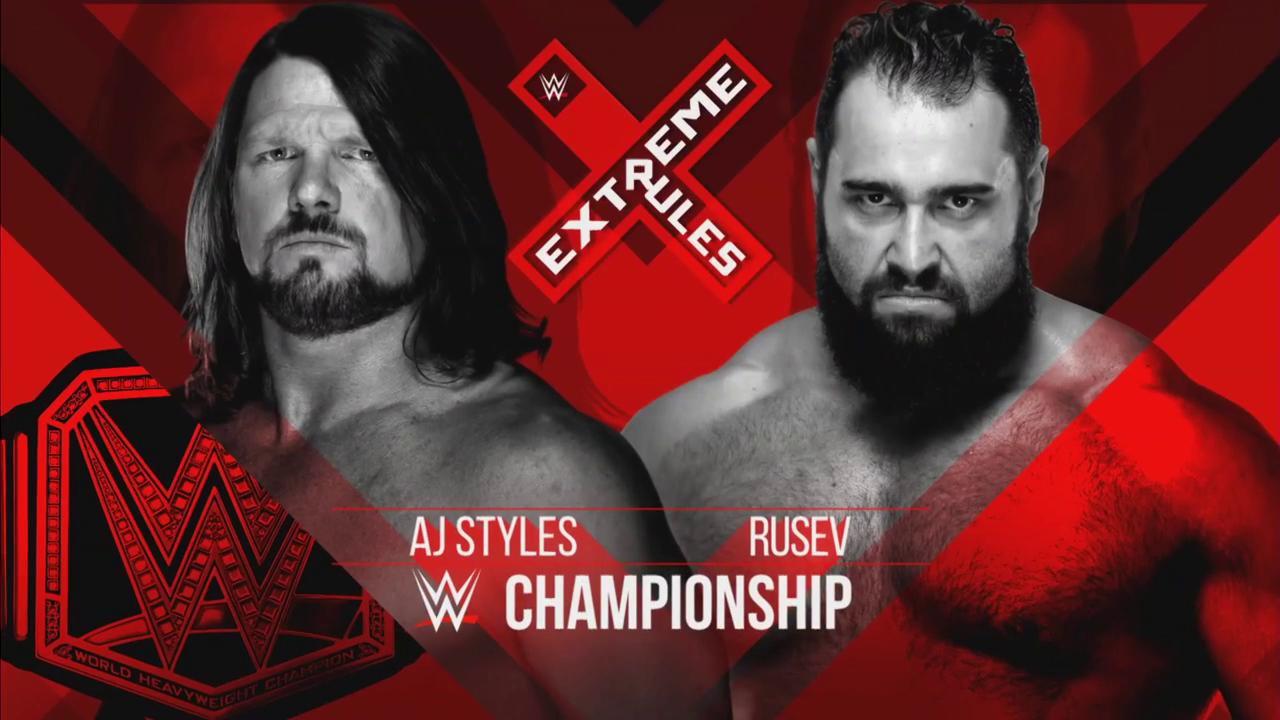 WWE Extreme Rules 2018 — the pay-per-view where there are NO RULES except for several additional new rules for every match — airs this Sunday, July 15, on WWE Network. The cross-branded show features a steel cage mach, an iron man match, a tag team tables match on the Kickoff and more. We'll be here this Sunday with an open discussion thread, live results, and updates, and here's how we think everything will shake down.
WWE Extreme Rules 2018 Card:
1. Roman Reigns vs. Bobby Lashley

2. Extreme Rules Match for the Raw Women's Championship: Alexa Bliss (c) vs. Nia Jax

3. Steel Cage Match: Braun Strowman vs. Kevin Owens

4. Raw Tag Team Championship Match: Bray Wyatt and Matt Hardy vs. Bo Dallas and Curtis Axel

5. Iron Man Match for the Intercontinental Championship: Dolph Ziggler (c) vs. Seth Rollins

6. Finn Bálor vs. Baron Corbin

7. WWE Championship Match: AJ Styles (c) vs. Rusev

8. Smackdown Women's Championship Match: Carmella (c) vs. Asuka, James Ellsworth will be suspended above the ring in a shark cage

9. Smackdown Tag Team Championship Match: Bludgeon Brothers (c) vs. Team Hell No

10. United States Championship Match: Jeff Hardy (c) vs. Shinsuke Nakamura

11. Kickoff – Tag Team Tables Match: New Day vs. Sanity
As always, we've got your complete rundown of the card and analysis below, featuring predictions for all eleven matches. Make sure to drop a comment and let us know who you think's winning, and be here on Sunday for our open discussion thread and live results.
Here's what we think will happen at Extreme Rules.
Kickoff – Tag Team Tables Match: New Day vs. Sanity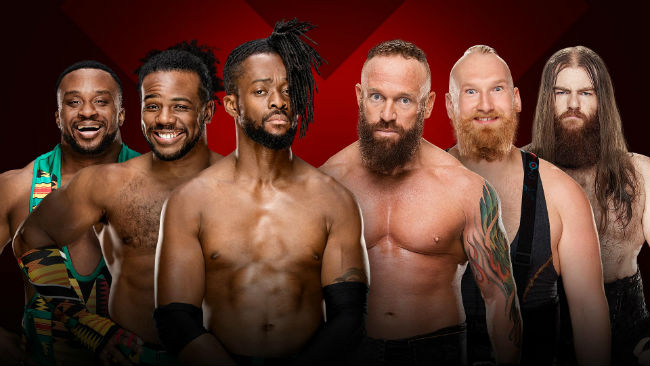 What Should Happen: We should live in a world where this is what we're tuning in to see, not something that happens in the middle of a pre-show to get us hype for Bobby Lashley vs. Roman Reigns. Sanity should probably win, because they're the new squad on the block, so I'd give them the win with an assist from the debuting (on the main roster) Nikki Cross. Bonus points if this leads to New Day having to recruit one of their old friends at Team B.A.D. (cough Naomi cough) to help even the odds.
What Will Happen: Most of the staff picks here are "New Day loses because Sanity's new and needs it more," which is one of those sentiments that makes my brain go, "so of course New Day wins." My official pick is New Day winning, then Sanity (and maybe Nikki Cross) "get their heat back" with a big spot afterward. The kind of thing to really get a Kickoff crowd in the mood for love.
Staff Picks
Konata Edwards – Sanity, as the new team, need this win. New Day doesn't. It's just that simple
Raj Prashad – Sanity has been a group of lunatics since hitting the main roster, and putting the New Day through a couple tables should only help their cause for being the most unpredictable people on the roster.
Emily Pratt – We all win! The New Day are great with props/at gimmick matches and this is the ideal match for Main Roster Sanity to establish themselves… if it wasn't on the kickoff show. Anyway, I'm guessing Sanity wins, because the New Day doesn't need it.
Bill DiFilippo – Ideally this match devolves into Big E and Killian Dain trying to pick up and throw one another like when strongmen contests do keg tosses. New Day wins.
Elle Collins – Sanity needs this win to establish themselves on the main roster, and New Day doesn't really suffer from losing, so give it to Sanity.
United States Championship Match: Jeff Hardy (c) vs. Shinsuke Nakamura
What Should Happen: If Nakamura doesn't win here, you might as well stuff him in a production crate and ship him back to OVW. [checks notes] New Japan Pro Wrestling. Send him there, in time for that Madison Square Garden show they're trying to do.
What Will Happen: Seriously, if Nakamura doesn't win, what are we even doing? Having him lose 5 of 6 matches against AJ Styles didn't do him any favors and drove a "dream match" into the ground, so the best thing they can do is take a little pressure off of him, set him up for some good work in mid-card feuds with a secondary championship, lean on his reputation to make those programs seem more important, and keep him the hell away from AJ Styles forever. Not gonna lie though, if we ever extend this Hardy feud and have Nakamura hitting drones with running knee strikes it might be the best thing ever.
Staff Picks
Konata Edwards – I don't ask for much, but I need to see trolling heel Nakamura with a belt and a ton of contenders to chase him. Getting the belt off Jeff Hardy fixes all of those problems and adds some much needed spice to the Smackdown midcard
Raj Prashad – After weeks off of television, Shinsuke makes his grand return to the ring. It would seem the only pay off for this is Nakamura winning the title.
Emily Pratt – It has to be Shinsuke. I think this is his compensation for not winning the WWE Championship, and they've done all they can do with US Champ Jeff. (Meaning, they did the Guillermo del Toro Monster Incarnation of America via face paint. We're not getting better than that.) I bet this feud would have been really enjoyable if it wasn't for my least favorite dog in the universe. This match could be lackluster or a surprise hit.
Bill DiFilippo – Shinsuke Nakamura looks better with gold around his waist, so with all due respect to Jeff Hardy, hopefully he gets a knee to the jaw.
Elle Collins – Surely it's time for Shinsuke to win a belt. They made a fool of him by never letting him win against AJ, but Jeff's not on the cover of the video game, so I'm thinking this time Shinsuke takes it. Plus, he's a foreign heel, which makes him the ideal US Champion in WWE's eyes. I just hope he doesn't start cutting anti-America promos.
Smackdown Tag Team Championship Match: Bludgeon Brothers (c) vs. Team Hell No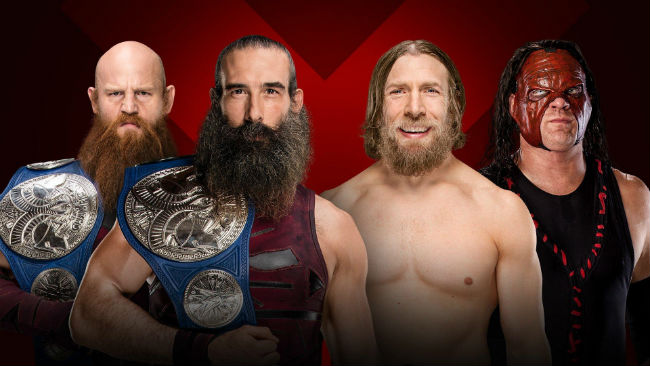 What Should Happen: Let's get the belts off the Bludgeon Brothers so we don't have Hulu NXT-era The Ascension running wild on Smackdown anymore. Kane and Daniel Bryan should be able to team up and beat the team that looks like Kane and Daniel Bryan had a couple of weird babies. Whatever you do, don't pull the obvious swerve of Kane turning on Bryan to set up Bryan vs. another barely mobile, barely enjoyable tall guy for SummerSlam.
What Will Happen: If Bryan was able to do Kane's taunt on Tuesday, Kane's a billion percent turning on him here, right? Are we gonna get The Miz surrounded by a bunch of extremely tall guys as bodyguards? Is that what the Cass feud was supposed to be setting up? It's not a terrible idea, especially if all the very tall guys are cronies Bryan can fight through en route to another magical WrestleMania payoff, but … we probably haven't booked that far ahead, have we? Bludgies retain, somehow.
Staff Picks
Konata Edwards – This match is screaming for a Kane heel turn here. The Smackdown tag champs see some PPV time and everyone transitions into Summerslam hype mode.
Raj Prashad – What better way to make the Bludgeon Brothers look better than to have them roll through Team Hell No. Picking Rowan and Harper to pin Bryan after either Kane turns on him or Miz makes his impression felt.
Emily Pratt – I'm guessing the demon and the bird dad beat the Bludgies, and then Kane betrays Bryan. Maybe some Miz shenanigans? Mostly I'm just ready to be entertained by this match, and ready for some sort of [extreme] rule-bending deviousness.
Bill DiFilippo – Team Hell No is either winning this match or we're getting Bryan-Kane at the SummerSlam. Here's to hoping it's the former, but it'll probably be the latter.
Elle Collins – I'd like to see Bryan and Kane with the Tag Belts for a bit, but I've heard a lot of rumors about what Bryan might be doing at SummerSlam, and none of them were "defending the Tag Team Championships," so probably the Bludgeon Brothers retain.
Smackdown Women's Championship Match: Carmella (c) vs. Asuka, James Ellsworth will be suspended above the ring in a shark cage
What Should Happen: Asuka wins the championship in 30 seconds, then javelins Carmella at the ceiling to knock Ellsworth's cage loose, causing it to fall and explode. And then we build to Asuka vs. Charlotte Flair or Asuka vs. Becky Lynch or Asuka vs. any wrestler whose angles are not bad moonwalking and obedient sex dogs heading into SummerSlam. Just anybody.
What Will Happen: I have a standing prediction for shark cage matches: the person in the shark cage isn't supposed to be able to interfere, so they interfere by dropping something into the ring from the cage. Sometimes they subvert this by doing it and having the face avoid it and win anyway, but … man, as much as I want to see Asuka kickstart Carmella's head, my pessimistic prowres Spidey sense is tingling and says Carmella retains. Via CHICANERY.
Staff Picks
Konata Edwards – The booking to this has been all over the place, as it's been like a bad choose your own adventure book. Ellsworth in the cage is guaranteed to provide some shenanigans which lead to Carmella winning here. Which makes you wonder who's next (Becky Lynch perhaps).
Raj Prashad – Odds are stacked against Asuka, she keeps getting knocked around by Carmella on television and James Ellsworth will find some way to make an impact. So just when it seems like there's no way she'll win the belt on a meaningless PPV, wouldn't it make total sense for the Empress of Tomorrow to win the title? Going with Asuka.
Emily Pratt – If Asuka doesn't win this I give up on… not life, but something I like. I give up the pint of Ben & Jerry's Half Baked I have in my freezer right now. Yeah, if Asuka loses, I will throw that in the garbage. I have a horrible suspicion she might lose via goofy cage-dropped prop and rematch against Mella at SummerSlam or on Smackdown.
Bill DiFilippo – Has anyone started and finished a match suspended above a shark cage without ever getting out to interfere in any way? This is a roundabout way of saying Carmella's going to win.
Elle Collins – Asuka needs to win this. Carmella has her hype man back (although why she's putting up with him is a valid and unanswered question), so she can do without the belt. It's time for Asuka to be a legit main roster champion. All of that said, will I be surprised if Ellsworth helps Mella win again? No, I will not.
WWE Championship Match: AJ Styles (c) vs. Rusev
What Should Happen: Rusev trucks Styles in the style of Brock Lesnar vs. John Cena at SummerSlam 2014, becomes WWE Champion, and Styles nods politely and goes and does something else. He's great, but this string of WWE Championship matches with increasingly terrible finishes is the pits. This day is RUSEV DAY.
What Will Happen: Styles retains. I don't think that's even mildly in question. Maybe we'll get a miracle and they'll decide to give Rusev a cycle with the belt before Styles (or whoever) wins it back in August, and also maybe monkeys will fly out of our butts. I couldn't predict Rusev to defeat Aiden English without sitting and worrying about it for 20 minutes.
Staff Picks
Konata Edwards – This is a hard one to call, because there are really no bad results here. AJ wins and we'll likely see Joe/AJ at Summerslam and hopefully an extended program. Rusev wins, and Rusev against Joe in the hoss fight to end all hoss fights isn't a bad way to go either. That said, AJ wins, and we get the former rather than the latter
Raj Prashad – Never have I wanted to celebrate Rusev Day more than at Extreme Rules. But I just don't see any way AJ drops the belt.
Emily Pratt – RUSEV FROM RUSEV DAY. Just kidding, Styles definitely retains. BUT WHAT IF THIS IS A MANKIND 1999 MOMENT AND RUSEV WINS? It won't be. But the match should be pretty good.
Bill DiFilippo – Listen, as much as I admire AJ Styles — and have for like 15 years now or whatever — I need Rusev to break Bruno Sammartino's record for the longest reign as champion. The journey of a thousand miles begins with a single step, and hopefully that first step happens on Sunday.
Elle Collins – Rusev should obviously win, but I feel like WWE is still trying to pretend he's not as great as he actually is, so most likely AJ probably retains.
Finn Bálor vs. Baron Corbin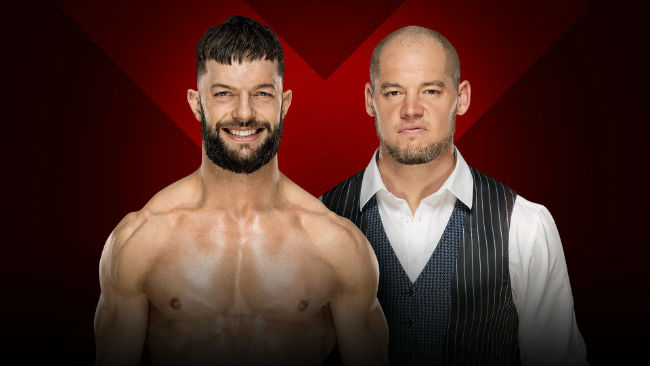 What Should Happen: Kurt Angle sends these two to therapy, and if they don't come back as friends, they lose their jobs. Why isn't this Bayley vs. Sasha Banks again? Because Finn needed to use that "you look like a waiter" burn two weeks in a row?
What Will Happen: WWE's been into the "little guy beats up the tall guy" gimmick lately, but Finn has terrible luck against people three times his size. See: Kane. Corbin wins, somehow, and Finn takes another seemingly damning loss to a very tall guy wearing dress clothes.
Staff Picks
Konata Edwards – The longer that Finn Balor gets away from the fishbowl that was NXT, the more the warts are really starting to show. Putting him in a match with Baron Corbin might be the epitome of "creative has nothing for you," though. Most likely Corbin wins, setting up a rematch in a month.
Raj Prashad – Finn and Baron turned a boring onscreen rivalry into a pretty interesting match. Going with the Constable to keep the Raw roster in check.
Emily Pratt – Finn turns heel and just beats the corporate out of Corbin with the help of Gallows and Anderson? Or uhhhh the Authors of Pain. He recruits the Authors of Pain to do this and it's super cool. I don't know or care what happens with this feud, but the match could be very good.
Bill DiFilippo – One summer in college I interned for a minor league baseball team. The team didn't have stadium security — instead, it had a constable who was a very nice, older man who once felt the need to walk onto the field to break up a run-of-the-mill baseball argument between the opposing manager and an umpire about balls and strikes or something. He then got in the opposing manager's face. The constable got suspended for a few games after that. Anyway, Finn wins. Go Crosscutters.
Elle Collins – Being an authority figure frees Corbin up from needing to win, so hopefully Bálor takes it. That guy needs some sustained momentum.
Iron Man Match for the Intercontinental Championship: Dolph Ziggler (c) vs. Seth Rollins
What Should Happen: Extend the match to an hour, move Bálor/Corbin and the Raw Tag Team Championship match to the Kickoff to make up the time, and let this go on last. The winner is irrelevant, although Rollins should probably win back the championship to free up Ziggler and McIntyre for tag team action. You can't give me a dope-ass tag team like that and then immediately throw them into singles feuds. Or break them up, jeez.
What Will Happen: McIntyre being at ringside (complete with a Raw main event to make sure he gets to be there) suggests that he'll be an important part of the match, meaning Ziggler probably retains. Rollins really doesn't need the Intercontinental Championship, and should at least be in the conversation of people who should beat Brock Lesnar for the Universal strap. At the same time, Ziggler's had the Intercontinental Championship like 65 times, so is it doing anything for him? This is one of those matches you get hype for based solely on how good it's going to be, so let's be brave and predict it ends tied, goes into overtime, and then Drew hops in to officially ruin it at the last second.
Staff Picks
Konata Edwards – Probably the easiest call for Match Of The Night. Rollins has been the best wrestler on the main roster since WrestleMania, and Ziggler is motivated. Add in a 30 minute iron man stipulation AND Drew McIntyre and you've got not only a good roux, but some great gumbo that'll add some much needed spice to this card. Oh, Rollins doesn't win, it's time to move him back up to the top of the card.
Raj Prashad – I'm not giving up on Dolph just yet, and a strong IC title run seems to be the right move.
Emily Pratt – I think Rollins gets it back here. On paper, this is match of the night so much that I think it could turn out underwhelming. Even if it is, it'll be nice to see a long one-on-one match in WWE for a change.
Bill DiFilippo – An ironman match between these two should be a delightful roller coaster of kicks and flips and near falls and all the fun stuff that makes wrestling extra entertaining for an idiot with a short attention span like myself. Drew McIntyre probably swings this for Dolph, but whatever, it'll be fun regardless.
Elle Collins – Somebody get Dolph Ziggler away from Seth and Drew! They both deserver better than to be anywhere near that guy. I'd like to see Seth win and then face Drew next, but I imagine Dolph vs Drew has to happen first, so Dolph probably retains. Ugh.
Raw Tag Team Championship Match: Bray Wyatt and Matt Hardy vs. Bo Dallas and Curtis Axel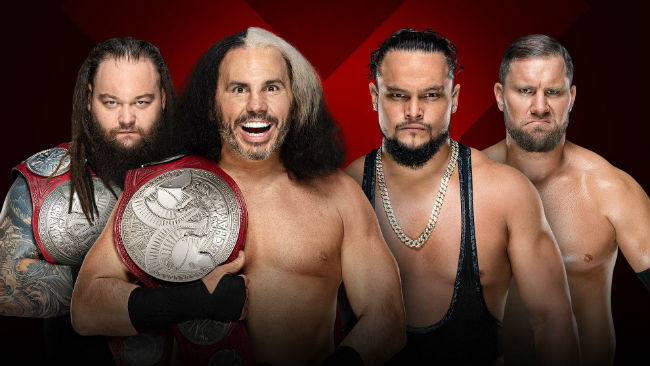 What Should Happen: Miz should decide to help Axel and Dallas win the championship as a show of good faith since the show's co-branded, adding another two cronie stooges to his Heenan Family-esque attempt to keep Daniel Bryan away from him. Or Hardy and Wyatt just win because they're supposed to be stars and the B-Team are such jobsters you wouldn't pick them to win a match against themselves.
What Will Happen: The Artists Formerly Known As The Miztourage have turned beating Matt Hardy in singles matches into a sport over the past month, so there's probably no way in God's green Hell they pull off an actual Tag Team Championship victory here. The Deleters of Worlds roll, and hopefully head into SummerSlam with something a little more structured.
Staff Picks
Konata Edwards – Just off the promos alone, the B-Team should win this simply because unlike Alex Riley before them, they've been just as entertaining without the Miz. Which is a stark contrast from the Matt Hardy (who's gimmick works best with a solo title) and Bray (who needed a full reboot of his character, not a minor course correction). This of course means that Hardy and Wyatt retain.
Raj Prashad – Can the B-Team still be the B-Team if they win the tag team gold? I'm all in on Bo Dallas and Curtis Axel, but think Wyatt and Hardy retain.
Emily Pratt – There's both no reason and every reason in all the uneaten worlds that this match should be bad. Both these teams have been so iffy since their inceptions (with Dallas and Axel, as the B Team specifically), but the wrestlers are all good, and if the gimmicks are used right it could be a fun match. I'm guessing Wyatt and Hardy retain and go into a feud with AoP.
Bill DiFilippo – PUT EVERY CHAMPIONSHIP ON BO DALLAS AND CURTIS AXEL UNTIL THE END OF TIME THANK YOU VERY MUCH GOOD NIGHT.
Elle Collins – I don't think the B-Team are winning any titles. That would ruin the joke.
Steel Cage Match: Braun Strowman vs. Kevin Owens
What Should Happen: Maybe we stop making Kevin Owens look like the biggest dork on the planet? I don't know. Seems like there's better use for him than spending a year being brow-beaten by a dying businessman in a baseball jersey and then running in fear until he's covered in port-a-potty juice. Maybe an injured Sami Zayn pilots a mech into the arena and fights off Strowman to save the day?
What Will Happen: Owens struggles and struggles and struggles and ends up getting powerslammed. The cage is there for some light climbing, and maybe somebody jumps into it once with their shoulder.
Staff Picks
Konata Edwards – This should be fun. Braun is the most over guy on the roster not named Rusev, and Kevin Owens playing the scared heel here in a cage might produce some of the best hi jinks in the ring in a very long time. Owens will win on a spot that has Braun throw him through the cage onto the floor, because both men need something to do next month.
Raj Prashad – Braun tormenting KO every Monday on Raw has been pure comedy, but it's time the former Prize Fighter gets a W. Owens weasels his way into a win.
Emily Pratt – If these guys just get to have a steel cage match and nothing dumb happens like during the tail end of the build on Raw, this should be rad. I'm guessing Braun goes over because he's going to cash in soon and needs to look strong, man. And also because he's Braun freaking Strowman and he kicked out of every finisher at Elimation Chamber and won the tag titles with a child and bulldozed a ladder at Money in the Bank. The only things left he could lose to are maybe Brock Lesnar or the moon.
Bill DiFilippo – The ideal situation is these two just beat the absolute hell out of one another for like 20 minutes and Owens makes Strowman looks a little human, even if Braun wins. That exact scenario probably doesn't happen, but Braun winning a match where KO gets his would be fun.
Elle Collins – Braun definitely wins this, but somehow Kevin comes out looking like a million bucks anyway. Or at least that's what I'm rooting for.
Extreme Rules Match for the Raw Women's Championship: Alexa Bliss (c) vs. Nia Jax
What Should Happen: The same prediction we've made for all of these matches; Nia Jax should absolutely steamroll Alexa Bliss, because Bliss' strengths are emotional manipulation, and when you get to the "attack her with a stick" portion of the feud, the power imbalance should be pretty obvious.
What Will Happen: This is all about what Ronda Rousey does. With the "extreme rules" stipulation and Rousey being advertised as buying a ticket and sitting in the front row, it seems like the obvious thing is Rousey attempting to get involved and accidentally costing Jax the match. That way Bliss retains and can keep ducking Rousey heading into SummerSlam, while Rousey deals with Jax (again) and probably her Very Good Friend Natalya™.
Staff Picks
Konata Edwards – What I'd want is for Nia to thrash Alexa all over a ring in a match that has very few rules to it, win the belt and set up a three way match at Summerslam for the title between Alexa, Ronda Rousey and Nia. What we're most likely getting is Ronda interfering on behalf of Nia, only to inadvertently help out Alexa. Setting up the clear Bliss/ Ronda showdown at Summerslam.
Raj Prashad – Nia's been in a weird spot jumping between rivalries with Ronda Rousey and Alexa. The champ walking away with the belt after some Rousey shenanigans makes sense here.
Emily Pratt – I'm still sad Nia isn't as hossy as she used to be, and my prediction and analysis is that I will continue to feel that way after this match.
Bill DiFilippo – I am generally inclined to lean towards shenanigans in an extreme rules match. Seeing as how shenanigans would almost certainly be the mechanism through with Alexa beats Nia, I'll go with her.
Elle Collins – I don't know why Alexa would win the briefcase and cash in to win the belt just to give it back this quickly. I'm guessing Ronda gets involved and that leads to a DQ. In any case, Alexa's not dropping it until Summerslam at the earliest, whether we like it or not.
Roman Reigns vs. Bobby Lashley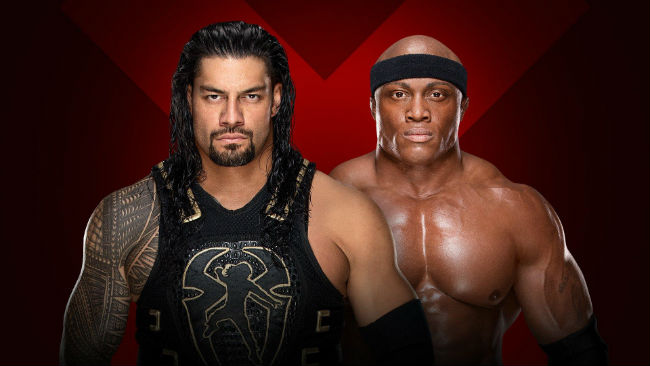 What Should Happen: Reigns and Lashley come sprinting out of opposite corners and hit simultaneous spears, head-to-head, and disappear into a cloud of smoke. General Manager Kurt Angle announces that the winner of tonight's match was supposed to fight Brock Lesnar, who (surprise) is here, but now that they're both vanished, Brock's just gonna go home and watch television.
What Will Happen: Reigns wins, which somehow results in Lashley being the one to face Lesnar at SummerSlam. I don't know why that's the booking choice that popped into my mind, but here we are. Maybe Reigns cuts a promo about how management's screwing him over again and they make it a triple threat, so Lesnar can drop the championship without actually getting pinned again. Hoping the match itself surprises.
Staff Picks
Konata Edwards – The buildup to this match has been kinda cool. But without a clear direction of where Roman is headed this has the makings of a double DQ and rehash this at Summerslam for bigger stakes down the line
Raj Prashad – The Big Dog in a PPV match against someone not named "Brock Lesnar"? Sure, going with Reigns in what should be a knock down, drag out hoss fight.
Emily Pratt – I like the idea of Lashley winning this, mostly because Roman losing a bunch and still being arrogant and claiming yard ownership is fun. Also, I think if Lashley is super powerful, maybe to the point of dehumanization, it will work with his blandness and the fact that he looks like a custom video game character you got bored with designing halfway through the face (and also Handsome Squidward.) However, even though we've seen Lesnar vs. Reigns a million times now, Braun cashing in on that at SummerSlam and resuming his blood/office chair feud with Reigns is money. At least for me. Or wait, Lashley vs. Lesnar, and then Strowman cashes in, and then he feuds with Reigns about it later? If they actually start doing the Universal Title picture there's a lot of cool things that would happen with it. No clue if they will though.
Anyway, these two muscle guys should and hopefully will beat each other up a bunch, and hopefully it won't go for too long. I like the idea of a believable slugfest between two aggro jocks on this card filled with size difference matches. As long as there aren't too many chinlocks, etc. There very well might be too many chinlocks, etc.
Bill DiFilippo – This match will be perfectly whatever, Roman will win, and by the time it ends, we will all kinda just go "ok" and, like, go do a load of laundry or something. Give me Roman against Ricochet or something so at least we can get some cool flippy stuff in his next feud that he wins, I dunno.
Elle Collins – Reigns probably? Or Lashley, I guess? It's probably Reigns, but I can't say I'm invested. Wake me when Monday Night RAW has a top championship again. Didn't there used to be some sort of Fruit-by-the-Foot looking belt that they pretended mattered? I dunno, I'm very disillusioned right now.
That's what we think will happen at Extreme Rules. What do you think? Let us know in the comments section below, and be here on Sunday for the festivities.