One of the most anticipated matches of WWE Hell In A Cell 2019 was Becky Lynch defending her Raw Women's Championship against Sasha Banks. It was set to be only the second women's match to take place inside the cell (after Banks vs. Charlotte Flair on the 2016 iteration of the pay-per-view) and the feud between these women had already involved plenty of foreign objects. Plus, the winner would either be one of WWE's most popular babyfaces in Lynch or one of its freshest heels in Banks.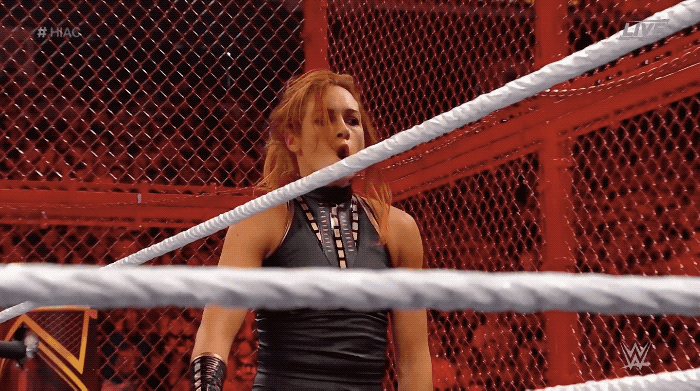 At Hell In A Cell, Lynch and Banks used a ladder, kendo sticks, and a lot of chairs. Both women got creative with their use of the cage too. Early in the match, Banks slammed one of Lynch's arms in the door and later Lynch set Banks in a chair-kendo-stick structure in the corner of the cell in order to dropkick her out of it. The match escalated further when Lynch retrieved a table from under the ring… only to eat a Meteora through it from The Boss.
Both women scored multiple close nearfalls, but it was ultimately Lynch who took home the W. After a Bexploder onto a pile of chairs, she tapped out Banks with the Dis-Arm-Her to retain the Raw Women's Championship.
What did you think of the match? What's next for the Becky Lynch as Raw Women's Champion and for the blue hair era of Sasha Banks? Give us your take in the comments.