The first edition of our Job Opportunities column took a look back at 10 of WWE's most memorable losers who'd go on to become huge stars in professional wrestling. After a week dipping into the fountain of youth that is World Championship Wrestling, we decided to go back to WWE and explore the lush history of the Worldwide Leader in Enhancement Entertainment.
So, as promised, here are ten more faces you would've never guessed would become some of the biggest stars in pro wrestling and sports-entertainment. If you dig these columns and want to see them continues — and lord knows they can — drop down into our comments section to let us know, and to share in the conversation about the sports of kings' most unsung heroes. At some point we'll get to, "memorable losers who never became big stars," and you might see your friend's uncle in here.
Keith Davis
Up first this week is Keith Davis, a young Vanilla Ice approximation from Fayetteville, North Carolina, with the unlucky job of wrestling Razor Ramon. If Davis' unique brand of looking like he's about to die during every move looks familiar, that's because he'd eventually come into his own as Cameron North Carolina's own Jeff Hardy, future 3-time World Champion — 6-time if you count TNA, and 7-time if you count OMEGA — and legendary tag team specialist.
In case you didn't notice, that's him and his brother opening the swinging doors at King of the Ring 1995 at the top of the post. That's a beautiful WWE career trajectory, isn't it? From opening doors for Ahmed Johnson to being a 9-time Tag Team Champion.
Jeff's brother Matt never got a generic Candyman-adjace jobber name like, "Keith Davis," so I'm sure he looked and acted completely normal. Let me take a long sip of coffee while I scroll down to the next picture, where I'll-
Matt Hardy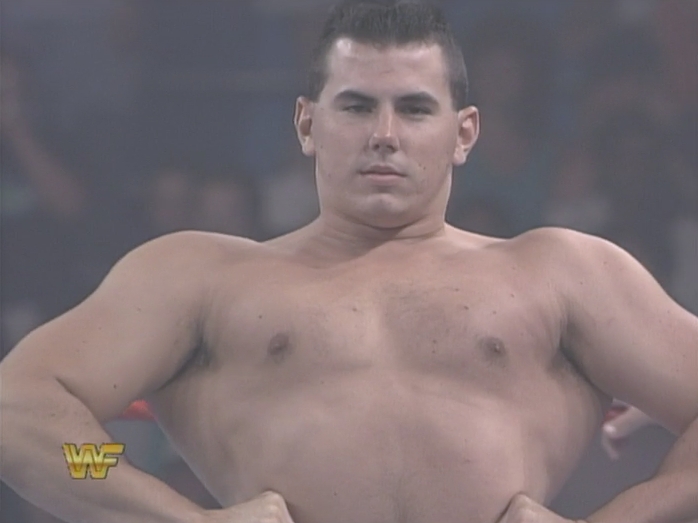 Young Matt Hardy is an absolute riot. If you watch any of the "before they were stars" videos about the Hardys from when they were little wrestling fans or backyard wrestlers or local indie wrestling entrepreneurs — around the time when Matt was calling himself "High Voltage," which would eventually be ruthlessly lifted from his demo tape for a terrible tag team … yes, WCW could've had Matt and Jeff Hardy instead of Robbie Rage and Kenny Kaos — Matt was OBSESSED with this old-timey wrestler muscle pose that made him look swoll. He LOVES IT.
Here's a quick comparison shot of him from his Raw debut against an enslaved Nikolai Volkoff for comparison.
Note: Ted Dibiase putting a ¢ on Volkoff's trunks instead of a $ is one of the great low-key classist burns of all time.
Kamikaze Kid
I won't try to pull the "guess who this is" bit, because there's only one person in the history of wrestling who looks like this, but yeah, long before he was Syxx of the nWo or X-Pac of D-Generation X, site favorite Sean Waltman was making his Raw debut as the "Kamikaze Kid." By the time he steps into the ring with Razor Ramon they're just calling him "The Kid," and when he scores what's still the biggest upset in Raw history (non-Santino Marella division), he earns the "1-2-3" before it.
Sadly the "Club Kamikaze" from Raw a few years later wouldn't get the same nomenclature change, and would become "Kaientai" instead of the far superior 1-2-3 CLUB. It's either the best faction ever, or where Dick Tracy arrests a mathematician gangster.