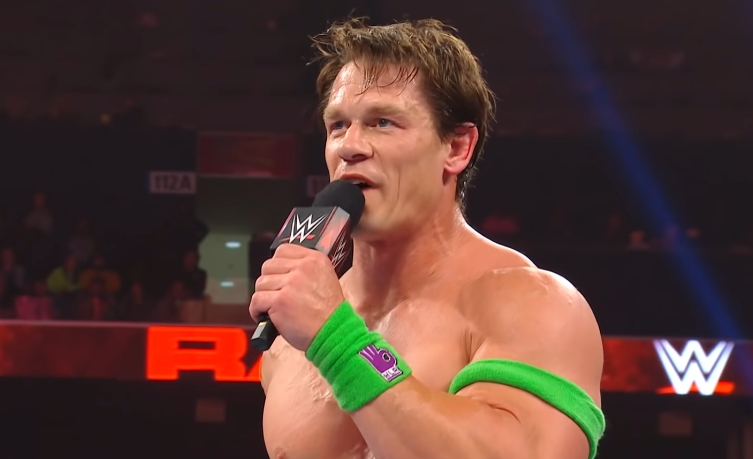 Less than two hours before the January 21 episode of Monday Night Raw was set to begin, WWE released a video claiming that John Cena was injured last Monday and may not be able to wrestle in the 2019 Royal Rumble match.
https://twitter.com/WWE/status/1087494802055155712
After a tweet with a video of an in-universe WWE news report, the company's next post included a video that focused on Drew McIntyre applying an ankle lock to Cena during the fatal four-way match to determine the number one contender to Brock Lesnar's Universal Championship. (Finn Balor ended up winning the match by pinning Cena, and therefore will wrestle Lesnar on the Royal Rumble PPV for the title.)

https://twitter.com/WWE/status/1087496193356124160
The video shows Cena escaping the hold and taking a moment to recover, holding his ankle. He then stumbles after delivering an AA to McIntyre later in the match and limps when walking away from the ring after his loss. WWE says Cena realized the injury was more serious when later training his legs.
Since this is wrestling, it's unclear how much of this story, if any of it, is true. On the one hand, WWE has incorporated real-life injuries into storylines to add drama and write performers off TV to give them time recover, as we've seen semi-recently with Becky Lynch and Dean Ambrose. On the other, it's possible this injury is entirely scripted and could set up a Cena vs. McIntyre feud or another storyline, like in 2018, in which Cena struggles to find his way onto the WrestleMania card. Or heck, maybe WWE will try to do a super short-term version of Cena's epic 2008 Rumble return.
What are your theories about Cena's injury? Let us know in the comments!