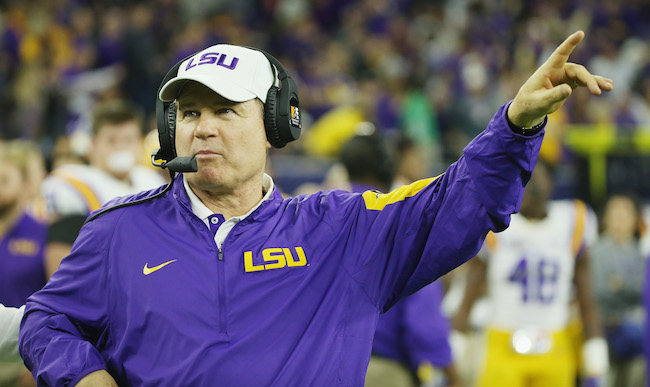 The Tennessee coaching search has been a disaster so far, starting with the Greg Schiano fiasco that had fans protesting in Knoxville and state politicians speaking out against the hire. Eventually the Vols backtracked and walked away from Schiano despite having a signed agreement in place.
Since then, it's been a parade of reports and failed efforts to save face and land a quality candidate. They were close on Mike Gundy, who ultimately said no (for the second time) to a reported 6-year, $42 million deal to stay at Oklahoma State. They were close on Jeff Brohm, who said no to stay at Purdue.
Now, they're allegedly kicking the tires on NC State coach Dave Doeren, who is mulling over the Vols' offer and an extension from the Wolfpack. If history tells us anything, he'll probably go with the latter. So, if Doeren says no, where does Tennessee turn? There's only one man who has his finger on the pulse of Vol nation and what the people want: WWE's Kane.

Yes, Kane (real name Glenn Jacobs) is running for mayor of Knox County and he's been vocal about the Tennessee coaching search. He spoke out against Schiano, but now he's got a scoop. According to Kane, the Vols could land former LSU coach Les Miles.
This isn't necessarily a surprise. Miles didn't want to leave coaching when he was fired at LSU in the 2016 season and has stayed pretty active in the college football world with a podcast and occasional appearances calling games on TV.
The biggest surprise is that Kane has sources in Les Miles' camp. Maybe Miles is a big WWE fan? Maybe Kane is just way more plugged in around the SEC than we thought? Why isn't Kane Tennessee's athletic director?
Whatever the case, Miles would be a more popular hire than Doeren. Whether that means he's a better hire is up for debate, but he's certainly a name brand that could win the press conference for the Vols, if nothing else.