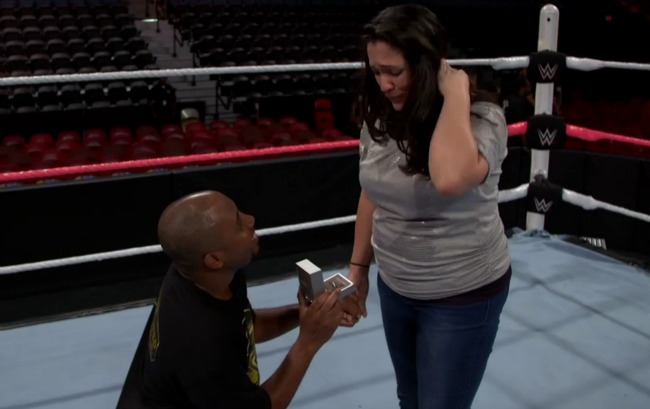 Here's something positive for your day, if you're into that kind of thing.
WWE and Kay Jewelers teamed up for a marketing campaign where they had pro wrestlers — in this case, real-life married couple Naomi and Jimmy Uso — help a fan pick out an engagement ring and propose to his girlfriend in the middle of the ring before Raw. The lucky guy in this clip is Coleco. We don't know much about him except that he loves his girlfriend, he loves The Architect, and his graphics are comparable to Atari.
The actual footage of the proposal in the video is short — possibly because they couldn't figure out how to put Kay Jewelers logos in the background — but it's heartwarming nonetheless. Remember, kids, every kiss begins with Kay, and every successful marriage begins in a wrestling ring with your husband wearing a Seth Rollins t-shirt.
[protected-iframe id="c4132667091a7b87d0c6ec00ba03527f-60970621-20122658″ info="http://c.brightcove.com/services/viewer/federated_f9?isVid=1″ width="650″ height="400″]
I heard you like rings, so give your girlfriend a ring in the ring so you can ring while you ring.
In all seriousness, the world needs a little more love, even when it's happening in a wrestling ring and backed by corporate sponsors. Behind the promotion are two people who obviously love each other very much, and love a thing we love enough to read about it on entertainment blogs. We wish them the best, and when we say "uce," y'all say "should have a long, happy marriage."