Previously on the Best and Worst of WWE NXT: I saw Jawbreaker reunite in Brooklyn and shoehorned in a half-dozen references to the best punk band of the '90s because of it. Fight me.
If you missed this episode, you can watch it here. If you'd like to read previous installments of B&W NXT, click right here. Follow With Spandex on Twitter and Facebook. You can also follow me on Twitter, where I primarily tweet about pro wrestling and emo bands, so if you fit into that Venn diagram, welcome aboard.
Click the share buttons and tell people (including @WWENXT) that you dig the column. We can't keep doing these if you don't read and recommend them! It helps more than you know, especially for the shows that aren't Raw and don't have hundreds of thousands of built-in casual interests.
And now, the Best and Worst of WWE NXT for March 7, 2018. I'm gonna break my rusty cage and run.

Worst: Dusty
The first match of this downsized Dusty Rhodes Tag Team Classic pits the two finalists from the 2016 tournament, Authors Of Pain and TM61, against each other in the quarterfinals. (Sadly, there was no crash cage to be found.)
I can't be the only person who, upon seeing the Bar issue an open challenge for WrestleMania via Twitter earlier this week, thought that maybe AOP would be taken out of the tourney early to be Sheamus and Cesaro's surprise opponents. After all, what's left for Motorola and Razr to accomplish inside the yellow ropes? Plus, considering TM61 got the back-to-back vignette treatment to gain support and garner sympathy, it seemed like a no-brainer to have AOP do the honors on their way out to bigger and better things.
Then, Authors Of Pain won.
Like, what? What? Why did you build up a babyface tag team for weeks only to have them get eaten by a team who was at one point your monster heel champions but has since had a whopping four televised matches in NXT — WarGames included — since dropping the titles in Brooklyn? That's four televised matches in six months. TM61 have had two televised wins in the past 30 days, plus a two-part "you think you know, but you have no idea"-style video package. Like, what???
That said: While I was (and still am) baffled by the outcome, the match itself was good, from Shane Thorne's massive cannonball on Rezar to Rezar getting his receipt by putting Thorne up in the powerbomb position and instead just heaving him over the top rope onto the floor. F*cking ouch.

Best: Outshined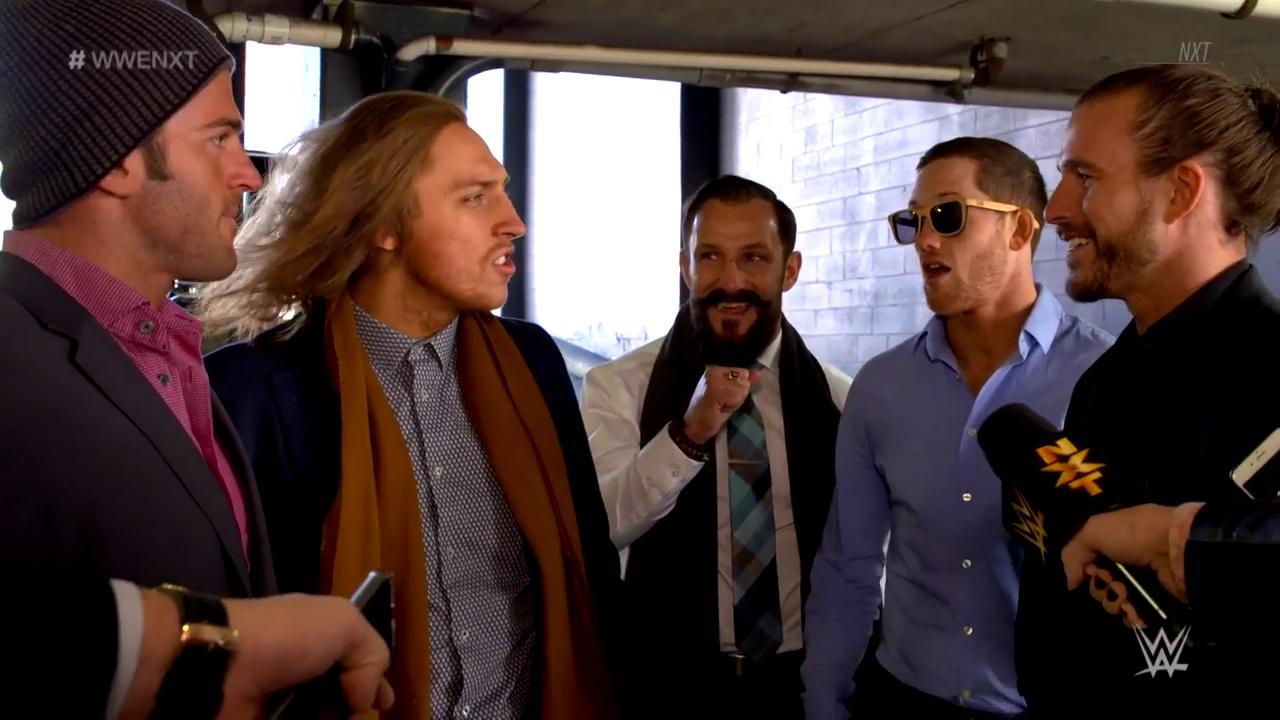 I've been drawing comparisons between the Undisputed Era and the nWo for weeks, but here, they were more like Regina George and her Mean Girls posse. (Do you think they have a burn book in the locker room? They totally have a burn book.)
It was hilarious to watch Adam Cole punk out Roddy Strong, because LOL Roddy Strong, but it was even more hilarious when Pete Dunne wrecked Cole with one simple jab: "You haven't won anything since you've been here." Quick, easy, effective. And a feud is on! I love it Maggle.
Best: Slaves And Bulldozers
We only get one Dusty Classic match on this episode but two promos for teams competing next week. Take one guess as to which team's promo I preferred. (Sorry, SAnitY, but "United we purge" doesn't sound nearly as cool as "THEY AIN'T READY FOR THIS BEEF, OOOOOH YEAAHHHH.") Can Heavy Machinery just be the biggest thing forever? Failing that, can they at least get a goddamn T-shirt already?

Best: Mood For Trouble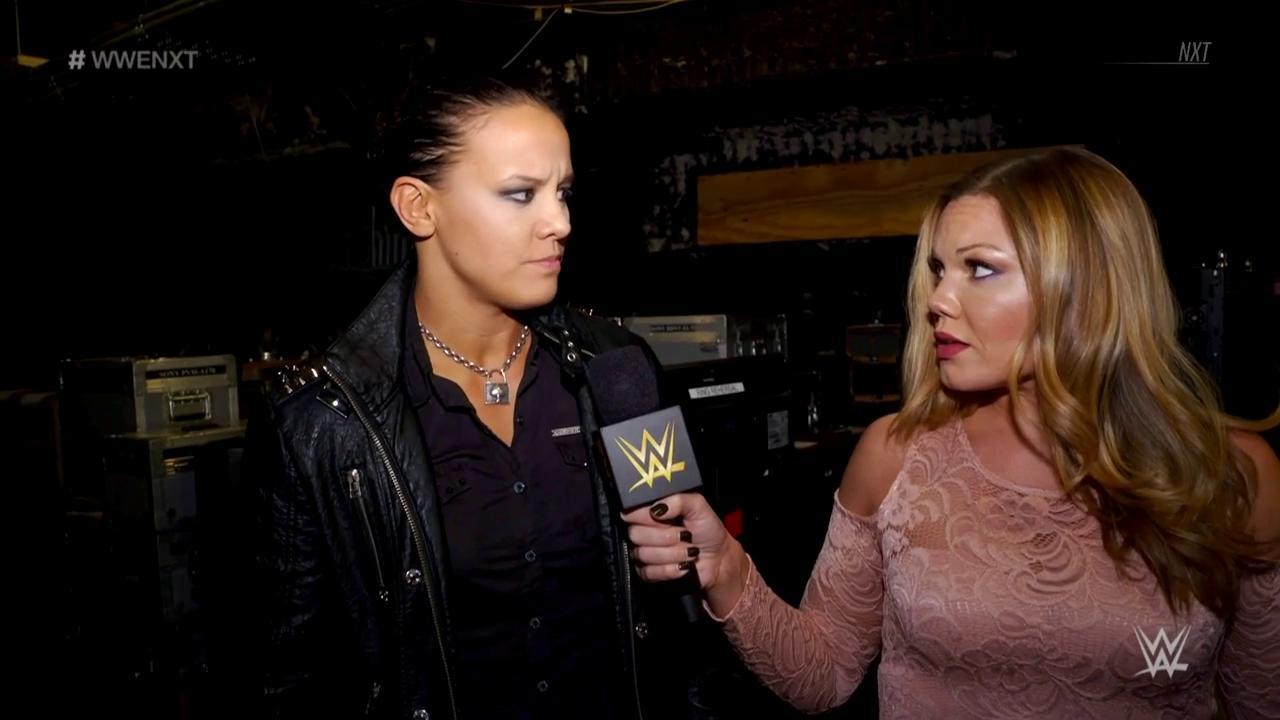 The women of NXT are all wedged into the same four-minute span this week, with Bianca Belair quickly squashing a ham-n-egger named Miss Drew Renee, followed by Lacey Evans calling out Dakota Kai, which was interrupted perfectly by Shayna Ba(e)szler who continued to call out Ember Moon for not answering her challenge. While I wish more of the episode would have been devoted to these women, the plus side is that within four minutes, three credible heels were built up
Bestest Best That Ever Bested: Jesus Christ Pose
…
………
[breathes in]
……..
…..
[breathes in]
…..
…
….
fin
(What, did you think I'm not gonna praise a segment in which F*ckface Ciampa pulls his best 2012 Chris Jericho and makes the crowd boo him for seven straight minutes without saying one word? And if that's not enough, he grabs a Johnny Gargano sign from the crowd, rips it to shreds, then beats it up in the center of the ring with the same crutch he brutalized Gargano with at TakeOver: Philadelphia ***and*** used to cost him his "Loser leaves NXT" match two weeks ago? This might legitimately be the best non-wrestling segment in NXT history. Seven minutes. Literally zero noises beyond boos. Unreal.)

Worst: Ultramega OK
While it wasn't officially billed as such, Aleister Black vs. Killian Dain pretty much served as a No. 1 Contenders match to set up Andrade "Cien" Almas' opponent at TakeOver: New Orleans. (Why they wouldn't just outright say that, I have no idea.)
I dunno if it's because I've had the flu most of this week (don't pray for me, just send Pedialyte), but this match didn't really click with me. I think Black is on the fast track to a WrestleMania co-main event within the next five years, and i think Dain is a perfect, Vader-esque big man to put fear in the hearts of smaller opponents (shoutouts to Dain's Vader Bomb), but their styles didn't seem to mesh well in the ring. It was two very talented wrestlers not getting a lot out of each other. There's been such a slew of fantastic wrestling on NXT TV lately that this main event simply didn't live up to expectations. (Again, if you disagree, blame the flu, not me. But if you agree, my Venmo is @scottheisel, and donations of any amount are accepted.)
The ending was a nice way of protecting Dain, though: Black goes for a roll-up and gets two, and because he's quicker to his feet than Dain, he can deliver a devastating Black Mass kick before Dain can properly right himself. The finisher is still protected, but so is the performer, because of course a cruiserweight could get up faster than a super-heavyweight.
Next Week: We get a jam-packed episode where Pete Dunne defends the UK Championship against Adam Cole, as well as two Dusty Rhodes Tag Team Classic quarterfinals matches: Tino Sabbatelli and Riddick Moss vs. SAnitY, and Heavy Machinery vs. Street Profits. See you then!