Previously on the Best and Worst of WWE NXT: Rhea Ripley showed up to challenge Shayna Baszler, Io Shirai and Candice LeRae continued their beef, and Undisputed Era unseated Street Profits to become the first-ever three-time NXT Tag Team Champions.
If you missed this episode, you can watch it here.
If you'd like to read previous installments of the Best and Worst of NXT, click right here. Follow With Spandex on Twitter and Facebook. You can also follow me on Twitter, where everything and everyone is terrible.
And now, the Best and Worst of WWE NXT for September 4, 2019.
Best: Breeze! Put Your Hands Where I Can See Them!
Up first is Tyler Breeze and Fandango settling into the mainstream pro wrestling artistic paradise of NXT by finally, finally abandoning that horrible mash-up of Breeze's theme and Fandango's. I like both of those themes as much (or probably more) than most people, but there are few things in the modern WWE ecosystem less appealing than the tag team singles theme mash-up. They're jarring, they sound like they were put together in 30 seconds before the entrance started, and they do a major creative disservice to the wrestlers. Just look at the Kabuki Warriors' theme for an example of that. Just go with Asuka's theme or (preferably) Kairi Sane's theme, don't try to "mash up" an EDM rock song with a wistful pirate chanty. Especially if you aren't mashing them up and all, and are just playing 30 seconds of one, 30 seconds of the other, and repeating. The new entrance is key, is what I'm saying.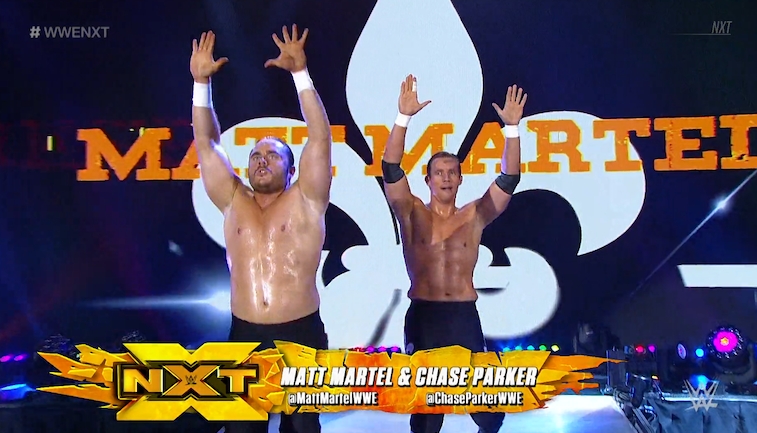 Anyway, Breeze and Fandango have their Full Sail tag team debut and get their first win over Chase Parker and Matt Martel. By defeating Team 3.0, Breezango now have two points. One more win and they can challenge Undisputed Era for the Tag Team Championship!
I liked Breezango getting a strong win, but I also liked how Martel and Parker (and whatever we're calling their actual tag team … Fleur For The Gold?) got to look competent and competitive in the process. I was never a huge 3.0 fan, but the more actual functioning tag teams you have heading into the 2-hour live USA Network NXT era, the better. If you keep a few low-level teams around who can sometimes win matches but not beat your top guys, you don't have to do what Raw does and turn everyone who isn't getting a push this cycle into hapless jobbers. The Revival shouldn't cleanly lose a fall to a tired team teaming for the first time in the middle of a gauntlet match because one has a match at the upcoming pay-per-view and the other doesn't, you know?
Episodic Backstage Randomness
Candice LeRae just can't stop getting hit with a stick, this time because she interrupted Io Shirai's caning of Cami Fields on last week's episode. Candice should try to pick a fight with Aliyah or something instead. It's like she skipped over the Don Cornero's Aps battle and went straight for the Emerald Weapon.
Also of note, Cameron Grimes wants us to take him seriously and expresses this by putting on a top hat. "Southern guy empowered by looking more like Lynyrd Skynyrd" is pretty hilarious and accurate. Also,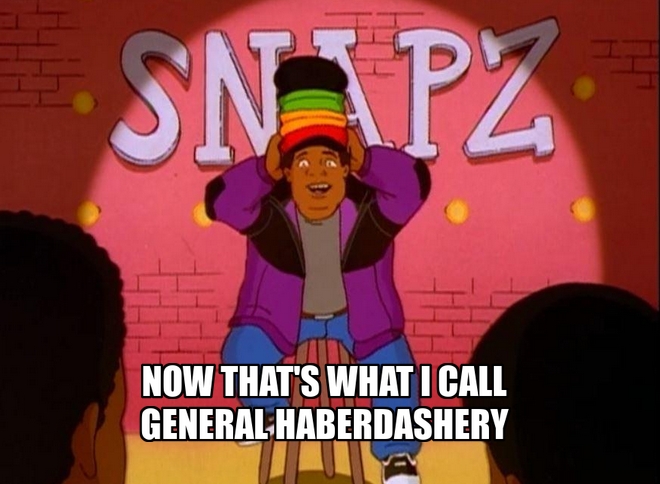 Best: The Fresh Wins Of Belair
The best version of Bianca Belair is the one who stops screwing around and decides to unstoppably end you no matter what you do. She's like Batista in that way. Batista matches (not counting ones where he gets his nose ring pulled out with pliers, or whatever) were best when they were built around the idea that he had CRAZY momentum, and if he got rolling you couldn't do anything to stop him. It was like a Goldberg that didn't totally understand he's a Goldberg. You had to push him to a certain level, but once you did, you were dead.
With Bianca, the key to beating her in the ring seems to be undermining her confidence early on. If you can keep her unsure of herself and her abilities — which is interesting, considering that being the "EST" is her entire image — you can win. If you don't, and she starts dragging you around by the hair and punching you in the back of the head, you're toast.
Here, Taynara Conti (who is getting really good, for the record) tries and fails to do this. For most of the match, she's in control for a surprisingly long time. It's just that when she runs out of ammo, she doesn't know how to stop Bianca's momentum. She tries a running cross-body off the apron, gets caught and fallaway slammed on the floor, and it's ostensibly over. Belair has done something impressive, mostly out of necessity, and remembers that she's BIANCA BELAIR. GIRL. UH UH. From then on, it's homicide.
Note: Belair is one of three women competing in a triple threat match for the number one contendership to the NXT Women's Championship on the September 18 live NXT debut show on USA Network, so this is a GREAT kind of match to give her. It'll be Bianca vs. Mia Yim vs. Io Shirai. It's hard to predict that, because (1) Io is a monster but currently in a feud with Candice LeRae, who almost definitely won't stand around and let her win a number one contendership, (2) plays off the recent interactions between Baszler and Yim, and the Horsewomen offer/beatdown, *and* (3) immediately follows these impressive Bianca Belair recovery wins. It's really cool to not automatically assume you know everything that's going to happen, because the show has done the work to make everyone involved look like a worthy challenger.
Best: Roderick Strong In The Hot Seat
Velveteen Dream defeats Kona Reeves, which is pretty much the easiest win you can get in NXT until Mauro Ranallo starts accepting shoot-fights. Kona Reeves is so unimportant at this point that commentary spends part of the match talking about how the only good parts of him are the ones he picked up from the Velveteen Dream. Trust me, I'm sure I'll be obsessed with how great Kona Reeves is at some point during his NXT career, but yeah, as of this week he's less crucial to his own match than a burning piece of furniture.
If you weren't sold on Roderick Strong as a complete piece of shit, he "gets the Dream's attention" by stealing and burning Dream's announcement couch. I assume he took out all the random people who stand around it to push it back and forth with chops and backbreakers. Strong has turned the Velveteen Dream into a literal "this is fine" meme, and I hope the payoff is a Japanese death match where they have a pillow fight with flaming couch cushions.
Best: Bay-Bay-C-H
Finally we have a fantastic main event, paying off the existence and consequence of the Breakout Tournament by giving tournament winner Jordan Myles his guaranteed title shot against NXT Champion Adam Cole. They get almost 15 minutes — on a one-hour show that already had three matches, please take notes everywhere else in WWE — and man, I wish I could go back five years and tell myself WWE Network was going to devote a quarter-hour to Adam Cole vs. ACH. So good.
Everything about this works. Cole is a dominant champion who gives Myles enough to put him over as a future star and a worthy competitor. He doesn't have to work 51-minute Johnny Gargano levels of hard, but he's got to get his shit together and string together some moves to put Myles away. Myles has ALWAYS been an A+ babyface, so putting him into a slick, WWE-produced environment with time to work and a world class heel to play off of is a recipe for success. Plus, dude's breaking out the arms-back Naruto run into a suicide dive. How could you be a dork and not love that?
As expected, Cole wins and is free to launch into his next championship feud (presumably) on the September 18 live edition of NXT on USA. Still putting that, "against Tommaso Ciampa" energy out into the world. Myles looks like he belongs, and I'm excited for them to call back to this naive Super Rookie challenge in their second match sometime down the road.
As a quick side note, the pre-match Keith Lee pep talk to Jordan Myles activated my Peter Tingle and made me think Keith, who has been vocal about not getting some of the same opportunities as the fresh new guys, was planning to Kevin Owens him if he won. I hope the post-match version they ALSO did (above) is Keith internally being like, "whew, I don't have to Spirit Bomb this guy now, I'm just gonna be a good friend." I mean, I hope he was always just being a good friend, because he's Keith Lee, wrestling has just trained me to be skeptical of anybody being nice.
Next Week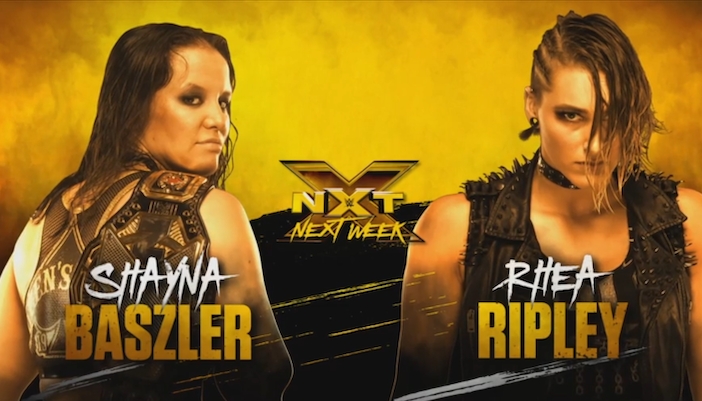 It's NXT UK TakeOver: Orlando as Rhea Ripley challenges Shayna Baszler. Whose spiked leather jacket will reign supreme?