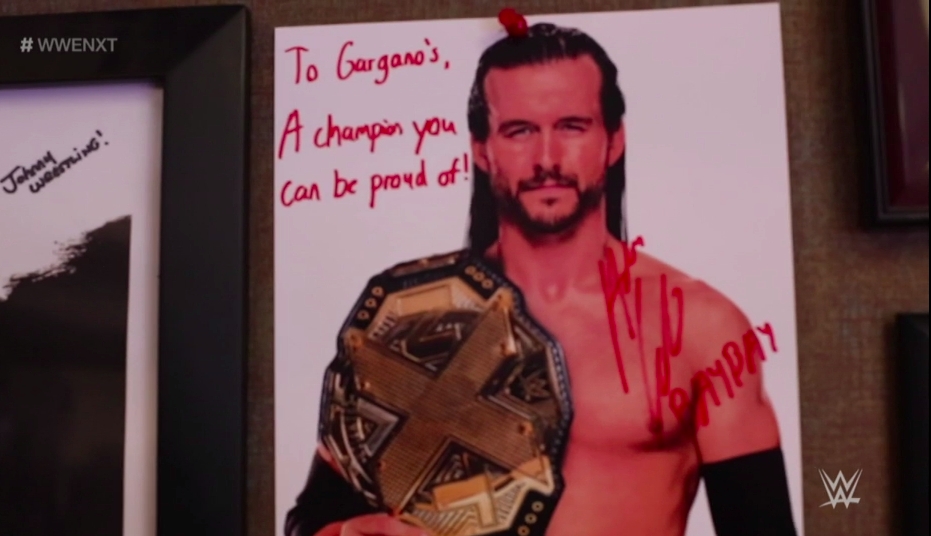 Previously on the Best and Worst of NXT: Io Shirai lost an NXT Women's Championship cage match to Shayna Baszler via not anticipating how gravity affects a corpse, and flipped the hell out on Candice LeRae about it. Then we took a week off for the July 4 holiday. Enjoy this extra-long edition of Best and Worst of NXT!
If you missed these episodes, you can watch them here and here.
If you'd like to read previous installments of the Best and Worst of NXT, click right here. Follow With Spandex on Twitter and Facebook. You can also follow me on Twitter, where everything and everyone is terrible.
And now, the Best and Worst of WWE NXT for both July 3 and July 10, 2019.
Jobbers Of The Week(s)
This week's can in the Hogan's Alley that is KUSHIDA's NXT career is Jeff Parker, better known as Scott 'Jagged' Parker of Team 3.0. Parker and his tag team partner, Shane Matthews, signed with the company earlier this year but I guess aren't notable enough to be breakout stars in any Breakout Tournament, so they're playing Cobra Kai-flavored jobbers until the next NXT Tag Team Champions get randomly called up to Raw on a whim.
Another interesting note about this match: KUSHIDA's Hoverboard Lock is now called the "Sakuraba Lock," a tribute to Kazushi Sakuraba, because Mauro Ranallo is obsessed with everything KUSHIDA does being a tribute. In this one 2:35 jobber squash he points out the armbar that was previously never a tribute being a tribute, the handspring elbow off the ropes being a tribute to Tajiri, and the wind-up punch being a tribute to, "the Yankee pitcher Tanaka." It's not the same as Alex Riley thinking every black person reminds him of a black athlete he can name, but it's in The Yankee Ballpark. They should start saying KUSHIDA's wind-up is a tribute to No Way Jose.
Also jobbing out on these shows is Blanco Loco, who loses Alto Puertorriqueño via a "cyclone kick" and That Rolling Cutter He Calls The Reckoning. It's his tribute to WCW Power Plant graduate Reno!
If you've never heard of Crazy White, he's a white guy playing a luchador who adds katakana after his name and calls himself "The Sultan of the Sky," so he's just … all over the place. Imagine if KUSHIDA carried a piñata to the ring and called himself "'The Maharaja Of The Mat' Kyle Smith."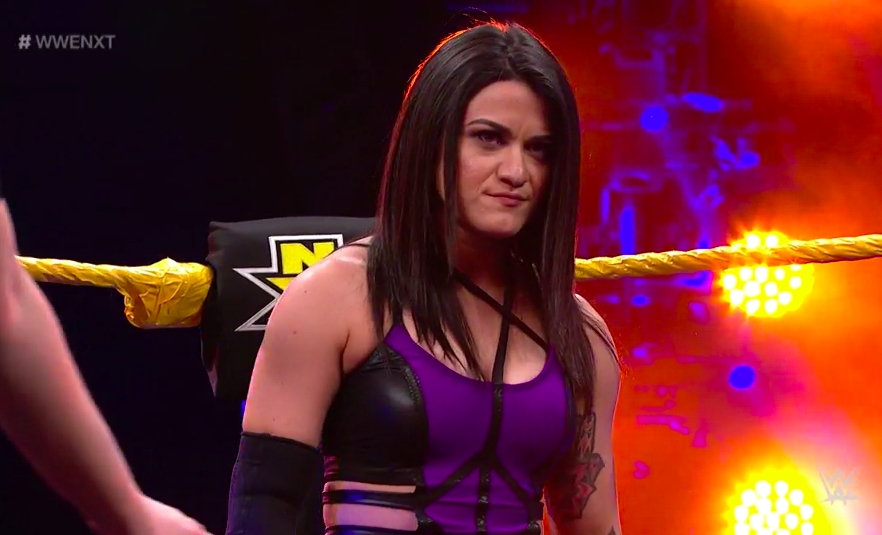 The best jobber of the week(s) and a legit contender for best NXT jobber of all time is Priscilla Zuniga, most famously known as "Diamante" of LAX in Impact Wrestling. You may remember her from the time she showed up in NXT and got kicked the hell to fuck by Asuka.
This time around she goes one-on-one with Bianca Belair and makes the same mistake she did with Asuka: puffing out her chest and slapping someone who could rip her in half and throw both halves into orbit. I'll be honest with you; I love Bianca Belair, but I've never been as into her as I was when she caved in Priscilla's chest with a forearm, took out her earrings, and proceeded to just beat the ever-loving shit out of her. Bianca LIT HER UP here. It was like she was channeling 1998 Bill Goldberg. An absolutely masterful squash, and I'm very into Bianca dropping the pretense and really proving she's the "EST of NXT" by swatting and hammer-throwing people to death.
Sign Priscilla Zuniga immediately please, and never, ever let her win a match. She's the reincarnation of a Mulkey Brother, and they're not even dead yet.
Best: Mia Yim Is Coming For That Ass
Mauro's internal monologue in this picture:
I almost included Aliyah in the Jobbers of the Week category, because it feels like she's been in development for a Tye Dillinger amount of time and still hasn't gone anywhere with it. Don't get me wrong, she's perfectly fine in the ring, her character work has been lowest possible effort but fine alongside Vanessa Borne, and there's nothing ostensibly wrong with her; she just still feels like someone they pulled off an indie show to do a fill-in date or two. Like, Diamante is way better than Aliyah, without the benefit of years (and years) of high-level WWE developmental training.
Anyway, the latest incarnation of Mean Girls are just obstacles to keep Mia Yim busy while they get her ready for a shot at the NXT Women's Championship, and that's moving along nicely. Mia's "head baddie in charge" stuff is awkward sometimes, but the pre-taped vignettes where she gets to talk like a real person and her getting up in the announce team's face about how she's gonna get in the ring with Shayna Baszler and "whoop that ass" have been great.
Someone Knock On Killian Dain's Door
I want one Aleister Black to interrupt one of these Killian Dain monologues by leaning over and saying, "shhh, I'm trying to watch the movie."
Best: You've Got To Find A Way, Say What You Want To Say, Breakout
While this week's Breakout Tournament matches didn't light me on fire like Angel Garza and Joaquin Wilde from a few weeks ago, there's still a lot of good here, and it's great to see some new (and familiar) faces on NXT. Maybe these matches needed more breakaway pants spots.
First there's Cameron Grimes (the former Trevor Lee) vs. Isaiah 'Swerve' Scott (the former Shane Strickland, and also the former Kill Shot from Lucha Underground … I know where you got those back scars, my dude). Lee is named "Grimes" because he's grimy, and also presumably because he hates Homer Simpson. Strickland got a name like a college running back from 1990-something and explains that "swerve" means "confidence." Vince Russo would like to have a word with you about that, bro.
Strickland is one of the best wrestlers working today, so I was disappointed to see him take a round one loss to Grimes. Trevor Lee's also very good, but this felt like a lot of rest holds while they set up the next cool thing for Strickland to do. Both this and the BOA vs. Jordan Myles match went a little heavy on the, "slow down, take your time," stuff WWE's obsessed with, when Garza vs. Wilde basically did the opposite and got the crowd behind both of them by the end. This is a tournament about first impressions, right? Let them go balls-out, at least for these matches. We know they can do chinlocks and wristlocks. Save that shit for the first 10 minutes of a future TakeOver match where the match is about the characters and stories, and not us coasting on their pre-NXT reputations.
So the dude ACH showed up to Full Sail knowing how to go from the Performance Center to the main roster as quickly as possible: showing the crowd that he Loves To Have Fun®. I expected them to go more "Jordan" with his character than "smiles for MYLES," so that could get tired real fast, but he's goddamn ACH so I'm sure he'll be fine. Again, I wanted to see him get a little bonkers during his First Impression Match, and BOA's kind of a cold slice of white bread. He gave me a Chinese Alberto Del Rio vibe, possibly from all those standing front kicks.
Regardless, this sets up Jordan Myles vs. Angel Garza for round two, and you might as well go ahead and inject that shit into my veins right now.
Best: Undisputed Area
The best non-wrestling segment from the past two weeks is without a doubt Adam Cole's dirtbag ass going full Ric Flair to visit Johnny Gargano's dad's pizza place, condescendingly buy pizzas from him while constantly stunting on him, and then going to the school where Gargano used to be a trainer to tell everyone to give up, grab a pizza, and go home.
One of the great things about Cole's character that differentiates him from so many other top WWE heels is that he feels like a real person; namely, the kind of real person who believes their greatness isn't "deserved" or "missing," it's an inevitability. He just knows he's right. Ric Flair didn't succeed because he "worked his way to the top" or talked a big game, he succeeded because he showed up on day one knowing he was the top guy, and insisted it into existence.
The man thumbtacked an autographed photo of himself to the wall of the former champion's dad and wrote "A CHAMPION YOU CAN BE PROUD OF" at the top. If that's not one of the great dick moves in NXT history, I don't know what is.
The Tyler Breeze vs. Roderick Strong match from the July 3 episode continues that theme, as NXT realizes they can move forward with the Undisputed Era's mission statement by having its scummiest member (Strong) cheat to win via help from his friends over a returning heel turned babyface (Breeze) working through career struggles. It's perfect storytelling. On one side you've got a guy who "talked a big game" and ran into a creative wall, and has come back to the home he once knew to stand on familiar ground and find himself. On the other, you've got the third most important henchman of a champ who has tricked a bunch of his former co-workers from another company to routinely sacrifice and kill themselves for his benefit. It's a guy doing badly for the right reasons against a guy doing well for the wrong reasons.
All it needed was for Strong to give him a pizza at the end and tell him to go home.
Best: This Is Her Yard Now
Io Shirai doesn't need friends, and she doesn't need any of us. She just needs some black clothes, dubstep from 10 years ago, and being born Io Shirai. We're finally at the Fireworks Factory. Sign Mayu Iwatani away from Ring of Honor, let Kairi Sane stop sailing around in the abandoned harbor of the Women's Tag Team division, and get the damn band back together.
Best: Two, One Jump Street
Hey, remember how awesome the Street Profits are when they're a charismatic young tag team with a deep connection to the crowd who have awesome tag team matches instead of indiscriminately yelling dumb bullshit at the camera for five minutes between Chrisley Knows Best commercials?
If Raw wiped your brain, here's your reminder: the Street Profits rule, and their Tag Team Championship match against Danny Burch and Oney Lorcan is proof. This is easily the best match from the past two weeks, and my only complaint is that it wasn't ten minutes longer. Well, that, and the fact that NXT is the only WWE brand that remembers how to do tag team wrestling (or that tag team wrestling is worth doing at all) and keeps having their champs randomly cherry-picked away and thrown into a rancid creative graveyard. But 'Tez hits that beautiful frog splash and I forget my wrestling fandom existential crisis for a moment.
The good news is that this appears to be setting up a TakeOver match between the Profits and Undisputed Era in Toronto, and those two teams plus "NXT Tag Team Championship match" plus "TakeOver" plus the home of the greatest NXT Tag Team Championship match ever appears to be setting up me clapping so happily my eyes roll back in my head and I collapse into a coma. Really looking forward to that.
Please keep the Street Profits in NXT, WWE. Let them be weird Raw spokesmen if you must, but it's more important that they wrestle HERE than NOT wrestle THERE.
Next Week:
Speaking of the Main Roster NXT Graveyard, Apollo Crews comes back to life, Altered Beast-style, to take on KUSHIDA. "Defeating Apollo Crews" will be KUSHIDA's tribute to Baron Corbin!
In Breakout Tournament action, Shane Thorne's future tag team partner Bronson "Jonah Rock" Reed faces Robert Roode's obvious serial-killer little brother, Dexter Lumis! Plus, Velveteen Dream tells us who's getting the next shot at the gigantic North American Championship.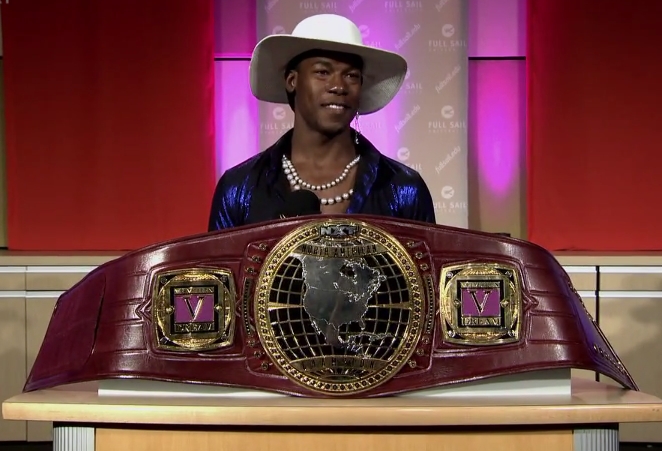 "With love and respect, the Dream's gonna have to ask you to relax, Queen Cathy." Also, did she say, "re-petted-ly?"
Anyway, see you next week!