Previously on the Best and Worst of NXT: NXT moved to the USA Network (for an hour) for a new number one contender to the NXT Women's Championship (Candice LeRae), a new number one contender to the Cruiserweight Championship (Lio Rush), and a new North American Champion (Roderick Strong). Wednesday business is about to pick up!
If you'd like to read previous installments of the Best and Worst of NXT, click right here. Follow With Spandex on Twitter and Facebook. You can also follow me on Twitter, where everything and everyone is terrible.
And now, the Best and Worst of WWE NXT for September 25, 2019.
This Week's Changes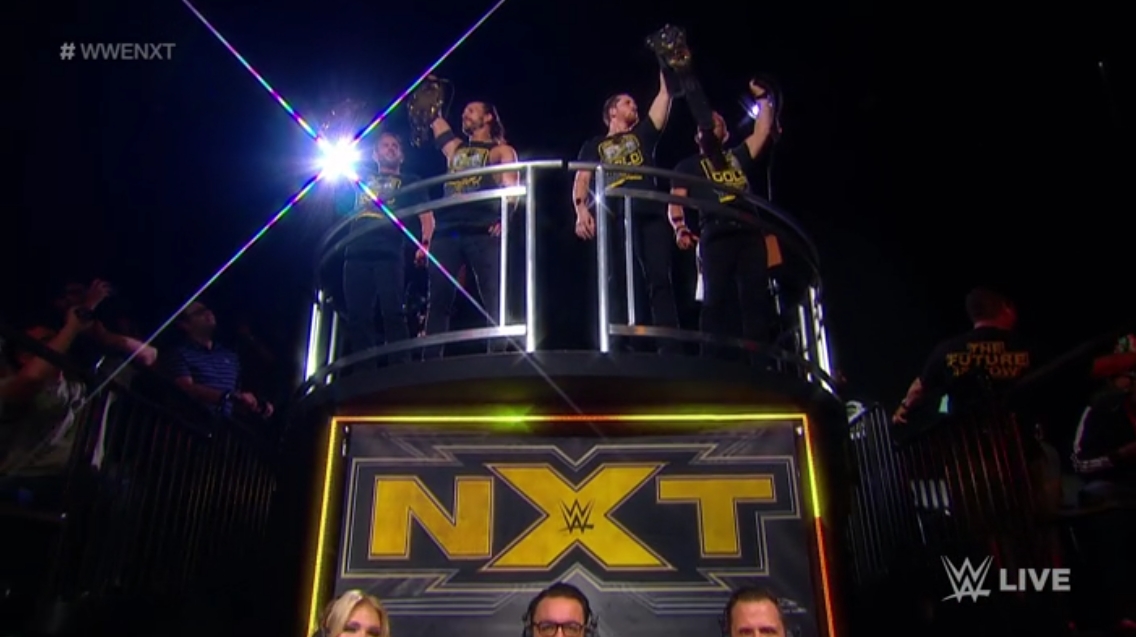 Hey, there's a balcony now! They might've established that last week and I was just too shaken by the loss of stage and ramp to notice it.
Place your bets on who's jumping from the top of that thing at an NXT TakeOver. Io 'Hitokiri' Shirai once dove off the top of Dario Cueto's office in the Lucha Underground temple, so she's a top candidate. Jordan Myles has probably already jumped off of it two or three times for fun.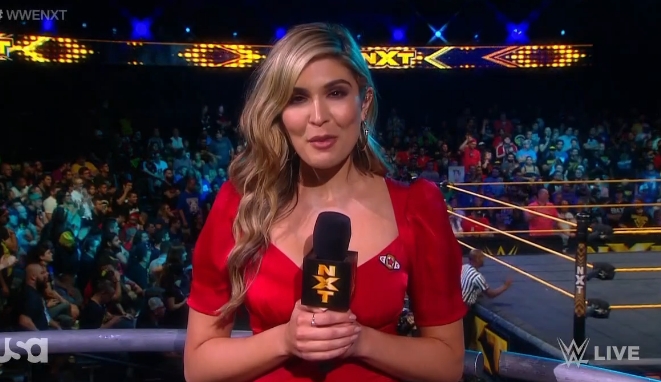 The only other major change is that Queen Cathy Kelley appears live (from said balcony) to provide some Real Sports Updates. If you aren't a regular reader of the Best and Worst of NXT column or you've just started reading, our love of Queen Cathy is eternal. She's the best, even if she's routinely treated like garbage by her aggro-ass co-workers. She says hour two of the show will be on the "NXT Network." That was clearly a mistake, as the formal name of the platform is, "NXT And Old Episodes Of WCW Monday Nitro Network."
Please be careful on that balcony, Cathy. We love you, and we've seen how bad you are with doors.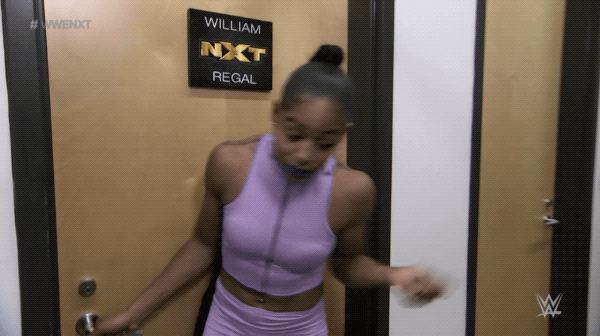 BEST: Lee V Dijak 3
… in NXT, I mean.
Welcome to a hoss-tentatious all-new episode of Suits NXT featuring the third yellow ropes installment of Keith Lee vs. Dominik Dijkaovic. The announcement of Lee vs. Dijakovic in your area should result in parades and a full week of nightly celebrations. Their first encounter ended in a draw. The second made me devote an entire edition of 8 Great to it and ended with Double D surviving a Spanish Fly and Feasting on Keith Lee's Eyes, Jeepers Creepers-style. The third installment ends with Dijakovic hitting a moonsault, accidentally triggering Keith's Limit Break, and getting cradled like a terrified baby.
When Keith sat up like the damn Undertaker with six-foot-seven guy in his arms and just glared at him like he was gonna die, I straight-up started clapping and cackling in real life. Pro wrestling is the best.
It's hard to review any Keith Lee versus Dominik Dijakovic match without just typing everything they did in capital letters, and there's plenty of that here. Keith hit a tornillo over the ropes to the floor, which isn't something somebody who weighs 340 pounds is supposed to be able to do. Dijakovic hit a chokeslam on the ring apron. There was a fucking Canadian Destroyer off the second rope that only got a two count, Gargano and Cole-style, and while I'd normally be critical of that kind of thing, I think it works in these Superman vs. Zod style battles of cartoonishly impossible humans. Lee hit a moonsault from the second rope, Dijak hit a moonsault from the top, and then Keith hulked up and John Cena'd him to death. It was the next step in the ongoing masterpiece that is the two biggest guys in NXT trying to out Mike Awesome each other.
The series currently stands at 1-1-1. Can I suggest a 30-minute iron man match between the two for NXT TakeOver: War Games? Let it go on after the War Games match so it can be the first match in history to break two entire wrestling rings.
Best: Dakota Fan'ing
The most heartwarming moment of the night had to be the in-ring return of Dakota Kai, site favorite and all-around adorable kick monster who has been out of action with an injury since December of last year. It's hard to watch her response to getting back in the ring and hearing the crowd cheer for her without getting in your feels, I think. She has her return match against Taynara Conti, who apparently lost her last name to injury.
There isn't much to the match itself, as it only goes for a couple of minutes. It ends with Kai debuting her new finisher, the "GTK (Go To Kick)," which is exactly what it sounds like. It's a fireman's carry into a kick. Not sure how much I like someone who just came back from a leg injury having a finish where they have to support the body weight of two people on their leg and then kick wildly, but at least I won't have to panic every week thinking Kai's gonna accidentally piledrive herself because her opponent's hands slipped.
In Other Women's Division Squashes News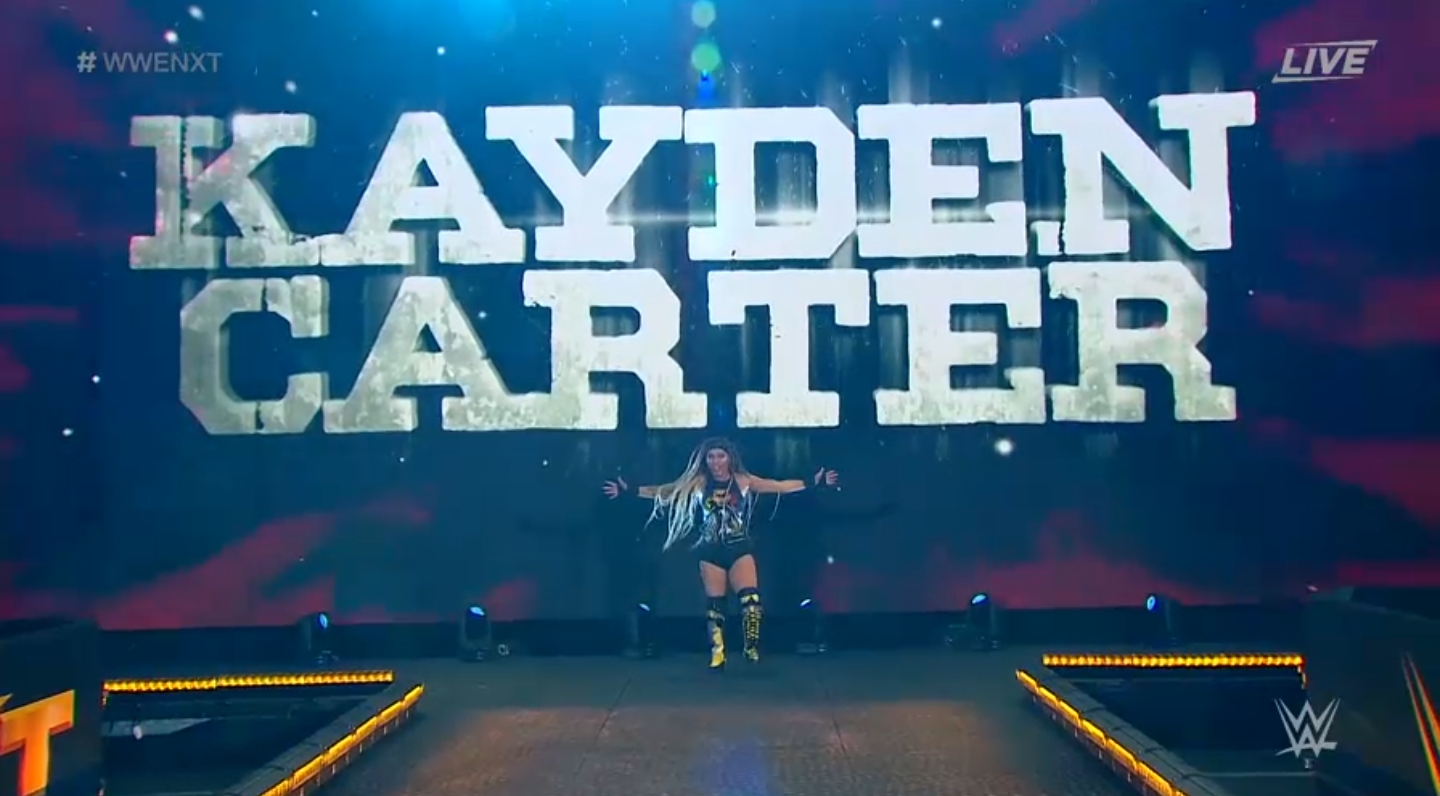 NXT UK Brutality Identifier Rhea Ripley defeats Lacey Lane in slightly less time than it took Kai to top Taynara Conti, but the big news here is that Lane is now, get this, "Kayden Carter." Isn't that the most 2011 NXT rookie name you've ever heard? "Kayden Carter" is what you used to joke they'd change AJ Styles' name to if he ever signed. It's the early 2010s WWE equivalent of, "we know who THAT is, Taz, what is RAIN ROMANS doing in the Impact Zone??" She had to have chosen that from a short-list of abandoned Florida Championship Wrestling names.
I guess Lacey Evans officially won the "Lacey" race. I'll never forget when they ran Lacey Evans vs. Lacey Lane at the Performance Center during the WWE 2K19 promotional visit and a crowd made up exclusively of reporters and editorial-types started a "Let's go Lacey/Let's go Lacey" dueling chant. Leave the memories alone.
Best: Matt Kings Cole
Last week's hour two on the NXT And Old Episodes Of WCW Monday Nitro Network ended with the street fight between Matt Riddle and Killian Dain getting stopped and thrown out because of … too much street fighting? It was kinda dumb, but it gave us a great AW NUTS FANS WE'RE OUT OF TIME Nitro-style moment, and I think everyone got that they no-finished it because they wanted it to happen on USA. So this week they get a rematch, and we see the match that was scheduled last week before they realized USA Network's fanatic dedication to promoting all-new episodes of SUITS.
They get a lot of time to work — 20 whole minutes, with Mauro doing another "that's it for hour one!" telegraphing at like 8:35 — and the structure is a lot better for a "street fight," which most of it taking place in and round the ring. They only really wander out into the production area for this spot:
That suspiciously obvious wall was like in old Saturday morning cartoons where you knew a character was going to grab a certain apple because it was animated differently.
But yeah, the match result wasn't in question as soon as they announced the "winner gets to challenge Adam Cole for the NXT Championship" stipulation — you really think they're gonna run Adam Cole vs. Killian Dain on a "night of champions" edition of NXT going head-to-head with the first episode of Dynamite? — but Dain looked great in defeat. It took an army of suplexes, strikes, and submission to finally put him down, and I think he kicked Riddle's ass consistently enough throughout the entire feud to be considered a threat. He's still number three on the official Sanity power rankings, though, behind Women's Tag Team Champion Nikki Cross and Imperium member Alexander Wolfe, but way ahead of catering's own Eric Young.
After the match, we get a cute bit with Cole showing up to "intimidate" Riddle and pointing in his face a bunch, which is a great gesture to choose when you just saw him tap out a guy twice your size to an arm bar.
Worst: "Ever-Rise"
Ever-Rise is easily the best tag team named and modeled after biscuit flour. Ever-Rise, seriously? Is that how Canadians pronounce "ovaries?" Is your tag team name ovaries?
So yeah, a tag team with a good name, Oney and Twoey, defeat Chase Parker and Matt Martel, the former Team 3.0 and current "Ever-Rise." I really hope this is a Viking Experience situation where nobody involved realized how bad of a name it was until it made TV, and they spend Thursday through Tuesday coming up with something better. What if you called them, "Arm & Hammer Pure Baking Soda?" Chase could be "arm" and Matt could be "hammer."
Best: The Legend Of Oney Lorcan Continues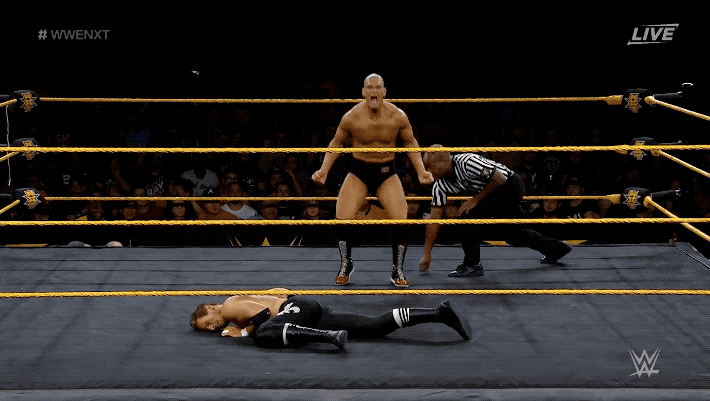 In only two weeks, Oney Lorcan has established himself as the under-the-rader MVP of NXT Live. Last week he had the (arguable) match of the night against Lio Rush, and this week he reveals that he's powered by screams. Danny Burch seriously gives his tag team partner a Phoenix Down via SCREAMING WITH THEATRICS. Oney goes from knocked out on the ground to fully-powered and ready to hit his finish. Amazing. Nigel McGuinness' call of, "WHAT, THE HELL, WAS THAT" is also wonderful.
You Gotta Have Faith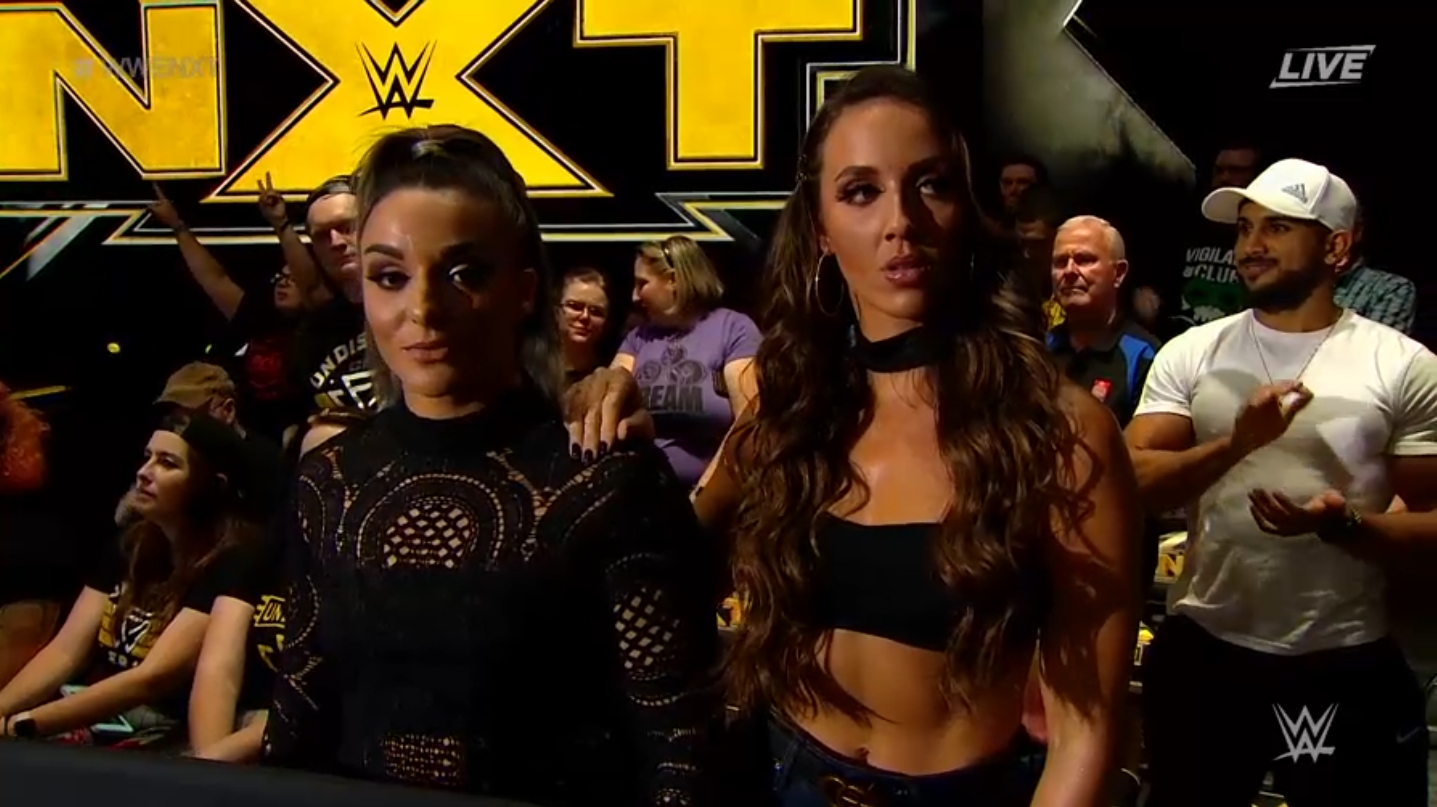 Deonna Purrazzo and Chelsea Green make an appearance in the crowd, which is one of the two things (alongside coordinating t-shirts, which they also have) an NXT star can do to let you know they're important now.
The big thing I have to note here is how much Chelsea Green suddenly looks like Faith from Buffy the Vampire Slayer. This is good for obvious reasons, but it also firmly places her in the Buffyverse I've been building with Candice LeRae as Buffy and William Regal as Giles. What's next, bringing in Kane as The Mayor?
Best: Raul By God Mendoza
Raul Mendoza is the jam. I know it, Raul Mendoza knows it, and the NXT Universe apparently knows it. They out-right boo when Cameron Grimes pins him here. How many times do you hear the NXT audience just boo somebody? They didn't come up with a wacky chant or duel with each other, they just booed. Because one of the guys in the ring impressed them and got them behind him, and the other didn't.
This is great for Mendoza, because he's been great in the ring for a hot minute and should've gotten to tag along with Humberto Carrillo's rise to pay-per-view kickoff show and video game inclusion. It's also probably great for Grimes, as "the crowd doesn't really get or like him at all," is USA Network code for, "he gets a REACTION." They can Baron Corbin him with minimal effort, since the only character development he's gotten in half a dozen TV appearances is, "from the country," and, "owns a hat."
Best: Time Cops
Hat-tip to Henry Casey for beating me to that one.
KUSHIDA needed two partners to help him battle Imperium's orc generals and noted on Twitter that he could call one of his "many friends around the world." I thought maybe we'd get lucky and see Ryusuke Taguchi show up to establish Taguchi Central Florida, but instead KUSHIDA just called some stripper detectives. Brother needed to battle facism and enlisted the HOT COPS.
This has a really interesting structure, but I guess it makes sense. Tyler Breeze and Fandango are Full Sail favorites and Breeze has firmly positioned himself as a Tommy Rich-style veteran babyface who takes intense beatings pretty much any time he's in the ring. Fandango's super secretly great in the ring and hasn't ever really been tasked with showing it — although he did defeat the AEW World Champion at WrestleMania once — and can brilliantly link together the babyface in peril with the ringer who'll bring the match home. KUSHIDA is the ringer, of course, as he's probably not losing to anybody on TV until he goes one-on-one with the WALTER. I don't love Imperium (the team) losing to some randomly assembled good guys, but it's a good way to give the faces some traction before they personally run afoul of the Austrian Murder Baby. Pretty sure WALTER could beat KUSHIDA and Breezango by himself, if we're being honest.
Plus, the match gave us this, which should immediately be added to the Library of Congress:
You'd have to be a pretty cold-hearted individual to not enjoy watching Japanese Marty McFly hip-thrust to a live audience while a '70s cop show theme plays. I hope at some point KUSHIDA tricks WALTER into driving Imperium straight into a manure truck.
Best: Top 10 Comments Of The Week
AwkwardL0ser
I actually prefer Dakota Z, Kai trimmed the fat but took away a lot of the charm with it.
The Real Birdman
KUSHIDA recruits The Ascension having only watched NXT prior to his arrival
GLOSS
Coming to a street fight barefoot seems poorly planned
Pdragon619
Honestly all Dain has to do to win is draw Riddle to a particularly gravely part of the parking lot.
Ever think Keith might legit have super powers, like Spider Man, but since his uncle never got shot he just stayed a wrestler?
AddMayne
Man NXT looks dope next week! Can't wait to DVR the shit out of it!
Juwave
FINALLY, the season finale of Suits. I've been waiting an hour through a bunch of boring wrestling matches.
Baron Von Raschke
KEVIN DUNN: Wait. The whole crowd is on its feet and cheering? I can pick any crowd shot I want and it will look good? How is this possible?
FreewayKnight
Shoot, I thought that wall would take Dain and Riddle to a level in Super Mario 64.
troi
nothing sells a street fight like outdoor dining
Next Week:
It's a "please don't remember there's wrestling on the other channel" NIGHT OF CHAMPIONS as NXT goes a full two hours live on USA Network with:
Matt Riddle versus Adam Cole for the NXT Championship
Candice LeRae versus Shayna Baszler for the NXT Women's Championship
Street Profits versus Undisputed Era for the NXT Tag Team Championship
The Wednesday Night War begins! Somebody find Scott Hall's Canadian tuxedo!