Previously on the Best and Worst of NXT: WALTER and KUSHIDA fought each other until all the capital letters fell off. Also, Lio Rush won the "NXT" Cruiserweight Championship, which is a thing now!
If you'd like to read previous installments of the Best and Worst of NXT, you can do that here. Follow With Spandex on Twitter and Facebook. You can also follow me on Twitter, where everything and everyone is terrible.
And now, the Best and Worst of WWE NXT for October 16, 2019.
Best: Tommaso Ciampa Returns To The Ring To Battle A Pair Of Breakaway Pants
First of all, let me open this week's column with some vague, guttural noises I made when I realized we were gonna get a Tommaso Ciampa vs. Angel Garza match. I'm not going to type them out, I'm making them. Garza is a gem, and while I'd like to see him actually winning some matches instead of being Raul Mendozian enhancement talent, he's in there with a returning Tommaso Ciampa, man. You book Ciampa vs. John Cena right now and I'm like, "well, sorry John, you're only getting three minutes, it's Ciampa."
Also, just look at them go: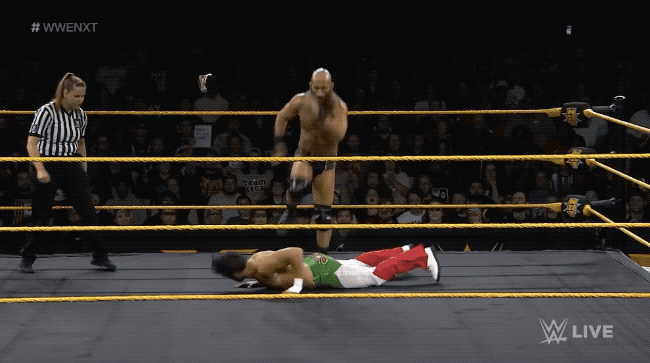 It's great while it lasts, but woefully short. I guess we're gonna have to start getting used to that on USA Network presents NXT. There were eight matches on this episode, but only five of them came in at under four minutes.
Worst: Undisputed USB
After the match, Undisputed Era shows up with a mysterious USB and throws it at Mauro. I really wish it'd just been a playlist of songs Kyle O'Reilly really wanted Mauro to listen to and maybe work in references to on a future episode. "Bro, have you heard 'The Mariner's Revenge Song' by The Decemberists?' I know you're mostly into hip-hop, but … oh, you're already full of references? You'd rather just scream LIKE TRAVIS SCOTT, MONTEZ FORD IS THE HIGHEST IN THE ROOM? Okay, well, if you ever get around to it, I thought it'd be pretty cool …"
I would just really like to say how thankful I am that NXT has given me a complete context to explain why watching four white dudes filming themselves finding and assaulting an effeminate black co-workers isn't some deeply concerning shit to see on television. I guess the rub is that Velveteen Dream is injured for real, so they used a more creative means than usual to show Dream get thrown off a truck backstage without having to actually show it happen. Heal up quickly, VD.
If you're wondering what the other Undisputed Era crony of note has been doing with his time, here's Roderick Strong showing up to ruin Keith Lee vs. Dominik Dijakovic's rubber match. Yep, the two dynamic Godzilla-sized murderers on the roster who have been thankfully too obsessed with each other to cause anyone else drama are trying to have their end-all, be-all FINAL BATTLE with Keith Lee doing POISONED RANAS AND SHIT, and Roderick Strong of all people wanders out and interferes because he's scared of having to face one of them next week as Velveteen Dream's replacement.
The bad news for this little dumbass is that he not only ruined William Regal's previously announced North American Championship math, he also ruined THIS …
… so Bill Regal shows up on the Juliet balcony looking like THIS …
… and orders NXT security to find Roderick, bind him, tie him to a pole and break his fingers to splinters, then drag him to a hole until he wakes up, naked, clawing at the ceiling off his grave! You know, more or less.
Now, instead of facing either a tired and beaten down Keith Lee or a tired and beaten down Dominik Dijakovic, Rod's gotta defend against healthy, way fresher versions of both of them at the same time. With the added bonus that they now HATE HIS STINKIN' GUTS for ruining their Hoss Supremacy Competition. I'm not necessarily predicting a new champion next week, but if Strong doesn't get yeeted the fuck out of Full Sail by these guys I will be irreparably disappointed.
Best: THROW EM UP, RESPECTFULLY
Imperium looks to Get These Dads this week as they go two-on-two with Oney "Oney" Lorcan and Danny "Twoey" Burch. If you didn't immediately look at "Lorcan and Burch vs. Aichner and Barthel" and think, "that's going to be a really good 8-minute tag match no matter what happens," you haven't been paying attention. At the very least, you should be watching NXT UK more often.
I think it's a weird choice to have Imperium sticking around to be a big jerky heel presence in NXT Domestic when they're pretty much the brand-defining story of UK at the moment, but I guess if you're trying to get TV ratings and fight off El Hijo del WCW Monday Nitro, you need all hands on deck.
Also On This Episode
Lots of filler wrestler on this week's show, which isn't the best, but is also never really a bad thing on NXT. Even NXT's filler stuff usually accomplishes some important character work or gives a character or characters the right momentum heading into their next important thing. It's always crucial to remind NXT column readers that the "Worst" in NXT columns, barring a few exceptions, is usually code for "I would've liked this more if they'd done something differently," rather than, say, "Smackdown made me want to throw myself off a bridge this week."
The best of these is probably Io Shirai vs. Kayden Carter, which my brain still thinks is a TNA joke from 10 years ago and not the actual name they gave a wrestler in 2019. At least she's not in Ever-Rise. Anyway, Io eats Kayden Carter whole like a goddamn Titan and starts in with her sales pitch for Shayna Baszler. That gets interrupted by Rhea Ripley, and oh boy can I not wait for that. Rhea is tough and cool, but Io Shirai is God-tier. I hope Reina Gonzalez gets that spikey leather jacket vest in the will.
In other Tough Girl Intimidation news, pro wrestling's Kaywinnet Lee Frye, Tegan Nox, returns to Full Sail with a victory over Taynara Conti. After the match, the two-member Team Kick association the Eastern hemisphere coalesces for an interview with Queen Cathy of America only to be interrupted by QUEEN SHAYNA BASZLER OF SPADES. Baszler completely drags them, makes fun of Tegan for running out of functional limbs, and then laughs at her when she asks for a title shot. "YOU HAVEN'T EARNED A TITLE SHOT!" has never sounded as derisive than when it's coming out of Shayna's mouth. ♠️ for life.
Matt Riddle whoops Bronson Reed in only a few minutes in a match built around making us remember how "deceptively strong" Riddle is. I mean, the guy's a 6-foot-2 combat athlete made out of Von Erich muscles, I think we get it, but it's appreciated. I keep waiting for some of the Breakout Tournament guys to start getting characters and character traits beyond what we saw in the tourney, but I guess that's not gonna happen until NXT stops thinking weekly TV has to be non-stop TakeOver matches and jobber squashes and gets back to the out-of-ring stuff that's always made the in-ring matter so much.
There's also BOA attempting to get some revenge on The Furry Fiend, Killian Dain, and getting squashed for his troubles. Pete Dunne shows up and snaps Dain's fingers afterward, because he just hasn't learned any lessons about picking fights with enraged European fat dudes. THEY WILL HURT YOU BACK, PETER.
Best: Priest Or Famine
As for Pete, he main-events the night against Damien Priest in what, thanks to Roderick Strong's human leg-looking little ass, ends up being the best match of the night. It gets the most time of the night as well at a whopping 14 minutes, with Priest absolutely delivering the best in-ring performance we've seen from him in NXT. It's one of those Baron Corbin vs. Samoa Joe situations, too, where you aren't gonna buy the guy you don't like going over the guy you do unless he truly goes above and beyond to prove that he's "worth" it. Priest and Dunne is a good combination, and I like Dunne as a cruiserweight who doesn't really understand that he's a cruiserweight, and still tries to wrestle these giant strong daddies eye-to-eye.
The finish is another one of those pro wrestling things I really hate to see as a fan, which is done by design: the guy you don't want to win taking a big, cheap short-cut super late in the match and winning off of it. It accomplishes what it's supposed to. Priest kicked Dunne in the balls behind the referee's back, setting up a Reckoning that Dunne absolutely EATS. Honestly, I think it'll be nice to see Pete get mad again, and not just be a constantly disinterested and kinda sleepy guy who is just really good at dirty wrestling and hates your digits. I like that version of him too, but let's see something new, you know? He's so young and versatile, we don't even KNOW everything he's good at yet.
Best: Top 10 Comments Of The Week
The Real Birdman
The fact this match is for a North American Title shot instead of the winner getting the chance to end Lesnar's reign of terror is not fair
Anybody else feel like Balor going back to NXT is a huge disappointment? I know we joke how nobody should ever leave NXT, but he should've been an absolute mega star on the main roster
Jericho7820
Pete Dunne's hair is getting to Big Ern McCracken levels
I have a Master's degree in English and sometimes listening to Mauro, I'm like "take it easy, guy"
SexCauldron
Damian Priest, if Image comics in the 90s was a person
AshBlue
One thing I've noticed these Wednesday nights, is how often I realize I'm sitting here grinning at the tv screen like an idiot. Which is so much better than the usual look of disbelief or resignation I usually have on Monday nights. I like this.
Clay Quartermain
If Priest gets called up, does he become Damien Pope?
LUNI_TUNZ
Rhea looks like King Koopa from the Super Mario Bros. Movie with that haircut.
AJ Dusman
Kayden Carter sounds like the name of my two nephews who got brand new iPhones before their 7th birthdays.
Mr. Bliss
Ya'all got any of that "Rhea vs Io"? I'll pay extra just give it to me.
Next Week: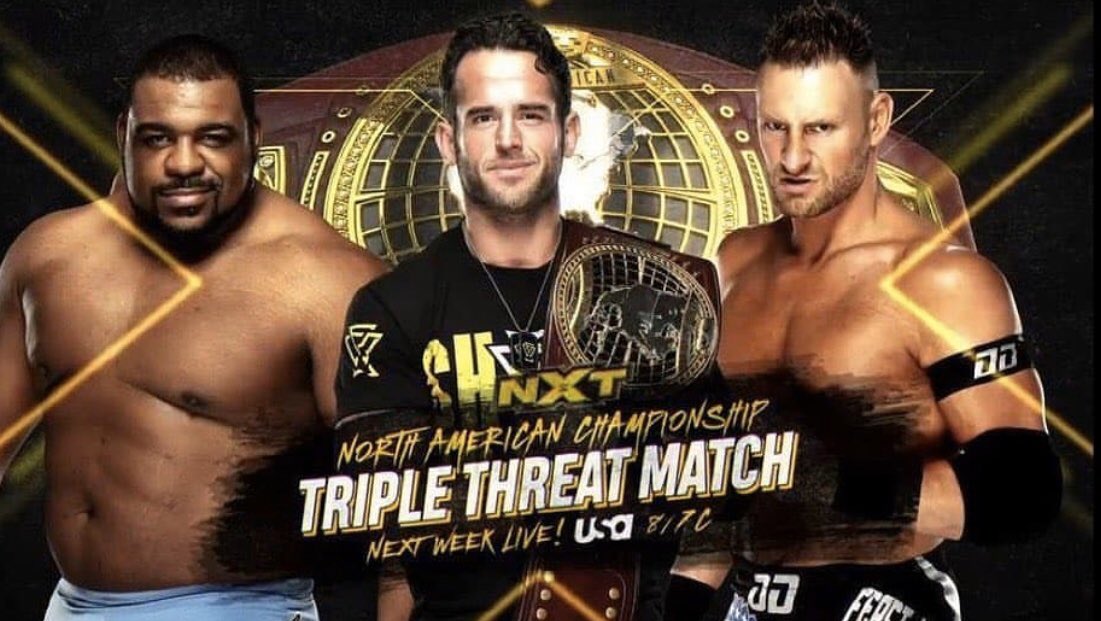 We see how long it takes someone to get thrown from Winter Park, Florida, to the surface of the sun. Also, Rhea Ripley takes on Bianca Belair, and Finn Bálor resumes his duties as Head Bee Guy; downstairs in the basement of Full Sail watching the bee while everyone else heads off to Saudi Arabia.
Bee you then!