Best: Och Aye The Noo
First of all, love to see an episode open and close with women's matches. NXT UK's women's roster isn't huge, but the women they have are mostly very good, and I like seeing Piper and Isla (and Jinny and Jazzy, but we'll get to them) have stuff to do when it's Tegan's turn to be wrapped up with the Champion. I'm a fan of Isla Dawn, but I wish this show would spend a little time helping me understand her better. Commentary constantly calls her a Modern Day Witch
But I'm never entirely sure if they mean witch in the sense that she goes to meetings on full moon nights and makes an empowering lemon bundt for the bake sale, or if she stirs a cauldron out on the moors with her two weird sisters and offers prophecies of doom to passing tragic heroes. I prefer to think it's the latter, but that's more to do with what I want out of wrestling.
It occurs to me now that NXT UK hasn't spent a lot of time giving Piper Niven a character either, they just haven't intrigued me by implying she has magical powers so I don't need as much from her. She's big and pretty, and mostly a nice person but she'll beat the hell out of you if you give her shit. That feels like enough with Piper.
Since there wasn't really any build to this match, I don't know what kind of shit Isla gave Piper to deserve the beating (maybe she blighted her crops with black magic?) but it was a pretty good one. Isla never stood a chance against the bigger stronger girl (Isla Dawn's no Riho, let's be clear), but she has a tenacity that kept her going through a pretty brutal back-and-forth. Isla may not exactly a villain (is she a good witch or a bad witch? unclear), but Piper's one of the division's heroes, so of course wins the day with a head butt and a Michinoku driver.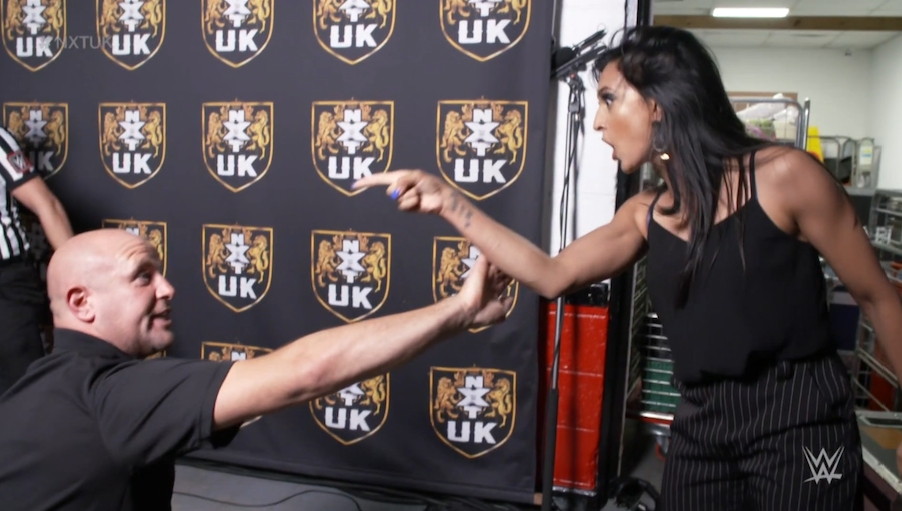 Later Piper's being interviewed backstage about her win and building momentum, when she's attacked out of nowhere by Jazzy Gabert and Jinny. The perfect heel duos are when one person has all the spite, and the other person has all the power, and these two are a great example of that. Hanging out with Jinny gives Jazzy motivation, and hanging out with Jazzy gives Jinny security. Of course next week Piper and Jazzy have a singles match, and if Piper takes down Jazzy, it seems unlikely that Jinny's going to be in a hurry to run in and help.

Best: Er Ist Der Beilmann
Ilya Dragunov is icing his shoulder under his jacket, which is a really weird look and also gives away that he's not cleared to compete. Then Alexander Wolfe slides into the room like a ghoul and is uncomfortably friendly with the Russian, telling him he'll gladly fight in his place, and that Ilya should think about his future.
It sounds like Imperium is trying to recruit Dragunov, which is a storyling that makes perfect sense, and it also checks out that they'd send Wolfe. WALTER, Fabian, and Marcel are stiffs, but Alexander, who still has his Sanity beard, has personality and seems compatible with a cartoonish weirdo like Dragunov. Never forget that Wolfe used to wrestle in old-timey circus pants.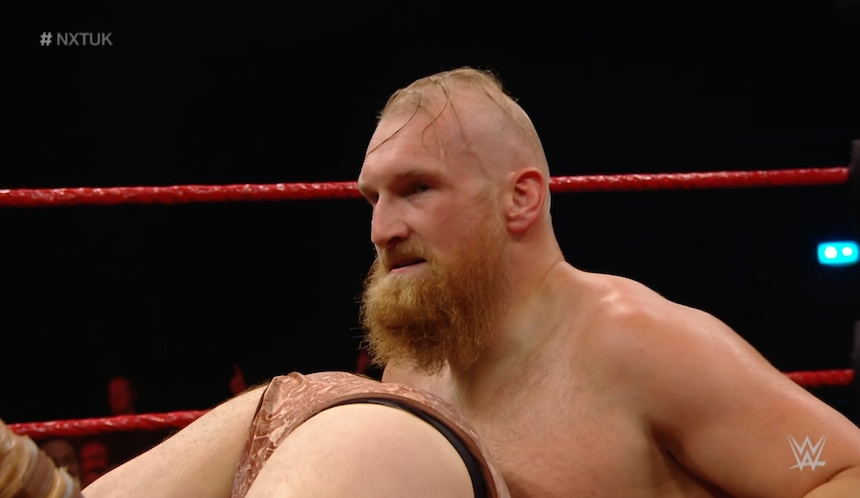 The match that Alexander Wolfe apparently took over from Dragunov is against Saxton Huxley, and it's basically just Wolfe pounding Huxley into the ground for like seven minutes. Nigel on commentary calls Wolfe the hatchet man of Imperium, the one they call on to do nasty stuff, and I really like that they're giving him this role to distinguish him within the stable.
I loved Wolfe in Sanity, and when he joined Imperium I worried he'd have to shave his beard and make himself more boring. Making room within the otherwise clean-cut heel faction for a chaotic weirdo is a lot more interesting.

Worst: John Johnson
Man, Ashton Smith is just not exciting. You can give the guy a backstage promo with a weird looking shotgun mic, but apparently he's just going to stand there and be awkward. Fortunately the Grizzled Young Veterans come in to start some shit, so we'll see where that goes. Maybe if Smith finds the right tag team partner who he has chemistry with, this could go somewhere.
Flipping The Bird
Welsh Wrestling legend Michael "Mike" Bird is here. He thinks he's here to defeat The Defeatable Jack Starz, but it turns out Starz was already defeated by Gallus backstage. Mark Coffey and Wolfgang want to shake Mike's hand for being the Godfather of Scottish Wrestling, except really they want to beat him up for being the guy who trained Mark Andrews and Flash Morgan Webster! Mark and Flash run out to make the save, Joe Coffey runs out to counter them, and it turns into a whole big thing. Looks like there's a trios match coming!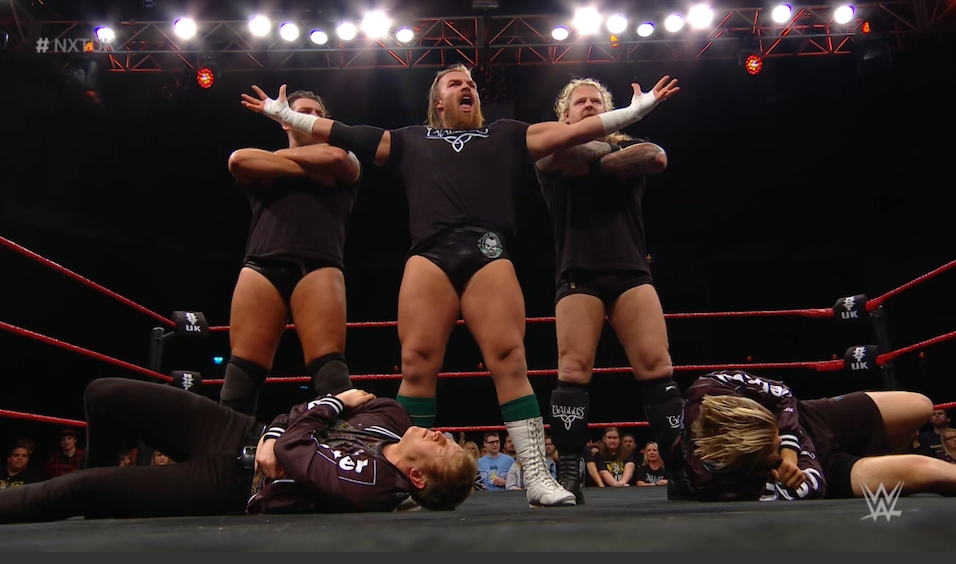 Best: A Hard Nox Life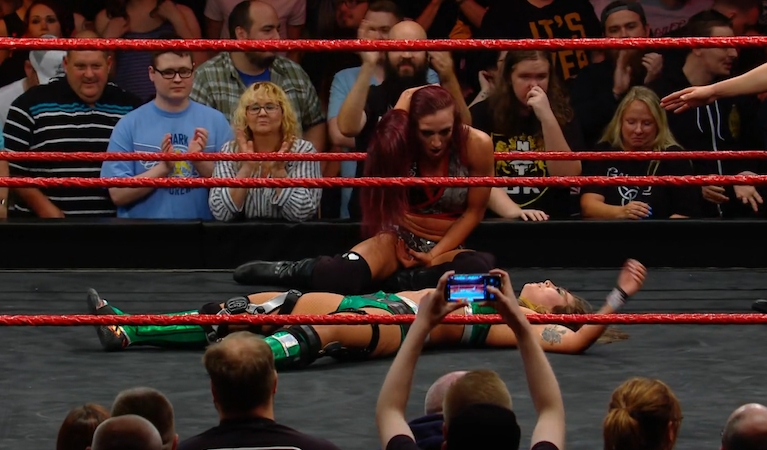 This is a non-title match, which is a thing I never seem to know until the moment the match starts. I'm not sure if they're bad at making that clear, or if I'm just bad at paying attention. It was a good thing to know, because it did help me believe that Tegan Nox might win against Kay Lee Ray, even though I'd have already heard if she was the new NXT Women's Champion.
Regardless, this was a great women's Main Event that got tons of time (without ever lagging), and I wish everyone I saw complaining on Twitter this week that neither NXT nor AEW made their Women's Title Match the main event of their show would give NXT UK a shot.
Much of the storytelling of this match was about Tegan's damaged knees, which is sort of inevitable at this point in her career. At times, it's a little hard to watch, after what we've seen her go through in the past, but if I really get my galaxy brain going I can convince myself that everybody must be really sure her knees are doing great or they'd be more careful about letting that be the story.
I've already seen people saying that Tegan was done wrong by this match because she lost so soon after returning, and I'm here to say that's an opinion that's factually incorrect. This match made Tegan Nox look like a hero. Kay Lee Ray may not be big, but she's dangerous, and she likes to hurt people.
Ray succeeded in hurting Nox quite a bit in this match, but Tegan just kept rising up, like some sort of Welsh female Tyler Bate with cyborg legs. The Gory Stretch into the Gory Bomb eventually took her out, but at least it was never as gory as her MYC match with Rhea Ripley.
Loss or not, this was Tegan's second NXT UK match, and she might be the top female babyface on the roster at this point, or at least it's close between her and Piper. I'm leaving Toni Storm out of the running since she's currently MIA and I'm not so sure this is the brand we'll see her on when she reappears, but the point still stands.
I can really see now why everyone was so high on Tegan before her injury. More Tegan, please. All the Tegan. Does she have an identical sister named Sarah Nox? If so, bring her in too.
That's all for this installment. Join me next week when Piper Niven faces Jazzy Gabert one-on-one, and the Hunt continues, apparently.