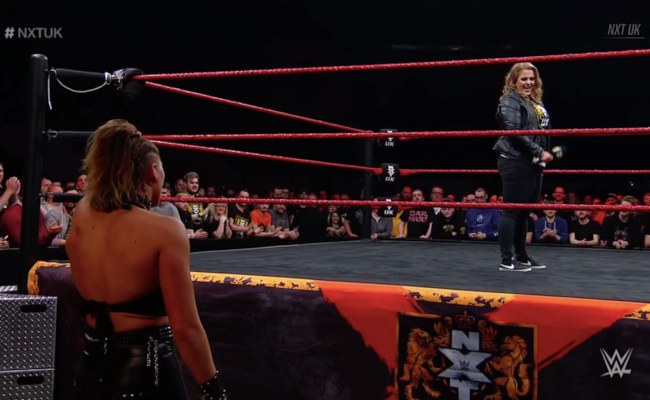 Two weeks ago on the Best and Worst of NXT UK: Jordan Devlin and Travis Banks fought all over the arena in a Falls Count Anywhere Match.
Click here to watch the show on WWE Network. If you'd like to read previous installments of the Best and Worst of NXT UK, click right here. Follow With Spandex on Twitter and Facebook. You can also follow me on Twitter if you want. And now, the Best and Worst of NXT UK from March 27, 2019.
Worst: Last Week's Episode
Sometimes I have to skip a week on my other recap column, which it The Knockout Report. That's because Impact airs on Friday, the column goes up on Monday, and sometimes a whole lot of other stuff happens in pro wrestling over the course of a weekend. But make no mistake, I was here and ready to recap NXT UK last week. It's just that when I tried to do so, I was faced with an episode that featured neither matches of consequence, or matches featuring women (which would have at least broken up the men's midcard action).
The main event was Tyler Bate fighting James Drake, and while they're both great wrestlers, singles matches between one member of the Tag Team Champions and one member of the Number One Contenders are the stuff of the second hour of Raw. And the other matches mattered even less than that, no matter the talent involved. So let's get through this quickly: Eddie Dennis defeated Ligero. The Wild Boar and the Primate, who are now a tag team called The Hunt, defeated Sam Stoker and Lewis Howley. Kassius Ohno, who apparently really is sticking around this brand for a while, defeated Ashton Smith. Finally, in the main event, Tyler Bate defeated James Drake.
More importantly (a bad sign) was the non-wrestling stuff in the episode. Johnny Saint and Sid Scala started the episode in the ring to announce that Pete Dunne will defend the UK Championship at NXT TakeOver: New York. Then Pete came out and asked for Walter, who of course he'll be getting. So that match should be great. Later in the show, Toni Storm also cut a promo on Jinny (but no word yet on when their match will happen), and then as Toni was leaving she had an awkward run-in with Rhea Ripley, who was there to cut a promo on Xia Brookside. And that's pretty much everything that happened last week, so let's get back to this week.
Worst: Just Some Guys
I'll be honest here, if I wrote up these matches as they happen instead of watching the whole show first, this might have been a "best." It's fine, as these things go. It establishes that Dan Maloney exists, and that Jordan Devlin is a real jerk who moves fast, hits hard, and is better at wrestling than a whole lot of people. So there's nothing wrong with this match, it's just the worst one on the episode. Which is fine, because it's at the bottom of the card and things get progressively more exciting from there. That's how wrestling shows are supposed to work. The problem last week was that things never got much more exciting, and that problem's been fixed.

Best: Kassius Ohno, All Of A Sudden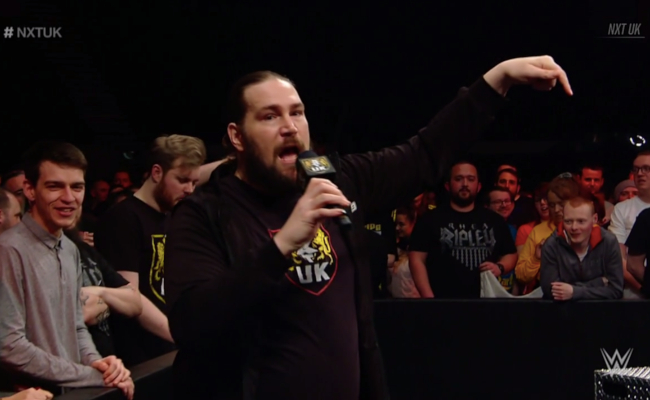 Perhaps the most surprising thing about last week's episode was that Kassius Ohno won his match against Ashton Smith. It seems that the second or third most important KO in WWE (fourth or fifth in wrestling) has really come to the UK brand to have the kind of heel run he's never gotten in NXT Domestic. I'm actually pretty into that. I wouldn't want NXT UK to become overrun with American wrestlers, but what's the fun in having a non-American WWE brand if we can't have a dastardly foreign heel who's one of us?
So this week Kassius came out to ringside and delivered probably my favorite promo of his since he joined NXT in the first place. He read a magnificently insincere apology off of his phone, and then he made it clear that he's on this continent to win wrestling matches. Don't get me wrong, I doubt he's challenging for the UK title anytime soon (nor should he), and I'm sure he'll still put a lot of people over on this brand, but just this little bit of character renewal makes me more excited to watch him wrestle than I've been in a long time.
Also in this episode, we got a video promo from Bomber Dave Mastiff, and Jinny cut a promo from India about how she's coming for Toni's belt. Trent Seven gave an interview about how he's proud of Tyler Bate but anyone who thinks Trent is dead weight in Moustache Mountain will soon be proven wrong. Aichner and Bartel also showed up briefly to talk about how dominant they are. Honestly, there were no bad promos on this episode, and there were a couple I haven't even gotten to yet.

Best: Xia Proves Herself And Other Surprises
Y'all, this match ruled. Xia Brookside has a lot of potential, but she's practically a child, and I figured any expectations about how good she could be would play out in the long term, not the short term. But then she killed it in this underdog showing against Rhea Ripley. It was no surprise that Rhea ultimately won, but Xia gave a career-making showing along the way.
Rhea looked as dominant as you'd expect when the match began, but Xia's speed kept surprising her. They hit a very symmetrical double dropkick early on, but then Rhea managed to catch Xia in a really painful-looking submission. Xia managed to get out of it, however, and hit Rhea with double knees to the back. Then she went to the corner and climbed up to fly, but Ripley knocked her offer her game momentarily. The former champ climbed up like she was going to superplex her, and not for the first time it seemed like this match was pretty much over. But then Brookside slipped out from beneath her, and knocked Ripley off balance so she fell in the Tree of Woe, where Xia hit her with a dropkick. It was good stuff.
Eventually, of course, Ripley hit Brookside with the Riptide and got the pin. Her victory was always inevitable, but Xia was the one who came out of the match looking like a newly minted star. Of course, she's not the only new star in the NXT UK Women's Division, as we found out when Rhea Ripley's smug victory promo was interrupted by the newly arrived Piper Niven (aka Viper). Piper scared Rhea out of the ring and told her she's not the most dominant woman in NXT UK anymore, and it was great.
Then we cut backstage, where Isla Dawn was all excited about another Scottish woman joining the brand. She was also interrupted, by fellow Scot Kay Lee Ray, who made it clear that being from the same country doesn't make them all friends, and she clearly intends to make that point to Isla as violently as she needs to.
Best: Just Grinding All Day Long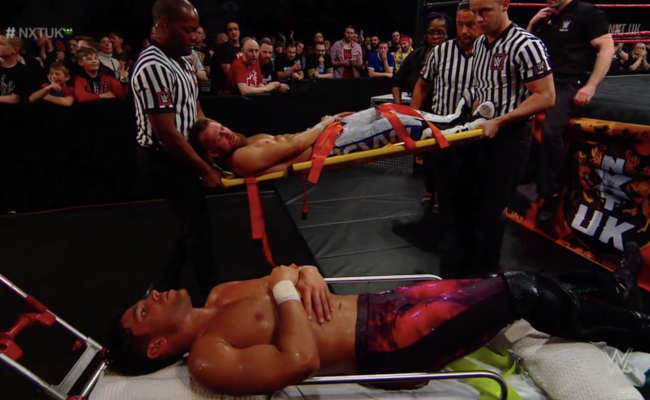 I was iffy on this match at first. Mark Andrews and Noam Dar started out going at each other really hard and fast, and commentary even made a note of the fact that Andrews wasn't being his usual smiling, happy self. Then things just kept getting more and more intense, really going to the next level of violence when Dar threw Andrews into the steel steps. Then they just beat the hell out of each other, which is a good thing for all wrestlers to do from time to time, I think. The match went on longer than expected, as these guys kept grinding each other down without pity or remorse. When this sort of thing happens, you expect there to eventually be a turn where one competitor gets the upper hand, but this time they just kept beating the hell out of each other. Finally, Mark tried to do a headscissors takedown (which he's usually great at), but his leg was messed up from the match and he couldn't hold on. As he slipped out of the hold, he fell against Noam and gave his also-already-injured leg a nasty-looking twist, and that was pretty much that. The match became a no-contest, and both competitors were carried out on stretchers. As they went up the ramp, they both gave the crowd thumbs-ups. I wouldn't want this sort of thing to happen all the time, but an occasional moment of absolute fruitless brutality is nice every once in a while. It sells rivalries, and it makes the sport look as violent as it's meant to be.

Best: The Walter Show Starring Walter
I don't know if you've noticed, but Walter hasn't really talked on NXT UK before. He's vocalized in matches, but he's never gotten on the mic. In fact, when people try to interview him and hold a mic up to his face, he has a tendency to walk away. Not being previously familiar with him, I wasn't sure if he just wasn't great at English, or if he was bad at talking in general, but it's clear now that the choice was primarily about mystique.
They saved Walter on the mic for this WWE UK Championship contract signing, and that turns out to have been absolutely the right choice. Pete Dunne came out and cut exactly the promo you expect from him, whereas Walter pushed the mic aside to sign the contract. But then just when it seemed like the segment and the episode were over, Walter picked up that mic and cut a cold blooded, lightly Austrian-accented promo about how the reign of the Bruiserweight is over and title is his. It was a perfect, surprising moment that was more than worth months of keeping Walter silent.
That's all for this week. Join me next time, when Isla Dawn faces Kay Lee Ray, and Trent Seven goes up against Joe Coffey.