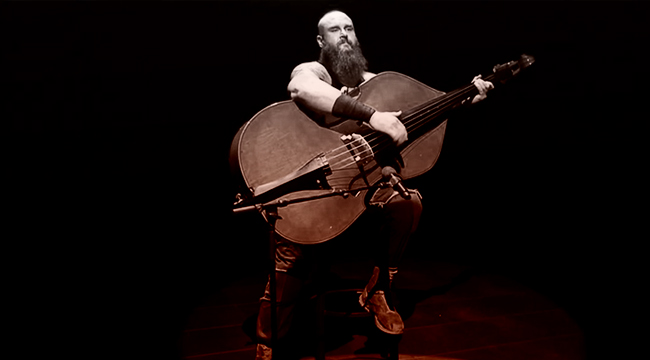 Previously on the Best and Worst of WWE Raw: Did Braun Strowman play a double bass and then beat someone up with it? No? Then who cares.
Remember that With Spandex is on Twitter, so follow it. Follow us on Twitter and like us on Facebook. You can also follow me on Twitter.
One more thing: Hit those share buttons! Spread the word about the column on Facebook, Twitter and whatever else you use. Be sure to leave us a comment in our comment section below as well. I know we always ask this, and that this part is copy and pasted in every week, but we appreciate it. It's WrestleMania season! Strange things are afoot!
Here's the Best and Worst of WWE Raw for February 12, 2018.
Worst: John Cena's Just Spouting Bullshit
This week's Raw opens with John Cena explaining how he needs to win the Elimination Chamber match, because if he doesn't, he believes that for the first time in 15 years, he may not have a Road To WrestleMania™. He hopes to make The Impossible Possible® at Elimination Chamber. Miz interrupts, and a match is made: Miz vs. Cena, with the loser agreeing to enter the Chamber match first. It's a good stipulation, but the narrative quickly becomes Cena's WrestleMania "streak" of sorts coming to an end if he doesn't grab that main event spot.
That would be a really good story if like, facts and history weren't things. That "first time in 15 years" stuff is bullshit. Back in January of 2016 Cena had to have shoulder surgery, which made him miss the entire build to WrestleMania. Cena ended up appearing on the show to do a run-in and save The Rock from the Wyatt Family, but he wasn't on the show. If the narrative is supposed to be that Cena wouldn't have a main event spot because he's getting older and isn't sure if he can compete at John Cena Levels still, that's even more bullshit. Last year he and his girlfriend had a match against a guy he hates and that guy's wife because they made fun of his reality show. Back at 31 he was in a United States Championship match in the middle of the show, and at 30 he wrestled Bray Wyatt in a match with no championship on the line whatsoever. Y'all just making this up? Are we supposed to forget WRESTLEMANIA now?
Cena keeps trying to figure out ways to play the aging underdog, but it's not going to work until he stops easily beating 75% of his opponents and they stop bringing him back just to give him a ton of opportunities he doesn't have to work for. Cena could open Raw with a promo like, "I don't know if I can compete at WrestleMania this year, since I lost my arm in the war," and Michael Cole would look at this hypercolor motherfucker standing in a brightly lit ring with two arms and be like, "what a warrior, battling with only ONE ARM, Corey!"