Previously on the Best and Worst of WWE Raw: We eliminated in the chamber. Asuka's still undefeated, Alexa Bliss is still Raw Women's Champion, The Bar are still Tag Team Champions, and Roman Reigns is going to the WrestleMania main event for the fourth time in a row.
Remember that With Spandex is on Twitter, so follow it. Follow us on Twitter and like us on Facebook. You can also follow me on Twitter.
One more thing: Hit those share buttons! Spread the word about the column on Facebook, Twitter and whatever else you use. Be sure to leave us a comment in our comment section below as well. I know we always ask this, and that this part is copy and pasted in every week, but we appreciate it. It's officially officially WrestleMania season!
Here's the Best and Worst of WWE Raw for February 26, 2018.
Worst: How Long Does This Take?
Last night's opening segment was roughly ten minutes of highlights, conversations and still photos from the Elimination Chamber, which would make sense if it was still 1997 and we didn't have highlights from every match up on WWE's YouTube page. After all of that, we then go into a 10 minute opening promo to set up the opening match. So it takes us about 20 minutes to get to a six-woman tag.
When we get to the actual talking, there end up being more questions, at least for me, than answers. Mickie James and Alexa Bliss are now actual friends now, complete with Mickie helping her with 3-on-1 heel beatdowns, even though the previous month of stories made it clear Alexa palled around with Mickie out of convenience to help her in the Elimination Chamber (and then Mickie and Alexa were never in the ring together at the actual Elimination Chamber). Bayley ends up standing up for herself a little during the match — more on that in a sec — but more or less opens the show being pals with Sasha Banks again. Nia Jax attacks Asuka again and gets namedropped by Bliss, which suggests that maybe she's still going to find a way into the Raw Women's Championship match at WrestleMania, even though the point of the Jax/Asuka match at Chamber was whether or not Jax would be added to the Raw Women's Championship match at WrestleMania. So the reality of the situation, I guess, is that we're in a new cycle for WrestleMania.
And as far as I know, we still haven't gotten the announcement that Asuka's actually challenging Bliss. Is everyone on Raw just going to keep assuming? Is Asuka going to randomly announce that she can't have the match, but that she's going to Smackdown to try to make it happen? You'd think with their huge big show they'd stop her backstage and be like, "hey, just checking, what are you doing exactly?"
Best: We're Gonna Have, A Tag TEAM Match!
The best news from the resulting tag team match (player) is that Bayley has some self-worth for the first time since leaving NXT. She bails on Sasha's tag, making her fight her own battle, which … admittedly would've worked a little better if this was a conventional tag and not a six-man, because Sasha could just tag out to Asuka (which she does). I guess you want to do the angle but you can't have Asuka losing randomly due to no fault of her own at the beginning of Raw. A supplemental Worst to Michael Cole for shitting all over her for it, as though she's gotta just keep getting passively turned on by Banks forever.
I don't advocate taking the belt off Alexa before WrestleMania, but Bayley and Sasha Banks is the rivalry with story behind it, and would be your very best option for a title match. All of Alexa's feuds are kinda interchangeable, with (as you see tonight) characters just defaulting back to whatever they were doing before it started. See: Bayley, Nia Jax, Mickie James, etc. Bliss is definitely the Jeff Winger in the study group that is the Raw women's division.
If I know anything from watching the past year of wrestling, it's that they'll put everyone in the division in the match at the last second anyway. For the first time ever™, a history-making™ ELEVEN-PACK CHALLENGE®!
Best: John Cena's So Sad He Forgets How Wrestling Works
Big Match John reflects on his Royal Rumble and Elimination Chamber losses, sad that for the first time in 15 years except for two years ago he doesn't have a Road To WrestleMania. He has a bright idea: make a WrestleMania challenge to DA UNDATAKER — a perfect followup to Raw opening with an impromptu tag team match — but whoops, he also says the match isn't happening because (1) he doesn't make the matches, which is news to me, (2) I guess he already asked for the match before the show and was told (3) that the match isn't happening. So many questions here. When we see guys on Raw throw out these impromptu challenges, is it supposed to just be ballyhoo for a match they've already signed? I know that's how the show ACTUALLY works, but I'm talking in-universe. Also, haha, what?
Cena declares that since Raw couldn't make the WrestleMania match with the Undertaker happen, he's using his free agency to go to Smackdown. So is he going to make Shane McMahon make the match, because Shane has some pull from that time he wrestled Taker at WrestleMania for a thing, lost, and got the thing anyway? OH NO IS JOHN CENA GOING TO WRESTLE SHANE MCMAHON? Or … Daniel Bryan? Can … can I get my hopes up for that?
A couple of things:
Again, not how free agency works. I wish they'd just say "he's not restricted to one brand" instead of "he's a free agent." Or at least make him sign temporary fantasy contracts and have no-compete clauses when he switches or something. But yeah, no, Tom Brady should declare himself a free agent and play for every team in the AFC East next season. "The Patriots lost this week, but I never back down from a challenge! Next week I'll be leading the MIAMI DOLPHINS."
I hope Shane McMahon and Daniel Bryan are like, "I don't know what you want from us, man, you bailed on us." And then he declares that he's going to 205 Live to try to get Drake Maverick to set up a match with the Undertaker. And then William Regal in NXT, and Albert down at the Performance Center, until he eventually shows up on Impact demanding the Undertaker come face him at the amusement park.
Worst: Like All Great Wars, This One Will Last Years At The Expense Of Innocent People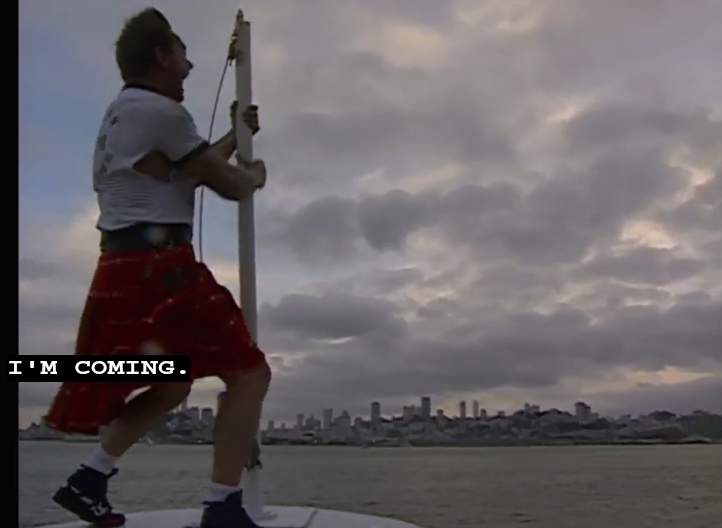 Can we dunk Bray Wyatt in the Lake of Reincarnation until he's whatever he was before he got into wrestling?
Best: Seth Rollins Is A Man Possessed
After last week's hour-plus of competition pinning Roman Reigns and John Cena and kicking ass at the Elimination Chamber, you'd be okay with Seth Rollins chilling out a little bit. But NOPE, dude is wrestling like he has something to prove, and/or like someone who doesn't want to get stuck in another half-assed tag team, and is hitting frog splashes that go almost coast-to-coast DIAGONALLY. That's insane. Seth Rollins for Universal Champion, and also possibly President.
Best/Worst: A Long Way To Another Multi-Man Match
First, the Best: Somewhere in the middle of Raw we got a fake gauntlet match featuring The Miz, Seth Rollins and Finn Bálor wrestling two (2) matches totaling almost 25 minutes of wrestling. Plus, Bo and Axel stooging. That's always a good thing, and an improvement over Ronda Rousey video packages and still photos of last night's pay-per-view for 10 minutes. Plus, that frog splash.
The Worst is a little more extensive. I think the most egregious thing is how Smackdown's attitude toward the authority vs. the talent has seemingly seemed onto Raw now, so while Graves can point out the horrible or inconsistent things the people in charge are doing, Company Man Michael Cole's only response is "heh, this is fine!" Smackdown has cultivated this extremely weird talking point that if you don't do exactly what your boss says you're the bad guy, which seems counter-intuitive to the past 20 years of WWE television. "Why are you complaining? The boss SAID it was this way!" That's … extremely tone-deaf for today's culture, at best.
The Miz challenges someone in the back to step up and face him, because he feels like he's being disrespected by Kurt Angle. Angle told him he "might" be on the WrestleMania card, which is frankly a very real, very serious concern for secondary champions. There's no guarantee that the Intercontinental, United States, Raw and Smackdown Tag Team and Cruiserweight Championships make it onto the card. They might not even make it onto the pre-show, which we've seen a lot. The Usos have never been on an actual WrestleMania show, did you know that? Only the pre-shows. And they're the goddamn Usos. Daniel Bryan and Sheamus once had a United States Championship match bumped to pre-show and turned into a battle royal that the Great Khali won. That shit's serious.
Seth Rollins answers the challenge, so he and Miz kill it for about 15 minutes. Miz loses, and that should be the end of the segment, but then Finn Bálor's opportunistic and beautiful Das Wunderkind ass shows up to bury Rollins' celebration and ALSO have a match against The Miz. Graves is like, "this is unfair, because it obviously is, why would Finn agree to wrestle a guy who just competed for 15 minutes," and Coach and Cole are like, "hey, shut up." The general point, I guess, is that we're building to another multi-man match for the IC title at WrestleMania, probably another ladder match, and the undercard faces are starting to eat each other to get "spots" on the show. To get there, we had a character we're supposed to like trample another character we're supposed to like's moment, and two (2) consecutive instances of the Intercontinental Champion losing non-title matches. It's all the worst tropes in a pile.
Best: The Bigger Picture
Granted, Miz's fiery pre-match promo against Angle fucking ruled, and if we're going to do another multi-man match at Mania, at least we're cramming it full of the best guys on Raw. No Zack Ryders this year. Is the Strowman vs. Elias beef going to end up tying into this? I know we all want to see what Braun Strowman could do with a bunch of ladders. Also, Elias sitting on top of a ladder playing guitar.
Worst: Kevin Sorbo Screaming Disappointed
This week's Braun content — Brauntent? — was pretty lame. He and Elias have another match due to the whole "Braun attacking Elias with a bass and later eliminating him from the Elimination Chamber" thing, which is fine, but it only lasts a few minutes and ends in a disqualification when Elias sprays him with a fire extinguisher. Super lame. If you've got "Braun Strowman loses by disqualification" in your script, it better be followed by, "when he shoves an entire guitar up Elias' ass and then beats him to death with a stool." I would also accept, "when he flips over an entire Guitar Center onto the guy."
I'm going to assume these guys get involved with the Intercontinental Championship schmozz at WrestleMania, which I've already made clear I'm extremely into. Maybe next week Braun will show up with a fire truck under his arm and swing it at people.
Best/Worst: No Idea What To Do With The Tag Teams
Titus Worldwide lost a Raw Tag Team Championship match to The Bar at Elimination Chamber, so they're rewarded with a two-out-of-three falls match for the championship on Raw. This is supposed to "settle things once and for all," which you'd think the title match would've done. Titus Worldwide ends up losing this one, too — two falls to zero — a result they're going to feel badly about until next week, when they get a Raw Tag Team Championship shot against The Bar.
Meanwhile, the Revival's moping around at catering, getting made fun of by legends or whatever. Raw really needs more than three tag teams. Don't know how many times I can type it, but it's not really a "division" if you pick one championship challenger per quarter and pretend everyone else has vanished.
Best: The Two Characters They Wrote For Tonight
Up first is Roman Reigns, who [checks notes] wait [checks notes again] [rubs eyes] [checks notes] cuts the promo of his life. Hey, it's news to me, too.
While it lacks the hilarious oomph of his "this is my yard now" bit from last year's Raw after WrestleMania, Reigns' extremely worked shoot about Brock Lesnar not being around to do their face-to-face segment and how HE's here because he LOVES THIS BUSINESS is straight out of the John Cena vs. The Rock "please cheer for me even though I know you won't" playbook, and it works brilliantly. For the first time maybe ever, Roman sounds like a human being, and you can buy what he's saying because it sounds like he means it. That's really Roman's big hiccup in cutting promos. He rarely sounds like he means ANYTHING, which is probably why they don't have him doing press very often. He could sip tea and say "this tea is great" and you'd be like, "fuck you Roman, I bet that tea sucks, BOO, BOOOOO."
Playing up Lesnar's absenteeism and general malaise for WWE is easy, but it's also easy to believe. Brock ALWAYS sounds like he means what he's saying, but part of that is him explaining that he's only in this for the money, and that he doesn't really care about the company or anyone in it. If there's even a single way to justify Reigns over Lesnar, it's that Reigns is an actual WWE Superstar, and not an enraged part-timer who hasn't done anything but german suplexes since 2014.
One quick supplemental Worst, though: does anyone else think it's weird that WWE puts so much effort into making you hate everyone in charge as characters, then asks you to boo Brock Lesnar for not automatically doing what they say? It comes back to the Smackdown authority issues. Do we dislike the manipulative, hateful, self-serving characters running the shows, or do we think all their employees should shut up and do what they're told? Why is it both?
If we're going in the other direction, Ronda Rousey wins the Most Improved 2018 award for figuring out between Elimination Chamber and now that she SHOULDN'T sound so much like a human being. Ronda the human isn't a great talker. Ronda the scowl-faced murderer is. If all she ever says is, "I'm going to hurt you," sure, we can buy that. Even the "I want to earn my spot" stuff works better when she gets through it quickly and gets to the violence, instead of nearly bursting into tears over folks being nice to her.
This was a weaker overall segment than the Chamber bit, but it was much better for Rousey as a character. The image of her power-walking to the ring to Joan Jett is pretty great, as are her threats to rip Stephanie's arm out of socket. Stephanie got the biggest pop of the night from me when she responded to Ronda's demand for an apology but puffing her up chest, storming right up to Ronda and then being like I AM SO SORRY OH MY GOD. Cracked me the hell up.
Kurt getting punched in the face for being two-faced is also appreciated. You sell-out. Maybe they got The Rock to agree to the WrestleMania tag after all, and Kurt's gonna be in The Authority's corner as their Theon Greyjoy. Nothing the Authority loves more than emasculating WWE legends!
Best: Top 10 Comments Of The Week
pdragon619
Oh man, one week in and Ronda is already the fourth most important person in a dumb McMahon storyline….she really DOES have what it takes to be a WWE superstar!
Bigsexy75
Cameraman 3:16 says I just ruined your shot.
Harry Longabaugh
"I lied. It's true. It's damn true."
LUNI_TUNZ
Kurt Angle: "I need this job. I got a kid."
*Heath Slater destroys the one tv in the mobile home*
Endy_Mion
"I'm going to take my ass-chewing like a man"
–Roman "Phrasing" Reigns.
Shockabra
Roman: … I'm the reason Cena's working Tuesdays again.
*flips microphone and leaves*
Clay Quartermain
Only Carmella has a case for going to Wrestlemania
AwkwardLoser
I like the narrative they've done with the Miz since he got onto Raw where instead of having bad offense he just speced all his skills in Endurance, Charisma and Intelligence. He still "sucks" but he can survive until he hopefully finds a plan
Bigsexy75
If Miz wants a top guy at Mania, can't Kurt just call up A-Lister Black?
Nushney
*Dong hits*
*Undertaker comes out*
"I retired last year, No thanks."
*Leaves*
AAHH LEAVE ME ALONE
That's it for this week. Thanks for checking us out and reading the column. If you don't mind sharing it, we'd appreciate it, and drop us a comment below to talk about how much better Triple H vs. Ronda Rousey would be than literally any tag match.
Have you listened to this week's With Spandex podcast?