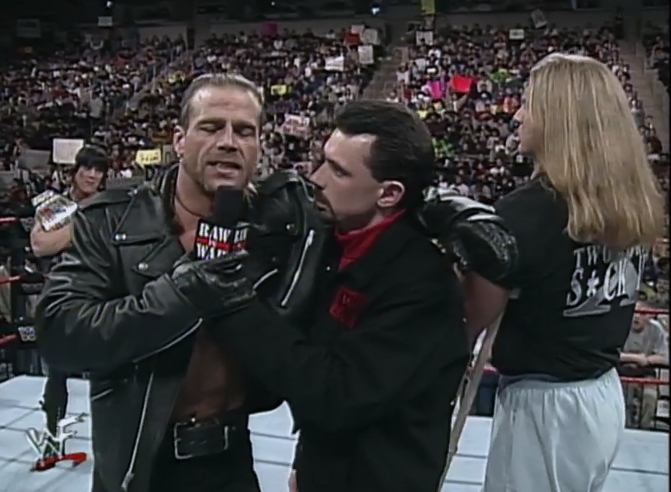 Previously on the Best and Worst of WWF Raw Is War: Stone Cold hit the Stunner on anyone that moved, The Artist Formerly Known As Goldust wrestled in blackface, and Terry Funk debuted as Pantyhoseface from The Texas Chainsaw Massacre.
If you haven't seen this episode, you can watch it on WWE Network here. Check out all the episodes you may have missed at the Best and Worst of WWF Raw Is War and Best and Worst of WWF Monday Night Raw tag pages. Follow along with the competition here.
Hey, you! If you want us to keep doing retro reports, share them around! And be sure to drop down into our comments section to let us know what you thought of these shows. We're almost to the 1998 Royal Rumble and WrestleMania 14, so support us at least until we get to Sunny in the Legion of Doom flame top.
And now, the Best and Worst of WWF Raw Is War for January 12, 1998.
Best, Mostly: D-Generation Wrecks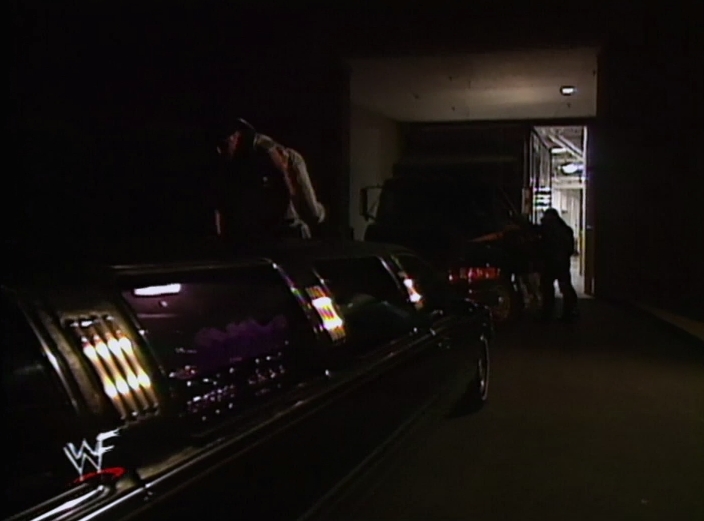 This week's show opens with Shawn Michaels and Triple H in the back of a limo, laughing about how they're headed to "state college" for Raw, and that "the best thing about Penn State or any other university is … college chicks!" Remember the days when that's what we thought of when someone mentioned Penn State? How much fun it would be to go to college? There's also a fatal fourway tag team match that opens the show with the New Age Outlaws wearing Florida Gators shirts to troll the audience. Penn State, the home of college chicks and playful sports rivalries!
When they finally get to the arena, they find the entrance to the parking garage blocked by a semi-truck. As Shawn and Chyna investigate, local vagabond Owen Hart power-scurries onto the roof of the limo, drops down through the sunroof and attacks Triple H. Shawn and Chyna quickly get back into the limo to make the fight 3-on-1, and the limo driver … drives away from the arena for some reason? Maybe he'd threatened to turn the car around a bunch of times and this was the last straw. Lousy kids.
A few segments later the limo returns, and D-X gets out of it and continues into the arena like nothing happened. According to them, Owen was drowned to death in a sewer because he's literally a turd. H then pivots back to his more important talking points: the fact that he would like to have sex with girls who go to college, calling himself "Dean Helmsley," and promising to provide tutoring for finals that lasts "all night long." I wish Ken Shamrock would've shown up all, "you don't take tests in the middle of the night, you degenerate! You're LYING to these sexy co-eds!"
Owen interrupts on the TitanTron, having survived a 3-on-1 beatdown and a reported toilet drowning with just … what is that, ketchup on his face? They didn't even pretend to make him injured in a believable place, like the forehead, they were like, "wipe some jam on his cheek, it's fine." He tries to get to D-X again, but is stopped by security. It ends up coming across super lame, especially on an episode during Stone Cold Steve Austin's Royal Rumble kill list, so consider it one of those unexpected moments when I have to type something like, "the presence of Owen Hart hurt the D-Generation X promo."
That interruption means D-X has to come back out a third time to finish their promo. They invite the recently wayard Kane to join the group — an offer he'd eventually take them up on, more or less — but instead get Da Undataker. This devolves into a melee featuring Undertaker holding up Chyna like he's trying to move her out of his apartment without breaking her or putting any marks on the wall: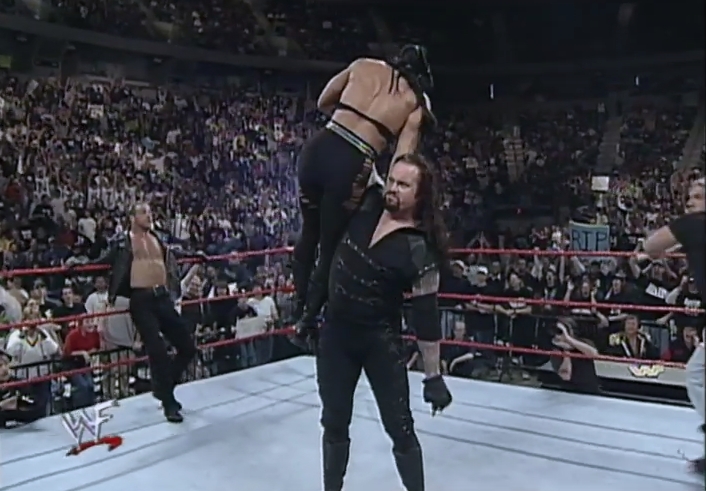 What happens next is the WWE moment that launched a thousand pseudo-gothic e-fed stories. D-X beats down the Undertaker until Kane shows up, and instead of joining them in beating down his brother, Kane replays Taker's favor from last week and joins him in fighting them off. I think one of the big differences between prime WWF Vince Russo circa 1997 and 1998 and the Russo we all came to know and despise is that he used to remember to include some shit amidst the swerves and sexual nonsense that actually made us happy to see, as fans.
Look at this GIF. There's no way you didn't mark out for this when it happened. I was a WCW homer and have never considered myself an Undertaker fan, and I marked out for it, hard. I kinda marked out for it again watching it 20 years later to GIF it for the report.
It doesn't last long, of course, but WCW or TNA Russo would've immediately followed up this moment with another unrelated party (let's say Faarooq) showing up and attacking Undertaker from behind in the middle of his salute. And then Kane would come back down to the ring to make the save, only to turn on The Undertaker, despite having just saved him. And then Kane would've joined the Nation of Domination, until next week where D'Lo and the Godfather betray the group but also embolden them by turning on Kane. And then everybody has a ladder match! Paw Bear on a pole!
Anyway, really good stuff. The Kane/Undertaker beef in its infancy was brilliantly put together and works to tie in D-Generation X, which works to tie in Owen Hart and not forget what happened at Survivor Series, which works to tie in Stone Cold Steve Austin, which works to tie in most of the rest of the roster.
Best: 100% PURE WHOOP ASS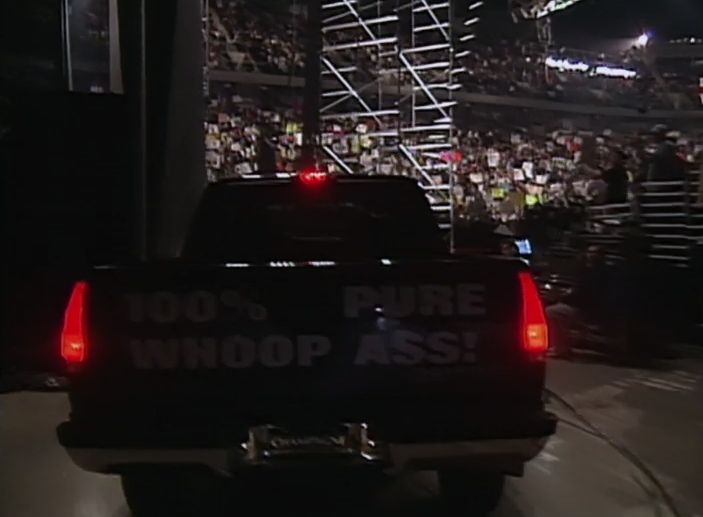 "hi, excuse me, is your whoop ass vegan?"
[checks label] "I think so … it says that it's 100% pure"
"yeah but do you know whether or not it's vegan"
"uh … let me ask"
Stone Cold is on another endless Stunner gambit this week, attacking the Godwinns at catering before he even drives his truck from backstage to out in the crowd. A hilarious supplemental worst for Kevin Kelly's recap of the attack, which sounds like Vince McMahon wrote it on papyrus with a quill.
"Getting a cold drink was Phineas. Hearing the commotion was Henry. Both men got Stunners for their troubles!"
Motherfucker should've yelled "EXTRA, EXTRA, READ ALL ABOUT IT," before he read those lines.
Austin cuts a short promo about winning the Royal Rumble that reminds me Austin's two greatest underappreciated catchphrases are "Jesus Christ, son," and the possibly even better, "so here's TO YA." This is all to set up the Royal Rumble drawing main event, where everyone on the roster's supposed to stand around peacefully drawing numbers out of a tumbler. There's some mild in-fighting, mostly amongst Disciples of Apocalypse, but everyone focuses on the ramp when Austin's music hits.
(You know where this is going.)
If you can't make out what you're seeing, that's everyone standing in the ring looking at the screen. In the bottom right there is Stone Cold Steve Austin sliding into the ring behind them so he can smash Phineas Godwinn in the back with the ball tumbler, hit him with another Stunner and slide out of the ring flipping everyone off. Poor Phineas is never going to get that cold drink at this rate. Henry had to just stand there noticing the commotion.
Again, really good material that sets up Austin's iconic 1998 Rumble win. And he last eliminates The Rock, which makes it even better.
Worst: Another Very Important Mike Tyson Announcement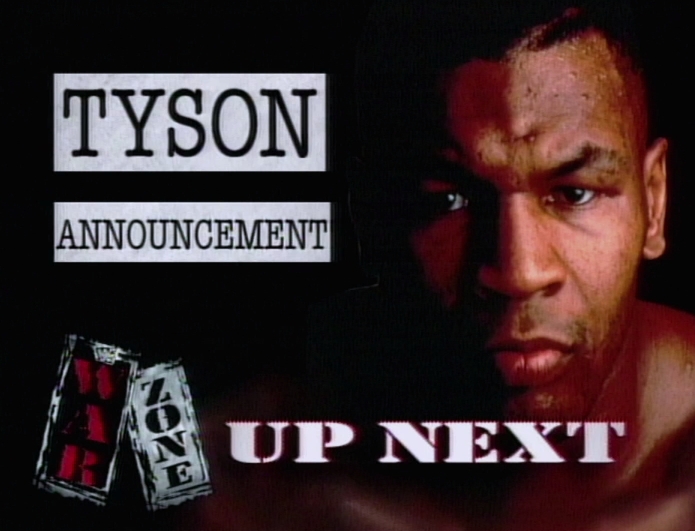 Two weeks ago, the major announcement involving The Baddest Man On The Planet®* Mike Tyson and WrestleMania was that they wanted to get Mike Tyson at WrestleMania, and were gonna talk to him about it. Last week's major announcement involving Mike Tyson and WrestleMania was that Don King was down to negotiate, and hoped he and Vince could come up with something. This week they spend the entire show teasing a major announcement involving Mike Tyson and WrestleMania, complete with multiple graphics. Can you guess what it is?
Vince McMahon announces that he's invited Mike Tyson to the Royal Rumble as a guest and is gonna talk to him there, and they hope he'll show up on Monday to make a very important announcement. We all know how this ends, but I wish Tyson had shown up on the next Monday like, "it's great to be here, I hope someone talks to me soon about being at WrestleMania. Until then, bye!"
*Mike Tyson is The Baddest Man On The Planet, not to be confused with Wayne Newton, who is Nevaddest Man On The Planet.
Not To Be Confused With The World's Strongest Man, Mark Henry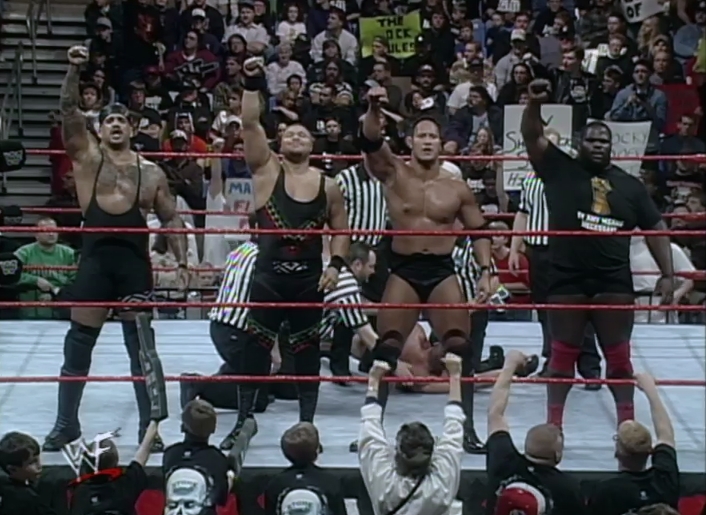 … who joins the Nation Of Domination this week after pretending to be Ken Shamrock's partner in a tag team match against The Rock and D'Lo Brown. To my knowledge, this is the first example of the "tear off a guy's shirt to reveal a different shirt underneath" method of faction building, as Henry's "ROCKY SUCKS" t-shirt gets ripped off to reveal a Nation number I'd like to buy from the Pro Wrestling Tees store of whichever of these guys don't have Legends contracts. There's also a great bit backstage afterward where The Rock tries to explain to Faarooq that he's actively recruiting Nation guys now and that Faarooq should just chill and be happy. (He should've listened.)
It's a good use for Henry, even if it never really goes anywhere. I don't love pro wrestling's ongoing tendency to not be able to have more than one black wrestler at a time without teaming them up or feuding them, but Henry wasn't going anywhere as a fun loving patriotic guy, so using him as muscle for a team led by an increasingly up-his-own-ass People's Champion was the right call. They should've just had him be tough and threatening like his WWE ECW run during any of the first like, ten years they had him under contract.
Worst: Penn State Meets The Interrogator
[breathes through teeth]
But yeah, on the opposite end of the "believable strongman" scale from Mark Henry is KURRGAN THE INTERROGATOR, who is like 17 feet tall and made of muscles and still looks like he'd lose a fight if you just reached out and tipped him over. He gets a handicap match victory against the team of Lance Diamond, aka future ECW star Simon Diamond, and Jimmy Cicero, who's even worse than that Chicago song his name makes you sing in your head. Kurrgan wins when he pops Cicero right in the lipschitz.
The best part of the match is the post-match celebration, featuring the Jackyll removing the Penn State football helmet from the announce table and instructing Kurrgan to rip it in half.
Take that, state college!
Worst: When Did Los Boricuas Start Looking Like A Gang From A Joel Schumacher Batman Film?
Technically, the main event of this week's Raw is Los Boricuas vs. Scott Taylor and Taka Michinoku, who I'm calling "Too Ku." The highlight, depending on your point of view, is either:
Sunny as the ring announcer, dressed as a Penn State cheerleader, or
Jerry Lawler randomly chiming in with, "I'm not embarrassed to be with younger women … except when I drop them off at school!" followed by a pause, then the most exasperated "well" in Jim Ross history
We're getting to the point where Lawler's phasing out his deluded heel veteran character that actually worked as a color commentator and turning into that "woo hoo puppies" parody Lawler, which is a pretty sad development, but on the bright side, "not happy to be here" Jim Ross is the best Jim Ross. It's why Ross and Paul Heyman is my favorite WWE announce team. Ross sounded like he was an errant comment from slitting his wrists at all times.
Worst: The Day The Music Died
On last week's show, Jim Cornette and some interchangeable con nerds from the National Wrestling Alliance announced they'd be bringing the National Heavyweight Championship to Raw and then helped Jeff Jarrett cheat to win it. It wasn't great, but it was "I'm sorry, I love you" compared to this week's development: not only has Jim Cornette brought in the Rock 'n' Roll Express as the new NWA representatives, he's unofficially managing them and hailing them as the "greatest tag team in the history of the NWA." BOY YOU DID NOT JUST SAY THAT.
If you've read any of our vintage NWA columns or remember ANYTHING from Jim Cornette before 1998, you'll know that Cornette openly praising the RNRs over the Midnights is the most bullshit writing in the history of wrestling. I don't care what they're going for. It's like when the nWo showed up at WrestleMania to help Sting, but somehow worse.
To make this all especially terrible, the RNRs are already the NWA Tag Team Champions, apparently, and face the Harris Twins in a non-title match that they lose by disqualification when Jim Cornette cheats for them. So the best singles guy from the NWA can't beat one half of a jobber tag team, and the best tag team can't beat the worst tag team EVER. The way WWE handled the NWA makes the way they handled WCW look like the way they treat Ronda Rousey.
Best: Goldust Is Gross And Super Weird And It's Great
The Artist Formerly Known As Goldust gets two really great moments on this episode, the first being this Sable get-up he debuts after Marc Mero tearfully apologizes and promises to treat Sable better. Turns out he's gonna make this bent out of shape, mentally unhealthy guy put on some underwear and pretend to be his wife while his actual wife sits at home, because he hates wrestling fans more than he loves his wife.
Mero loses the match by disqualification when Goldust removes one of the coconuts he's been using for boobs and smashes Vader in the back of the head with it. As you do.
Later in the night, TAFKA Goldust is supposed to have a match with Mankind, but Dude Love's music hits.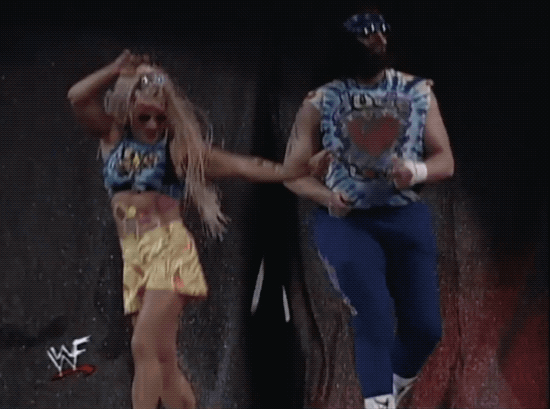 Yep, that's Goldust as Dude Love and Luna Vachon as one of his Dudettes, and I'm considering them the original Golden Lovers.
The match isn't very long, as it's just there for Stone Cold to slide in and Stunner them both. It does give us the hilarious visual of Austin beating up Mankind and "Dude Love" at the same time, though. Part of me wishes Luna had made a convincing Cactus Jack so we could've completed the Three Faces.
Next Week: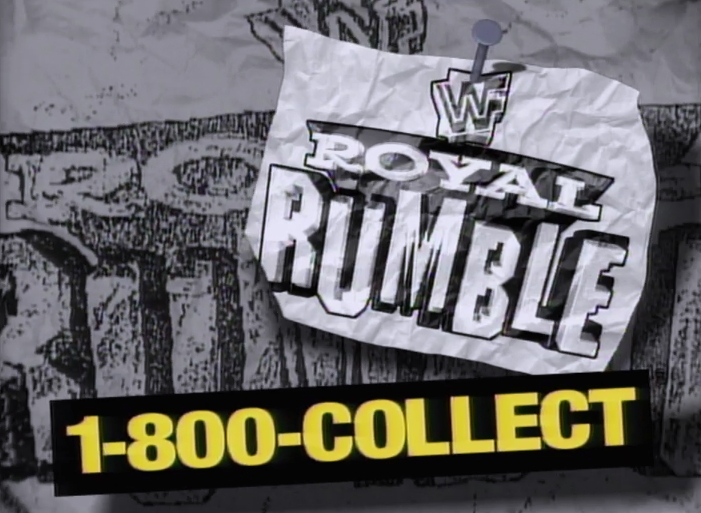 The 1998 Royal Rumble, featuring Shawn Michaels vs. The Undertaker in a casket match that would have lasting repercussions, Stone Cold going HAM on a bunch of jobbers in the Rumble match, and Mike Tyson showing up to reveal his favorite ice cream franchise.
Subscribe, rate and review the With Spandex podcast on iTunes!
[protected-iframe id="789cb50efa589df1a1a3f70d50762cc3-60970621-10222937″ info="https://omny.fm/shows/mcmahonsplaining/episode-29-kevin-gill/embed?style=cover" width="100%" height="180″ frameborder="0″]