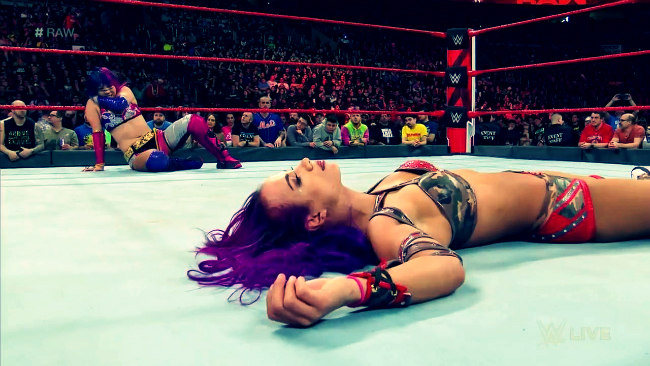 Previously on the Best and Worst of WWE Raw: The Royal Rumble happened, Asuka won the first women's Royal Rumble match (only to be immediately overshadowed by Ronda Rousey), and Braun Strowman and Brock Lesnar briefly tried to kill each other for real.
Remember that With Spandex is on Twitter, so follow it. Follow us on Twitter and like us on Facebook. You can also follow me on Twitter. Super thank-you to Elle Collins for filling in on last week's Best and Worst.
One more thing: Hit those share buttons! Spread the word about the column on Facebook, Twitter and whatever else you use. Be sure to leave us a comment in our comment section below as well. I know we always ask this, and that this part is copy and pasted in every week, but we appreciate it. It's WrestleMania season, so now's when the shows usually get good.
Here's the Best and Worst of WWE Raw for January 29, 2018.
Best: All The World's A Stage
I was going to make a joke about how Braun Strowman crushing Kane with the announce table and the rectangle of stage its bolted onto was this week's best and most enjoyable murder, and then Asuka vs. Sasha Banks happened. Whole lot of enjoyable murder happening on WWE TV this weekend.
But yeah, Raw's opening match is an Elimination Chamber qualifier that ends with the assassination of Kane by whatever the opposite of a coward is Braun Strowman. The hero Braun Strowman? This wasn't much of a match, but it accomplished a lot. It (1) got Kane off the show, at least briefly, (2) prevented us from another Kane-event pay-per-view match in 2018, (3) got Braun Strowman into an Elimination Chamber match, (4) gave us next month's most giffable moment, which is when somebody pisses off Strowman before he enters the match and he Hulk Smashes his way out of his own pod, and (5) gave us the hilarious visual of Michael Cole, Corey Graves and Jonathan Coachman sitting at ringside in desk chairs like they're watching Raw in their first apartment.
My only concern is that the Strowman feats of strength keep escalating, so if we have Braun's first WrestleMania as a Big Deal and he doesn't do something absurd like throwing The Miz through the roof of the Superdome or tipping over the entire arena with 75,000 people inside, it's going to feel like a letdown.
Best: It's WrestleMania Season!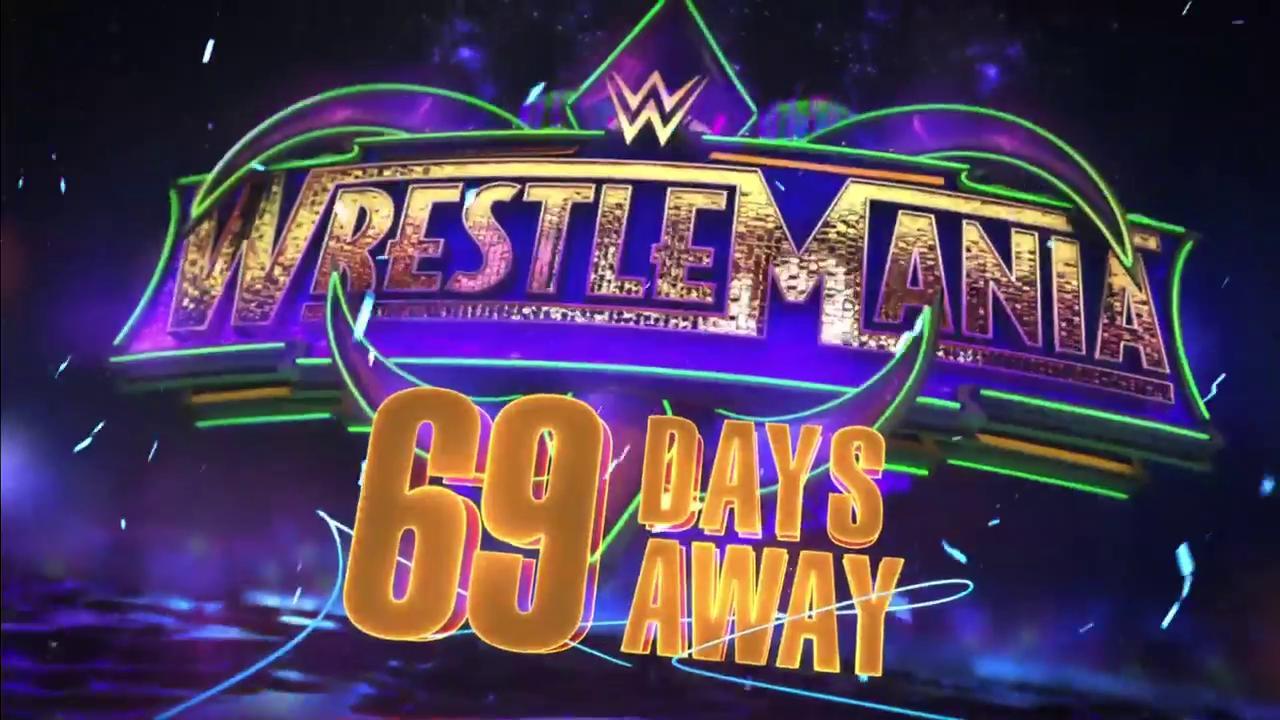 Nice.
Worst: Mixed Messages
This week's actual opening segment wasn't bad, necessarily, but it brought up a lot of the same problems WWE's been having for years. Stephanie McMahon opens the show talking about how tonight is "all about Asuka," but that wasn't really the story. A lot of talent (in the company and outside of it) complained about Ronda Rousey showing up and preventing Asuka from having her moment as the winner of this big historic main event, almost all of the WWE media and talking points from the match were Ronda (see this as an example, as people like Nia Jax absolutely did), and the opening was more about Stephanie's speech and Sasha Banks' challenge. Steph even nonchalantly dropped in the announcement of the first women's Elimination Chamber match.
I suppose with Asuka's limited English they feel like they have to pad the celebration with a lot of other stuff to keep fans interested, and maybe that's true. On the extremely positive side, at least the opening led to Sasha Banks vs. Asuka for 15 minutes on Raw, and holy shit, you guys.
Best: Entire Match DANGEROUSSSS
One thing we've learned from her time in NXT, her matches with Bayley (especially) and her series with Charlotte Flair is that the key to getting a truly great match out of Sasha Banks is hurting her for real. Sometimes she gets hurt by her opponent — see the match with Bayley in Brooklyn — and sometimes she hurts herself (see here), but if the match suddenly becomes dangerous, Sasha's internal star power sorta fires up like a pilot light and gives her a tangible sense of urgency that pushes her matches to another level. Roman Reigns kinda has this too, but he's not like half the weight of AJ Lee so the danger he puts himself in never seems like life or death.
If that sounds exaggerated, please enjoy this GIF of Sasha going for a dive through the ropes toward a kick from Asuka in WWE's most "damned if you do, damned if you don't" moment of 2018:
Jesus Christ, Sasha. You need to spend a weekend at King Cuerno's taxidermy cabin learning how to get through the ropes and to the floor without attempted paralysis. I feel like the camera angle really saved this as there's no real contact made, but you can still buy the image of Asuka kicking Banks out of the sky.
The first half of the match is good, but the crowd is mostly dead. Circa this dive the entire thing MASSIVELY changes gears, and suddenly Asuka's going full tilt with strikes — see also this — and Sasha's fighting back with 100% rudo heart. Asuka's hip attack bump to the outside was rough, and Sasha's diving knees from the top turned into a real diving knee strike. If I could compare this to any other match, it'd be that great Cena vs. Rollins match from Raw back in 2015 when Rollins broke Cena's nose for real and everything suddenly felt real and dangerous. The final 5-10 minutes of this made it must-see, and Asuka's best main roster match to date.
As a point of clarification, I don't WANT wrestlers to really hurt each other. That's not what I'm saying. If I wanted to see that I'd just watch UFC. Wrestling's a show, not a legitimate combat sport. What I'm saying is that when shit happens, sometimes the shit does the story the wrestlers are telling a great favor and amps up the realism and, again, urgency of the match. "Botches" can be a good thing if you know how to work them into the story.
Best/Worst: The Miz Vs. Roman Reigns
The Miz vs. Roman Reigns for the Intercontinental Championship was good, because it's always good … but it was also the same, because it's always the same. Let me (at least attempt to) explain.
Both of these guys are good-to-great in the ring, but the layout of the matches doesn't do them any favors. WWE (or the preexisting relationship between heels and faces on WWE television) dictates that no matter how good Miz is and no matter whether he does or doesn't hold the championship, he's not as good as Reigns. So when they lay out the match, the point seems to be "Miz can't actually hang with Roman, so the Miztourage has to get involved." That doesn't lead to one bit of interference to give Miz an edge … it leads to SEVERAL bits of interference, with Roman repeatedly being cheated by these two goobers and responding by kicking their asses. Only after like an infinity of being screwed is Miz then able to ADD to the cheapness and get the win.
This would be fine if it happened once, or if we didn't invest like 15 minutes into the back-and-forth just for the same finish to happen over and over. I think my major problem with it is that it continually reiterates a point we've already been told dozens of times, and we all obviously get. We get it, you know? Roman's the best and you can't beat him, so you have to do a bunch of bullshit. I just wish the bullshit was different sometimes. Dallas and Axel can come up with a different plan of attack than standing shoulder-to-shoulder on the apron so they can get Superman Punched at the same time, can't they?
The good news is that Miz is still the Intercontinental Champion, and Reigns getting his rematch and losing (no matter how they got to it) means they can move him into something else for a while and give Miz some championship challengers that don't make him look like he's trying to do wristlocks to a semi truck.
Best: Elias
But also …
Worst: SPEAKING OF DOING THE SAME THING OVER AND OVER
Elias in what appears to be a kimono playing a song for Matt Hardy is great, but the actual Matt Hardy vs. Elias match for a spot in the Elimination Chamber isn't. It was structurally fine, but it was also 10 minutes of nothing to set up another Bray Wyatt "run-in" that instantly lowers Matt's overall rating to zero via spooky laughing. The fact that they're still just laughing at each other even after Matt's clean loss at Raw 25 is … I'm not even sure how to describe the feeling it gives me. It's like staring at an empty dumpster. Do something.
Like, anything. ANYTHING. Whoever wrote "SOMEONE FEUDS WITH BRAY WYATT, THEY HAVE A MATCH, BRAY WINS CLEANLY AND SURPRISES EVERYONE, THEN THEY KEEP FEUDING FOR SOME REASON SO BRAY CAN LOSE TO THEM SEVERAL TIMES IN A ROW" on the Raw booking dry erase board in permanent marker needs to be fired. He never, ever comes out if it looking better, and they KEEP DOING IT. How many times? How many times, guys?
Best: So Much Wrestling!
While I have some small complaints (because this is the Best and Worst of Raw, and the whole point is to tell you what I did and didn't like about the show), I want to take a minute to clearly type about how much in-ring action there was on this show, and how much I appreciate that. 100 out of 100 times I will like a show full of boring wrestling over a show with very little wrestling and a bunch of bullshit. I didn't love the Hardy/Elias match, but it was a MATCH, and that's better than Elias playing a song for no reason followed by a video vs. video segment of two people laughing at each other. WWE is "sports entertainment" and not "pro wrestling," but it's always better when it's at least framed by pro wrestling.
The Revival squashes Heath Slater and Rhyno, and while it's only like two minutes long, hey, it's a match. It's not The Revival getting beaten as quickly as possible so we can get to the part where a pile of legends stands around doing signature moves to them for no reason. This show was like the opposite of Raw 25, and I deeply appreciate that.
Also, shout-out to the Graham brothers. I want a WWE Network show where Dash Wilder and Scott Dawson watch old VHS tapes of Championship Wrestling from Florida and excitedly explain why they're great while Charly Caruso checks her Twitter.
Best/Worst: Dana Brooke Writes 'Stop Falling On Your Necks' In Her Notes
The Bar defending their newly-won Tag Team Championship against Titus Worldwide was purposeful — it pays off the upset from a couple of weeks ago and gives the champs a strong title defense — but it also features this: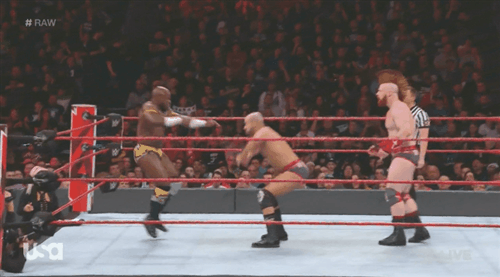 Crews was supposed to headscissor him over but they were too close to the ropes, so Sheamus followed through with the move even though Crews didn't, right? Is that what happened? Did they have a pre-show meeting and offer a cash prize to the person who broke their neck the hardest on this episode?
Again, not a bad match (at least when Crews was in), but the crowd was dead for most of it and Raw DESPERATELY needs more tag teams of worth. With Ambrose hurt you lose The Shield, Jason Jordan's hurt now so you can't even do the Seth Rollins backup team, you buried the shit out of the Revival last week and have to rehab them with jobber squashes for a while, Raw has always ignored the work Smackdown put into developing Heath Slater and Rhyno, Sheamus is apparently still working hurt because there's nobody to take The Bar's spot. Let's get the Authors of Pain on the main roster as soon as possible, get The Revival back up where they need to be and bring over one of those bottom-tier Smackdown teams that's popular or good — read: Breezango, so we can get the Fashion Files back on the actual show — and move this division in a new direction. Pretty soon you're gonna have Cesaro vs. Seth Rollins one-on-one for the tag titles.
Best: The Dudley Boyz In The Hall Of Fame
In 2012, TNA Wrestling inducted Sting into their Hall of Fame. In 2013 they inducted Kurt Angle, and in 2014 they inducted the Dudley Boyz. In 2016, WWE inducted Sting into their Hall of Fame. In 2017 they inducted Kurt Angle, and in 2018 they're inducting the Dudley Boyz. I thought that was interesting. Also, let's welcome Jeff Jarrett into the WWE Hall of Fame class of 2019!
Best, I Think: Regular Match Finn Vs. Big Match John
Finally this week we had the First Time Ever™ one-on-one match between "Big Match" John Cena and "Das Wunderkind" Finn Bálor for a spot in the Elimination Chamber. I've read a lot of people saying Cena "buried" Finn here, and that couldn't be further from the truth. First of all, it was the Raw main event with both pay-per-view and title implications. Second of all, Finn lasted almost an hour in the Royal Rumble the night before, so he clearly wasn't at 100%, and he still went move-for-move with John Cena. Third of all, Cena couldn't put him away with an Attitude Adjustment and had to win with the AA off the ropes, which is the John Cena equivalent of giving someone a really nice Christmas present. Fourth of all, dude lost clean to Kane not that long ago. Losing a competitive Raw main event to the guy they keep calling "the best ever" is about a billion steps up from that.
I thought Cena's mannerisms and attitude were interesting here, as he was obsessed with the WrestleMania sign and acted like he wasn't sure if he still belonged. I'd put more writing into that, but lately I'm never sure if Cena's acting or if he's just disinterested and whacked out on goofballs. Like, there are equal chances he opens Raw next week with a serious "I doubted myself" promo or a bunch of jokes where he dances around the ring shouting about how nobody has balls. Cena's weird.
This was great, though:
Two can't sweet me.
+1 forever if Braun Strowman powerslams Cena through the wall of the Elimination Chamber, then walks around and tips the entire thing over onto him.
Best: Top 10 Comments Of The Week
Endy_Mion
The city of good-brotherly love.
troi
all that match needed is a bunch of guys giving them ice packs afterwards
Spitty
Screw t-shirts and championship belts, I want to buy Sasha's life insurance policy
The Real Birdman
Is this match 2 out of 3 concussions?
Baron Von Raschke
Coach is back for just 2 hours and he has already seen three people die.
Ryse
Coach: Corey, what was it like when you were in the ring and you had the crowd behind you?
Graves: ……..
6forSorrow
All I really want in life is for Alexa to hollow out Braun's stomach so she can pilot him like Krang does.
magee
Braun, destroyer of 1,004 pieces of furniture.

Furniture piece #1: Arm-oire
Furniture piece #2: Table
Furniture piece #3: Arm-oire

(Later backstage)

Furniture piece #379: ARM-OIRE
Furniture piece #380: chair
Furniture piece #381: ARM-OIRE

(Back in the ring)

Braun: WHERE'S MY ARMOIRE?

(Crew feverishly brings out an armoire)

Furniture piece #895: ARM-OIRE
Furniture piece #896: Ring steps
Furniture piece #921: ARM-OIRE
shockabra
Kurt: Now go flip it back.
AddMayne
From the desk of Emma Dana Brooke

Titus lasted 1.5 seconds longer than sheamus did when he was eliminated last year so he has a good chance

Landing on the back of your neck makes you stronger

Order more clipboards

Oh hey a butterfly

wait what happened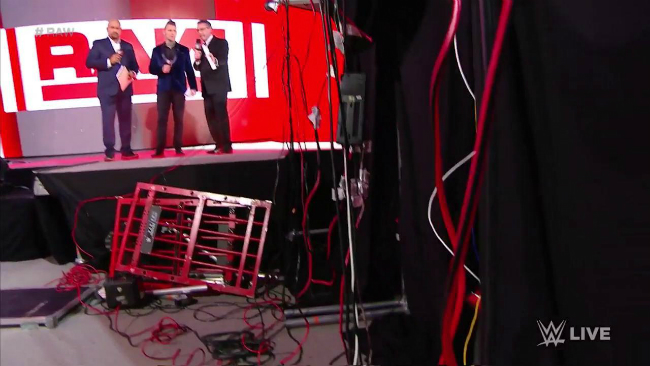 That's it for this week. Much, much better show this week, and I hope they keep up the momentum and give us more than a couple of random good Raws between the Rumble and WrestleMania. Also, I hope Ronda Rousey physically shows up next week and gets trucked by Nia, because for real.
Thanks for reading, as always. Make sure to drop a comment below and share the column on social media, if you're so inclined. We'd appreciate it. And join us again next week, when Kane finally crawls back to the arena in time to find out Raw's in a completely different city.
Check out the With Spandex podcast with Diamond Dallas Page.