Previously on the Best and Worst of Raw: We saw the fallout from the Elimination Chamber, Ronda Rousey demanded an apology, and Brock Lesnar "no-showed" to help Roman Reigns look like a more cheerable person.
Remember that With Spandex is on Twitter, so follow it. Follow us on Twitter and like us on Facebook. You can also follow me on Twitter.
One more thing: Hit those share buttons! Spread the word about the column on Facebook, Twitter and whatever else you use. Be sure to leave us a comment in our comment section below as well. I know we always ask this, and that this part is copy and pasted in every week, but we appreciate it. It's WrestleMania season!
Here's the Best and Worst of WWE Raw for March 5, 2018.
Best: Famous Samoan Wrestler Ronda Rousey
The big news from this week's show is that we're officially building to Ronda Rousey's first WWE match; a presumed WrestleMania main event teaming her with Kurt Angle as the "Olympic Dream Team" against Triple H and Stephanie McMahon. The amount of stooging the Authority's doing for Ronda is a mixed bag; it's great how hard they're putting her over and letting her kick their asses and make them look vulnerable, but it also kinda-sorta reminds you of all the times they didn't do that for people, specifically people who've actually been working there a long time and desperately need to get over. March and April for the Authority is the big eyeball on a Zelda dungeon boss … you're wasting your time if you hit them anywhere else.
I'm still not sure if Rousey's character is a threatening bad-ass or a goofy fan, but she's both, so maybe her character is too? They're saving the arm bar for WrestleMania, I guess, but we got to see Kurt Angle standing up for himself for once — possibly remembering that he's Shield member Kurt Angle — and Stephanie taking a … Samoan drop? Add her to the compilation. I'm a little bummed that a legitimate judo master's Samoan drop looked like that, but yeah yeah, she's at the top of the WrestleMania card but still learning, it's a stressful conversation.
Overall, it's nice to see them taking the time to carefully book and (mostly) protect someone, because it shows they can do it if they want to. WWE Superstars don't HAVE to compete in an endless series of non-title matches and just kinda fail sideways until someone suddenly likes them and makes them a thing. You can make people with zero pro wrestling experience look like your top guys. Rousey could be 1/10 as talented as she is and still look good in this set-up, because it's designed that way. Do this for other people when it's not WrestleMania season, maybe?
Worst: Study Questions
1. Why did Ronda Rousey interrupt the ending to the women's Royal Rumble to point at the WrestleMania sign in front of the winner and both champions if she wasn't challenging the winner or either champion? Especially now that we know her contract said she could pick her opponent as long as they weren't a champion. Maybe the Authority added that later? Is that a plot point we're missing?
2. How can the Raw general manager book two of his bosses into a match against himself against their will? They put a small amount of effort into mentioning Triple H and Stephanie having performer contracts because of their previous matches, and it's kinda nice to see them get hoisted by their own contractual petard, but also what? As George St. Geegland might say, WWE's hierarchy of power is like the Jon-Benet Ramsey case: the more you look into it, the more questions you have.
Worst: Bottom Guys
While WWE can make people with zero pro wrestling experience look like their top guys, they can also make their Top Guys look like they've got zero pro wrestling experience. Take, for example, The Bar continuing their tag division dominance (and setting up someone from outside the division to challenge them at WrestleMania, just like how last year ended up) by handily pinning The Revival. Man, the ONE TIME I wanted the challenger to pin the champion in a non-title match and you go and break my heart like this.
As Jeff Hamlin pointed out to me on Twitter, The Revival are looking like the Derrick Rose of tag teams. They show up and you're like, "wow, this is the best player I've ever seen in my life," and then they get hurt at the worst possible time, and then they get hurt again, and after a while they're just another guy.
Can we do an "NXT All-Stars" season or something where we send The Revival, Tye Dillinger, Tyler Breeze and Bayley back to NXT for six months so they can do a bunch of critically acclaimed cool shit again and get us appreciating them again?
Best: Nia Jax And The Infinity Arm Bar
Asuka: [defeats Nia Jax in NXT]
Raw announcers: Asuka has never faced anyone like Nia Jax!
Asuka: [defeats Nia Jax on WWE TV]
Raw announcers: guys, Asuka has never faced anyone like Nia Jax, her streak could be in jeopardy
Asuka: [defeats Nia Jax by submission]
Raw announcers immediately after WrestleMania: A vicious attack from Nia! Asuka has never faced anyone like Nia Jax!
Asuka: [defeats Nia Jax by disembowelment at Backlash]
Raw announcers: Nia Jax is the most dominant force in WWE
Jax vs. Asuka always has a good urgency to it and is fun to watch, even if it doesn't go very long, and even if the result is never in question unless you're a crazy pants. In our open thread I rationalized that maybe they were doing this again so Alexa Bliss could interfere and end Asuka's streak prematurely, which would get Asuka mad enough to throw on some Nazi clown makeup or whatever and kick-kill her at WrestleMania.
Instead, the match was built around how tough Nia Jax was, even though she lost, and how much the announcers respect her for staying in an arm bar that long. She was in that thing forever. Ember Moon and Shayna Baszler were starting to be like, "all right, take it home." Even the post-match was about how great Nia is, and not on the person in the match who, you know, won the women's Royal Rumble and is challenging for the championship at WrestleMania. WWE sometimes breezes through stuff to get to other stuff, whether it helps anyone or not. There's even a late show, beautifully-acted promo from Bliss that again sets up Nia turning face and the two of them fighting.
If we're doing Nia vs. Alexa and Asuka vs. Charlotte Flair, can we hurry up and get to that part? WrestleMania's not very far away, and the Royal Rumble winners still kinda feel like extras right now. Nakamura's not even on the Fastlane card yet, and he could've skipped winning the Rumble and gotten a title shot against AJ by showing up in the middle of Smackdown and saying "I want a shot at the TITLE" into a microphone. Dolph Ziggler HATES championships and he's in the title match. He didn't even ask for it!
Best/Worst: Goldust On Raw!
"Guy who is technically on Raw but hardly ever shows up on Raw showed up on Raw" isn't my most prestigious Best, but I'm sticking with it.
So in a moment that defies explanation even if you sit down and illustrate it to me using graphs and charts, "Free Agent" John Cena, the man who left Raw last week to go to Smackdown because Raw management wouldn't fulfill his wishes for a main-event match at WrestleMania, returns to Raw to talk about his difficult Road To WrestleMania despite that whole "going to Smackdown" thing working for him and getting him into the next pay-per-view main event. The one with the chance to win the WWE Championship and head to WrestleMania. He continues to be a little tone deaf by saying WWE fans will say he stole an opportunity from AJ Styles, but I think it's more accurately expressed as, "you stole AJ Styles vs. Shinsuke Nakamura at WrestleMania from us."
Anyway, in an unexpected but welcome change of pace, GOLDUST of all people shows up and threatens to beat him up and keep him off the Mania card. I kinda wish Goldust had used his veteran street cred to point out that Cena doesn't want "a road to WrestleMania," he wants a WrestleMania main event match and the spotlight, because he saw The Rock do it to him a few times back in the WrestleMania Twenties and feels entitled to it. Instead he's just like, "movies! I'm gonna win! Movies!" and we're off. Which, I mean, I'm totally fine with. At least it gets Goldie some TV time.
Sadly the match wasn't what I think most of us wanted it to be, which was one of those 15 minute finisher kick-out John Cena affairs like the one we saw on Smackdown last week. It was under four minutes long, Cena and Goldust looked a little confused during most of it, and then Cena just won with an Attitude Adjustment. Brother Goldie can't even get the AA off the ropes?
That's all me complaining from a fan perspective, though. We got more Goldust on Raw than usual (yay), Cena's ride or die committed to his inaccurate "WrestleMania streak" bit (boo), and Cena gets another win (boo/yay dueling chant forever). I really hope Cena loses at Fastlane so they let him dress up as a Xenogears character and host WrestleMania.
Best: Matt Hardy Finally Gets To The Fireworks Factory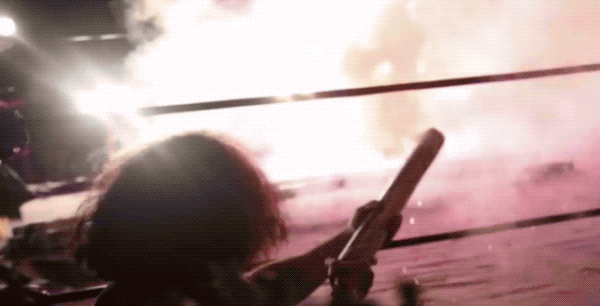 Literally!
But yeah, no, this week is finally the week where Matt Hardy is like, "BRAY WYATT, IF YOU WANT ANOTHER MATCH WITH ME, YOU HAVE TO COME TO MY HOUSE IN NORTH CAROLINA AND FIGHT ME IN MY YARD, SO I CAN CREATE LORE ABOUT EVERYTHING I'M HITTING YOU WITH AND THEN LET MY INFANT SON PIN YOU."
I promise I want to watch a Bray Wyatt match less than the rest of you, but at least we're to the part everybody wanted to see. We're heading to the Hardy Compound for WrestleMania. I only want two things from this, and I'll be happy:
a reference to the House of Horrors, possibly in the form of Bray countering the dilapidated boat with his backwards-driving ghost tractor, or maybe he can project bugs onto Hardy's house
a spot where Matt and Bray go crashing into the Lake of Reincarnation together, Husky Harris climbs out on one side (in a Nexus arm band, wondering why he can't remember anything before Randy Orton punted him), and Matt Hardy Version 1 climbs out on the other. And then Shannon Moore crawls out behind him
Best: The Mizzies Are (Super) Hot Fire
My favorite part of the show is that they've transformed The Mizzie Awards from a self-aggrandizing promo to be interrupted into an unofficial roast of the entire show, from Miz shading the hell out of Kurt Angle's bad decision-making as a general manager and father to making sharp fun of his enemies. For example, the most super, hottest, and most fire response of the night was Miz burning Finn Bálor by saying he hasn't done shit since getting hurt winning the Universal Championship.
Best part: "This isn't Japan, this is the WWE, where you have to bust your butt each and every day. And let me give you a little hint: to be over, you need more than just a hand sign that's not even yours."
The best part of that is the reaction from Finn, where he's smiling all nervously and his eyes are wet, so on the outside he's like, "heh, what an asshole, am I right, folks," but internally he's sprawled out on his mind's bed, sobbing into a pint of ice cream. His floor is just covered in Lego.
The match followup to this is super cold ice, as it's just a handicap match built around three guys not being able to beat these two combustible ab-daddies who can't get along, even when they're feuding mid-match. This is to set up a triple threat between Finn, Seth and Miz for WrestleMania, which I'm almost certain's going to evolve into a ladder match with like four other guys in it. Braun, Elias, maybe a surprise Dean Ambrose. Something.
Anyway, here's a list of people who are great from this segment: The Miz, Seth Rollins, Curtis Axel, Bo Dallas, the referee, Jojo, the announce team, the Unsolved commercials and all the fans.
So Far, So Good. So What?: The Symphony Of Destruction Match
Yes, Corey Graves is on Matt Striker-style band-he-knows joke overload dropping Megadeth references during Braun Strowman and Elias' musical instrument-themed "Symphony of Destruction" hardcore match. Remember when Striker couldn't see William Regal without reading the entire The Smiths Wikipedia page on air?
The match isn't as wonderful as the IDEA of the match, but it's still fun to watch. Elias trying to stage an escape by proving he can play a bunch of musical instruments with baseline competency and then just running out to his car when the lights go out was funny, as was Braun keeping a car from driving away by hoisting it up. I wish the announce team hadn't simultaneously yelled IT'S IN NEUTRAL when Elias tried to start it up, but I get what they were going for.
Plus, I mean, there's only so many complaints I can have about a match where a guy gets crushed by a piano, like he's a fucking toon in Who Framed Roger Rabbit? Never send a bard to fight a warrior one-on-one. Elias needs to use HIDE.
Worst: LEAVE BAYLEY ALONE
I think I've hated on main roster Bayley as much as anyone, but man, I'm on her side in this. Sasha Banks opportunistically costs her the Royal Rumble and the Elimination Chamber and has half-turned on her like five times, but the second Bayley stands up for herself, they send Charly into the ring to get an "explanation." Maybe she's sick of getting turned on? The rationale is that Sasha did these things in "every woman for themselves" matches, but all Bayley's gotta do is say, "yeah, and she decided to cheapshot me multiple times before we got down to the two of us." Sasha's a bad friend no matter how you look at it. She's never been a good friend, to ANYONE. Ask Summer Rae!
I think the most interesting moment of the night is Bayley showing up in this all red and black outfit without rainbows and smiles and flowers and polka dots all over it, looking serious, and Charly's like, "so hey, are you turning heel?" Bayley doesn't fuckin' know, so Paige shows up and is like, "she's not, let's just have the match." And then look, Bayley wins via roll-up, gets beaten up, has to get saved by Sasha and then refuses a hug. I want the payoff to this to be a one-on-one WrestleMania match where the opening move is a fireball to the face, and Bayley and Sasha just brutally attack each other while screaming and crying for like 35 minutes. Work through all this dormant animosity and negativity, guys.
The Belt Is A Bitch And You're A Bitch Too, Bitch
Finally we have Paul Heyman, who at this point will do his best but cannot be expected to add a lot of layered hype to Brock Lesnar. We get it. Brock's gonna keep the belt for three more years and Heyman's gonna be out here quarterly like, "I don't know what else to say, Brock's great, if you have a match coming up with Brock, please don't interrupt me just to punch me. Brock has already been 'sent a message' this way, he doesn't give a shit."
The promo's largely about how Reigns called Lesnar a bitch, and how Heyman says the real bitch is actually the Universal Championship, and that the bitch is Brock's bitch. Roman can't have the bitch. Then Roman shows up and is like, "turns out Brock IS a bitch!" He flipped the bitch! WWE's convinced that curse words are the ultimate mic drop, and without Lesnar actually around to do anything, we're stuck doing last week's Reigns promo again and again in pieces until it loses most of its impact.
I reserve the right to go back and praise this if next week's Raw we find out Lesnar isn't there again, and we cut to him via satellite in his home, humping at the Universal title like he's Johnny with the red dress at the end of The Room.
Best: Top 10 Comments Of The Week
AwkwardLoser
Bo & Finn should have a creepy smile off
The Real Birdman
Jokes on Matty Hardy, unlike Husky Harris who was an army tank with a ferrari engine, Bray Wyatt is a dilapidated boat with a dilapidated boat engine
Endy_Mion
This feud is far from "over" to use the parlance of our times.
Bigsexy75
Once Elias was afraid, he was petrified
Kept thinking he'd catch Braun's hands in his side
Spent so many Raws thinking how he'd been done wrong
So he grew strong
And taunted the Monster with his song
But now Braun's back
And it's a race
He chased Elias to the ramp and dropped a Steinway on his face
Eli should have changed his flight, should've fled to the next town
Cuz throwin' with the Strowman he's looking like a clown
Oh no Eli, he won't survive!
As long as Braun is throwing hands, the Bard will take a dive
Eli's got no more blood to give
He's bleeding like a sieve
've got all my life to live
He won't survive, whoooooaa
Baron Von Raschke
In 20 years, Elias will have be inducting Strowman into the Hall of Fame. They will hug on stage. Braun will give one of the funniest and most emotional speeches ever. Then, he will call his friend Elias back to the stage by saying, "Elias…by the way…I'm not finished with you. Come back up here, brother." Elias will walk back to the stage…and Braun will crack another double bass over Elias's back.
The crowd will love it!
Cami
Woah, woah, Elias. The one man band gimmick is taken.
Brute Farce
Thought he'd a least play Braun's Lullabye.
Ryse
Your dreams shouldn't be grey Goldy, they should be Velveteen.
pdragon619
WE GET JOBBED, ALL DAY ALL NIGHT!
GOT BEAT BY OLD FOGGIES, DIDN'T PUT UP A FIGHT!
WE SAY MEH! MEEEH! MEH! MEEEH!
Troi
Mickie James dressing like her current crush is A+ continuity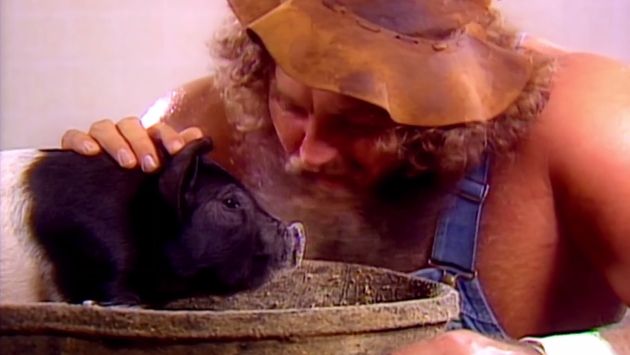 That's it for this week's show. Before I forget, congratulations to Hillbilly Jim, who I'm pretending is Braun Strowman's father. They're both "country strong," they both have giant beards, and I remember that time Jim flipped a Vogner Charking Imperial over onto Adorable Adrian.
Thanks for reading. Share the column if you can, and let's keep some momentum going heading into Wrestling Mania. Oh, and be here this weekend of our complete Fastlane coverage, which includes a thrilling live stream of me making a furrowed brow at my computer, trying to remember what the hell's happening at Fastlane.
Subscribe, rate and review the With Spandex podcast!
[protected-iframe id="789cb50efa589df1a1a3f70d50762cc3-60970621-10222937″ info="https://omny.fm/shows/mcmahonsplaining/episode-29-kevin-gill/embed?style=cover" width="100%" height="180″ frameborder="0″]