Early in the show, Lynch and 2P variant Sasha Banks argue with each other through microphones from a short distance (like you do) and agree to a match at Clash of Champions. Both women have cogent points. Lynch believes Banks is angry because she was the one positioned to be the big breakout face of the women's division — even referencing her and Bayley getting flowers after their NXT TakeOver matches, which I appreciate (and wish they'd keep doing, especially if it's going to keep trying to be domestic puroresu) — and Banks believes Lynch's meteoric rise only really happened because Nia Jax broke her face and made her look dangerous and cool. It's not the best promo exchange, but it works, because they both believe they're right. And that works, because they both kinda are.
This leads to the main event of the night, in one of those matches you know is only there to set up a post-match angle: a "championship showcase," teaming the Raw Women's Champion who Sasha Banks hates and the Smackdown Women's Champion Sasha Banks loves against the Women's Tag Team Champions. Before it happens, they thankfully address the elephant in the room from last week: why Bayley would be on the show where Sasha talks about how she didn't give a shit about the Women's Tag titles and not do or say anything. Her excuse is, "we talked about it, don't worry about it," which at first sounds like lazy writing to cover a plot hole, but ends up making so much sense.
Sure enough, Banks interferes and causes a DQ to attack Lynch. Bayley shows up to prevent the on-loop chair attack, gives it a long hard think, and decides to Hollywood Hogan it. Welcome to the world, Dirtbag Bayley.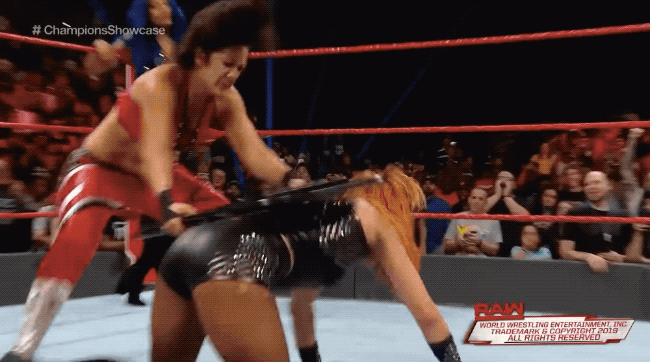 This works for a few reasons, including:
Bayley's pre-attack smile, which is amazing
the established relationships between Bayley and Banks, where you always kinda got the feeling that Bayley was a doormat in the friendship and would ultimately do whatever Banks wanted to maintain it (like putting up with multiple heel turn teases at her expense)
Bayley's character has been slowly turning into a huge jerk anyway, which would be a credit to the writing team if the announcers got the hint and started questioning her instead of immediately rationalizing and excusing everything because she's supposed to be a babyface
Regardless, it's gonna be hilarious when Lynch has to go to Charlotte Flair for help.