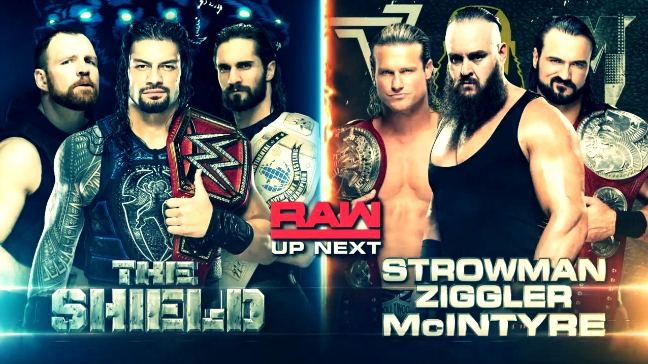 Previously on the Best and Worst of Raw: If you missed last week's show, just watch this one. It's the same thing.
Remember that With Spandex is on Twitter, so follow it. Follow us on Twitter and like us on Facebook. You can also follow me on Twitter. BUY THE SHIRT.
One more thing: Hit those share buttons! Spread the word about the column on Facebook, Twitter and whatever else you use. Be sure to leave us a comment in our comment section below as well. I know we always ask this, and that this part is copy and pasted in every week, but we appreciate it every week. You didn't watch this week's episode and probably aren't even going to read about it, so [hat tip] anyway.
And now, the Best and Worst of WWE Raw for October 15, 2018.
This Was An Episode Of Raw
I uh, don't know if you've been keeping up with the news or anything, but everyone from the mainstream media to the United States government to critical Internet wrestling blogs are calling for WWE to either pause, postpone, or outright cancel Crown Jewel in Saudi Arabia after the murder of a journalist. I long ago learned to not write about anything I actually care about on the Internet for fear of having strangers use it against me for the rest of my life — shout-out to the Internet — so I'll just say this: there's enough pressure on WWE right now regarding this event that no matter what they do, good or bad, they clearly don't have time to "write a good episode of Raw." We're lucky Raw wasn't just three hours of Michael Cole shrugging at the camera.
What we're left with is, in a nutshell:
In a less succinct nutshell, we're left with:
the only major program involving people who are actually on the show (The Shield vs. Braun Strowman, Dolph Ziggler, and Drew McIntyre and the possible dissension between Dean Ambrose and his Fist Pals) being done again, even though we've already gone through the one story beat like three times now
two World Cup qualifying matches involving those six AND a six-man main event with four people pulling double duty
no mention of Saudi Arabia whatsoever, because WWE just wants you to watch, they don't want you to think about it
five additional matches, none of which go longer than five minutes and would necessitate even being RATED with stars, much less "star ratings"
a build to WWE Evolution nobody appears to be writing, with the announcement of a battle royal, which was become WWE's Thank You card to anyone who is or has ever been an employee. In other words, at the first all-women's WWE pay-per-view, Asuka and Torrie Wilson have the exact same role.
So! With that all typed out, here's …. here's an episode of Raw.
Yep, here is an entire episode of Monday Night Raw.
Wither Dean Ambrose
The episode opens with The Shield (minus Dean Ambrose) and The Bad Guy Team having a confrontation, which is so unimportant the YouTube channel didn't even make a video for it. The hook is that Dean Ambrose isn't there, and that means there is more DISSENSION between him and the other Shield guys, despite them already teasing that and paying it off with no dissension twice.
When Ambrose finally shows up, we get this backstage bit in which Seth Rollins explains that Ambrose works on "lunatic time," which is why he was late. Ambrose gets upset about this because he's got to get upset at them about something, even though he's called himself "The Lunatic Fringe" for years and puts "lunatic" or "asylum" on all of his t-shirts. Imagine if Roman Reigns got mad and was like, "oh, you're calling me a DOG now?" Same idea.
This sets up a couple of World Cup in [unintelligible] matches, which I'll give a supplementary Best for actually involving current talent and not being a way to get Mohammed bin Salman's favorite wrestlers from 2005 on the card.
Up first is Seth Rollins vs. Drew McIntyre, which is seriously a match WWE has already managed to make feel tired and uneventful. Can you imagine that? Like, take a step back from this and think about how good Seth Rollins is right now, and how impossible a human being Drew McIntyre is. The best Raw can do right now is get something watchable in comparison to the rest of the show with these two. WITH THESE TWO. It's good, but it's not helped by a count-out finish, which is WWE code for, "we booked this and have to have one of the guys lose, but we don't think either can or should lose, so we're just gonna kinda end it, sorry."
After that is Dean Ambrose vs. Dolph Ziggler, which was perfectly fine but lacked the energy of the opener, because (1) Seth Rollins, and because (2) the crowd at this Raw was so dead I thought they were gonna pop up and start doing the Thriller dance. I can't blame them, because this is the episode of Raw they accidentally bought tickets to, but it was just a sonic wasteland out there on Monday night. WWE loves the "any reaction is a good reaction" talking point, so they should go back and watch some of the best wrestlers in the world be unable to get even CHILDREN to clap and make noise. The Bobby Lashley match felt like a three-minute moment of silence. Anyway, Dean loses this because Seth Rollins tried to help him, but he doesn't WANT Seth Rollins' help, and that for some reason distracts him to the point of walking into wrestling moves.
After that match, Constable "Baron" Corbin For Men shows up and books everyone into a main event, because there's nothing a dead crowd wants to see more than the matches they've already sat through tonight re-done simultaneously.
The main event is also totally fine and watchable, but understandably this is all starting to run together. Outside of the post-match stuff, there's really nothing to differentiate any of the Shield vs. Bad Guy Team matches, especially when all of them for some reason revolve around whether or not Dean Ambrose will turn on his friends, and then the reveal that he won't. This is what, the third time in a month for just this set-up?
The match ends with McIntyre accidentally hitting a Claymore on Strowman, and Ziggler getting a Zig Zag countered into a triple powerbomb and taking the loss. Afterward, Strowman gets mad at Ziggler and tells him he's gonna GET THESE HANDS, and then powerslams him. I continue to be amazed that Strowman's catchphrase is basically, "I AM GOING TO PUNCH YOU," and he follows through on the threat by attacking you in every way other than punching. How is Ziggler "getting these hands?" Because Strowman has to use his hands to scoop Ziggler up? Like, this is the state of WWE creative. The only answer is, "we don't care, it sounds cool and we can put it on shirts, just go with it." Imagine if they had JUNGLE MAN SETH ROLLINS and he just wrestled in normal gear and never talked about the jungle. And when you asked about the jungle, everyone went, "shut up, you're being a nerd."
The Other Five Matches
From last week's report:
Good lord. That's not even a joke, that's just the actual results from these shows. How in the world does a billion dollar company think anybody wants to watch Chad Gable and Bobby Roode wrestle The Ascension six times in a row? Or see Finn and Bayley wrestle Jinder and Alicia four times in a row? I know that opinions on wrestling are subjective and that different people like different things, but seriously, raise your fucking hand if you wanted to see either of these things. Raise your hand ANYWHERE IN THE ENTIRE WORLD. This is straight-up filler, on purpose, and we should at least be cohesive enough as a community to constructively agree and say, "stop giving us the exact same thing over and over and over (and over and over and over)."
This week we get to update this:
9/24: Finn Bálor with Bayley defeated Jinder Mahal with Alicia Fox
10/1: Bayley with Finn Bálor defeated Alicia Fox with Jinder Mahal
10/2 (Mixed Match Challenge): Finn Bálor and Bayley defeated Jinder Mahal and Alicia Fox
10/8: Finn Bálor and Bayley defeated Jinder Mahal and Alicia Fox
10/15: Finn Bálor with Bayley defeated Jinder Mahal with Alicia Fox
Cool. At least Gable and Roode and The Ascension don't have a match this week.
As mentioned, (Bobby) Lashley has a match against poor, poor Tyler Breeze, and the crowd is so quiet Santa Clause could've delivered presents and nobody would've seen him. It's a disappointment factory. It's disappointing that Breeze is still treated like such a joke on the main roster. It's disappointing that Lashley's heel turn from last week didn't really seem to develop, and that the Lio Rush HA HA ALL RIGHT MY MAN stuff didn't work two weeks in a row. It's disappointing that evidently Finn Bálor's next job is to try to make Lashley look good, which is something Elias and Kevin Owens couldn't do.
Again, if "getting any reaction" means you're doing a good job in WWE, does that mean WWE knows Bobby Lashley's doing a bad job?
In the women's division this week … woof.
Up first is Nia Jax and Ember Moon vs. the all-star team of Dana Brooke and Tamina Snuka. It's about as good as you'd expect when it includes the words "Dana Brooke and Tamina Snuka." They could at least put some gym equipment on their gear and call them Superflex or something.
The point of the match (I guess?) is to reestablish the Nia Jax and Ember Moon friendship after last week's match "in the spirit of competition," and to sell the upcoming Evolution battle royal which, again, is where everyone who should have matches on the show instead of people from 15 years ago get put. Also, some people from 15 years ago! This is where poor Naomi, Asuka — Asuka — Sonya Deville and Mandy Rose, Nia Jax, Ember Moon, Carmella, and the goddamn IIconics are all getting stuck so Nikki Bella can main event. The beatings will continue until morale improves.
Also allegedly constituting "a match" is two minutes of Natalya vs. Ruby Riott, which ends in a disqualification. The good news here is that Sasha Banks is back from her undisclosed injury slash losing her smile, and presumably the DQ here is to set up Natalya, Bayley, and Banks against The Riott Squad on, let's not kid ourselves, the Evolution kickoff show.
There's a lot of really sad creative stuff happening in wrestling right now, but I don't think there's anything quite as specifically heartbreaking as watching Bayley and Sasha Banks be glorified jobbers while Nikki and Brie Bella cut promos about how they invented the women's revolution and changed everything. We'll always have Brooklyn.
Finally we have Kurt Angle being punished by being put into a handicap match against the Authors of Pain, because that's definitely Kurt Angle, and he'd definitely not travel with his gear but would bring his Conquistador disguise from last week and wrestle in it, mask and all. Yes, when he loses here and is unmasked, we'll definitely see the face of Kurt Angle, and not someone who does not have Kurt Angle's muscles, wrestling style, or weird stance.
When it's over, sure enough, he's revealed to be …
Dean Ambrose?
It turns out that Angle — who appeared earlier in the episode dressed like he's trying to buy or sell stolen dinosaur embryos — was planning a sneak attack the entire time, and got the jump on Baron Corbin while the AOP were doing their thing. You can't outsmart Kurt Angle, even if his eye color is "concussion!"
The Most Raw Moment Of 2018
Apollo Crews having no reason to interrupt Elias, but deciding to do it because it feels like what he's supposed to be doing is the most Raw moment of 2018.
Elias is one of the only people on the episode to get any kind of response out of the crowd, so good for him. By the way, I reserve the right to come back and praise this segment if it actually leads to Elias battling Gritty the next time WWE's in Philadelphia.
Get To The Rest In Peace Part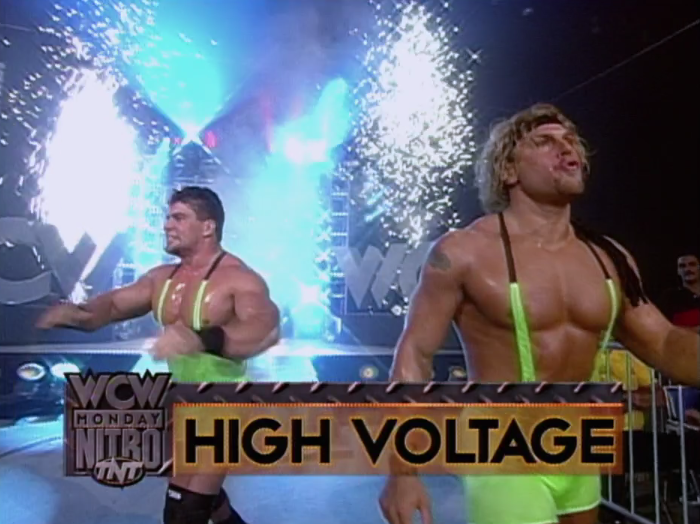 Now there's a team I want to see reunite at Crown Jewel.
The Undertaker and Kane cut a promo via video (edited by Bray Wyatt) where they say things like FEAR and RESPECT and UNLEASH HELL. I think the highlight is how Kane says Shawn Michaels as "shonMICHAELS," like he's one of the Oh Hello guys. If you're excited for the D-X vs. Brothers of Destruction match at Crown Jewel you're either five years old, too stupid to function, in an e-fed, or all three.
Finally, The Only Segment Anyone Liked
Lastly (thank goodness) we have the only segment from the episode anyone has talked about, which is Ronda Rousey and the Bella Twins doing the extremely safe version of the AJ Lee pipe bomb promo from five years ago. It hits all the same beats, minus someone who is good at talking on a microphone.
Ronda's definitely getting better on the microphone, and when she finally figures it out she's going to be the biggest star they've ever had, but she's not totally there yet. To give the Bella Twins some credit, at least now that they're overt heels I can buy the "actually WE invented the women's revolution" stuff as heel lying instead of a corporate statement shoveled into our faces through the announce team. The point of AJ's promo back in the long long ago is still true today; the Bella Twins and WWE's interpretation of "Divas" is what necessitated a women's revolution in the company in the first place, and just because the Bellas are popular because of reality shows and good at business doesn't mean they're important to sports-entertainment as an art form or even good at it. They're fucking awful. The 2013 version was them yelling SAY IT TO OUR FACE while AJ was standing there saying it to their faces. The 2018 version is "we don't owe you an explanation," followed by Brie providing a lengthy explanation.
Again, to state a positive, I'm very excited to see Ronda Rousey yank these people around by their arms and judo them to death like she did to poor Icarus and Kekoa The Flyin' Hawaiian working security. If the payoff here is, "Ronda kills them and we all understand the legendary Bellas thing was bullshit," it's a win.
Although then it's still pretty weird that the women who necessitated the women's revolution being a thing are main-eventing the women's revolution pay-per-view, and that WWE simultaneously says "Divas wrestling was actually just as good" and "Divas wrestling was terrible and we're all embarrassed" at the same time both with their words and their actions. I mean yeah, the last half a decade of women in WWE SHOULD be defined by Trish and Lita while the two NXT Horsewomen who actually made a difference in how women's wrestling gets treated by the company get prelim duty and the stars who carried the division when they left get dumped into a battle royal with Tamina and Torrie Wilson.
Best: Top 10 Comments Of The Week
The Real Birdman
Is Raw that bereft of superstars/creativity that I have to subject to FIVE Dolph Ziggler segments?
blacksnakemoan
Of course their cellphones are silenced, because about 10,000 batteries have just been removed from those phones in preparation…
Endy_Mion
A guy named Apollo being popular in Philadelphia? This is sort of a Rocky premise for me to get behind.
Mr. Bliss
Dean Ambrose sees Liv Morgan spraying condiments on Bayley's dressing room….begins questioning if marriage is right for him.
Short version…

Saying that left Twix is the same as right Twix is as ridiculous as saying that you, last week's raw, is the same as me, this week's raw.
Baron Von Raschke
Allen Iverson asked for $400,000 to let Trish & Lita do this bit. He settled for a month of the Network
Redshirt
"
The Bella Twins starting the Divas Revolution is much like how the Intolerable Acts and Taxation Without Representation started the American Revolution.
AddMayne
remember when Tyler Breeze was an NXT folk hero

remember when he wrestled Jushin Thunder Liger
Roman: HEY! HEY! Can anyone who knows these guys get them to chill out?
NotACrook
Congratulations. Your LASHLEY has evolved into THE LASHTERPIECE!
Amaterasu's Son
"Lio Rush is a regular Tony Robbins."

Man he's not a Tony Robbins, he's a Lavar Ball.
Blade_222
Poor Bray Wyatt, running around naked because Kurt Angle stole his clothes.
Finally, I want to give a big thanks to WWE Fan Nation (aka their YouTube channel) for these shortened versions of segments from Raw. This four minute version of Alexa Bliss and Mickie James trying to get heat on a couple of friends from yoga class is much more watchable than the real version, which felt like paint drying on a scratched-up chalkboard. Also, +1 to Corey Graves for saying Allen Iverson was rolling in his grave. We all are, Corey. We all are.
That's it for this week's column. Thanks for … well, skimming it, I'm not going to assume you read all of it. Drop a comment below to let us know what you thought of the show, as if we don't already know, and share the column if you'd like to keep us in business while WWE circles all kinds of drains. Drains full of money, somehow.