Previously on the Best and Worst of WWE Raw: The Draft continued, The Viking Raiders won the Raw Tag Team Championship, and Seth Rollins angrily burned down a haunted children's show set with actual fire. He's likeable!
Things to do: Follow us on Twitter and like us on Facebook. You can also follow me on Twitter. BUY THE SHIRT.
One more thing: Hit those share buttons! Spread the word about the column on Facebook, Twitter and whatever else you use. Be sure to leave us a comment in our comment section below as well. I know we always ask this, and that this part is copy and pasted in every week, but we appreciate it every week.
And now, the Best and Worst of WWE Raw for October 21, 2019.
Best: Uncle Ric Is Sauced
This week's Raw continues to have a lot of the same identity issues as the past few weeks, as it's nestled like a creatively absent little Russian nesting doll between the Draft, two pay-per-views they don't care about — Hell in a Cell, which didn't even have a full card announced until two hours before it started, and Survivor Series, which is all about brand supremacy — and a Saudi Arabia show. Knowing this, they opened in the best way they could: by replacing Hulk Hogan with a bottle of gin and sending Ric Flair out there by himself to talk about the glorious MBS and call Cleveland locals "fat boy." Brother Flair's out here screaming at the Cleveland Browns offensive line to bring Baker Mayfield to the show so he could, "give him the rub." They should've brought Eric Bischoff out in a Browns jersey just to see what he'd do.
This sets up a 17+ minute opening match (!!) between Drew McIntyre and pew pew Ricochet built around rehabbing McIntyre again (for Saudi Arabia, sadly, but also maybe for America?) and giving him some revenge for that loss to Ricochet in the King of the Ring tournament. That leads us directly into a good thing I can say about this Raw, in a year when they haven't given me very many opportunities …
Best: A Step In The … Right Direction?
The biggest compliment I can give this Raw is that it stayed focused on the in-ring product, gave us a series of matches that actually got time and (mostly) involved clean finishes — finishes, at least … "match can not be stopped for any reason" stipulation at Crown Jewel, I'm looking in YOUR direction — centered around either "new" talent, or returning talent we haven't seen in a while. Part of that's because the entire women's roster is off on the Australia tour and we have to at least do ONE Raw with the new roster before we start Wild Carding back and forth, but regardless, I liked it.
For example, we got almost 11 minutes of Andrade vs. Sin Cara. When was the last time you remember watching an 11-minute Sin Cara match, much less one that made him look good? I'll take it. This might've been the best Sin Cara's ever looked in a WWE ring, either version, and Andrade is more or less a wrestling saint at this point. He's giving Sin Cara more offense than he's had in like three years, and even needing Shorty V to hit a handstand hurricanrana on the man to help give him an advantage. It kinda made me imagine a world where Raw decided to fill up its three hours with wrestling matches, and tried to make everyone look good in the process, not just the five guys getting pushes this cycle. Very much a step in the right direction.
The best example of this is the Seth Rollins vs. Humberto Carrillo match. In case you missed it, Carrillo was standing around backstage watching the luchadors wrestle, dressed like he's about to unleash the White Tigerzord on Sin Cara. No, I honestly have no idea why he's chilling in the back wearing mid-90s AAA mid-carder body armor. He namedrops Seth Rollins, who is currently in a Thinnest Skin contest with AEW's Kenny Omega, and ends up getting a random Raw match against the Universal Champion. Somewhere in the back Aleister Black is like, "wait, THAT'S what I have to do??"
If you want to salvage the dumpster fire of Seth Rollins' persona since WrestleMania, a really good way to do it is to have him pull a John Cena and give long-ish, competitive wrestling matches to young guys and people who never get an opportunity on Raw. I wasn't expecting to watch 12 minutes of Humberto Carrillo vs. Seth Rollins when Raw started, but I'm sure glad it happened. Carrillo looked like a star out there, and I would've given literally anything to see him randomly win the Universal Championship in an unannounced match in the middle of a throwaway October Raw. Maybe if Rollins wasn't the champion you wouldn't have to keep randomly feeding The Fiend to him in ref stoppages and goofy dark matches?
Anyway, this felt like it did a lot for both guys, and while it wasn't a "match of the year" or a "BEST BOUT" or anything, it took another, wrestling-centric step in the right direction. Just have your cool characters who are good at wrestling have good wrestling matches with each other. It helps if you show us you're gonna do it regularly, so most of the audience isn't trained to see episodes like this as, "boring." By the way, shout-out to Cleveland for being HORRIBLE last night. Anyone who chants "what" for three-straight hours in 2019 should be thrown down an elevator shaft.
Jobber Of The Week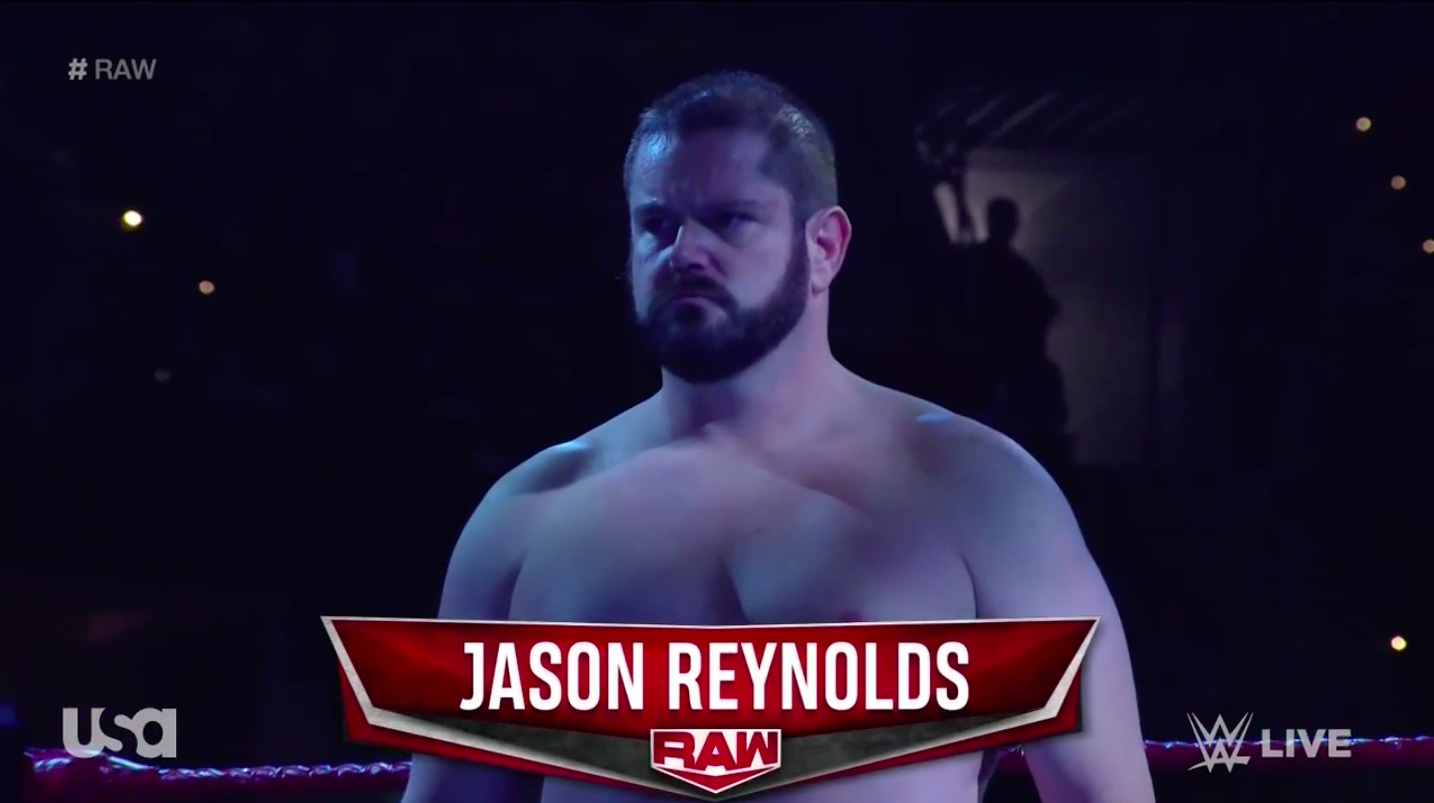 Stepping into the ring with Aleister Black is Jason Reynolds, who looks like Curtis Axel's mom had a son with Dr. Death Steve Williams. You may also know him as JASON LEGEND, one half of the Memphis Kings tag team in AWA New South and Big B Pro Wrestling. The big B stands for, "boy, did Aleister Black kick the shit out of him."
The Black Mass doesn't connect, though. It just boot scrapes him in the chest, and Reynolds sells it like it slit his throat. If you look closely, you can see Reynolds taking little baby steps backwards because he thinks Black's gonna kill him, and it compromises the entire thing.
That's a wrap for Reynolds!
Worst: Raw Is Still Raw, Though
It's three hours long!
In this week's edition of Cuckold Mountain, Rusev tries to reassures us about his marriage and help Jerry Lawler make it through some condescending "what" chants until Lana and The Rated PG-13 Superstar Bob Lashley check in live via satellite (or whatever) from a local restaurant to flirt in everybody's faces. The story is that Lana always wanted Rusev to take her to this specific fancy restaurant (in Cleveland?) but he wouldn't, and now her REAL MAN without ANY body hair WHATSOEVER is taking her. Rusev, knowing his Zagat for the Cleveland metro area well, storms out of Raw and I guess walks over to interrupt their dinner with punchings. The police take him away, and Lana screams at him for ruining this romantic evening they fucking Skyped into Raw with or whatever to manipulate him psychosexually. I mean, all right.
The worst/funniest moment of the night comes when Shelton Benjamin tries to push around Rey Mysterio and gets attacked by The Ghost of Shane McMahon Future, Cain Velasquez. Look, I've seen Cain bust out some lucha libre so I know he's got SOMETHING to offer, but holy shit, those punches. THOSE PUNCHES. I guess we can include "throwing a worked punch" on the list of things nobody's actually taken the time to teach him how to do yet. Those punches to Benjamin couldn't have rippled water. Embarrassing. Maybe if you keep cutting away from them and back to them and away from them and back to them they'll look harder!
The 24/7 Championship is "exclusive to Raw" now because it was the USA Network's idea, so I guess Smackdown's another two hours a week the belt isn't actually defended. The joke is that nobody can correctly identify the Singh Brothers. It's funny, allegedly!
Worst/Best: This Week In Tag Teams
The Viking Raiders squash former Raw Tag Team Champions Zack Ryder and Curt Hawkins. We've seen it before, but at least it's the top tag team having a match against a real tag team from the division, and not a pair of random dudes WWE brought in for $500 a pop. Hawkins and Ryder are still doing that intensely humiliating side-gimmick where they're "grateful" for everything, by the way. From the Best and Worst of Raw for August 26:
In case you weren't aware, Hawkins and Ryder currently have maybe the worst gimmick I've ever seen right now: the GRATITUDE ERA, in which they talk happily about how they don't care if they win or lose wrestling matches because they're getting paid to come to wrestling shows and sell t-shirts and have nice lives in real life. Uh, cool?

Has it really gotten so bad that the best idea for characters you can come up with is guys who grew up dreaming of becoming pro wrestlers and are now adult men with a wrestling action figure podcast who are thrilled to be getting paid by a wrestling company to barely wrestle? That's bleak. I'm happy for you in your real lives, but if your characters openly don't give a shit about their careers, why should we?
Nobody Knows What This Match Is Supposed To Be
Last week The O.C. accosted the Street Profits backstage, causing the Profits to challenge them to a six-man tag team match with a mystery partner for later in the night. That never happened, so they bumped it to this week. WWE.com was once again advertising a six-man tag team match with the Profits teaming up with a mystery partner, and Raw spent like two-and-three-quarters hours promoting it. Then when it was time for the match, they just … had a normal tag team match, without a mystery partner.
In fact, the mystery partner didn't even show up to back them up for most of the match, as promised. They were supposed to be out there to counter AJ Styles, or counter him cheating, I guess, but nope, he just cheats his ass off. It's only when he gets caught and thrown out by the referee does the "mystery partner" materialize — it's Kevin Owens, by the way — which leads directly to the finish. This is the kind of stuff we mean when we talk about Raw not being internally consistent with its own universe and logic. They book things they're in complete control of, then have to come up with these weird creative back doors to "get out of it," as though they couldn't have just booked or announced something else.
On the positive tip, hey, at least Raw ended with a 13-minute wrestling match and the Street Profits won. The O.C. are a real drag, though. I dunno. This would've been a lot more fun as a six-man tag, I bet. Maybe they'll announce it for next week, and then forget it to send everyone to Saudi Arabia as "Team Hogan?"
Best: Top 10 Comments Of The Week
The Real Birdman
I hope The Profits' partner is Little Lungs. He always wants the smoke.
Harry Longabaugh
Next week, the Fiend's father serves Seth with an itemized inventory of every asset destroyed in the Funhouse on the night in question.
specialkaos
Every time Flair is on screen he should be getting chased by his creditors like its the 24/7 division.
CFCarboni
I hope Bayley lays her claim to the 24-7 Title with a Bayley-to-Bolly.
AddMayne
"It's not always about doing what everyone likes"

Lol ok SethVince
Mr. Bliss
I had an upper GI Endoscopy earlier today and they asked me if I wanted a copy of the video emailed to me to watch later. I should've said yes.
Baron Von Raschke
Lashley and Lana are at the restaurant Jake Taylor ran into Lynn at in Major League.
LUNI_TUNZ
Lana: "You probably recognize this restaurant, wait you probably don't because it's a random corner of the arena."
FinnTheHuman
Maybe I don't want to be La Familia. Maybe I don't want a ladder match to decide who has power of attorney. Maybe I have work tomorrow, Rey.
MachiavelliX
Right now a letter is being drawn up to send to Jim Ross, informing him he has been fired again.
They're gonna get hungry, and leave no man untested!
That's it for this week's Raw. Not the worst show they've done recently. Drop down into the comments section below to let us know what you thought of the show, and make sure you're here throughout the week for our Smackdown, NXT, NXT UK, AEW Dynamite, AEW Dark, NWA Powerrr, and vintage Best and Worst columns. Pretty much anything that isn't Tyson Fury burying Braun Strowman in Saudi Arabia. Thanks for reading!