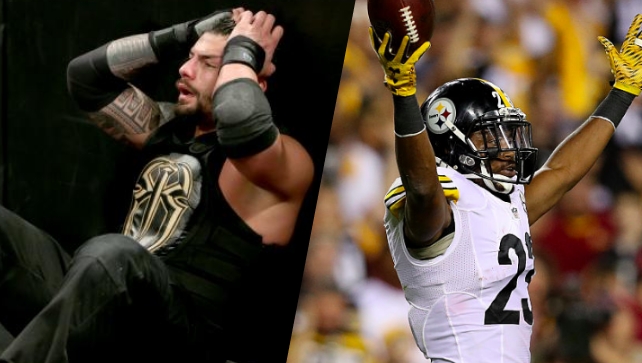 WWE ratings have been doing pretty well in recent months since the brand split and roster draft. They even saw a nice little bump following Money in the Bank, and again after SummerSlam. But with the NFL season lurking around the corner, those good times weren't expected to last. When the ratings came in on Tuesday, everyone at WWE got some very bad news indeed about Monday's episode of Raw (which was very good!).

According to Dave Meltzer at the Wrestling Observer, the total viewers for the episode was 2.68 million, just beating out the all-time low of 2.62 million set on July 4 of this year. As Meltzer put it, "Everyone knew that the first week of football season was going to take a bit out of the Raw ratings, but even in a worst case scenario, I don't think anyone expected this."
The last time Raw did a number this low on a non-holiday was back on October 14, 1996, when its competition was WCW Nitro, an MLB playoff game AND an NFL game. So … yikes, basically.
The two games that Raw went up against, Steelers vs. Redskins and 49ers vs. Rams, pulled in 12.96 million and 10.25 million viewers, respectively. Meanwhile, this is what Raw was doing:
8 p.m. 2.83 million viewers
9 p.m. 2.72 million viewers
10 p.m. 2.52 million viewers
Everyone expected the numbers to take a hit with the return of football. Raw will in all likelihood see at least a bit of a rebound next week, but I'm sure everyone is walking on eggshells in Stamford right now, and not just because Vince McMahon is probably already pissed about having to get surgery.