It's time for the WWE Royal Rumble 2018, the Hottest Party Of The Winter™! It airs this Sunday, January 28, live on WWE Network, and is headlined by not only the classic men's Royal Rumble match, but also the first-ever women's Royal Rumble. Also, Kane gets a Universal Championship shot, because thanks to the XFL it's 2001 all over the place.
Here's the complete Royal Rumble card as we know it.
WWE Royal Rumble 2018
1. Men's Royal Rumble Match

2. Women's Royal Rumble Match

3. WWE Universal Championship Triple Threat Match: Brock Lesnar (c) vs. Braun Strowman vs. Kane

4. WWE Championship Handicap Match: AJ Styles (c) vs. Kevin Owens and Sami Zayn

5. Smackdown Tag Team Championship 2-out-of-3 Falls Match: The Usos (c) vs. Chad Gable and Shelton Benjamin

6. Raw Tag Team Championship Match: Seth Rollins and Jason Jordan (c) vs. Sheamus and Cesaro
We'll be here on Sunday with an open discussion thread, results and more. Until then, scroll down and check out our full rundown of the event card, featuring analysis and predictions for all six matches. Be sure to drop a comment in our comments section to let us know who you think will win, because good or bad, the Royal Rumble is always fun to talk about.
Here's what we think's going down.
Raw Tag Team Championship Match: Seth Rollins and Jason Jordan (c) vs. Sheamus and Cesaro
What Should Happen: Raw should add a third team, so we can freshen up the Tag Team Championship scene a little. We all thought Sheamus and Cesaro lost the titles to Ambrose and Rollins because Sheamus was hurt, but then Ambrose got hurt more, so they had to replace him with Jason Jordan and put Sheamus back in rotation. Honestly, the best thing they could do (ignoring Raw 25) is have Jordan do something overtly heel to piss off Rollins, have them miraculously retain anyway, and then fall apart on Monday when the Revival takes them to school. Then you can move forward with the Revival as your tag champs on Raw, use the next couple of months to build up a cool new team people like (or the Authors of Pain), give them a big cool spotlight match (featuring WRESTLING!) at WrestleMania, and give all the hurt folks a rest.
What Will Happen: Raw only has the two teams, and only one of them's really a team, so I wouldn't be surprised to see the Bar regain the titles here. I want them to transition into some fresh blood in the title picture, but are they willing to put in that work right now when they've got a WrestleMania coming up and bigger things to worry about?
Staff Predictions
Bill Hanstock – It sure seems like The Bar will get their titles back, but I have a better idea: since the Shield reunion is cursed forever, have Jordan pull Rollins fully to the dark side (or at least to the petulant side), and have them be the two greatest whiny champions in WWE history. Jordan can teach Rollins how to have a punchable face, and Rollins can teach Jordan how to not take it home. JJ and SR forever.
Elle Collins – This match feels awfully familiar. It's tempting to say the Bar will win to set up a Jordan/Rollins match for Wrestlemania, but I think that loss is more likely to happen on Raw, so I'm going with Seth and Jason.
Robby Cole – Jason Jordan has managed to become one of the most compelling guys on Raw. I don't see taking the belts off the champs right now, just as their dynamic is getting more and more interesting. The Bar are the kind of team that can take the loss and still be a credible threat for the titles in the future. Rollins hits the Curb Stomp on Cesaro for the win.
Scott Heisel – Minus a brief fling with the New Day at Survivor Series, Seth Rollins has been battling Sheamus and Cesaro since July. JULY. We've reached a half-year of Rollins and the Bar. I seriously, seriously hope it ends this Sunday, with Rollins and Jordan winning and moving onto face… oh sh*t, who is even left? The Club? Titus Worldwide? Woof. Maybe the Revival gets elevated into title contenders, fingers crossed. As for what the Bar will do next, I have literally zero idea — the same as WWE creative, probably.
Smackdown Tag Team Championship 2-out-of-3 Falls Match: The Usos (c) vs. Chad Gable and Shelton Benjamin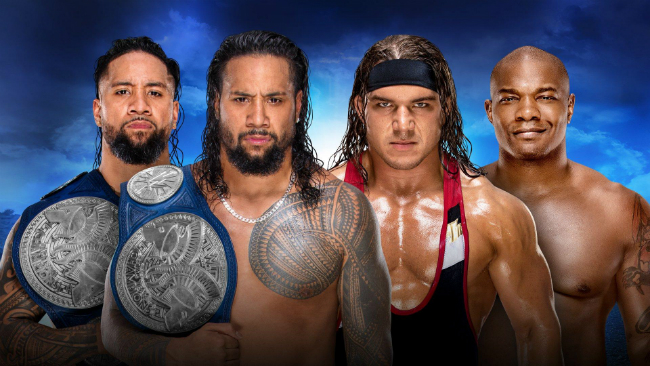 What Should Happen: Give us an actual 2-out-of-3 falls match. None of that "guys getting pinned with transitional moves really quickly to get to the third fall drama." Take your time and let these guys do what they do best. If you do that, it doesn't even MATTER who wins.
What Will Happen: The Usos have taken a suspicious amount of clean losses to Gable and Benjamin, so I see them retaining in what is an absolute lay-up of a show-stealer. If this isn't the best match on the show by a mile, something went terribly wrong.
Staff Predictions
Bill Hanstock – I have this penciled in to be far and away the best non-Rumble match of the evening. These two teams are capable of — and probably will — put on a four-star-plus instant classic, and it honestly doesn't even matter who wins. I think Gable and Benjamin as champs for a while might be outstanding, but it really doesn't matter. Just sit back and enjoy it, baby! It's not paranoia, it's good wrestling!
Elle Collins – This could really go either way, but I'm going to say Gable and Benjamin, mostly because Gable cutting heel promos with the belt will be amazing.
Robby Cole – This is going to be match of the night. Chad Gable is a wrestling monster, and seeing him just destroy people with suplexes is always the highlight of Smackdown. The Usos have been so great the past year that they can take a title loss and, like The Bar, can still immediately be a credible threat.
Scott Heisel – You gotta figure one title will change hands at the Rumble, and since I'm picking the champs in the other three matches, I guess I'm picking Gable and Benjamin here. I'm happy with either outcome, though, as long as this gets some time and steals the show.
WWE Championship Handicap Match: AJ Styles (c) vs. Kevin Owens and Sami Zayn
What Should Happen: Shane McMahon should open the show and be like, "hey guys, sorry about the last year and change, I've decided I'm not a wrestler and shouldn't be the focal point of every show I'm on, so I've made this a one-on-one match between Styles and Zayn for the WWE Championship and will not be hamfisting my way into the story anymore. Also, I've cleared Daniel Bryan. Please love me again." And then everyone loves him again!
What Will Happen: I … honestly don't know. I wish this was a feud between the characters and not a feud between general managers, or at best a feud between the ideological points of view of a general manager and his talent. The WWE Championship scene finally got away from Jinder Mahal and marched right back into an Authority Figure story. A handicap match for the WWE Championship almost certainly telegraphs Styles retaining, but I'm hoping they have a creative ace up their sleeve I just haven't considered. Surprise me, WWE!
Staff Predictions
Bill Hanstock – No one in WWE history has ever had an advantage in a handicap match, and this is just a way to further whatever the hell Shane McMahon is doing, so Styles retains in a weird and possibly bad match.
Elle Collins – I think there are places to go with a story about Owens and Zayn being co-champions, but that story would take nuance and depth, so I think AJ Styles probably just retains here.
Robby Cole – I don't think it's time for The Yep Movement to break up, so I think AJ retains after some outside interference. Unless something truly crazy happens and Daniel Bryan has been secretly cleared to wrestle, I still think AJ goes into Wrestlemania as champ. There will be an unfortunate amount of Shane McMahon in this match.
Scott Heisel – I love all three of these performers to death. I love Daniel Bryan, too — and, to go against the With Spandex grain, I even love Shane McMahon. But man oh man, have I hated all five of these people in this storyline. It feels like creative is teasing out something big, but the clues have been so minimal that instead of making me want to find out what's going to happen next week, I'm just annoyed with all the passive-aggressive pettiness. Hopefully something important happens in this match to make the past few months of bickering worth it, but I'm not sure it will. (AJ retains.)
WWE Universal Championship Triple Threat Match: Brock Lesnar (c) vs. Braun Strowman vs. Kane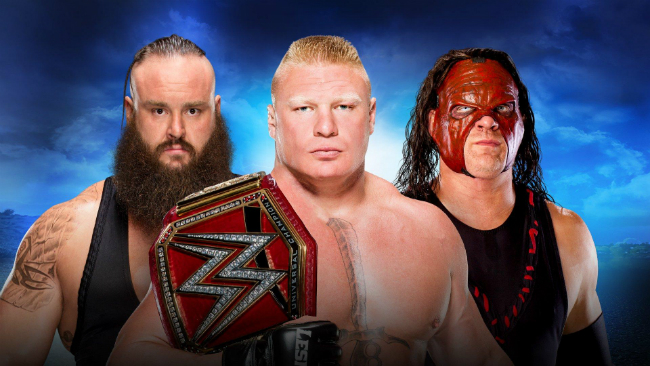 What Should Happen: WWE should realize that Braun Strowman is their next big star, pull the trigger, and have him at least pin Kane to win the Universal Championship. Then you can build to a big Lesnar vs. Strowman match at WrestleMania and literally tear down the house instead of doing the same thing we've been seeing for years.
What Will Happen: In what's probably the easiest-to-predict match result in ages, Braun Strowman gets "taken out" somehow (or by someone) and Brock Lesnar pins Kane to retain the Universal Championship. Kane's only in the match to take the pinfall, so they can acknowledge that Braun DESERVES a shot without having him take another disappointing pin like he did at No Mercy. The march toward Lesnar vs. Reigns continues unabated.
Staff Predictions
Bill Hanstock – Look, everyone in the entire world knows that Lesnar is going to pin Kane to retain the title, and that Reigns will win said title at WrestleMania. But here's the thing: what if NOT that? What if Braun actually wins the title on Sunday, and Lesnar regains it at Elimination Chamber? It's completely possible! It would probably be dumb and bad for Braun, who will likely be better served defeating Reigns to win his first world title and becoming a folk hero. So Lesnar pins Kane to retain. But it's not impossible that the crazy thing happens.
Elle Collins – Of course it's Brock Lesnar. How's it not going to be Brock Lesnar? Kane's busy running for mayor, and while Braun will be champion eventually, it definitely won't be until after WrestleMania at the very earliest.
Robby Cole – Kane is definitely taking the pinfall here. I'm split between Brock or Braun winning it here, but I think WWE still is enamored with the idea of Brock Lesnar being a champion at Wrestlemania.
Scott Heisel – If anything happens besides "Brock F5s Kane for the victory," I and the rest of the world will be astonished. What will really be fun is if Strowman enters the Rumble match after losing his title shot to get one more opportunity at Lesnar at WrestleMania — and wins. Now that is a swerve I can get behind, brother.
Women's Royal Rumble Match
What Should Happen: Realistically, Asuka should just win because she wins everything and is on a different level than everybody else. They had her win the "impromptu" battle royal on Raw, though, which spells out SHE'S NOT WINNING in flashing letters in the brains of everyone who's watched WWE for more than a week.
What Will Happen: You know, I've gone back and forth on this, but I think Nia Jax should take it. She needs a refocus and a soft reboot due to the Enzo Amore situation, she's got a built-in story with Alexa Bliss we're still waiting to see reach its zenith, everyone assumes Bliss vs. Asuka is the way they're going (so it'd be a fun curveball), and it'd add some credibility to that whole "the biggest person in a battle royal is the favorite" trope that rarely pays off anymore.
Just maybe don't have Ronda Rousey show up and win. She can show up without dominating all the people who've been here for years. Also, keep Stephanie McMahon at the announce table, possibly with zip ties, so she doesn't storm the ring at #30 and win it herself.
Staff Predictions
Bill Hanstock – The most hilarious possible outcome would be Carmella winning this match and being the joint Money in the Bank/Rumble winner, and just letting no one else have title shots, ever. Who it SHOULD be is Asuka, and who it SECOND-SHOULD be is Becky Lynch. The most likely candidates to win this thing are Asuka and Ronda Rousey, so let's just say Asuka. Let it be. Let her start at No. 1 and eliminate every WWE woman in history. I would be completely up for that.
Elle Collins – I'm super excited about this match. There are so many great women in it, and even more we don't know about yet. I think it's going to be a lot of fun to watch, and I can't wait to see it. The thing is, I'm less excited about the winner. It would be really cool if it's Becky Lynch, but I can't help feeling like it's more likely to be Asuka, Nia, or a debuting Ronda Rousey. I'm particularly unenthused about that third option.
Robby Cole – I think it's being telegraphed that Asuka isn't winning the Rumble. I hate the idea of Rousey making her debut and immediately winning the Rumble, but hey, what are you going to do. When Stephanie just announced that she will be on commentary, the cynical part of my brain automatically jumped to her standing in the ring raising Ronda's hand on all the news programs on Monday.
Scott Heisel – How bummed is WWE that Charlotte can't be in this match? They've spent so much time making her the focal point of their women's division that giving her the first-ever Women's Royal Rumble match victory seems like a layup. Damn that Smackdown Women's Championship! It's hard to bet against Asuka here, but where's the fun in picking the favorite? I'm gonna say Becky Lynch for the surprise win.
Men's Royal Rumble Match
What Should Happen: Braun Strowman gets taken out in the Universal Championship match and Lesnar pins Kane, so Braun returns to win the Royal Rumble and get another one-on-one shot. If you want a big Braun Strowman stunt spot finish, have him tip over a ring with like 10 guys in it and eliminate them all at once.
What Will Happen: This is the year Kofi Kingston wins, and he avoids elimination by walking on a bunch of pancakes like they're stepping stones.
Eh, he's probably not winning. If I had to make a safe bet and assume it's a Smackdown guy — because Elimination Chamber is a Raw event, and that's an easy way to decide a WrestleMania number one contender without a Royal Rumble result in your favor — maybe Shinsuke actually wins, and accomplishes something important on the main roster? He needs it, man. And then you get Styles vs. Nakamura at WrestleMania, which everyone and their mother wants.
Either that, or Cena and Reigns are the final two (after eliminating a returning Daniel Bryan, a returning Rey Mysterio Jr., Ethan Carter III and Rusev) and eliminate each other, causing ~controversy~.
Staff Predictions
Bill Hanstock – Gotta be honest: I'm terrified it's going to be Dolph Ziggler, as a payoff to his weird, terrible year of being weird and terrible. But since Elimination Chamber is next month, I think it's going to end up being Shinsuke Nakamura. If anyone from the Smackdown side was given special attention on the beyond-disappointing go-home show, it was Nakamura, and him vs. Styles is the match that most WWE fans would like to see. It's not like they have another, better opponent for Styles at the moment, and they did AJ vs. Shane last year. So I'm all-in on Nakamura, and if I'm wrong, I'll eat a big pile of cookies. (Note: I will eat a big pile of cookies regardless.)
Elle Collins – I want it to be Shinsuke. I have this sinking feeling it might be Roman. I don't hate Roman, I just don't understand why you'd have Roman Reigns win a Royal Rumble in Philly in 2018. So I'm going with Shinsuke, and pretending I feel sure about it.
Robby Cole – I'm 50.01% sure Shinsuke takes this and 49.99% leaning towards Roman Reigns. Roman dropping the IC title on Raw 25 made me think that he was for sure winning the Rumble and facing Lesnar in the main event, but I don't know if even the WWE is bold enough to have Roman in the Royal Rumble in Philly AGAIN. Plus, the sad reality is that Roman doesn't need the Rumble win to take on Lesnar for the title in the main event. Shinsuke wins and faces AJ Styles in the opening match of Wrestlemania.
Scott Heisel – Honestly? I have no goddamn clue. Only 17 participants have been confirmed, so I'm gonna pick the field, because I really don't want to see another Rumble win from Cena, Orton or Reigns, and Nakamura seems like a wholly underwhelming choice — the Rumble winner should be someone with natural momentum, not just "a guy with a cool entrance that creative has nothing else for." So, yeah: I'm picking one of the unannounced entrants.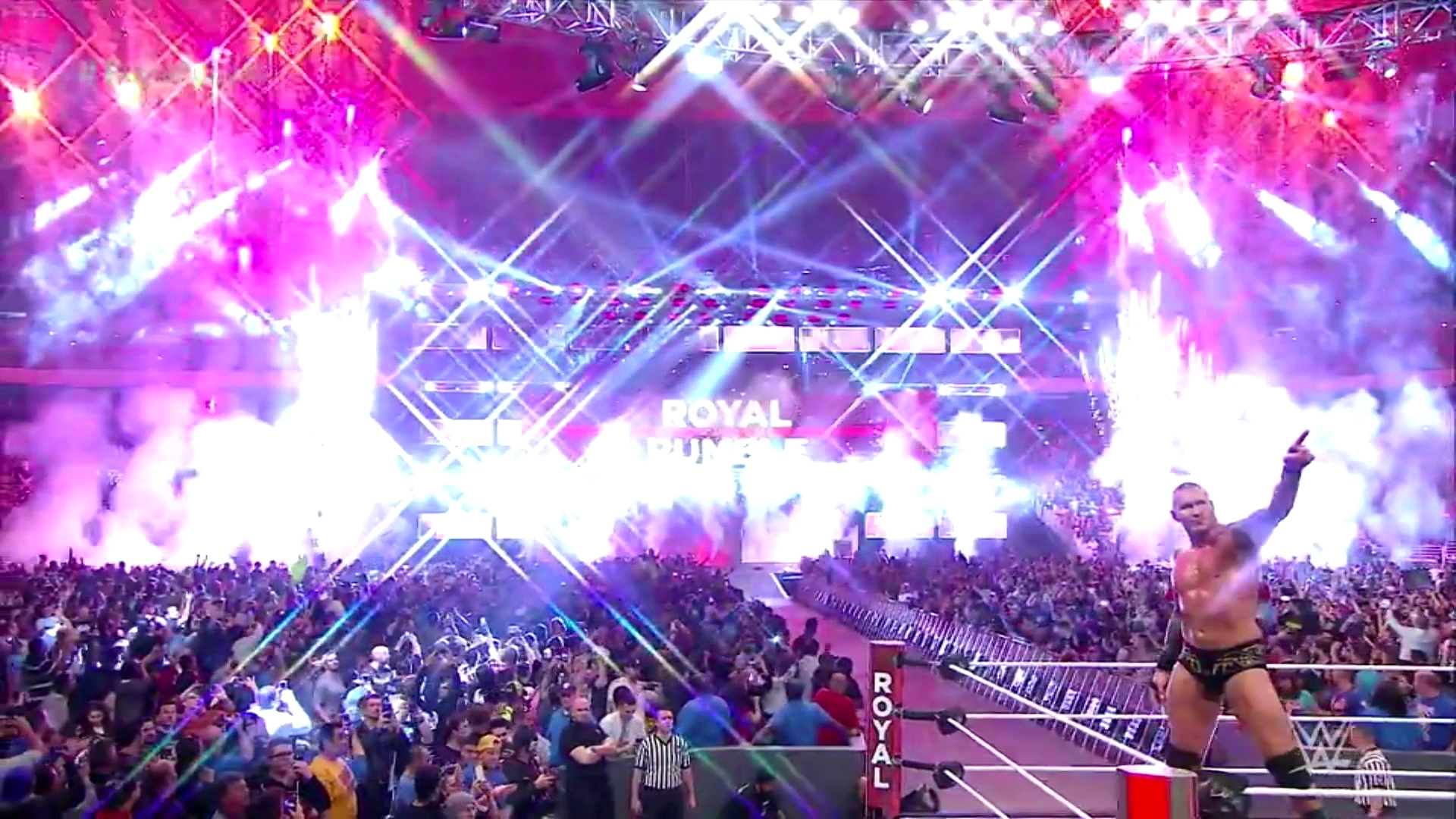 That's what we think will happen. What do YOU think will happen? Let us know below, and we'll see you on Sunday.