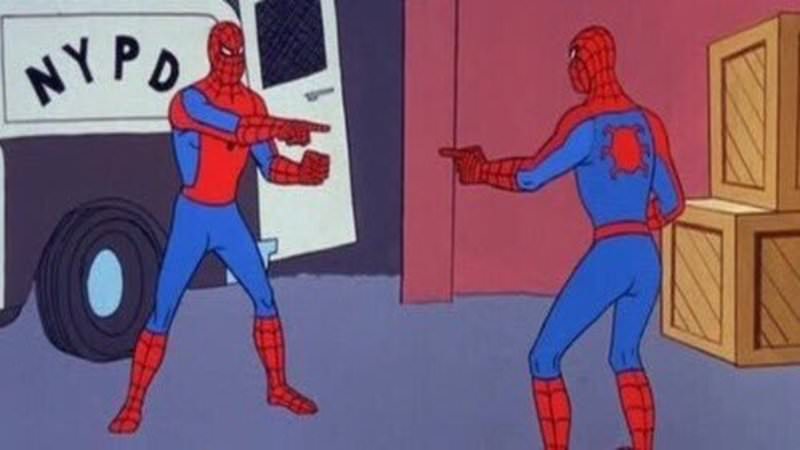 Previously on the Best and Worst of Royal Rumble: WWE took a fun trip to Saudi Arabia where Titus O'Neil fell down trying to run to the ring, Jinder Mahal fell down trying to sell a Whisper in the Wind, and Brock Lesnar fell through a cage wall. You could say WWE's Saudi Arabia shows are an epic fell!
If you haven't watched not greatest Royal Rumble yet, you can do that here. Remember that With Spandex is on Twitter, so follow it. Follow us on Twitter and like us on Facebook. You can also follow me on Twitter. BUY THE SHIRT.
One more thing: Hit those share buttons! Spread the word about the column on Facebook, Twitter and whatever else you use. Be sure to leave us a comment in our comment section below as well. You keep us in the business of watching wrestling shows and telling you about them!
Here's the Best and Worst of WWE Royal Rumble for January 27, 2019.
Worst: Mechanics Of Pain
Where to even begin with this pre-show match? Joking about how ashamed Chad Gable should be to be out here cosplaying as his own tag team partner? Talking about how sad things continue to be for The Revival? Wondering how much sense it makes that a guy from the Authors of Pain and a guy from The Revival (and the 205 Live General Manager) thought that beating the Raw Tag Team Champions in a non-title match on a pay-per-view pre-show would earn tag title shots for AOP and The Revival individually instead of, at best, a title shot for the new hodgepodge team? What about the fact that they went through all that trouble to explain and set up a tag team match for a new team that was just gonna lose? Couldn't we have just fed The Revival to Roode and Roode Jr. again? Did Dash Wilder have something better to do?
Uh, all right, let's try to do them all in order.
Chad Gable looks like he's dressing up in daddy's clothes to make mommy laugh and needs to stop.
Gonna need AEW to hurry up and be a thing so the only imaginable ending to The Revival's story isn't "come see the team of 'Dangerous' Dave Harwood and 'Deadly' Danny Wheeler take on real1 and Big C for the Big Time Wrestling Tag Team Championship."
Wouldn't the drama here have been better if they'd focused on Dawson and Rezar sorta competing against one another to get the pinfall, because presumably only the winning member of the team's normal duo would get the title shot for pinning them? You could've given Roode and Gable a surprise pin on them because they were too busy arguing with each other, and that would've at least rationalized another loss.
Better idea, the show is already 7 hours long, couldn't you just cut this and do it on Raw like you were gonna do anyway?
Dash thinks this remake of Resident Evil 2 is great!
The Curved Entrance Ramp Is Working Out Great
That guy fell harder than No Way Jose, am I right?
Worst: Nakamericagain
As I said in our Royal Rumble predictions post, "a match between last year's Royal Rumble winner and a guy who spent most of the past year surging in grassroots popularity (and is currently the on-paper second most prestigious champion on your best main roster weekly show) shouldn't be battling it out over a wife falling down on a pay-per-view pre-show." I can now follow that up with, "and you probably shouldn't make the finish of that match the wife falling down again."
Rusev and Nakamura have a low energy pre-show match (you can't blame them) to build up to two big moments: Lana getting knocked off the apron and "hurt" again, setting up her eventual replacement in the Rumble match, and Nakamura winning back the United States Championship for some reason. I know why they did the first one. The second one, not so much. Remember Nakamura's reign? He mostly just stayed backstage and said "Nakamerica" to the camera and never actually made it mean anything. Not saying I want him to put on an Uncle Sam costume and be Kenzo Suzuki, but "being on the show" and "doing things" doesn't seem like too much to ask.
Best: Fuck The Royal Rumble Burger
Daniel Bryan would (somehow) be the low point of this pay-per-view, so let's take a minute to appreciate his continued hatred of the Chase Field Royal Rumble burger on the kickoff show.
The need to take a bunch of unrelated foods you like and cram them together into one impossible to eat food is so weird. I think the Tie Fighter of fried mac and cheese wedges on top is what gets me. Someone should've let the poor sad Planet's Champion know that Chase Field actually carries a surprising amount of vegan options and could probably make him a vegan version. Maybe then him shitting the bed in that match with Styles would've at least made some medical sense.
Best: I'm Willing To Weight For It
The best part of the pay-per-view pre-show, as it usually is, is the Cruiserweight Championship match. As an added bonus, the commentary team makes it sound like Vic Joseph is calling the match with the GEICO Gecko and Bert from Sesame Street.
A lot of the things you'd expect to read apply here. The cruisers deserve and have probably earned the right to be a part of the real pay-per-view. Buddy Murphy absolutely rules in the ring, and would be even better if he'd stop pretending to be Kenny Omega all the time. Certain spots, like the electric chair on the floor followed by a dive through a man's legs into them which then causes a headscissors into the guard rail, are so ridiculous you can't even explain them in a sentence and wanting to stop in the middle to say, "come on, guys." It's still fun, though, and a great visual even if they might as well be a dance troupe. This was certainly at least as good as anything the men did anywhere else on the show.
What's next for Buddy Murphy? If we're taking suggestions, can we send Ricochet over to 205 Live long enough to get a Murphy vs. Ricochet Cruiserweight Championship match at WrestleMania out of it? You can re-do all the "flip into a superkick" spots but with knee strikes.
Best: Man Down
Welcome to WrestleMania X, where we open the show with Bret Hart losing to Owen, and end it with him pinning Yokozuna. This year, Bret Hart will be played by Becky Lynch, who is the hottest thing in wrestling right now and probably thrilled to have subbed in "The Man" for a bunch of bad puns about how "lass" sounds like "ass."
The major theme you need to get from this year's WrestleMania is that WWE's in the weird position of doing women's wrestling and women's wrestling characters really well, almost in spite of themselves, and have completely forgotten how to book men's wrestling on pay-per-views. On NXT and Smackdown they're still totally fine, but on these … what do we call them now, Network Live Specials? They're just completely off the rails. I don't know if the Raw team knocks out the Smackdown writers with chloroform and hijacks the entire thing, but it's ridiculous. More on that in a bit.
To keep this positive for a moment, Becky Lynch vs. Asuka fucking ruled. It was the first story beat of a very predictable tale to tell, but "predictability" doens't always equal bad or unsatisfying. Plus, there are few things in the world that pop me more than a star wrestler realizing they can't win the match with their normal signature moves and having to bust out a Murder Death Kill variant to win. Here, Asuka taps Lynch out with a goddamn Cattle Mutilation version of the Asuka Lock — I'm not sure what to even call it — and now has a MEGA move she can use to finish marquee matches with authority. That's very good. Asuka getting to be Asuka again is one of the under-the-radar best things to happen in WWE over the past couple of months.
Oh, and in case you missed it, here's Asuka trying to actually kill Becky with a Moss-Covered Three-Handled Family Gradunza to the floor:
Absolutely fantastic effort from both women, and the kind of match that informs and validates the love given to Becky when she shows back up again for the Royal Rumble. It's important to remember that characters need to continually be doing things based on their skills and experiences, and not just announce who they are when they show up and coast on that forever. It's the difference between someone like Becky Lynch and someone like Bobby Roode.
Plus, I really enjoy this story beat. By putting Asuka over Lynch clean, you create some drama (that can't possibly actually exist) over who Lynch is going to choose to face at WrestleMania with her Royal Rumble win. Obviously she wants to face Ronda Rousey because of their longstanding grudge, but now you can say hey, maybe she wants to wrestle Asuka again to prove she can beat her, for the championship Becky (correctly) claims she made relevant.
Worst: No Ric Flair Turn = No Buys
Up next we have Cesaro, who was defeated at WrestleMania by a 10-year old, getting pinned clean by a Shane McMahon transitional move. Meanwhile his partner, former WWE and World Heavyweight Champion (and Royal Rumble winner) Sheamus acts afraid of Shane and cowers in the corner. This is all happening so a heel can team up with an authority figure to make a guy who runs a Mr. Hero in Cleveland … proud?
I sorta built this one up and ruined it for myself. I was so sure that the Miz and Shane McMahon pairing was there for one (or both) of them to sneak attack the other that I spent the whole match anxiously waiting for it, only to be given another normal Shane McMahon match. I don't know why anyone would enjoy these, but if you do, more power to you. I'm just not totally sure why a team of literal supermen and a former WrestleMania main-eventing WWE Champion are second through fourth billing behind the owner of the company's sweaty, middle-aged son.
To be serious for a second, I understand (possibly incorrectly) that this is just WWE's way to extending the story a bit and getting it from the dregs of 2018 into 2019 WrestleMania season, and I appreciate any appearance from George "Mr. Hero" Mizanin. I like the story that Miz and Shane are actually bonding based on their uneasy relationships with their fathers, and that since Daniel Bryan is growing more and more evil every day, his exact opposite would grow nicer and nicer.
Still though, it's an odd story choice to say that The Miz's dad would only be proud of him if he won the Tag Team Championship with Shane McMahon when he's already held the tag titles six times before this, held the Intercontinental Championship eight times, held the United States Championship twice, won Mixed Match Challenge, won Money in the Bank, won two Slammys, has starred in multiple movies of varying quality and, again, defeated John Cena in the main event of WrestleMania as WWE Champion. Kinda feels like if Major League agreed to let Barry Bonds into the Hall of Fame, but only if he could team up with Rob Manfred to win the 2019 Little League World Series.
Best: Whoops, This Is Even Better Than Asuka Vs. Becky
I think it's been a minute since I said it, but despite me thinking Ronda Rousey's just an unbearable personality, she's really, really good at pro wrestling. The rumors of her bailing soon are sad, because there's so much more for her and the Four Horsewomen (of both NXT and MMA) to do, and because if she's this good a year into her wrestling career, imagine how good she could be in two or three? I hope the "I'm going to leave and start a family and maybe come back sometimes" thing is just a passing thought, and yes, I'm now in the enviable position of hoping a grown women avoids doing what makes her happy in real life so she can pretend to get hurt for art. I'm great!
It's hard to say, but this might've been Sasha Banks' best main roster match ever. It felt like the NXT Sasha Banks again, from the diverse moveset to the consistent attitude and swagger to, hell, the stomping of the hand when she's got someone in a submission. Even the plot thread of Ronda targeting her arm, the right arm of Sasha's gear falling off, and Sasha using it to choke Ronda like Rusev choked John Cena was killer. I even liked the dorky spot where Ronda punches the ring post and "short circuits" the LED board, which is a billion percent not how LED boards work.
My favorite part of the entire match was early on when the crowd's telling Ronda she can't wrestle, so she offers to "show them some wrestling" and hits Banks with the Three Amigos. That's such a specific, learned insult on top of the injury. The best aspect of it is how Ronda hits the suplex and stalls just long enough to let the smarter people in the crowd realize what she's about to do for a split second before doing it. That's what we talk about when we say Ronda Rousey's a great pro wrestler who understands how this is all supposed to work. It's shit you can teach, but that you usually don't learn until you've been doing it a while. Plus, Sasha countering out of the third suplex into a lungblower only for Rousey to have that scouted, backflip through it and transition straight into an arm bar was FIRE.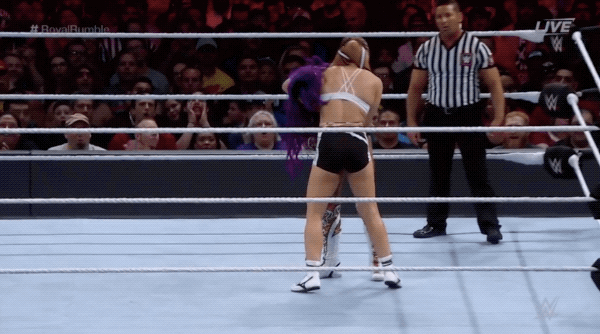 Wrestling is so good when it's about the wrestling.
The post-match stuff was good too, with Rousey trying to walk back all the insults like she does and pretend she's still all about respect and competition. She's about to cry trying to help the woman she beat in a wrestling match out of the ring. Sasha's "bitch I swear" face the entire time was awesome, and I thought for sure she was gonna run back and attack her for good measure. At least we got a Four Horsewoman taunt and Banks standing her ground, as now no matter who Rousey faces at WrestleMania, Sasha's connection to them will matter.
Now if we could only get Bayley to matter again!
Best: The Women's Royal Rumble
To continue the Shoemakerian trend started in last year's Rumble column (and to keep this organized, since we're already 2500 words in and we haven't even covered the hour-long rumbles yet), here are ten thoughts about this year's women's Royal Rumble.
1. The first and most obvious thing to talk about is Becky Lynch taking Lana's spot and winning it all, which will not only give us the WrestleMania main event we crave, but probably, and clearly more importantly, a Lynch vs. Lana match on Smackdown to tie up that loose end. That lass end.
I'm kidding, but Becky winning the Rumble ended up feeling a little more like Daniel Bryan triumphing at the end of WrestleMania 30 than Bret's win at 10. Like I said, sometimes the predictable thing is still the right call. There's nobody in WWE hotter than Lynch right now, and if you need evidence of that, and if you need evidence of that, her win put a Daniel Bryan vs. AJ Styles WWE Championship pay-per-view match in a death slot with no crowd response because they'd been completely burned out. Plus, she got FIT FINLAY the biggest pop of the night. That deserves some kind of humanitarian award.
No other choice would've been better. I liked the idea of giving it to Bayley to set up Bayley vs. Sasha Banks, but that wasn't going to happen, as Lynch and Rousey are the money. Like, what would they have done if Charlotte Flair had won? They would've just had her challenge Rousey and turn it into a triple threat with Lynch anyway. As we all learned from that year Jericho was supposed to win but everyone on the Internet figured it out so they gave the win to SHEAMUS, you've just tell the correct end of your story sometimes.
2. The surprise entries in this year's Royal Rumble were lackluster, but thinking about it today, I love that. Last year's women's Rumble was all about nostalgia, and we had to accept this line that Torrie Wilson and Kelly Kelly and the Bella Twins were suddenly these pioneers of spectacular women's wrestling who'd just been ignored by the business. This year's Rumble was completely absent of nostalgia, and the surprise entries were either people from NXT (Candice LeRae, Kairi Sane, Io Shirai), NXT UK (Rhea Ripley), or just below those (Xia Li, Kacy Catanzaro). I appreciate and prefer a focus on the future. Maria Kanellis got the "remember Divas" spot, and was a much better representation of what that era was all about.
But speaking of Kacy, we've gotta go ahead and give her her own number.
3. Kacy Catanzaro is the shit. She's SO GOOD. She's tiny and compact like a bullet, and if she's pulling off American Ninja Warrior stuff like this already, I kinda want them to just bump her ahead to the main roster and turn her into the weird mixture of Madison Rayne and Kofi Kingston that she is.
Naomi may have gotten the Kofi "avoid eliminations in a fun way" spot, but Kacy invented her own spot here. I mean, she could've just stood up on one foot and hopped backwards one step onto the ring apron, but rolling backwards into a handstand so you can Xenia Onatopp the post and crunch your way back in was absolute pro wrestling insanity.

4. The IIconics were unceremoniously eliminated by Lacey Evans, but we were gifted with a backstage followup that might be the funniest minute of WWE content this year. I'm considering that "you go to journalism for that" line as a Fandango shout-out.
Peyton Royce not being able to get through a Billie Kay promo without breaking is one of my favorite things. "Get a life, we're out of hereYOU DON'T WANNA ASK ME A REAL QUESTION? DON'T WASTE MY TIME SWEETHEART."
5. Xia Li is an adverb meaning, "to wrestle like Robbie Brookside's daughter." Futhermore, don't rely on TAMINA as your base to help Li get over with cool moves. I wouldn't trust Tamina to do a full armdrag and twist without accidentally punching herself in the face.
6. Adult pageant toddler Lacey Evans was out there Donald Ducking it in the #1 spot, and I'm glad she's on the main roster where she belongs. Not only is she like Charlotte for Republicans, she's basically the real life analogue of Liberty Belle from GLOW and I hope she has a novelty message hat for every pay-per-view. Oh, and if you're wondering why she cuts promos so slowly, the explanation is simple: because the south, and because it's infuriating.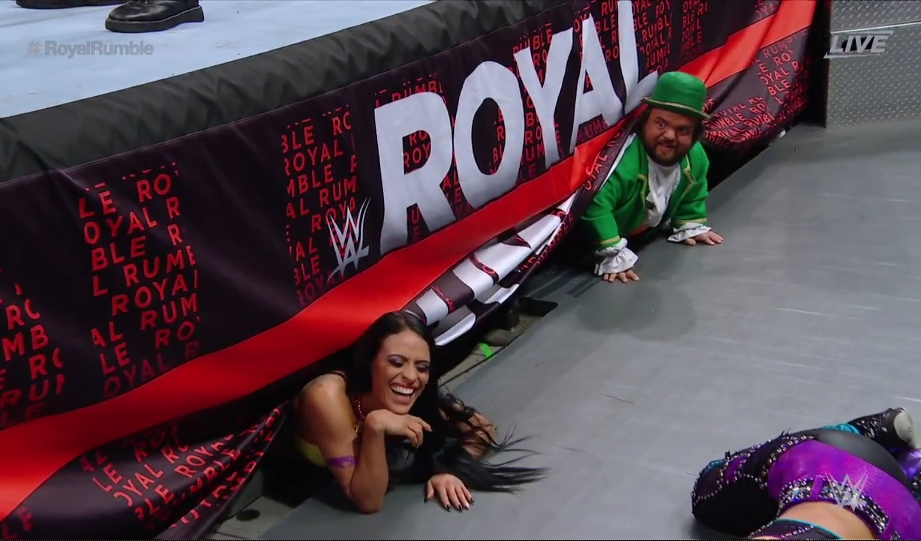 7. I could've lived without the Hornswoggle cameo, but I feel like I've been typing "I could've lived without that Hornswoggle cameo" for ten years, and at least this one played on his actual character instead of just having him show up to bite people on the ass. He's the only documented WWE character that "lives" under the ring, so of course if Zelina Vega hung around down there in Little People's Court for too long she was gonna get noticed.
If we're doing intergender wrestling now, can we get Zelina and Andrade vs. Swoggle and Fit Finlay on Smackdown sometime? That'd probably rip.

8. I don't love the "enhanced reality" on-screen graphics, but they set up some good jokes.
9. I'm pretty excited for the actual in-ring return of Alexa Bliss, especially if she used some of her rehab time to train with Mike Quackenbush. Maybe absence has made the heart grow fonder, but she looked more athletic and energized out there, even if we're just calling out her GREAT upgrade to Insult To Injury by actually backflipping into a double knee drop instead of doing a standing back handspring. Give me Bliss killing Fox with a Quackendriver II on Raw or something.
10. The best moment of the entire pay-per-view might've been Kairi Sane running to the ring while looking through a spy glass. THERE'S NO WAY THAT'S HELPING YOU SEE BETTER.
Worst: End The AJ Styles Main Event Run
This sucked. It sucked out loud. It wasn't the "Event Horizon accidentally went to Hell Dimension" experience that Seth Rollins vs. Dean Ambrose was at TLC, but it was nearly 25 minutes of the most lifeless, pointless, uninspired pro wrestling you'll ever see.
I'm going to look like even more of a Bryan stan by saying this, but it's on AJ Styles. That dude hasn't been the "AJ Styles" you picture in your head for a long time. Sure, his match with Bryan at TLC was incredible, but it was an anomaly; Styles has spent the past three-plus years in the WWE Championship picture, and he's done nothing but make it worse the entire time. The matches with Nakamura were disappointing, the matches with Joe were disappointing, and now he's on pay-per-view having a match against DANIEL BRYAN of all people in DEAD SILENCE. And yeah, some of that's due to the pacing of the show and how long it was and how they put them on right after Becky won an hour-plus-long match and asked them to do armbars for 25 minutes, but shit. Just awful.
And that's not even discussing the finish, which involved a ref bump and the return of — get this — BLUDGEON BROTHER ROWAN. Yes, the payoff for a Daniel Bryan vs. AJ Styles WWE Championship match at your second or third biggest show of the year is ROWANTERFERENCE, because the TLC match was a unicorn and every other Styles PPV championship match has to turn him into moron. What was the point of all that, "I want the REAL AJ Styles" stuff with Vince McMahon if the payoff was gonna be him getting beaten up by the fourth best member of the Wyatt Family?
I guess this could go somewhere good. I'm imagining Rowan is here to be the Gallows in Bryan's eco-terrorism Straight Edge Society, so that could be something. And maybe this finally frees up Luke Harper to be a real wrestler again?
Alternatively,
Best: Daniel Bryan Saves The Picture In Post
Because he's the best wrestling personality on Earth, here's Daniel Bryan turning the terrible crowd response into a plot point, saying that the silence POWERS HIM and justifies his belief that fans are fickle. They sat on their hands instead of cheering for Styles, and now Bryan's right. He's right about the ballpark cheeseburger, he's right about his choices for friends — Rowan's experience as a vintner can definitely help the Bella Twins with their wine brand — and he's right about flat-Earth chud AJ Styles. The match was impotent, so he fixed it. He practices what he preaches.
Best: The New Alex Wright Almost Defeats The Beast
In contrast to Styles and Bryan's half an hour, Brock Lesnar vs. Finn Bálor only goes about eight minutes and is superior to it in every way. It's exciting from the opening bell, is built a lot like that Triple H vs. Lesnar match from 2012 (but done better), and uses what we actually know about the characters to construct the match. This is when doing the obvious thing works really well. What's Brock Lesnar's one weakness? His abdomen. Brother has shoot diverticulitis. What is Finn Bálor's finisher? A double stomp off the top rope to your guts.
Having Finn shove Brock into the corner of the table to … I don't know, "activate" his diverticulitis was clever, as they've been using "oh no Braun Strowman charged by he missed and hit the corner" and "oh no Brock Lesnar got shoved into the post" as their only big man vs. little man transitions. It's the same thing, just done with a little creativity. Having Little Mac understand that he's gotta punch King Hippo in the navel bandage is awesome, and only hurt by the fact that Mac isn't in a boxing match and forgot that King Hippo does hella armbars.
I liked this so much more than I was expecting, and it got me into a good head space again after watching Four Years Ago's Best Wrestler spend almost half an hour making me feel like I have mono.
It Was Fine: The Men's Royal Rumble
I'm just going to do five for this one. If you'd like five more notes, here's the Cliff's notes version: Johnny Gargano, Aleister Black, Pete Dunne, and two spots for me wanting those three guys to wrestle everyone else in the Rumble in one-on-one matches right now.
1. Just to come right out and say it, this year's men's Rumble was nowhere as good as the women's. I'm actually not sure why they didn't move the entire card around and open up the show with this, or at least follow Becky/Asuka with it, so they could end the show on the big high note. Instead, the show went about an hour too long (after already including a two hour pre-show) so by the time Seth Rollins won, what would've been a happy reaction was replaced by people somberly leaving the arena because they're tired and have to work in the morning.
Most of the talking points here are just talking points for the women's Rumble with, "except not as good" tacked on the end. Kofi Kingston got some of his normal Royal Rumble escape spots, but they weren't as good as Kacy Catanzaro's, and probably not even as a good as Naomi's, even though she was just doing one of Kofi's past hits. The surprises were interesting in the same way as the women's Rumble, but none of the new characters made any kind of impact. Well, except for the one.
2. The biggest surprise here was Nia Jax, who attacked R-Truth in the #30 spot and took it, which again isn't as good as the comparable women's surprise. Why? Because when Becky showed up to take Lana's spot, she had to actually clear it with someone on-screen in the heat of the moment. It was a person taking an opportunity. Here, Nia just attacks Truth and walks to the ring. They've done it like that before, but to do it on the same show where they did a better version with the extra work shown seems lame.
For further thoughts on Nia I recommend reading Elle Collins' piece from earlier today, which says a lot more a lot constructively than I'm able to right now. I haven't enjoyed Nia's work for a while, so having her suddenly morph into Beth Phoenix here just to take a bunch of finishers while everyone cheered seemed like an odd choice, but maybe that's just me.
3. If we're actually doing intergender wrestling, though, the first match still needs to be Becky Lynch vs. Ric Flair. She needs to get him back for that forced kiss from forever ago, and we could finally put "The Man" into proper pro wrestling context instead of having the announcers say, "Becky calls herself The Man because she's ACCOMPLISHED THINGS!" Don't @ me.
4.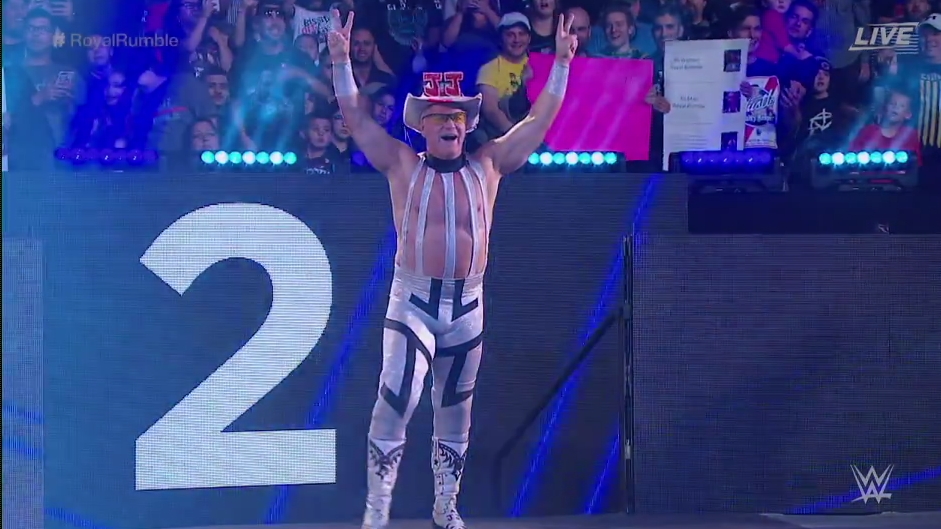 5. Yeah, it's not a bad Rumble, but it was in the wrong spot at the end of way too much show. Rollins winning sets up another one of those "the obvious choice is sometimes the best" stories, as now Brock Lesnar will face another mushroom-chomping "David" at WrestleMania, only this one's coming prepared with a sling and a rock. You can only shade a pay-per-view so much when it celebrates Becky Lynch and Seth Rollins and positions them for WrestleMania main events where they finally dispatch the evil MMA jerks on top of their divisions. Certainly beats the alternatives, which I believe were just Drew McIntyre (who can't seem to win much for a "dominant superstar") and Braun Strowman (who hasn't been cool in like six months).
Maybe we'll get Rollins and Roman Reigns hugging at the end of the show. That'd be a hell of a way to end things, and to give Brock a fitting "don't let the door hit you on the way out" ending.
Best: Top 10 Comments Of The Night
Daniel Valentin
I swear, Vince read our predictions thread and decided to fuck with all of us.
TheBazz
It wouldn't be the Royal Rumble if someone vaugely related to the Rock didn't show up and eliminate a more popular wrestler against the audience's wishes.
Designated Piledriver
You have both Ali and Bomaye in the ring now.
Bigsexy75
The beginning to the 2019 Rumble was so flat, only AJ Styles would defend it.
Smooth Jimmy Apollo
The look on Lesnar's face when he locked in the Kimura suggested Finn just asked him to take one for the team for the Fyre Festival.
BACHUR
Me, seven hours ago: "I mean, I'm sure there'll be ups and downs, but the best part about the Royal Rumble is, it's always a lot of fun!"
Me, currently: "I have made hell my own reality"
Clay Quartermain
I have to admit, I'm only staying up at this point to make sure Titus gets into the ring okay.
Pencil-Necked Geek
Balor's probably in the back thinking, "Shit, I would have had plenty of time for the demon paint."
Korporate Kaneanite
"Why would you want to watch Maroon 5?" is probably WWE's best sales pitch ever.
Taylor Swish
The Diet Family
Best: 10 More, Because You Guys Are Hilarious And The Live Thread Had Almost 3300 Comments
Cami
Bryan recycling henchmen is very on character.
The Real Birdman
I for one welcome the new Biodegradable Brothers
JacksSmirkingRevenge
This show is taking so long Cena might be cleared to compete by the time the men's Rumble starts
SHough610
If Daniel Bryan REALLY wanted to piss AJ off he'd shave his beard off with a Gillette razor
Pdragon619
Just like the first Women's Money in the Bank match, the man won!
Not A Crook
Triple H: YOU are the authority
Finlay: well if you say so
JonSte13
If we can just cut to the back where Andrade is beating the shit out of Hornswoggle i'll buy all of his merch and start taking Rosetta Stone Spanish.
DravenCage
Alicia Fox to Kairi Sane – "Look at me. I am the captain now!"
klausKink
Evans must HATE Knobbs and Sags.
LUNI_TUNZ
Tom: "Who's coming next?"
*Mandy's theme plays*
Graves: "That would be me, Tom."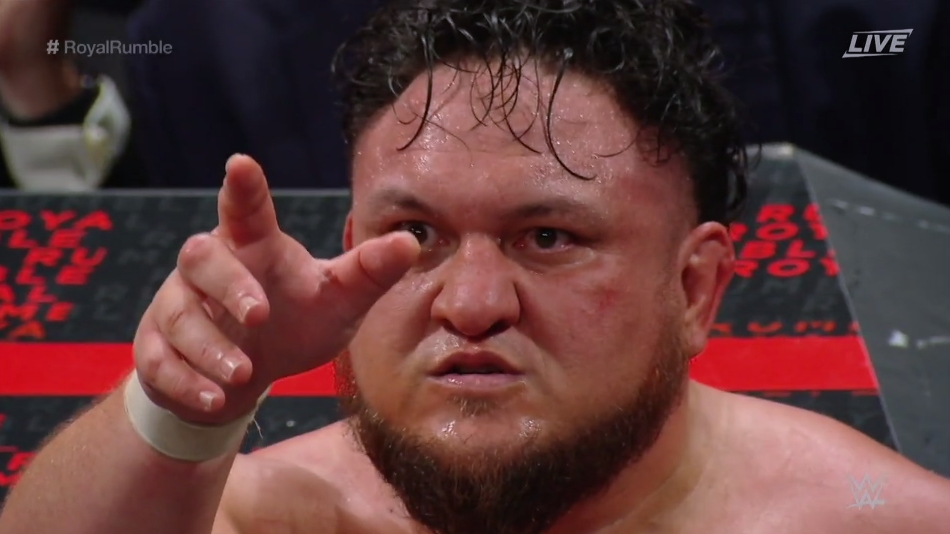 That's it for the Best and Worst of Royal Rumble for 2019. Thanks for reading. This picture is me looking at you if you don't drop a comment below and share the column on social media, because I wrote 5,000 words and sat through seven hours of wrestling for you. YOU'RE DOOMED, I SAY. DOOOOOMED.
Make sure to join us throughout the week for more fallout from the show, and be here next year when AJ Styles challenges for the WWE Championship again, Brock Lesnar's still the Universal Champion, Becky Lynch loses via roll-up to Lacey Evans on the pre-show, and hot new signee Brutus Magnus cashes his ticket to WrestleMania!