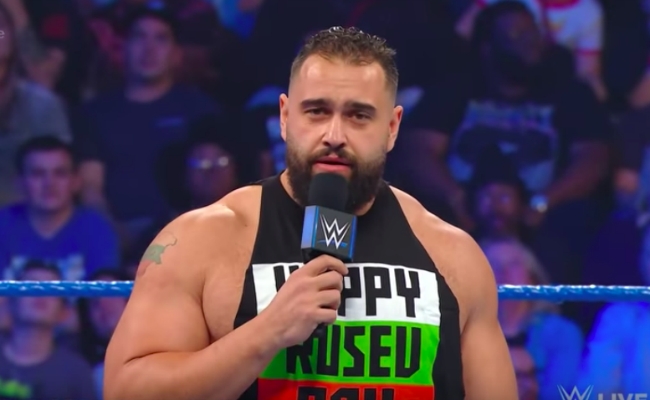 When was the last time you celebrated Rusev Day?
A while ago, right? It would be easy to forget that was even a thing, as the last time Rusev wrestled for WWE was as part of the 50-man battle royal at WWE Super ShowDown in Saudi Arabia, and the last time he wrestled on normal WWE TV was on the episode of Smackdown two weeks after WrestleMania 35.

We don't know when or if Rusev will appear on WWE programming again, but we know that if he does soon, it'll be with a new look. The Bulgarian Brute recently posted a picture of himself on Instagram in which he was not sporting his trademark beard. Behold:
The picture was praised by other wrestlers, with Big Show commenting "Looking great big guy!!," Rikishi commenting "Jacked uce," and Konnor of the Ascension adding, "The leanness of the Rusev!!!!" with some emojis. AEW's Trent Beretta was characteristically vaguer, adding "I can't wait to read about your newest face hair in the wrestling news man." So eat your heart out, Greg, because here is some wild speculation in a wrestling vertical about what Rusev's new look might mean:
Rusev will be back on WWE TV soon and will reveal an updated version of his old heel persona through a dramatic fake beard removal a la when Sasha Banks revealed the current version of her heel persona through a dramatic wig removal. (Rather than an Arctic Fox promo code, he will get a Dollar Shave Club promo code out of this.)
Rusev had to shave his beard because it became infested with lice that never moved to the rest of his hair (because his beard was so luxurious.)
Rusev is going to wrestle as Hellboy for All Japan Pro Wrestling and it was easier to apply all the face and body paint for the costume without body hair. After he wrestles as Hellboy, he will come out and attack Triple Crown Champion Kento Miyahara. Once the champ is laid out in the ring, "Hellboy" will dramatically rub his face paint off using Miyahara's entrance coat, revealing himself to be former WWE Superstar Rusev. Most people in the audience probably won't know who he is, but this will be the start of a career-defining rivalry for both Rusev (as Miroslav Barnyashev) and Miyahara.
Last year, I entertained the possibility that Rusev could be the new Bone Soldier of NJPW's Bullet Club and I'm going to bring that theory back even though that Bone Soldier was revealed to be Taiji Ishimori. Rusev will make his debut on the Destruction tour as Bone Soldier II and the Bone Soldiers will be like a Villanos or Strong Machine Gundam situation from here on out.
August is just a natural time for someone to shave their beard because it is hot. (This makes sense to me as a non-beard-haver, but beard-havers, please weigh in.)
He's going to AEW or something and wants a new look for this new phase of his career.
What do you think about Rusev's new look? What do you think it means? Does it mean anything? Let us know in the comments.