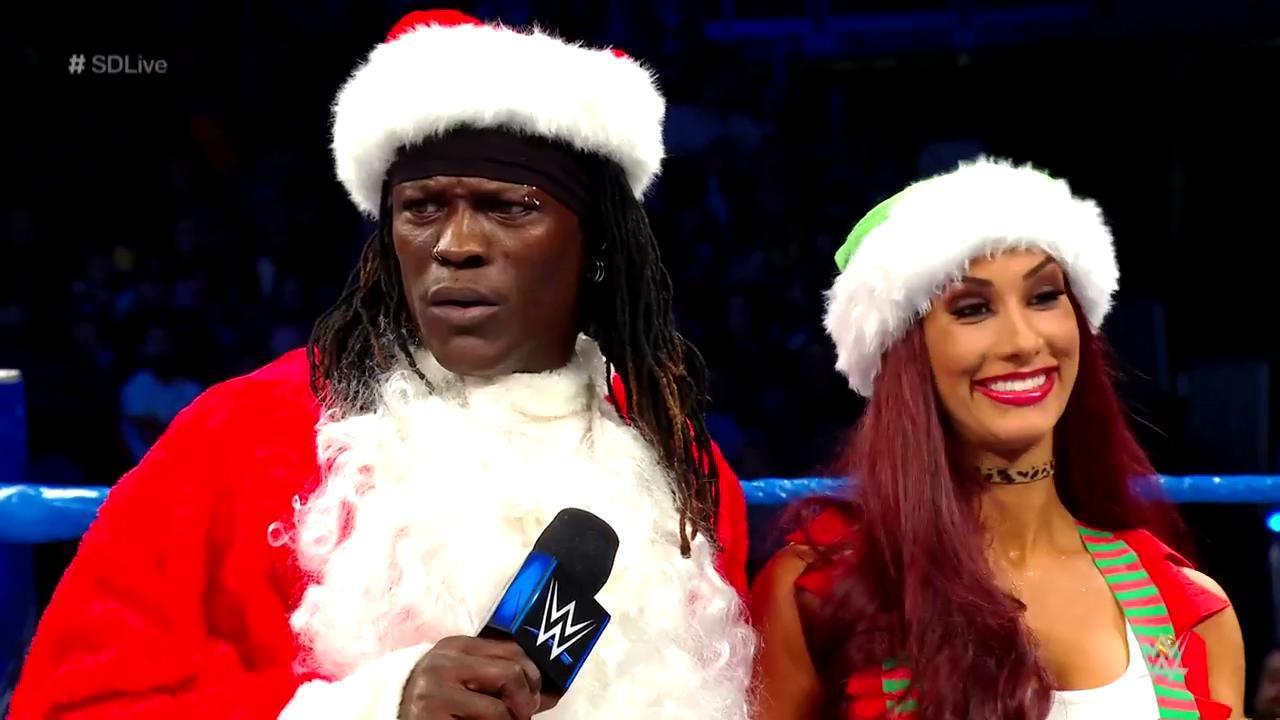 Previously on the Best and Worst of WWE Smackdown Live: We entered a brave new era of WWE by putting FOUR McMahons in charge of Smackdown instead of one, and sent Paige to live on a nice farm upstate where she'll have lots of room to run around. Also, Mustafa Ali pinned WWE Champion Daniel Bryan, and not part of that sentence feels normal yet.
Remember that With Spandex is on Twitter, so follow it. Follow us on Twitter and like us on Facebook. You can also follow me on Twitter. BUY THE SHIRT.
One more thing: Hit those share buttons! Spread the word about the column on Facebook, Twitter and whatever else you use. Be sure to leave us a comment in our comment section below as well. I know we always ask this, and that this part is copy and pasted in every week, but we appreciate it every week.
Here's this week's Best and Worst of WWE Smackdown Live, Christmas Day edition, for December 25, 2018.
Best: Millennials Want Santa Claus To Be A Confused, Dancing Black Man
The original plan was to give myself "not writing about Raw and Smackdown this week" as a Christmas present, but then Smackdown Live opened with The New Daniel Bryan® beating the shit out of "Truthy Claus" for holiday flossing, and I had to reconsider.
In case you missed it, R-Truth shows up with "Carm-elf-a" to "spread holiday joy" or whatever, and The New Daniel Bryan shows up to tell them some hard truths about Santa Claus dying because we've destroyed the environment and the polar ice caps are melting. I remain forever entertained by the best pro wrestler of the past 20 years adding "not showering" and "CJ Parker" to his character, and although it would be the worst career move of all time, I kinda hope Juice Robinson finds his way back one day to be the Alex Riley to Bryan's Miz.
I think the most impressive thing about this segment is that it creates the idea that R-Truth actually could win the Royal Rumble, and that somewhere deep down Bryan's already concerned about defending the championship until WrestleMania and wants to take out all possible contenders. Also, he's just a hateful uptight scumbag who doesn't want anyone anywhere to have fun, ever. The fact that he's still completely right about everything makes it work. Yes, we DO have islands of trash everywhere, and yes, it's probably the fault of various WWE undercard guys. Give me like 12 minutes of Bryan vs. Truth next week, and make it a barn-burner, because hey, only one of these guys is a former NWA World Heavyweight Champion.
Mostly Best: Almas Vs. Ali
Here's my complete list of complaints:
If Ali is going to keep doing a "satellite DDT," he needs to figure out how to get some height on it or take El Dragon Azteca Jr.'s moveset out his mouth
Cien Almas being enhancement talent for everybody else is still not a great decision
this was not 10 minutes longer and happening on an NXT TakeOver special
Those things said, yo, it's Mustafa Ali vs. Andrade 'Cien' Almas. While I wish Almas had something better to do than look good jobbing to everyone on the roster, I remain stunned at whatever monkey paw we wished on to get a Mustafa Ali singles push. A month ago I wasn't even certain we'd ever see him wear the Cruiserweight Championship, and now he's pinning the best worker on the show and nearly killing Daniel Bryan with upside-down-spinning knees to the chest.
As an added bonus, we get a backstage celebration parade for Ali — what's up, The Brian! — which culminates in Shelton Benjamin DEFINITELY luring him into a Daniel Bryan attack. If I'm fantasy booking this, I'm running Bryan vs. Kendrick, Bryan vs. Tozawa, and Bryan vs. Cedric Alexander in competitive matches (in that order) to build to a Bryan vs. Mustafa Ali WWE Championship match at Royal Rumble. The Rumble is where you get shit like Bob Holly vs. Brock Lesnar for the championship, so why not divide up those two hour-long battles royal with 15 minutes of TNBD dragging WWE's scrappiest junior?
Best: Smackdown Is Attempting Tag Teams
As a followup to last week's "remember our OTHER tag teams" segment, we get an eight-man tag team match pairing The Usos with Big Walder and Little Walder Frey against Sheamus, Cesaro, Alexander Wolfe, and Tacitus Kilgore. Like last week, the positive POV is that Smackdown now knows it has more than three good tag teams, and even if the execution isn't particularly engaging, getting the Good Brothers and Sanity back into the mix is a good idea. I really hope Nikki Cross ends up on Smackdown soon, not only because splitting up Sanity is a weird and unnecessary decision, but because I want her on the show where the good women's wrestling happens. Give me Nikki vs. Asuka again instead of Nikki jobbing to Natalya before the Riott Squad attacks, you know?
The finishing sprint here is fun — WWE's "everybody hit their moves one after another until someone gets a pin" is a pretty fool-proof way to finish a multi-man tag match, whether it's predictable or not — and while I don't like Cesaro being the guy to take the pinfall on a squad featuring Alexander Wolfe, it gives us everyone's favorite trope, "The Good Brothers have pinned the Tag Team Champions!" That'll set up what'll be a pretty good tag title match, which Sheamus should show up to bald just to fuck with everybody.
Worst: Christmas Shoes
We're still building to that Mandy Rose vs. Naomi match that was promised a couple of weeks ago, and now it's about how Mandy wanted to kiss Naomi's husband under the mistletoe. Am I the only one disappointed that this didn't end with Sonya kissing Mandy instead? Sonya Deville deserves some happiness.
And while I'm on this segment, be careful with that shoe, Naomi. If watching WCW taught me anything, it's that you can kill someone with a well-placed shoe attack.
Not The Best: Samoa Joe's Only Two Speeds Are Losing And No Contests
I'm still worried about what they're doing with Samoa Joe. He's fine, I know, and he's making a bunch of money and everything else, but from a character standpoint, they really haven't done him any favors this year. The feud with AJ Styles was just him losing matches, and when he wasn't losing, he was getting disqualified or counted-out or whatever. Now he's feuding with Jeff Hardy, and all he seems to be doing is losing, or getting disqualified or counted-out. While he eventually gets the upper hand and ends the segment on top, way, way too much of this was him getting his ass kicked by a guy in cargo pants and Christmas make-up.
As always, if I haven't used up all the fingers on my monkey paw, I want to bend one down and inform WWE that if you have two guys feuding and don't want to do a clean finish right away, you can do other things than repeatedly putting them into matches against one another where there's no finish. There are more creative ways to build up a rivalry than, "these two have fought six times in a row, tune in this Sunday to see what happens the seventh time."
Worst: AJ Styles Versus Another Authority Figure
The weirdest moment of the entire episode for me is this backstage confrontation between AJ Styles and Vince McMahon, who between this and his one-take Santa Claus announcement thing from Monday may seriously be losing his mind. He looks and sounds like somebody melted Tom Waits in the microwave. He's still Vince, and there's still a wonderful aura and TV personality in there, but how many times is this poor guy gonna have to show up and get punched in the face to help the ratings?
I don't know if this was supposed to set up another Styles vs. A McMahon (or even worse, Styles vs. An Authority Figure) bit, or if it was just to "light a fire" under AJ in an anglicized Antonio Inoki Fighting Spirit kind of way, but it didn't work for me. After that abysmal title run that lasted forever, Styles needs something new and engaging to do that gets him into good matches with real finishes and, in a perfect world, lets him dip back into his "beat up John Cena" personality. He was doing really good character work in WWE before they decided to make him a concerned family man who wins matches via divine intervention. Cena's back next week, so who knows?
I just hope this goes somewhere, and that the authority figures aren't just around to randomly buffer characters' stats.
Speaking Of [Vaguely Gestures] All Of That
The BEST character work of the night goes to Mike The Miz, who finally convinces Shane McMahon to be his tag team partner with a believable, honest speech about never being able to impress his dad that is absolutely 100% heel manipulation. If it's not, I will be as shocked as I've ever been in wrestling. Miz & Mrs. has done a great job of building up Miz's dad (Cleveland's own Mr. Hero) as an emotionally absent father who loves what Miz does and everyone Miz works with but can't seem to direct any compliments at his son, so working him into the story and having Miz leverage that against Shane's openly turbulent relationship with his OWN father is great, great writing. It's characters looking into their actual, consistent character histories to see what they have in common, and "bonding" (or whatever) based on it.
I also really like Shane telling Miz not to "screw him," because you'd have to be a special kind of Sting stupid to not think Miz is going to turn on you, especially after that speech, ESPECIALLY after a month-plus of badgering you to be his friend. Even if Miz is completely on the level about what he feels — and who knows, maybe he is — there are still 1/1 betting odds that he's going to tag you directly into a Skull-crushing Finale in your first match together.
Honestly? I think the best route to go here is to keep Miz turning face, give him Daniel Bryan's old stuff for real (like those YES chants), and always make sure Miz's personality is directly inverse to Daniel Bryan's. If Bryan is evil, Miz has to be good. If Miz is evil, Bryan has to be good. They should never be in alignment, and if they ARE, they should still maintain different enough personalities to hate each others' guts. I think they're doing a good job of that here, because even Miz's rundown of his accomplishments amounted to "here's all the stuff I have," and there's nothing The New Daniel Bryan hates more than stuff.
Best: Merry Christmas To Us, For Real
If I was going to fantasy book a Christmas edition of Smackdown, I'd probably end it with, "Rusev and Shinsuke Nakamura wrestle for 22 minutes, it's the best main roster singles match Shinsuke's had so far, the ending is built around who's able to hit the most big strikes in a row, and Rusev wins back his formerly beloved United States Championship on both Rusev and Christmas Day. And also his birthday."
THIS IS ALL OF THAT.
The major reason I wanted to write up this Smackdown (besides Daniel Bryan stomping Santa Claus in the face) is to celebrate Nakamura wrestling like Nakamura again for about half an hour and SPECIAL BABY RUSEV coming through on his end, big time, and being the new babyface United States Champion. There's so much to love here, and if you didn't get anything else from the experience, know that Rusev is exactly as awesome as we keep saying he is and deserves happy things in his life. Brother got de-pushed for getting married and weathered so much stupid horse shit booking to get here, but now he's the champ again, and we get to love him like we want. No more sassy subtweets for Rusev!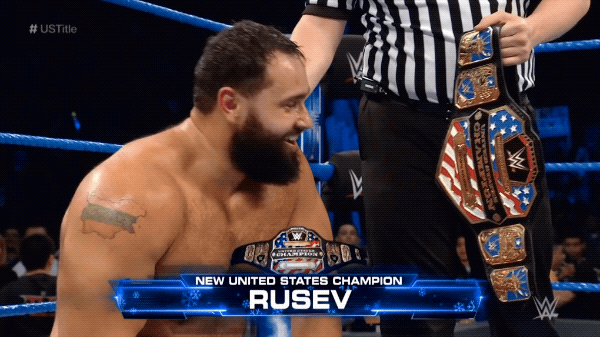 Look at these two. How could you not want them to be happy?
(Also, a total +1 to Nakamura losing the match before it even began by showing up in a black and red jumpsuit instead of the blue, because Rusev called him Sonic the Hedgehog last week and got him shook.)
That's It For This Week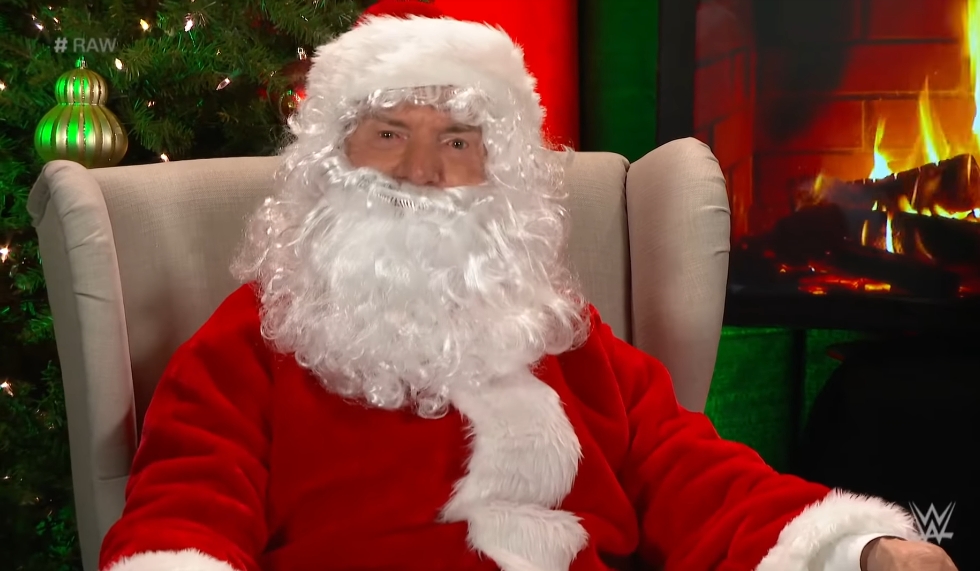 Next Week:
John Cena returns, because WWE's "master plan" to fix the ratings dip was "bring back John Cena and put him on both shows"
New Day New Year's celebration, which hopefully involves them leaving pancakes in 2018
Naomi vs. Mandy Rose, maybe?
As always, thanks for reading, and for getting us through another year of WWE programming. We really appreciate you, even if it seems like we just joke at you and beg you for comments and shares. In a completely unrelated note, please comment down below and share the column on social media, because reasons.