Previously on the Best and Worst of Smackdown: The New Daniel Bryan equated eating hot dogs and drinking high fructose corn syrup with cheering AJ Styles, and honestly, where's the lie? Also, Becky Lynch became the number one contender to the Smackdown Women's Championship a couple of weeks after being named the number one contender to the Smackdown Women's Championship.
Remember that With Spandex is on Twitter, so follow it. Follow us on Twitter and like us on Facebook. You can also follow me on Twitter. BUY THE SHIRT.
One more thing: Hit those share buttons! Spread the word about the column on Facebook, Twitter and whatever else you use. Be sure to leave us a comment in our comment section below as well. I know we always ask this, and that this part is copy and pasted in every week, but we appreciate it every week.
Here's this week's Best and Worst of WWE Smackdown Live for January 15, 2019.
The Noble Sacrifice Of The IIconics
A lot of steps to get through here, so stay with me.
The show opens with The Man® arriving in a rental SUV, treating poor Cathy 3 like she's a lowly Cathy 5, and sampling a grotesque "protein shake" whipped up by local championship belt harasser Otis Dozovic. It looks like Smackdown's writing team at least realizes that Heavy Machinery are supposed to be dumb, affable Varsity Blues team members and not free-roaming perverts, which is progress. Also, bless New Day for staying perfectly in character despite being relegated to the background, with Big E weirdly rubbing himself down the entire time and Xavier Woods nonchalantly unzipping his track suit top to show Becky he's wearing her shirt.
From there we get the standard show-opening Promo Parade, featuring Becky cutting a pretty boring promo (that at least people are being quiet and listening to) before being interrupted by Asuka, and then both of them are interrupted by the IIconics. This can only set up a tag team match or a pair of back-to-back singles matches, so they do a couple of singles matches and eat the poor IIconics for breakfast.
Becky beats Peyton Royce pretty easily, so Asuka has to go out and drag Billie Kay back to the ring so she can beat her even more easily. You've seen this kind of one-ups-Man®-ship before, and while it's not exactly thrilling television (and I don't love seeing the IIconics reduced to jobber trash without even getting to do or say anything funny), it's purposeful and to the point.
Which is certainly better than the alternative, which this week's Raw and Smackdown convinced me was [checks notes] "Asuka accidentally walks in on Becky while she's pooping and decides she must sleep with Becky's significant other as revenge."
Worst: Mandy Rose, MASTER OF SEX
There are a lot of questions here, but the first and most glaring is, "who lets their brother read what they think is a love letter from their wife?" ESPECIALLY read it out-loud, especially in front of a camera, especially at work. When they realize the gift is from Mandy Rose and not Jimmy Uso's wife, Jey's hilarious response is, "what you gon' do," which should've been followed by, "ASK ME TO GO SLEEP WITH MANDY ROSE MYSELF AND SAY I'M YOU, BECAUSE WE LOOK EXACTLY ALIKE AND ALWAYS WEAR THE SAME CLOTHES?"
Anyway, that leads to a scene at the Local Lodging Facility straight out of Torrie Wilson and Dawn Marie's Red Shoe Diaries, with Mandy stripping down to lingerie that more or less covers her exactly like her ring gear and trying to seduce Jimmy. But then, SUDDEN PAPARAZZI! IT'S ALL BEEN A CLEVER (clever?) RUSE!
That's when Jimmy, a man who has presumably seen the Dawn Marie seduction, the Torrie Wilson/Billy Gunn/Jamie Noble/Nidia foursome and Enzo Amore getting his ass beaten in a hotel room, reveals that he's actually not incredibly stupid and told his wife this was going to happen. Naomi bursts in in an outfit roughly the same color as Mandy's hotel's throw pillow and attacks her. +1 to Jimmy for basic human reasoning skills, I guess. -1 to Mandy for thinking you can frame someone with still photos when they literally walked into your room accompanied by a camera man.
I don't know who sent out a SEXY THINGS UP memo this week, but I think Sonya Deville said it best when she said,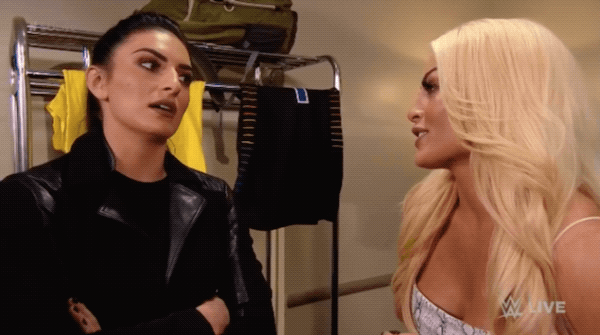 Best: Al Be Cien You
In this week's Actually Sexy news, Andrade Cien Almas defeats Rey Mysterio in a long, competitive match that plays off his win over Mysterio in last week's tag match and, believe it or not, refocuses a young star at the expense of a seasoned veteran and sets up him for a better 2019. Glorious. Actual definition, not the Bobby Roode version.
Andrade is one of the most talented in-ring performers to come out of NXT (or anywhere, honestly) and should be legitimized sooner rather than later on a show that has for its entire history been worried about gaining and appealing to a Latino audience. I know WWE's convinced that wins and losses "don't matter," but they still matter to a regular viewership, because it's how we're able to decide who is doing well and who isn't in a fictional universe even the best of us barely understand the rules for. Andrade going over Mysterio matters, and whether it matters in a short or long term I guess is up to Smackdown's writers. I hope they see what a diamond this guy is, and continue allowing him to develop an identity while going out there every week and stealing the show.
And while we're at it, let's heap more love on Rey Mysterio for turning back the clock and figuring out how to go through a second "prime." During that Sin Cara tag run I think we all kind of assumed Mysterio was on the back end of things and winding down, but then he went back to Mexico or the Lazarus Pit or something and came back as 2002 Rey. It's unbelievable. Dude's out here throwing Canadian destroyers out of knucklelocks and eating sit-out powerbombs on the arena floor like he's still 20 and a hundred pounds underweight.
The only negative here is that Cien Almas is now just "Andrade," having lost his nickname AND his last name. He'll be remembered by his closest friends, like Antonio, Alexander, Langston, Adrian, Luke, Erick, and Samson.
Best: Post Haste
Samoa Joe vs. Mustafa Ali never happened thanks to a pre-match attack from Joe, but still earns a Best for Ali's absolutely sick leaps into the ring post. Usually guys getting smashed into the post just headbutt the back of their hand or whatever and fall over, but Ali chose to sell both postings by going into the air and practically flipping upside down. It's great.
Also great: Ali's sad Iron Man reactor heartbeat when he's on the ground from the attack. I don't know if the pulsating heart was just a happy accident or whatever, but it was a great way to illustrate how the babyface is down, but still alive. Nobody let Samoa Joe Ali is married and has kids, okay?
Worst: Like AJ Styles Doesn't Know What A Concession Stand Looks Like
This week's most unintentionally moment had to be AJ Styles responding to Daniel Bryan "at the concession stand," which is clearly the WWE merch table with a bunch of hot dogs and sodas on it. Brother, most local shows have an actual concession stand, I don't think for a second WWE's running a 10,000 seat arena where the concession stand is a bunch of pre-made hot dogs and watered down drinks sitting next to the shirts. The inclusion of the condiment station was nice, but like, the condiments are clearly already on the hot dogs.
Furthermore, in episode 2F09, when Itchy plays Scratchy's skeleton like a xylophone, he strikes the same rib in succession, yet he produces two clearly different tones. I mean, what are we to believe, that this is a magic xylophone, or something? Ha ha, boy, I really hope somebody got fired for that blunder.
Cake: Going The Distance
Finally we've got The Miz holding a "birthday bash" for Shane McMahon. Miz confirms yet again that he watches WWE programming and knows how these things play out, as he brings out two really badly done sheet cakes for Shane's birthday because they're in a tag team feud and are gonna have to have cakes for both guys.
The first cake dies when Shane throws Cesaro through a table tracksuit-first. If I know anything by looking at Cesaro, it's that coming that close to a cake will cause his body to revolt and malfunction on him. It's like when they tried to have Finn Bálor eat a donut. It's a crime against nature. Cake two dies when Shane McMahon dropkicks* it into Sheamus' face**.
*touches it with his toes
**lap
It's good to have a moment where the babyfaces triumph, though, especially considering how unbelievably hard Miz is going to turn on Shane at the Royal Rumble. Or to give them a special bonding moment that'll explain why Shane's adopting him, or whatever.
Best: Top 10 Comments Of The Week
Son of Tony Zane
If you listen closely, you can hear Cesaro calling Cody to see if there's room in AEW.
Harry Longabaugh
Miz and Sheamus are in the ring while the two best wrestlers in the world look on.
AwkwardL0ser
None of this would be happening if Baron Corbin hadn't been scapegoated for a match that isn't even happening ??‍♀️
The Real Birdman
Just call him ACA. Then once everyone's happy with it, take it away from them and charge them a ton of money monthly for him
Daniel Valentin
Miz: "Here you go, Shane, happy birthday!"
Shane: "Why, thank you, Miz, you shouldn't have."
*Shane opens the birthday gif, it's a dress and stiletto heels."
Shane: "…"
Miz: "Let's go get those tag titles!"
notJames
So much bad acting. So much bad writing! What is this, RAW?
Clay Quartermain
Please let Dawn Marie answer the door
Taylor Swish
Next to Zelina, he's Andrade the Giant
AJ Dusman
Who can forget those iconic superstars of the Attitude Era? Lead by Steve, Maivia, Hunter, Mick, and Under.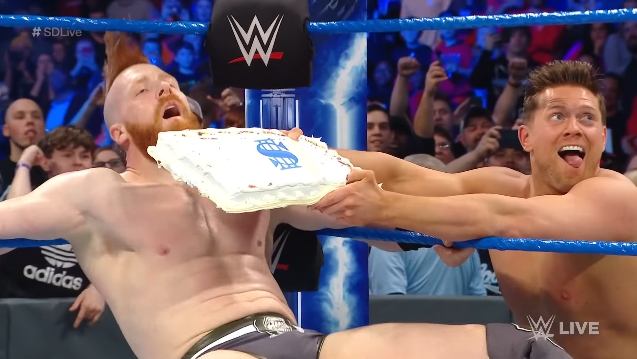 That's it for another Smackdown. Thanks for reading.
Share the column on social to help us out if you're a friend, drop down into our comments section below to let us know what you thought of the episode, and make sure you're here regularly in the coming weeks for our Royal Rumble coverage. R-Truth and Carmella are definitely heading to WrestleMania!