With the match made, the champion, challenger, and only properly functioning authority figure on the WWE main roster are interrupted by a shoulder-to-shoulder collection of Smackdown's B-team heels. Huge -1 to Smackdown for having Mandy Rose talk for her team instead of the IIconics, but it is what it is. Mandy asks Paige why she ditched Absolution and decided to give non-stop opportunities to her old Team PCB friends, which gets back that subtracted one for referencing Actual Recent WWE History.
They get interrupted by a similar shoulder-to-shoulder collective of Smackdown babyfaces, and Naomi tries her best to get over with the crowd while they all chant "Asuka." With ten women on her case and no Baron Corbin in sight to focus the entire first hour of Smackdown on, Paige sets up a women's battle royal, with the winner moving on to TLC to be the third wheel in a Becky vs. Charlotte championship match.
Three good things come from this:
a battle royal, which I almost always love, even when it's a complete waste of time
ASUKA getting a win and moving on to the championship match, giving us Becky Lynch vs. Charlotte Flair vs. Asuka for the women's championship, a match you'd have to try really hard to not want to see
by adding Asuka to the match, you allow Becky to lose the Smackdown Women's Championship without actually "losing" it. That allows you to transfer the championship to Asuka or (probably more likely) Flair, which clears up a completely healed-up Man to win the women's Royal Rumble and challenge Ronda Rousey for the Raw Women's Championship in the main event of Wrestle goddamn Mania
Let's hope that's what they're actually doing, and not, like, having Becky roll up Asuka to win the match to give Charlotte a reason to think Becky is a cowardly heel or whatever. You know they've at least thought about it.
Best: Mike Mizanin, Trophy Wife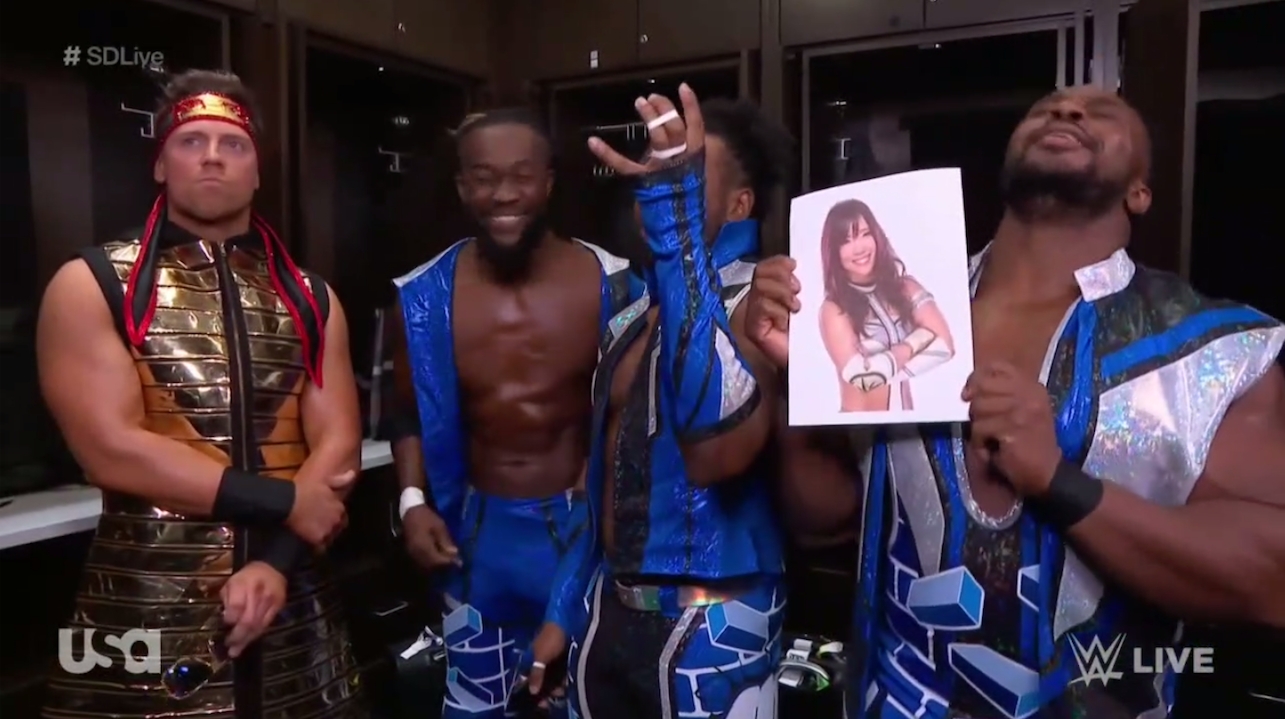 My favorite development of the week is the reveal that Big E apparently carries around an 8×10 of Kairi Sane in his sparkling sleeveless ring cloak at all times, and that The Miz finally gave him a reason to display it. I just wish Miz had reached into his golden Serpentor gown and pulled out an 8×10 of Shayna Baszler to counter it.
Heel The Miz loses to the Damned Numbers Game® of The New Day and their constant interference, because they're "advancing the sport" and using New Day House Rules, which state they can wrestle singles matches 3-on-1. It's new and exciting! It's also not true, they're just a pack of goofy dorks and at least Smackdown isn't trying to convince us you and your friend beating up once person together makes you a hero.
This all sets up one of the funniest and most existentially confusing bits of the show, in which The Miz confronts Shane McMahon about not being a good tag team partner and backing him up (even though Shane clearly doesn't give a shit about him), then turns it into a weird plot about how he and Shane are the parents of the Best in the World blood money trophy and that its dad (Shane, I guess?) is a deadbeat.