Previously on the Best and Worst of WWE Smackdown Live: We had an entire episode about how hard it is to impress George Mizanin! Oh also The New Daniel Bryan introduced The New WWE Championship title belt but they're still not selling replicas, because they don't know how to market anything that isn't white text on a black t-shirt.
Remember that With Spandex is on Twitter, so follow it. Follow us on Twitter and like us on Facebook. You can also follow me on Twitter. BUY THE SHIRT.
? Hey you! ? If you like these, please consider taking a second to hop over and vote for us as Best Wrestling Media in this year's RSPW Awards! It'd be super nice of you!
One more thing: Hit those share buttons! Spread the word about the column on Facebook, Twitter and whatever else you use. Be sure to leave us a comment in our comment section below as well. I know we always ask this, and that this part is copy and pasted in every week, but we appreciate it every week. It's almost time for In Your House: Elimination Chamber!
And now, here's the Best and Worst of WWE Smackdown Live for February 5, 2019.
Best/Worst: Honest Game Trailers
If you need a clear illustration of how WWE's living in the past and has no confidence in their ideas anymore, look at Becky Lynch. She became the biggest star in the industry thanks to a groundswell of support in direct opposition to WWE's proposed narrative, and thanks to some circumstantial luck ended up in a WrestleMania main-event-level one-on-one championship feud with Ronda Rousey. It's the purest distillation of professional wrestling: one person vs. one other person on the biggest stage competing for what's become the most prestigious championship.
Instead of just rolling with that, WWE (in its own way) panicked. Instead of just continuing to book a molten hot one-on-one feud, the Becky Lynch beef now includes (just this week) two "wrestler vs. authority" stories. On Monday, the feud became about Stephanie McMahon suspending Becky, and everything she'll have to do to avoid missing out on her WrestleMania match. On Tuesday, Becky got dressed down by heel overlord Triple H — who tells the crowd this "doesn't concern them" despite like a month ago standing in the ring with his in-laws and claiming the era of not listening to fans is over, and how we are the authority now … how fuckin' long did that shit last — and slapped him. So now we've regressed back into the only story WWE believes they can tell for profit: an underestimated "everyman" the crowd loves positioned against evil authority figures.
You could argue that there's more nuance than that — Stephanie and Triple H aren't really being "evil," they're just telling her to go to the goddamn doctor, and her refusal speaks more to her understanding of wrestling history and thinking the McMahon Family's going to screw her out of something she deserves before they've even really done it — but I'm not sure I trust WWE to be nuanced. I'd trust them to be about a thousand things before "nuanced."
The content here is solid, as Triple H is basically the Babe Ruth of emasculating WrestleMania builds at this point, and the match at WrestleMania (whether it includes Charlotte Flair or not) will almost certainly be good-to-great. So I'm going to give this a Best for what it contained, and a lingering Worst for, "come on, guys, you've got another hot act, don't dilute it by doing the same shit you do with everyone else."
Maybe I'm missing the point, Becky's actually in the wrong, and this is another example of NXT Dad telling one of his weird kids to take care of themselves. I dunno. H telling Charlotte to fuck off was pretty great, though.
Worst: Pretty Soon Smackdown's Going To Have Entire Matches Happen During The Commercial Break
Quick poll, is anyone else super bothered by the Good Brothers' gear? Why does their gear match if they're going to wear them in different colors? Why is Luke Gallows out here in black and white if Karl Anderson's wrestling in Carolina Panthers blue? It looks like they just dug through Cody Rhodes' drawers to find the pants he's not planning to wear.
Most of this match happens during the commercial, but it's all about whether or not Shinsuke Nakamura and Rusev can co-exist, you know, what with them feuding for a few weeks over Nakamura repeatedly injuring Lana only for them to decide they're friends and be a Lana-led tag team. It's like Sheamus and Cesaro's best of seven series without five of the matches. Look out, Itchy, they're foreign!
This was fine but pretty bad. I'd rather be watching Raw than a Good Brothers match.
Best: The Very Best Kind Of Randy Orton Match
AKA, "the one where the RKO at the end is so cool and unexpected you forget the rest of the match forever." Easiest example of this is Orton vs. Seth Rollins at WrestleMania 31 with that spectacular Stomp Counter RKO at the end. If you claim you can remember any other second of that match in 2019, you're lying.
A month from now — honestly, maybe today — the only thing you'll be able to remember from this Orton vs. Mustafa Ali match is this sweet, sweet RKO.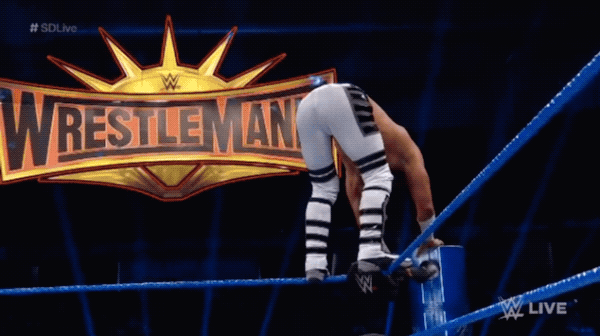 A fun thought experiment is to ask yourself, "what would Orton's WWE career have looked like if he'd never started doing an Ace Crusher? Would he still be a 13-time World Champion and a repeat WrestleMania main-eventer if he was still doing the garbage-ass Overdrive?" The RKO has always been more over than Orton himself, which isn't really an insult, because the RKO's more over than everyone.
Anyone Is A Tag Team Now, It's Fine!
I really hope the WWE Women's Tag Team Champions get to compete on both shows, because otherwise we're gonna have two divisions with three teams in them and a bunch of thrown-together "who isn't doing anything" duos like Carmella and Naomi. Not that Carmella and Naomi couldn't be a good tag team … they just aren't a tag team, and when you don't have enough tag teams to actually fill an Elimination Chamber, maybe you don't need a division and championships? I say this as a dude who watched the WWE United Kingdom Championship have two people in the division for like a year.
Note: I want the women's tag belts to exist, don't get me wrong. The women's tag division just kinda feels like the Raw tag division stretched across two shows.
Mandy Rose and Sonya Deville win here, and are calling themselves Fire and Desire, which has got to be one of the names they originally suggested for Scott Norton and Buff Bagwell. You're Vicious and Delicious forever now, sorry.
Best: Make The IIconics Tag Champs You Cowards
Jeff Hardy Has (Almost) Pinned The WWE Champion!
We've got an Elimination Chamber to sell, pal!
The main event of the episode is the … dream match? Between Daniel Bryan and Jeff Hardy, my favorite wrestlers from 2002-current and "for a minute in 1999" respectively. I know I tend to type stuff like this a lot, but I wish I could go back to the day after Daniel Bryan announced his retirement and say, "hey buddy, guess what, this random Smackdown in 2019 is going to be headlined by Daniel Bryan vs. Jeff Hardy — yes, Jeff Hardy's back — and not only is Bryan going to be WWE Champion, he's going to be carrying around a burlap sack belt with wood and rocks on it. Also Erick Rowan is his manager. And we're building to an Elimination Chamber match that includes Mustafa Ali and Samoa Joe. P.S. don't watch the rest of the show, Shane McMahon is one of the tag team champions."
Hardy looks to have the match won until Rowan yanks him out of the ring and gets Bryan disqualified. It's the kind of non-conclusive finish you expect heading into a pay-per-view where the WWE Champion is facing INSURMOUNTABLE ODDS~, so it is what it is. I don't think Jeff Hardy should be beating Daniel Bryan ever for any reason, but … technically he didn't, really? It's fine, let's just get precious Earth-tones Daniel Bryan to WrestleMania before he loses the title belt they skinned Oogie Boogie to make.
Best: Top 10 Comments Of The Week
Brocky
Becky lynch is the most likable orange haired person on television tonight.

Carmella is the most likeable orange skinned person on television tonight
JayBone2
HARDY: DELETE! DELETE! DELETE!

BRYAN: NO JEFF! REDUCE! REUSE! RECYCLE! YOU FICKLE SOB.
The C Team (aka The Coolest Team, duh!)
WWE Striker Levels (from highest to lowest):

Complete Striker
Pure Striker
Matt Striker
Shane McMahon
AwkwardL0ser
Sometimes I forgot The IIconics are wrestlers and not valets without a client
Stagger Lee
Feverishly Googling who was Galileo's best friend who eventually turned on him for when Rowan does his to DB.
Pdragon619
Charly walks up to Samoa Joe and gives a completely polite and courteous interview.
Clay Quartermain
"Why are you booing me? I'm literally saying the same things as Daniel Bryan!"
notJames
Tom Phillips: Where'd Samoa Joe come from?!?!?!?!?

Uh, Samoa. It's in his name.
The Ultimate Worrier
Mustafa Ali is the Las Vegas variant of Sub-Zero.
Redshirt
Thanks to NXT and Triple H's role in it, these promos look less like Heel Authority Figure and Face Wrestler and more Concerned Father and Reckless Child.
That's it for this week's Smackdown. Make sure to drop a comment below to let us know what you thought of the show, hit us with a share on social, and continue pestering WWE Shop's various social media accounts until they sell me one of those Daniel Bryan title belts.
See you next week!