Previously on the Best and Worst of Smackdown Live: Matt Hardy put up his dukes in the style of Mr. Miz, AJ Styles showed up as a "wild card," and some guy in the crowd had the best sign placement in WWE fan history.
Things to do: Follow us on Twitter and like us on Facebook. You can also follow me on Twitter. BUY THE SHIRT.
One more thing: Hit those share buttons! Spread the word about the column on Facebook, Twitter and whatever else you use. Be sure to leave us a comment in our comment section below as well. I know we always ask this, and that this part is copy and pasted in every week, but we appreciate it every week. This is the go-home show for the Game of Thrones series finale!
Anyway, here's the Best and Worst of WWE Smackdown Live for May 14, 2019.
Worst: Another Goddamn Promo Parade
In this week's Best and Worst of Raw, I talked about WWE's weird obsession with starting their shows like this — every single show, it feels like — and complimented them for at least "dressing it differently."
Up first is The Big Wild Dog Roman Reigns, requester of television ratings, as a guest on Miz TV. Raw can't seem to shake the idea that it has to open with a promo parade to introduce everyone to the live crowd and set them up for matches on the fly, and this is more of that. It's just a promo parade with chairs. If I could recommend anything to Raw for improvement they could actually accomplish in the short-term, it'd be taking promo parades off the board entirely and holding yourself to opening the show with literally anything else.
On Smackdown … well, let me put it to you this way. Raw opened with Roman Reigns and The Miz talking until they were interrupted by Shane McMahon. The faces were attacked from behind by Elias and Bobby Lashley, which set up a match. Smackdown opens with Roman Reigns and The Miz talking until they're interrupted by Shane McMahon and Elias, and then the faces are attacked by Daniel Bryan and Rowan. It's the exact same opening with most of the same players, they just added a couple of heels and had someone make the save for the faces before making the match.
Like maybe Albert Einstein and more importantly Vaas Montenegro said, the definition of insanity is doing the same thing over and over and expecting different results. I honestly can't believe that this far into 2019 I'm insulting Smackdown Live for not at least doing the bare minimum of creative work that Monday Night Raw did. STOP DOING THIS SAME SEGMENT OVER AND OVER AND OVER AND OVER AND OVER.
Instead of setting up a two-on-two tag team match and ending it with a Shane McMahon disqualification, Smackdown sets up a four-on-three handicap match (with Miz barred from ringside, because he's feuding with Evil General Manager Character #47) with a Shane McMahon PINFALL VICTORY. In a 20-minute match broken up by two commercial breaks. On a show that only had three matches, with FIVE commercial breaks cutting them up.
What's the payoff? Shane McMahon looking strong, and the Usos — who are not on the Smackdown roster, and are only appearing thanks to the "wild card" rule that still doesn't totally make sense — getting a shot at the Smackdown Tag Team Championship on the Money in the Bank kickoff show. How sad is your tag team division when a team that isn't on your roster can lose a match and get a title shot out of it? How badly must all the people in the actual division feel? With the Usos on Raw and New Day dealing with injuries and Kofi Kingston's title run, does the Smackdown tag team division even exist anymore? What happened? What are we doing?
Best: Ladder Day Saints
The best match of the night (also divided up by not one, but two full commercial breaks) is Finn Bálor vs. Ali vs. Andrade vs. Randy Orton, which I described in the barely-used pre-tape open discussion thread as, "like a carousel where Orton's in the center and everyone else is wrestling circles around him."
That's pretty much what it was, with Orton providing some fun moments like the little bunny hop where he was anticipating catching Ali with an RKO off the ropes. The RKO is great, but there are few things I love in wrestling more than Orton's opponent knowing they're about to get hit with one and faking him out. AJ Styles doing a springboard and just dropping back down to the apron instead of leaping head-first into a cutter is still one of my favorite moments.
This played a lot like the 205 Live version of the women's match from Raw, with Andrade continuing to be head-and-shoulders above everyone else in terms of in-ring work and picking up another win against Finn Bálor. I wish they'd take those two of the ladder match and give them a 12-15 minute championship match on the pay-per-view, but I'm sure they'll shine no matter where they are.
Also, hey look, it's Ricochet! RIcochet, wild card your ass to Smackdown and wrestle Finn and Andrade and Ali and Buddy Murphy and whoever and get the hell away from Baron Corbin and Bobby Roode!
(He knows that's just a prop briefcase, right?)
Best, Mostly: Destined To Do This Something Something
The main event segment is a total mess, with Kevin Owens inviting Kofi Kingston to be a guest on the KO Show and staying in the back for most of it, Xavier Woods being told to stay in the back and not help out only to come help out anyway, and Wild Card Sami Zayn showing up to help his eternal frenemy Kevin Owens only to get beaten up anyway? It's not much, but it keeps the heat level for the WWE Championship match heading into Money in the Bank. They kinda peaked early with the Owens turning on New Day bit. They maybe could've kept that going for another week or two.
I'm mostly just wondering how the Wild Card Rule works when it comes to cross-promotional alliances. If Sami Zayn wants to be on Smackdown to help Kevin Owens but four Raw guys have already signed up to be Wild Cards, does Sami not get to show up? Am I thinking about it more than creative has? I'm definitely thinking about it more than creative has. It's fine, Sami and Kevin shouldn't be broken up off-screen anyway.
WORST: Team Japanese Thing I Know!
Hey Vince, Asuka wears a Noh mask to the ring, Kairi Sane is a pirate, and they're managed by a goth British lady. What should we call the team?
Vince:
My reaction: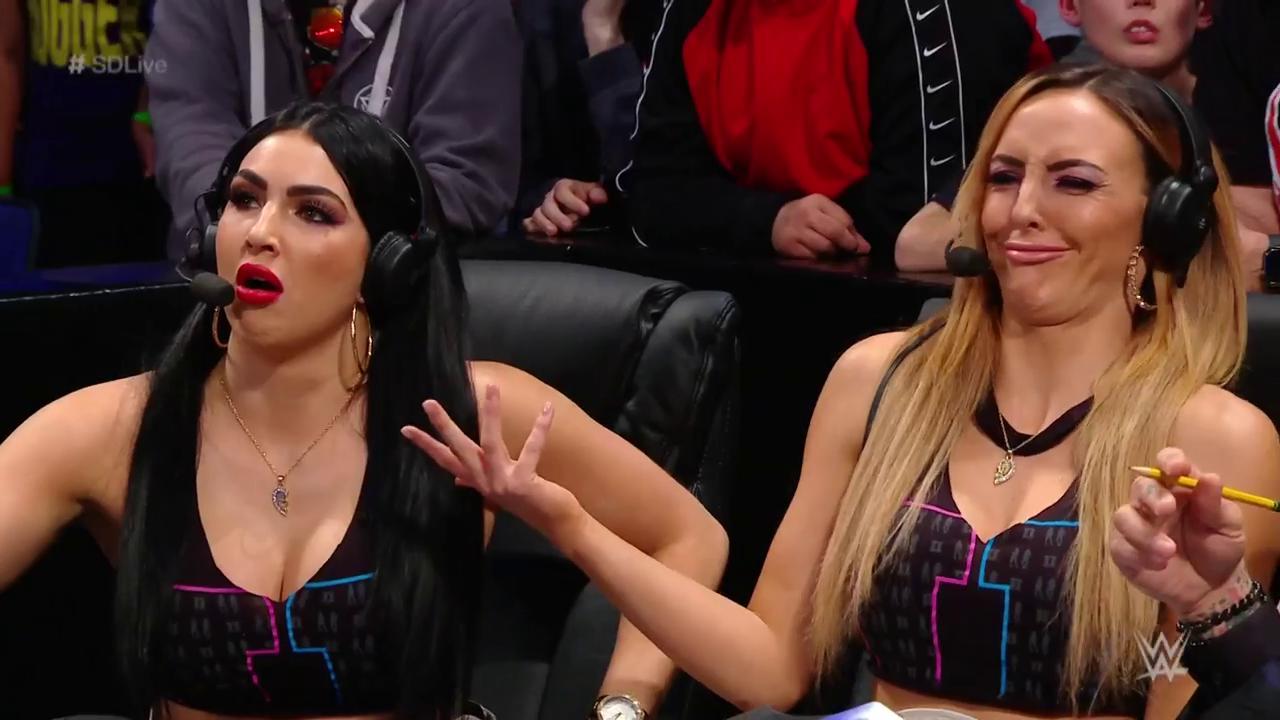 You can do the "actually THIS name is stupid too, if you think about it" thing until you're blue in the face, but WWE is on an objectively horrible run at naming tag teams right now. First they turned the toughest team in NXT into a dumb meme and renamed them twice, and now the two Asian women are the Kabuki Warriors.
The story is that they "picked the name themselves," at least according to Paige, but I'm gonna guess it was a pretty short list of choices. Remember this is the company that tried to name Kenzo Suzuki "Hirohito", put Godzilla noises in Ultimo Dragon's entrance theme, put Ricky Steamboat in an actual dragon costume and had him spit fire, made a Samoan guy Japanese because they thought nobody would be able to tell the difference, and so on. NXT worked so damn hard to train American wrestling fans to see Asian stars as equals and not "foreigner" gimmicks, and all they've gotten on the main roster is "what" chants and the guzheng. Just because they picked it doesn't mean it's a great idea.
I'm not an insider, but I'm going to assume the approval process is "Vince McMahon has heard the word kabuki before." Anyway, if you're gonna call them the "Kabuki Warriors," maybe give them some kabuki stuff to wear and not still have them just be freestanding Asuka and pirate princess Kairi Sane? And give them an actual entrance theme instead of that "flip back and forth between mp3s" shit you've got them walking out to. It might not be racist or anything severe like that, but it's 100% lazy.
Promo City *Clap Clap Clap-Clap-Clap*
"Actually I think Kabuki Warriors is a cool name." — Lars
The remainder of the show (when they weren't going to commercial, please fix this, Fox) was pre-taped promos and video packages of varying quality, so we'll tackle all of them here.
Charlotte Flair briefly shows up to intro a great video package about her history with Becky Lynch, seen above, which probably would've been a lot better and more meaningful if "Becky vs. Charlotte" still felt like the feud instead of "Becky vs. Charlotte and New Frontier Charlotte." Shout-out to our comments section for that one.
Lacey Evans also gets a backstage promo, which features her looking into a mirror to suggest she was once a normal Marine turned into an antiquated plantation lady by the dark magicks of the Oculus. Or she's just corny as hell, one or the other.
Occult William Shatner is still doing this thing. If we get any more of these before he wrestles again, I'm going to recite the preamble to the Constitution as Aleister Black and upload it here instead of trying to come up with something to say about it.
There are also a collection of promo class submissions to put over the Smackdown half of the women's Money in the Bank ladder match, because they didn't have time to run a match with all those commercials and video packages.
Best: Top 10 Comments Of The Week
AddMayne
Vince: "I'VE GOT IT, THE ORIENTAL EXPRESS"
HHH: "Honey, I swear to God, I will make it look like an accident"
Son of Tony Zane
"The Geisha Experience"
notJames
Given Kairi's aerial arsenal, I hope their new tag team name is "Asiatic Flew".
troi
Aleister Black: look at how dark and brooding I am quoting Shakespeare menacingly
Bray Wyatt: puts on evil clown mask and yells
All I want from The Kabuki Warriors is a losing streak that ends with Kairi and Asuka deciding to replace Paige. Which inevitably leads to Bull Nakano murdering Paige with nunchuks.
The Real Birdman
Let's be honest, at this point I'm just happy Vince didn't switch the first two syllables in Kabuki
Zelina, we'd be pretty happy with MitB spoilers since we're all going to be watching GoT instead
Brocky
I legtimatley want zelina to try and grab the briefcase from the ladder, only to discover she's still too short
Dave M J
Shout outs to Andrade for realizing that Randy Orton cannot RKO you if you lead with your feet.
Harry Longabaugh
The Knicks are the most disappointing tank since Rusev losing to Cena at Mania.

One more time for the people in the back …
That deep inhale while he's trying to think of another heel in the promotion is going to be funny forever.
Anyway, that's it for this week's Best and Worst of Smackdown. If you'd like to leave a comment, drop down into our comments section below. A social media share is always appreciated, and make sure you're here this weekend to watch Money in the Bank with us. We can guarantee it won't be as disappointing as the series finale of Game of Thrones!