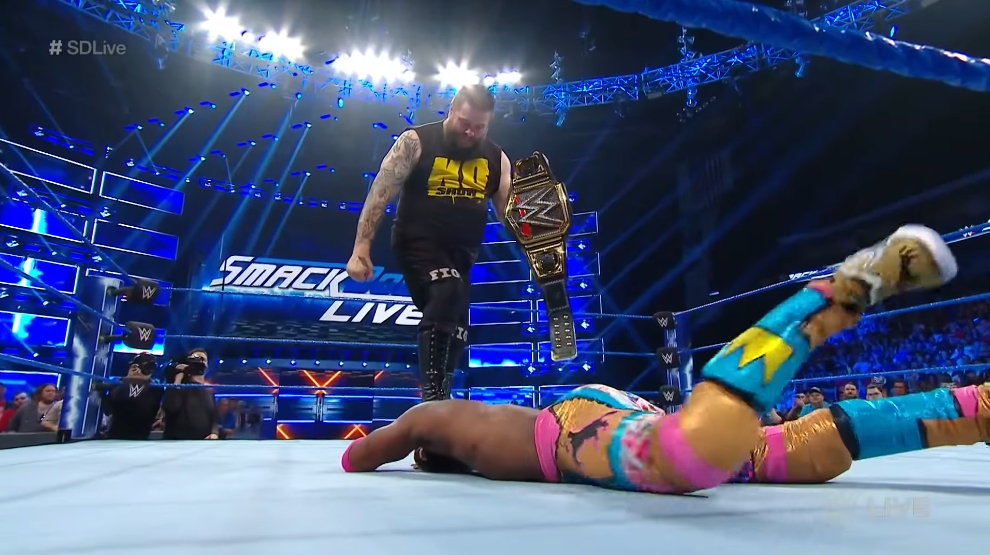 Previously on the Best and Worst of Smackdown: Superstars got shooken up and Smackdown won in a walk as they picked up Roman Reigns, Ember Moon, Buddy Murphy, Kairi Sane, Elias, and Finn Bálor. They lost Aleister Black, Andrade, and Zelina Vega, but got them back anyway.
Things to do: Follow us on Twitter and like us on Facebook. You can also follow me on Twitter. BUY THE SHIRT.
One more thing: Hit those share buttons! Spread the word about the column on Facebook, Twitter and whatever else you use. Be sure to leave us a comment in our comment section below as well. I know we always ask this, and that this part is copy and pasted in every week, but we appreciate it every week. We're on the road to Money Kept At The Bank!
Anyway, here's the Best and Worst of WWE Smackdown Live for April 23, 2019.
Best: O, No, You Didn't
Last week I used my encyclopedic knowledge of professional wrestling and keen insider intellect — and not just the common sense of anyone with even a passing interest in understanding these characters and watching these shows — to see this coming. From last week's report:
These segments made me think about how valuable The Miz's face turn has been. With Miz, we knew for a fact that he was just manipulating Shane McMahon to get a free title shot or two and suck up to management, and that his stories about wanting to make his dad proud were all bullshit, because he was just gonna swerve Shane as soon as he could. Then weeks went by, and pay-per-views, and whoops; it turns out the Miz was sincere all along, and Shane was the opportunistic jerk taking advantage of the heartfelt hopes and dreams of his employee. Independent contractor. Whatever.

Now with Kevin Owens, every single segment where he's a happy-go-lucky do-gooder gives me squinting Philip J. Fry eyes because I know for a fact he's just screwing with these fan favorites to get … something. It'll all make sense when he powerbombs them into the apron.
This week: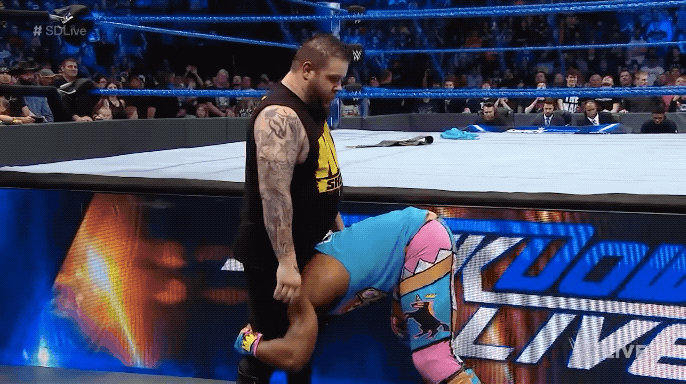 The power of positivity as it relates to a forever pissed-off Canadian dad ends when Kofi Kingston's match against Shinsuke Nakamura ends in a Rusev run-in, and Owens sees his opening to be the worst. He kicks Kofi in the face, powerbombs Xavier Woods into the ring apron to take out another one of Kofi's boys, and screams in his face about how he's going to take the WWE Championship away from Kofi's kids. Somewhere in the back, Sami Zayn noticed a little extra spring in his step for some reason. All it needed was Kofi yelling back, "curse your sudden but inevitable betrayal!"
In other words …
You've gotta wonder who Kofi Kingston thought he was defending the WWE Championship against at Money in the Bank, if not the disingenuous heel who suddenly decided to be best friends with him for some reason. Get this guy fitted for a Crow costume already.
Best: ♫ You Think You Know Me ♫
Aleister Black is here on Smackdown, and he "can't even begin to explain the complexity of my tragic caricature." What's his new gimmick, writing about cannabis for LA Weekly? I wanted him to end the promo with, "in conclusion, Satanism can be compared and contrasted." Either that, or for him to be like, "I'm a Dutch occultist who worships Satan and kicks people to death for a living. What do you need to know about me? Well, me and my cute Puerto Rican wife run a pet Instagram where we've given our four Siamese cats wacky names and personalities. I like them because they have smoosh faces."
All I could think about thanks to the tone and cadence of the promo is that he was in there recording director's commentary for the Firefly Funhouse special features. Here, watch the Bray video with Black's dialogue over it and you'll see what I'm talking about.
Study Question: Is Shane McMahon okay? He was slurring his entire promo, is still pronouncing audacity as "o-dacity," and made a reference to "Rount Mushmore." We need to be careful with him before he physically explodes in the middle of a fight and gets his Purplesaurus Rex blood on everything.
We Definitely Already Know Lars
Chad Roode doesn't even get a chance to show us he's stopped wearing daddy's bath robe because he's a big boy before Lars Sullivan attacks him from behind. On the negative side, Chad Gable finally got away from Raw and is still being used in a background enhancement role someone dressed like a hamburger in a No Way Jose conga line could be doing. On the positive side … hey, at least Lars prevented us from having to watch Jinder Mahal wrestle?
As we've said a million times, whatever Mahal's paying the Singh Brothers isn't enough. Those guys deserve some kind of lifetime achievement award in the field of taking bullets for others and making basic transitional moves like a Randy Orton backdrop or a Lars Sullivan powerbomb look like death incarnate. Lars also beats up R-Truth again, because I guess they're building to a battle royal where 20 people immediately jump and dump Lars? Or they're flexing Lars' muscles until John Cena's available to fireman's carry him into irrelevance, one or the other.
Best: El Vagabundo Challenges You, In Song
I already like how Smackdown Live is handling Elias. That one Elias segment Raw did where he'd sit in the ring, tell a crowd he hates them, announce that he won't be interrupted, and then get interrupted/beaten up was great for roughly 99 of the 100 times we saw it, but it's nice to mix things up every once in a while. On this episode, Elias and Shane beat down Roman Reigns 2-on-1, which you can do on Smackdown because one of his two friends just quit, one of his two friends is on Raw, and they probably wouldn't have shown up to help him anyway. Top WWE babyfaces only have friends BEHIND the scenes! In the ring, it's ONE VARSE ALL.
Elias then challenges Roman Reigns to a match at Money in the Bank while sitting on the trunk of Shane McMahon's limo, and it's so good even Shane's lines hit. "Awesome idea. He'll never accept. Let's get outta here!"
Later in the episode, Kayla Braxton shows up in the world's most comfortable looking pajama suit to ask Roman Reigns if he accepts the challenge and, surprise! He does. I love that there are at least 2-3 people in the WWE Universe who didn't automatically know Roman Reigns was going to accept a challenge to fight. Kayla gonna show up next week and point a microphone at Kofi Kingston like, "does this mean Kevin Owens is no longer an honorary member of the New Day?"
Best: Stolen Bálor
Andrade getting moved to Raw and defeating the Intercontinental Champion in a non-title match only for the champion to get moved to Smackdown the next night felt pretty dumb, as did Andrade's move to Raw being ret-conned off-screen because Charlotte Flair didn't want to have her hot boyfriend switch brands. But they did a decent enough job acknowledging it here by having Andrade "follow" Finn back to Smackdown, so he can actually win the Intercontinental Championship from a guy he's shown he can defeat.
The match is pretty good, with Finn getting his win back. Normally I'd be a little bummed at the 50/50 booking, especially in non-title matches where there's zero consequence, but in the case of Bálor vs. Andrade, I'll allow it. Finn getting one win and Andrade getting one win means they can do a "rubber match" at Money in the Bank with the Intercontinental Championship on the line, and we'll have enough observable talking points from the weekly shows to argue that either man could win. Sometimes the simplest booking and acknowledgment that a thing that doesn't make a ton of sense happened go a long way.
Worst: Let The IIconics Do Their Own Thing
From this week's Best and Worst of Raw:
I'm also worried that the Raw creative team has "noticed" at the IIconics are funny. That's a bad sign. Nothing's worse than when the company's not paying attention and wrestlers do something legitimately funny. Eventually WWE sees that people on social media like it or whatever and try to micromanage it to sell it to as many people as possible, which removes everything we loved about it and most of what made it funny. They did it with Santino Marella, they did it with the Fashion Files, they did it with Matt Hardy, and now the IIconics are cutting promos about how Ariana Grande sounds like Starbucks? I know my IIconics material. It's a very specific kind of affably, performatively obnoxious. It's not a joke to make your grandpa laugh.
That "hmm, this doesn't sound like their specific kind of bad-on-purpose, it sounds like WWE creative's bad-we're-helping" continues on Smackdown, with the IIconics comparing Kairi Sane and Asuka to the Avengers for some reason and then calling them "super lame-os." And then one half of the champions gets pinned again, easily, because winning a championship in WWE is a stat boost but drains 100% of your HP.
I might be worried over nothing and it's just been a bad week of IIconics promos — they've got a naturally stilted delivery on the microphone anyway because they're weaving two deliveries together — but compare and contrast this (like Satanism!) to the backstage followup where they're CLEARLY unscripted. Whoever's micromanaging them, don't. Just let them do their thing. Their thing is why we love them. Don't take Fandango's music away from Fandango just because it gives people something to enjoy when he's out there, you know?
I'm probably just being too overprotective. Can we just have them be a reverse Bayley and Sasha, and have them compete on every brand except Raw? I think that'd help.
Best: Charlotte Figures It Out
What's that, Charlotte? You think it's total bullshit that the Smackdown Women's Champion lost the Smackdown Women's Championship in the main event of WrestleMania when the Raw Women's Champion got pinned? Sure was, wasn't it? The only thing that'd have made it worse is if the previous Smackdown Women's Champion had been really great, and lost her spot on the WrestleMania card and got shuffled into a losing role in a battle royal because they decided on a whim a week before the event that the winner of the Raw Women's Championship match should also become Smackdown Women's Champion. Wouldn't that have been terrible for everyone?
Anyway, that (very good) segment reminds us that while the WWE women's division is deep and talented right now, there are a few names who should be sitting at the top of it: Becky Lynch, Charlotte Flair, Bayley, and [redacted].
Becky Lynch brings up the very true fact that she wants to give title opportunities to people who haven't gotten them, and yet Charlotte Flair's always here about to have a title opportunity. It's partially her "management prefers Charlotte" point, and the truth that Charlotte's just better at her job than most of these people. Charlotte plays up the entitlement role perfectly, as she sees the "genetic superiority" stuff and her past accolades as infinitely renewable reasoning for more and more and more. It doesn't feel like entitlement to her as a treatment she just deserves for excelling. Bayley gets to show believable, honest fire for the first time in ages by standing up to an old rival she has no reason to be scared of, and is maybe kinda sorta remembering that she's already completed her big character arc and can (and should) hang with the top stars of the division.
Then, of course, Charlotte wins. Because that's always the end of the story. Bayley proved she could go, though, and deserved to be there. Lynch is now stuck in a quandary of having "two belts," needing to defend both of them independently, and heading into a pay-per-view against both a new, fresh nemesis (Lacey Evans) and the blood rival she can never seem to separate from (Charlotte). Great stuff.
Best: Top 10 Comments Of The Week
Clay Quartermain
You know what would be a great subtle thing? Every time someone gets a dark version of their character or do a full on heel turn, you see a doll version of their old selves just sitting nondescriptly in the background of the next Firefly Fun House skit.
The Real Birdman
I will pay all the money if Chad Gable shows up with a handlebar mustache
AddMayne
"Why Kevin Why"
"Because Xavier got my title history wrong"
Harry Longabaugh
"Big O? I can see you're Big! That would be like calling myself Fashionable Rusev."
notJames
Charlotte: Your days are numbered.
Thor: Everyone's days are numbered. That's how time works.
troi
Rusev and Lana have to menace Batman after the show tonight
Pdragon619
I always thought evil Bayley should just be normal Bayley but with a leather jacket, because all her understanding of tough bad boys comes from watching Happy Days and Grease.
The C-Team
Why would you challenge someone to (and also accept) a non-title match at Money in the Bank and exclude yourself from the MITB match in the process?
AwkwardL0ser
Robert Roode looks like the type of guy who knows the last names and license plate # of at least 3 waitresses at his local Outback Steakhouse
SuperCalofragilisticexpialodocious
Calling Lacy Evans finisher the SuperMa'am Punch now, please spread it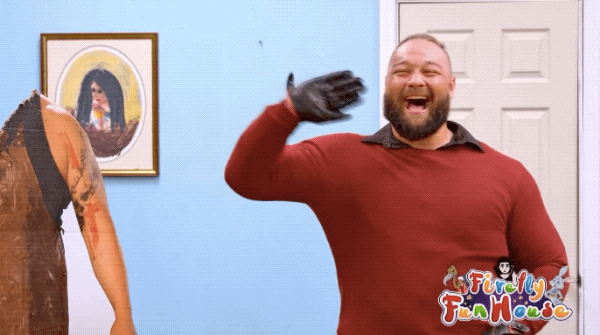 That's it for this week's Best and Worst of Smackdown. Thanks for reading!
You can help us out tremendously and keep us from the post-employment world of evil puppet shows for children by sharing the column on social media, and by dropping down into our comments section to let us know what you thought of the show. And make sure you're here next week, to see which Superstars got Shaken-Up three weeks in a row, and what we're calling the Vikings.