Previously on the Best and Worst of WWE Smackdown Live: Kevin Owens cut a fantastic worked shoot promo, Cesaro challenged Kevin Owens, and everything was building to Extreme Rules.
I'm filling in for Brandon this week, since he's catching up after an illness, so keep in mind my views don't always align with his. Despite what some commenters have suggested, With Spandex is not actually a hive mind.
Things to do: Follow us on Twitter and like us on Facebook. You can also follow Brandon on Twitter, and also me if you want. BUY THE SHIRT.
One more thing: Hit those share buttons! Spread the word about the column on Facebook, Twitter and whatever else you use. Be sure to leave us a comment in our comment section below as well. I know we always ask this, and that this part is copy and pasted in every week, but we appreciate it every week.
Anyway, here's the Best and Worst of WWE Smackdown Live for July 16, 2019.

Worst: It's Okay To Hate Your Job
I was conflicted about whether to give this segment a Best or a Worst, but I know it was one or the other (no middle ground, here). I kind of wanted to go with Best, because the "Smackdown Town Hall" that Shane McMahon hosted to get "respectful" feedback from his employees accomplished some good fun stuff. It gave Roman Reigns a chance to seem like a Babyface and a Locker Room Leader, calling out Shane simply and concisely without any of the "tater tot" nonsense they used to make him do. It reintroduced Charlotte Flair, being the exact same insincere asshole she was when she left a month and a half ago. It also reintroduced Liv Morgan, who's been gone even longer, and she cut what's easily the best promo of her WWE career. It featured what I think is the non-205 Live Main Roster WWE debut of Buddy Murphy, although he might have had a forgotten match at some point that I'm just forgetting about. It reminded us that Apollo Crews is here, and also gave Zelina Vega and Andrade a chance to be mean to him, and damn are those two good at being mean.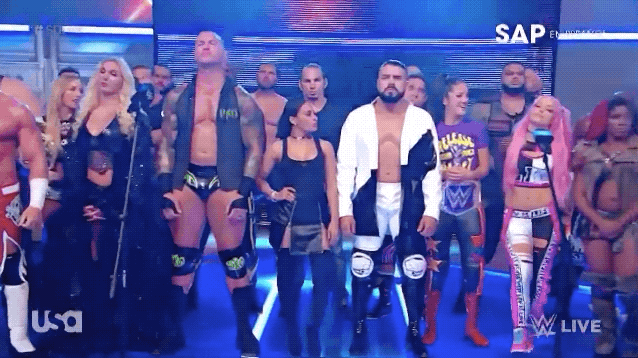 Unfortunately this was also yet another lengthy show-opening talk segment that revolved around Shane McMahon. I know we're supposed to hate Shane, but every time he talks or wrestles I want to turn off my television, and I'm pretty sure that can't possibly be WWE's goal. There are things Shane is good at, like dad-dancing and stepping off the edge of tall things after crossing himself. Being the top heel across WWE is not something Shane is good at. I know Brandon has talked at great length about the Shane McMahon problem, so I'm not going to repeat all that here. They seem to be stepping the narrative that Shane is being ridiculous and power-mad and the roster's ready to revolt, so hopefully this ends soon, but I'm already well out of patience.
Best: This Is How It Feels To Be Free
The best thing about Shane's Town Hall is that it was a set-up for Kevin Owens, hero of the worker, to appear behind Shane and Stun him outta nowhere. At the very beginning of the show, we saw Shane and his security guys keeping Kevin out of the building and the Town Hall, so obviously we all knew he was coming back, but it was still great to see his bearded visage appear behind the puffy, sweaty face of the Best in the World.