Previously on the Best and Worst of WWE Smackdown Live: Becky Lynch smacked Triple H in the face, which became a whole thing. Also, everyone in the WWE Championship Elimination Chamber did one of those "see you this Sunday at the Royal Rumble" finishes. You know the one.
Remember that With Spandex is on Twitter, so follow it. Follow us on Twitter and like us on Facebook. You can also follow me on Twitter. BUY THE SHIRT.
One more thing: Hit those share buttons! Spread the word about the column on Facebook, Twitter and whatever else you use. Be sure to leave us a comment in our comment section below as well. I know we always ask this, and that this part is copy and pasted in every week, but we appreciate it every week.
And now, here's the Best and Worst of WWE Smackdown Live for February 12, 2019.
Best: Unrepentant Dirtbag Charlotte Flair
How about that seamless transition between video and a live entrance? +1, Smackdown production team.
Charlotte Flair 100% leaning into "entitled heel who thinks she deserves everything you have" is one of the best decisions they've made in a long time. It's a nice followup to last fall's evolution of the character from, "loves the women's revolution," to, "is willing to beat Ronda Rousey to death with a stick in a fit of unstoppable rage." The whole thing is terrible-great, from her off-key "this is awesome" to the way she "what" chants the crowd.
Hell, the camera angle even makes it look like she's botching the WrestleMania sign point.
I think actually keeping Becky Lynch off television for a few weeks — or, at least, this week — is a good idea, because yeah, we love her and she's great, but you run the risk of overexposing her by having her have to be the linchpin (cough) that keeps every single angle moving forward. Charlotte's good enough to carry some of this weight.
The only criticism I have for heel Charlotte is that she still seems a little too nice in real life. Like, the reason Ric wore Porsche sunglasses wasn't because he thought they'd look cool, it's so he wouldn't have to make eye contact with common people. If Charlotte Flair can figure out something other than calling herself "genetically superior" to egotistically elevate herself over everyone around her, she'll have all the pieces in place.
P.S. 2004 promo photo Ric Flair is gonna get got at his birthday party.
Best: The IIconics Are Geniuses
The IIconics have one like, one and a half matches since they've been on the main roster, but they proved themselves ring generals last night. It was a rare example of wrestling characters on the wrestling show actually seeming to understand the rules of wrestling.
The match is Bill and Peyton against Vicious and Delicious and whatever we're calling Naomi and Carmella. I'd probably call them GLOW UP if anyone remembered Carmella's supposed to be a cosmetologist. It's a triple threat tag team match where the losing team must enter the Elimination Chamber first. The IIconics, who are suddenly smart, stand on the apron the entire time and never tag in, leaving the other two teams to "valiantly" fight and win the match. Since there are three teams, though, actively choosing not to participate in the match gives you a 100% success rate. It's great. They even drop off the apron in unison at one point to avoid tagging in.
Once Naomi and Carmella have secured the fall, the IIconics bum-rush the ring and attack them from behind. So now not only are they getting a later spot in the Elimination Chamber, they've directly or indirectly done damage to the two other Smackdown teams in the match. I know it won't happen, but damn, I hope Billie and Peyton leave that giant plastic playset the WWE Women's Tag Team Champions.
Find someone who looks at you like the IIconics look at those title belts.
Best: Talking Smack
Up next we have the best on-screen trash talking since the Daleks met the Cybermen, as Uce and Uce confront The Miz and his sweaty stepdad about who should or shouldn't be Smackdown Tag Team Champions. While I'm sure this was completely typed up and printed out beforehand, I appreciate how everyone involved sounded like they were actually talking and saying things they mean, and how they allowed the insults to escalate to each team wanting to throw hands at the other.
Despite it being a good segment … yeah, I can't think of one time in 100 I'd want The Miz and Shane McMahon to straight-up defeat the Usos in a tag team match. That feels like sacrilege. It'd be like one of those MTV Rock n' Jock softball teams beating the Boston Red Sox. That said, I don't wanna be over here fantasy booking a Miz heel turn that never comes for the rest of the year, so I'll just approach it with cautious optimism and know that Jimmy and Jey Uso could get at least a three-star match out of Vince McMahon and George Mizanin right now.
Best: Kofi By God Kingston
The bad news: Mustafa Ali is out of the Elimination Chamber match due to a concussion. The good news? Kofi Kingston picked up that ball and ran with it like Forrest Gump running into a goddamn Alabama endzone.
You know, I don't ever want Daniel Bryan to lose his burlap sack and wood paneling station wagon-ass WWE Championship, but I can't think of someone more deserving of a run right now than Kingston. That guy's been putting in work forever. Does anybody want to see Bryan vs. Styles again after that Royal Rumble match? I don't want to see Styles do anything. How perfect of a foil for the planet's champion who believes rampant, careless consumerism is destroying Mother Earth than a trio of happy guys who shill their merch every time they appear and literally hand on consumables as they walk to the ring? It's thinking outside of the box, and thinking the show into a much better, nearby box.
Bryan vs. Kingston is definitely the highlight here, and I love that while Kofi's stats aren't incredible, he's got Trouble in Paradise as a knockout blow and a wealth of experience to help him get his foot into your face. He wins here when he counters Bryan's running knee with it, scoring an unexpected pin on the WWE Champion that could earn him a one-on-one match at, say, Fastlane if Bryan leaves the Chamber with the title. Who knows, maybe I'm up for this because I think Kingston's the only other guy in the match cool enough to keep the belt looking like it does and not go back to the gaudy Jostens class ring.
I'm also fine with this loss for Bryan and not doing the "blank has pinned the WWE Champion" bit because it works in the context of the match, and nobody with a functioning brain would have Daniel Bryan enter last in an Elimination Chamber match. That guy's whole thing, even as a villain, is that he can out-wrestle and out-last you. Because his body is full of precious, life-giving plants and not weighed down by meat and dairy. Or, uh, 60 pancakes.
The next two falls kinda go together, so I'm gonna pair them up.
The third man out for the gauntlet match is Jeff Hardy, who (of all the competitors in the match, Mustafa Ali not included) is the guy who can eat an early loss to a tired guy who has already wrestled and not lose anything from it. He's Jeff Hardy. Dude showed up to main event a TNA pay-per-view fucked out of his mind and everyone still treats him like a beloved legend. He's just got that it-factor people talk about. Kingston goes over Hardy to keep his unlikely run going, once again winning when he dodges Hardy's finish and counters with a signature move of his own when he can recover. It's all about experience, and having him pragmatically go over probably the most experienced guy in the match is a great way to show it.
After that, we get our semi-regular "LOL, Samoa Joe always chokes" match featuring Samoa Joe. I don't know why they use Joe like this, but I'm also afraid that three dense paragraphs trying to understand why will make me look like even more of an armchair smark than I am. All you really need to know is that Joe falls victim to the Bret Hart sleeper counter, gets his shoulders counted down for three, and decides to bring down the wrath of God in response. He absolutely MURDERS Kofi with a ura-nage into the damn ropes, then chokes him out on the floor. It's Joe doing what Joe does best, complete with the WWE Doesn't Know What They've Got With Him prologue.
That brings out AJ Styles, who is the first person Kingston faces after Bryan that has the in-ring wins and losses cred to end his run. It's another very good match — Kingston just had four of those, as WWE's pre-Elimination Chamber tradition of "very good gauntlet matches" continues — and Kofi ends up losing based on an inversion of what'd given him those early wins: Styles avoids a big move, and counters in a way that Kingston can't escape. Here, it's the spot on the apron when Kofi goes for the big Andrade Cien Almas kill shot and goes knees-first into the post.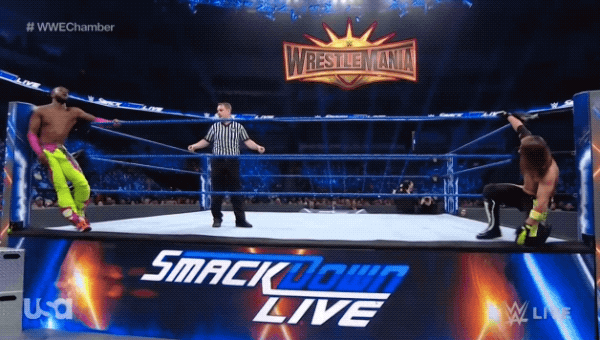 Later, when he goes for the S.O.S. (the move that pinned Jeff Hardy, despite it rarely pinning anyone), he doesn't think about how (1) his leg is injured, or (2) how easily Styles could transition this into a Calf Crusher. You know where it goes from there. Kingston's forced to tap out, but he's gone over Daniel Bryan, Jeff Hardy, and Samoa Joe in the same night. And he almost also went over Styles. That's a hell of a night, especially for someone who wasn't involved Elimination Chamber at all until right before the gauntlet started.
Give Kofi a run with the belt. I don't even care. If you count it all up, he went through two former WWE Champions, two former Ring of Honor Champions, a former NXT Champion, and two former TNA Champions in 40 minutes.
Oh, and if you're wondering what happens in the final fall …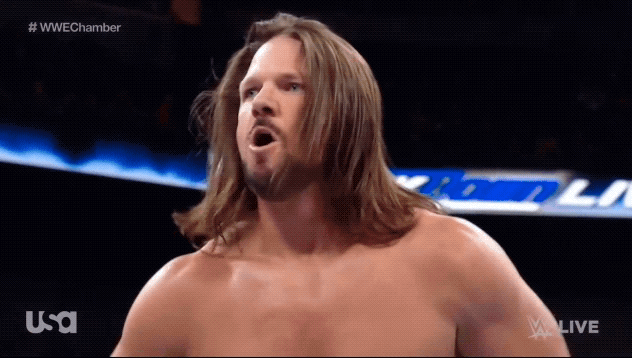 LOL, flattened him like the damn earth
Study Question: Which WWE Superstar has gotten the most out of the least amount of effort? Brock Lesnar or Randy Orton? Brother's going to jump directly out of his pod into an RKO on somebody, watch. I wouldn't be surprised if the other five guys found a way to eliminate themselves before Orton even entered the match.
Best: Top 10 Comments Of The Week
Endy_Mion
extra-zoomed in camera means only one thing.
Harry Longabaugh
Of course AJ didn't see that RKO coming. Randy snuck up on him from the other side of the globe.
Baron Von Raschke
That's the hardest part of Samoa Joe!
JayBone2
ROAD DOGG: So Kofi it's you and D-Bry to start the gauntlet. You obiviously get eliminated firs then D-Bry goes on to fight Hardy next.
KOFI: Okay cool. By the way, Billy says hey.
ROAD DOGG: (shocked face) actually you know what you're beating Bryan tonight.
KOFI: Cool. I gotta text Cody about this.
ROAD DOGG: FINE YOU WIN THE GAUNTLET!
KOFI: Works for me.
Brute Farce
With all the head shots he's taken, Daniel might think he's currently participating in Wrestlemania 30.
Beerguyrob
Vince: Okay guys, it's go-home week, how are you going to work your shows?
Raw writers: Three hours of shenanigans, with some succotash thrown in, all wrapped up with you reorganizing the Mania main event.
Vince: I like it. I like it. Smackdown?
Smackdown writers: Wrestling, more wrestling, and Shane gets kicked in the head.
Vince: YOU'RRRRRRRRRE FIRRRRRRRED!
cyniclone
You realize in like six weeks that Bryan's belt is going to smell worse than an AEW autograph session, right?
Amaterasu's Son
Oh God, Big E is carrying a piece of Daisy.
FreewayKnight
Bryan and Rowan. Or as I like to call them, Hammer and FICKLE
Mr. Bliss
Daniel Bryan wants to combine the NXT and Smackdown rosters….he's hoping it'll create a new Green Brand for WWE
Top guys, out.
That's it for this week's Smackdown. Make sure to drop a comment below to let us know what you thought of the show, hit us with a share on social, and make sure you're here this weekend for our complete Elimination Chamber coverage. Also, if you're the people that make WWE's title belts, please sell me a hemp and wood model before Orton wins it and wrestles John Cena at WrestleMania.
(Sorry.)