Previously on the Best and Worst of Smackdown Live: The Royal Rumble is in the books, and Smackdown's Becky Lynch is your 2019 women's Rumble winner. Also in Smackdown developments, Shane McMahon's a Tag Team Champion and Daniel Bryan's only still WWE Champion because of the worst guy from the Wyatt Family.
Remember that With Spandex is on Twitter, so follow it. Follow us on Twitter and like us on Facebook. You can also follow me on Twitter. BUY THE SHIRT.
? Hey you! ? If you like these, please consider taking a second to hop over and vote for us as Best Wrestling Media in this year's RSPW Awards! It'd be super nice of you!
One more thing: Hit those share buttons! Spread the word about the column on Facebook, Twitter and whatever else you use. Be sure to leave us a comment in our comment section below as well. I know we always ask this, and that this part is copy and pasted in every week, but we appreciate it every week. It's almost time for La Camara de Eliminación!
And now, here's the Best and Worst of WWE Smackdown Live for January 29, 2019.
Best/Worst: America Still Needs Your Help!
Don't get me wrong, the "worst" modifier here isn't necessarily for R-Truth becoming United States Champion. The guy's done great work lately and looks better than most 20-year olds despite being almost 50, and he's been around long enough that yeah, okay, giving him a secondary championship run and having some fun heading into WrestleMania's not a bad idea. Especially when the United States Championship barely even feels like a title someone has or defends. It's like someone getting a new pair of trunks or something.
I didn't love the first half hour of Smackdown, but it was certainly eventful and interesting. That's so much better than watching thirty average minutes where nothing happens and you've seen it all before. In case you missed it, R-Truth has been given a United States Championship match because Nia Jax attacked him from behind and took away his #30 spot in the Royal Rumble, which he won by winning the Mixed Match Challenge. I'm not sure a United States Championship match is a make-good, but maybe it is if you win it? So yeah, Truth counters a Landslide into a pin and wins the belt a little over 24 hours after Nakamura won it at Royal Rumble. On the pre-show. Things aren't exactly prestigious right now, is what I'm getting at.
That brings out Rusev, who is upset that he lost the United States Championship to Nakamura via distraction during a "you made me accidentally knock down my own wife" feud and isn't going to get the chance to get his revenge and win it back. So he challenges Truth for right here, right now, and still LOSES despite Truth having already wrestled.
What's the next logical step? Decide that you hate this accidentally fortunate guy who just pinned you with a fluke roll-up more than the guy you've been feuding with over your wife being repeatedly injured for a month, and who took your championship in the first place. Now Rusev and Nakamura are allies, and Lana (who is the one Nakamura's been causing to get beaten up) is just like, "sure, fine, we're evil again!"
Then the new Notable Foreign Heel super team runs into botch culture also-rans Luke Gallows and Karl Anderson and get challenged to a tag team match, even though (1) Good Brothers have never been established as Truth's friends, (2) Rusev hates Nakamura, and (3) they've been allied for like five minutes at best. AND THEY ACCEPT THE CHALLENGE, because I guess we're just gonna change gears and move forward.
The larger point I'm getting at, if it's even worth making, is that yeah, it was "exciting" in that things happened and the character motivations were addressed for the most part, but when they decided the entire mid-card should revolve around R-Truth on a whim it broke a lot of alignments and chose to add a bunch of story threads I don't think it needed. We're already doing the "I'll agree to be your partner, but don't screw me or else" thing on a much grander scale with Shane McMahon and Miz on this same show, you know?
Best: Tell Me About The Rabbits, George
Speaking of the Best Tag Team in the World — preferred name: The Miz Mac Challenge — they have a "best celebration in the world" that just turns out to be an adorable moment of Shane McMahon bringing out Miz's dad so Miz can finally hear his dad say he's proud of him. It's nice, and I love that Miz's hilarious dad holds the microphone with both hands and leans into it like Trump drinking a bottle of water.
They really missed an opportunity to not give Miz's dad his TitanTron video and entrance theme, though.
Worst: Mandy Rose Attempting To Express Human Emotions
We finally find out why Mandy Rose hates Naomi, and it's because Naomi called her "weak" on a 2015 episode of Tough Enough. The struggle here is watching Mandy attempt to show emotions besides "sexy" and "surprised," which are to date the only emotions WWE's trained her to show. No great shade on Mandy, I guess, but acting's not her strong suit. Sonya covers for part of it, and she's still got a ways to go before she's considered Maria Bad.
I do think whether they show them or not, everyone who works for WWE should have to sit down in a confessional at weekly TV and explain who their character is, what they think about the other characters, and why they're doing what they're doing. And you shouldn't get to start a feud or turn heel or turn face or anything important unless your story checks out. P.S. if being told you suck on Tough Enough is enough to hate someone's guts, The Miz should hate everyone in the world.
Let's Go Ahead And Accept The Inevitable Now, Because It's Still Like Two Full Months Until WrestleMania
Charlotte Flair's probably going to end up in the Ronda Rousey vs. Becky Lynch match. Right? We're gonna write about how they should do Rousey vs. Lynch one-on-one as the WrestleMania main event because of the prestige of that spot and because Becky's earned the right to send Ronnie out on her ass, and how they should do whatever Lynch vs. Flair matches they want at Elimination Chamber or Fastlane so we can do the proper main and Asuka vs. Flair again at Mania. It all makes sense to us, but what makes sense and seems like the right call is not always what's Best For Business®.
The truth is that Flair has been as integral to the sustainability and growth of the Ronda Rousey vs. Becky Lynch feud, and I think the Ronda beatdown at Survivor Series was as important to all this being exciting and layered and having heat as the accidental Lynch injury that pushed everything back to the spring. Charlotte's great and a big-match player, so adding her to the match will not only validate her good work, it recognizes that she's essentially the established face of New WWE Women's Wrestling. Addressing Lynch vs. Rousey and Lynch vs. Flair simultaneously on Becky's biggest night ever wouldn't be a bad call. Plus, adding in Charlotte makes it a triple threat match, which is where the whole Flair vs. Lynch beef began in the first place. Brings it all full-circle.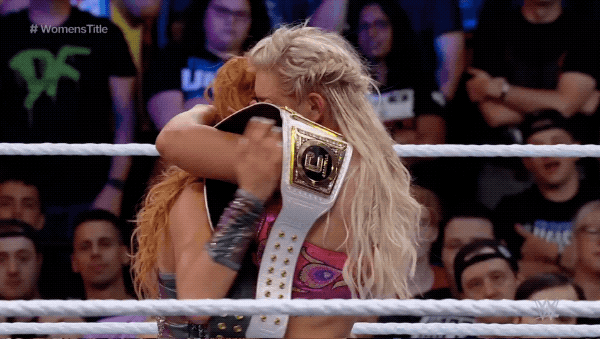 Pretty cool how that unexpected moment from after a match at SummerSlam retroactively became the most important WWE moment of 2018. I could live without Becky having to be "hurt" for everything, though. Is she Diamond Dallas Page? That Nia Jax thing was a fluke, it doesn't have to be her defining character trait.
Best: Dream Andrade
Like a lot of this episode, this segment features a lot "happening," but not a lot actually happening, if that makes sense. Rey Mysterio shows up for a match with Samoa Joe. He's interrupted by Zelina Vega, who distracts him until Andrade can attack him. I guess in response to the 2-out-of-3 falls match from last week not having a finish? Was that Rey's fault?
It's extremely by-the-numbers and water-treading at best, but the water they're treading is "the possibility of more Rey Mysterio vs. Andrade matches," so I'm fine with it.
Speaking Of Predictable
The show also features a four team Smackdown Tag Team Championship number one contenders match featuring …
the three teams who are always competing for the Smackdown Tag Team Championship
a team that has never had a match on Smackdown, and are not actually signed to Smackdown at all yet
It was fine, and the Usos move on to Elimination Chamber to get back the Smackdown Tag Team Championship when the other shoe drops on the McMahon/Miz team. Or I've been wrong about this since the beginning, the Miz/McMahon story has no layers beyond the surface level ones we've been given, and the Usos are just getting in work before they end up on the WrestleMania pre-show. One or the other.
Plus, Heavy Machinery's a lot better in the ring than when they're backstage doing … whatever the hell this is.
Best: And Now, The Moment I've All Been Waiting For
When he won the WWE Championship via kicking a flat-Earther in the balls like he deserved, The New Daniel Bryan™ promised to update the WWE Championship in his own image:
"After I beat you … I am going to take this leather strap that was made from a skinned cow that I like to name Daisy and I am going to replace it with something sustainable, something better and the new Daniel Bryan is going to create a new world that these people don't have any part of … You know what? Most of you probably don't deserve to have a part of it either."
Now, on Smackdown, we finally have it: the New WWE Championship™, made of "100% sustainable hemp" and "naturally fallen oak." IT IS GLORIOUS.
"Last week, AJ Styles implied that I was a hypocrite. And guess what? I am a hypocrite. I am a hypocrite because I carry around this. Do you see this? This is a symbol. It is a symbol of excellence. But it is also a symbol of excess. It's gaudy, it's made from cheap labor, and worst of all, it is bound to this skin of a cow whose life was taken from her. I like to give that cow a name. In my mind, the cow whose life was taken her name was Daisy. And you see, Daisy had the ability to feel immense joy. You see, Daisy had the ability to feel immense joy, which unfortunately she didn't get to experience much of in this life. Daisy also had the ability to feel insufferable pain, which unfortunately she did feel. And Daisy was forced to give her life for this symbol. FOR THIS SYMBOL. And this SYMBOL is the very thing that Rowan and I stand against, this SYMBOL … this is trash."
WHERE'S THE LIE.
Unfortunately, things quickly devolve into a Raw opening segment — a Promo Parade, if you will — to set up the WWE Championship defense at Elimination Chamber. Bryan's going into the Chamber to defend his gigantic friendship bracelet someone's definitely setting on fire before WrestleMania against degenerate yokel AJ Styles, unsuccessful murderer Samoa Joe, rural artist Jeff Hardy, megalomaniac sneaky snake man Randy Orton, and in-over-his-head Mustafa Ali. It should be great, but if that beautiful new hippie championship isn't given a run to validate and celebrate its existence, it'll sure be disappointing.
Oh, and to quote my good friend Mike Fireball, "the best part about the New Daniel Bryan's New Sustainable WWE Title is wanting to buy one of your own goes completely against everything New Daniel Bryan has been preaching this whole time, thereby proving him right about each and every one of us."
P.S. if you're calling the team "The Greater Good," you better add Sami Zayn to it soon.
Best: Top 10 Comments Of The Week
Blade_222
That's a damn fine SmackDown six.
SHough610
Matt Riddle: Hey Hunter, can I go be on Smackdown?
HHH: … why?
Matt Riddle: No reason
HHH: You can't smoke the belt, Matt
Endy_Mion
Jeff Hardy is going to work his ass off trying to win this hemp belt from Bryan
Cami
You can't have a wooden Championship without Randy Orton!
Pdragon619
The title will be defended under 420/7 rules
Big Baby Yeezus
Janitor Jim Duggan's gonna find that title and become the new WWE champion now
Clay Quartermain
Somewhere, Micheal Cole: "VINTAGE VINTER!"
Ryse
I, for one, am looking forward to Shane attending an Uso superkick party.
Taylor Swish (made before Graves said it)
Otis looks like the son of Gwildor from Masters of the Universe
AddMayne
Mandy: Sonya and I are officially declaring…
Sonya:*hopes raised*
Mandy: That we're competing in the Elimination Chamber!
Sonya: someday…
Do it for Carl Sagan! The belt is just star stuff!
That's it for this week's Smackdown. Make sure to drop a comment below to let us know what you thought of the show, and hit us with a share on social if you're a pal. See you next week!