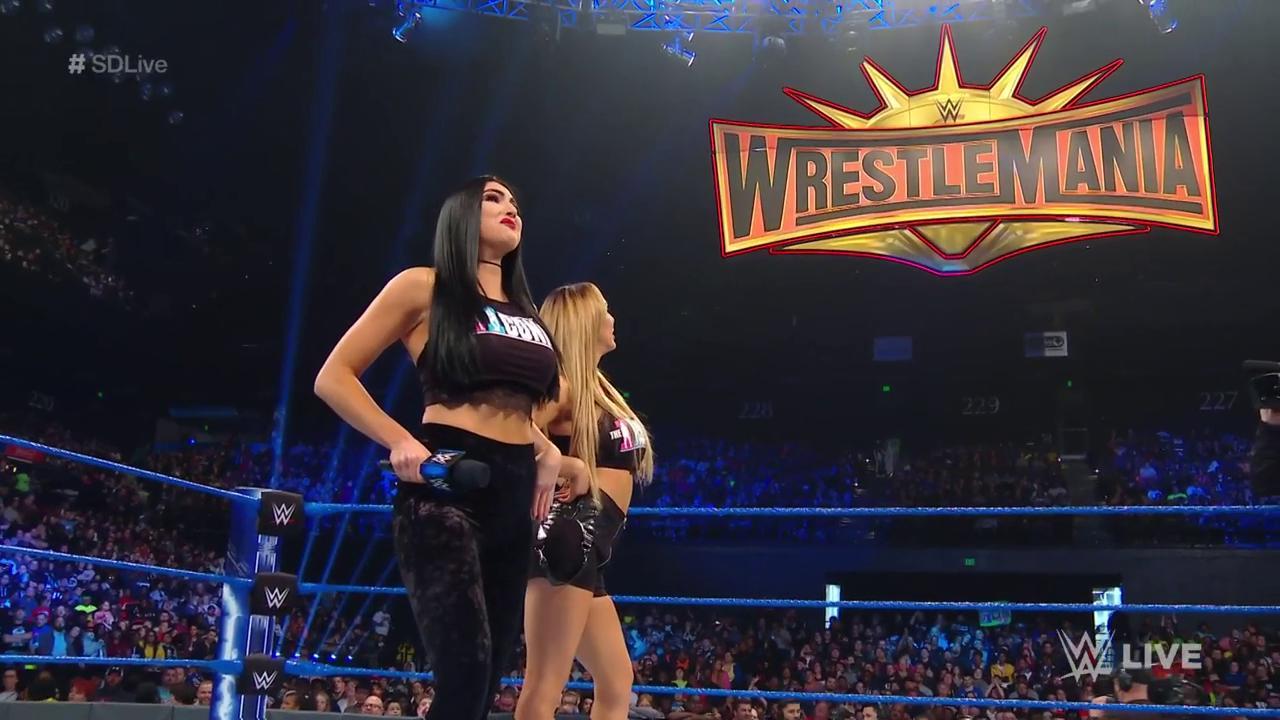 Previously on the Best and Worst of Smackdown Live: New Day won a tag team gauntlet to finally give Kofi Kingston a WWE Championship opportunity at WrestleMania. Also, Charlotte Flair won the Smackdown Women's Championship from Asuka because the main event at Mania needed more moving parts.
Remember that With Spandex is on Twitter, so follow it, and like us on Facebook. You can also follow me on Twitter. BUY THE SHIRT.
One more thing: Hit those share buttons! Spread the word about the column on Facebook, Twitter and whatever else you use. Be sure to leave us a comment in our comment section below as well. I know we always ask this, and that this part is copy and pasted in every week, but we appreciate it every week.
And now, here's the Best and Worst of WWE Smackdown Live for April 2, 2019.
Best/Worst: Smackdown My Bitch Up
First of all, this is the proper response when you're a former NXT and Universal Champion and realize you're a talk show host out here trying to put over a conversation between a Flat-Earther and a bag-shitter who thinks school shootings happen because schools aren't about God.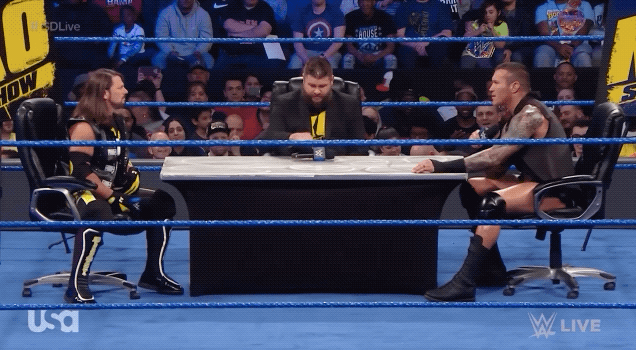 To quote one of the top comments from this week's Best and Worst of Raw, if Kevin Owens doesn't eat a snickers at Wrestlemania and instantly turn back into a scumbag, what are we even doing?
Like most of the Styles/Orton promos so far, this was pretty entertaining. I think they're running out of sick burns, though, because they already used up Orton's "you were in the indies forever, noob" and Styles' "you're the world's most boring man" talking points and they're just repeating themselves. Also, I don't think "bitch" is the conversational trump card WWE thinks it is anymore. Scary Terry would win every WWE promo battle.
The only part of this I didn't really like is that Styles rags on Orton for only knowing "one move," and then when they get into a brawl, he oafishly springboards into Orton's one move. The plus here is that since we did the Phenomenal Forearm into an RKO spot on the go-home episode of Smackdown, maybe they've got something more creative planned for WrestleMania. "This clever RKO spot someone came up with" is the only reason Orton still belongs on Mania cards, honestly. Without that, he's sub-"fatal four-way for something announced at the last minute" at best.
… Speaking Of That
Did you know the host of WrestleMania can make matches for brands she isn't even a part of? Did Hulk Hogan know this at WrestleMania 30, because I don't believe he could've and not have immediately booked himself into a WWE Championship match.
After an Usos plus Aleister Black plus Ricochet vs. Rusev plus Shinsuke Nakamura plus The Bar match that absolutely should not have been an afterthought but somehow absolutely was, Bliss shows up to pop Corey Graves and announce that all four teams will be entered into a fatal four-way for the Smackdown Tag Team Championship at WrestleMania. It feels like the logical way to set this match up would've been to have one of the multiple evil generals manager on the show punish the Usos for forfeiting their fall in the Tag Team Gauntlet match last week by putting them up against three opponents without any time to prepare or scout them, but I guess "someone from Raw decides it should happen" is just as good.
Right now it's a battle between this and the Cruiserweight Championship match to see which WrestleMania main card match gets dropped into the Kickoff Show to kill time between the Andre Memorial and the Uterus Cup.
ALSO Speaking Of That
The IIconics don't contribute much to Smackdown beyond reminding us that (1) the Women's Tag Team Championship will also be defended at WrestleMania in a fatal four-way tag team match so they can get eight people into a match, and (2) the Women's Tag Team Champions are never on Smackdown. But hey, they're the IIconics, and they got to make funny faces and be entertainingly obnoxious on the microphone for two minutes, which is more than they got on Raw.
Also Also Speaking Of That
Not enough people on the card already? HAVE THIS.
Yes, Smackdown runs an 18-person mixed tag team match that somehow doesn't even go 10 minutes and ends in another impromptu battle royal to simultaneously promote the Andre the Giant Memorial Battle Royal and the Not Fabulous Moolah Memorial Battle Royal on the WrestleMania pre-show. Total mess. I know you want to get every independent contractor who works for you onto the biggest show of the year, but … can you not? Can we just change that? Because WrestleMania in its current state is a 7-hour, 15-match card where a minimum of four of the matches (and as many as six, if the Raw Tag Team Champions get added somewhere) are filled to capacity to get more bodies in the ring. I want everyone who works there to be happy and successful, too, but shit, as a fan, I am straight-up tired of an already exhausting, day-long show where 1/4 of the matches on the card involve eight or more people.
On a positive note, the best parts of this match were the intergender interactions between Nikki Cross and Shelton Benjamin, and EC3/Jeff Hardy and Asuka. I'm not saying WWE will or should start doing intergender wrestling, but these are examples of how much fun it can be if you do it right.
Note: The match also features Otis' lower body shaking uncontrollably when he looks at Mandy Rose and makes him yell "I'M COMINNGGGGG," which is both an example of why intergender wrestling is sometimes super not great, and too gruesome a pantomimed premature ejaculation to even get Roddy Piper onto the boat.
Best, For A Few Seconds
In a rare one-on-one confrontation on this pre-WrestleMania episode, Samoa Joe easily defeats "Ali," who appears to have lost his power when he lost his first name. Sorry, Ollie.
With Rey Mysterio reportedly injured, WrestleMania only a few days away, and no change announced on Smackdown, I really hope Samoa Joe still gets a United States Championship defense of note and worth on the big stage. It's going to be hell depressing if he gets bumped off the card by happenstance again. Maybe this is where John Cena steps in, since they did tease that a while back, or maybe Rey will be fine … whatever the case, Joe deserves an actual spot and match, and with no disrespect meant to the talented performers who have no control over it happening, deserves a hell of a lot more than being an interchangeable face on a pre-show.
Worst: End Sanity
Shane McMahon punishes The Miz for being in a feud with an evil general manager character by putting him in a 3-on-1 handicap match against the three least important dudes he can find: Sanity. Poor, poor Sanity. Alexander Wolfe and Killian Dane could really be thriving in NXT UK right now, where they'd instantly look and be treated like veteran stars, and Eric Young without the beard just looks like a post-apocalyptic Joey Mercury.
The three of them combined can't overcome the power of The Miz, who is driven by his quest to avenge his briefly fallen father with hardcore violence and that "knee into the production crates" finish you used to use to win backstage brawls in WWE video games. There's not much here, what's here isn't very good, and hopefully Miz and Shane have something better planned for WrestleMania. I hope they play it more like Piper vs. Goldust or the Raven/Big Show/Kane triple threat hardcore match where they fight in wacky locations than a normal "falls count anywhere" WWE matches, which is just fighting in the crowd until someone hits a spot on the stage.
Best: Promo, Arigato
Finally we have two promos to promote WrestleMania main events.
In the first, Becky Lynch arrives at the arena in a cop car with the sirens on, because WWE thinks that's what happens when you get out of jail. Everyone in the company is a teenager who got caught drinking at a party on Friday night. She doesn't really say anything new, but she's Becky Lynch, so everyone enjoys it.
In the second, Daniel Bryan and Kofi Kingston have a contract signing to make their WWE Championship match official. The highlight here is definitely Big E's t-shirt, which has a big square cut out of the center so you can see his boobs. He's the Power Girl of the WWE. Bryan does good heel work by insulting Kofi for all the things he himself used to get insulted for being and doing, and Kofi responds with strong, confident babyface fire. Again, there's nothing really new or exciting here, and you can see the toll WrestleMania season has taken on everyone (especially creative), but it's good work, and it's Daniel Bryan and Kofi Kingston, so everyone enjoys it.
I've got a feeling this WrestleMania will end up a lot like WrestleMania 31, where the build is really bad for two months, but the show ends up being good so we forget all about how they built it.
Best: Top 10 Comments Of The Week
Redshirt
I don't agree with John Oliver. If Vince didn't value his wrestlers, why did he give Asuka Sunday off work?
AwkwardL0ser
"Daniel Bryan has no personality or promo skills"
so crazy that was a thing they tried to sell once
troi
This better be two hours of the Smackdown Womens locker room beating the shit out of creative.
Dave M J
I know this might be a scorching hot take, but Cesaro/Ricochet needs to happen.
JayBone2
(Kofi signs contract)
VINCE: Jokes on you Kofi. You just signed away your rights to fight Daniel Bryan at Wrestlemania.
KOFI: WHAT! To who?
CHARLOTTE: WOOOOOOOOOOOO!
Brute Farce
Randy's got two moves. The second one is an "RKO from outta somewhere."
FeltLuke
Becky is so over she can open the back door of a police cruiser from the inside.
PDragon619
I need to close my window, these chills can't possibly be from a WWE go home show
Endy_Mion
Miz has been playing some Arkham Asylum and paying attention to that Bane bossfight/throw batarang and dodge technique.
Brocky
Orton and styles is the feud between the two guys who most likely wear their wrestling gear around the house
Oh thank God, we're finally ready for WrestleMania. That lull between late February and early April where the matches for WrestleMania are made but they're run out of ideas for how to promote them is the most stressful time in the WWE calendar, behind "The Slammy Awards" and "the build to Raw vs. Smackdown at Survivor Series."
Thanks as always for reading. Social media shares help us out a ton, so if you're willing to do that, please consider it. Make sure you drop down into our comments section to let us know what you thought of the show, and make sure you're here all week and weekend for our ongoing WrestleMania 35 coverage.
We'll be here ♫ 'til the love runs out, 'til the love runs out. ♫