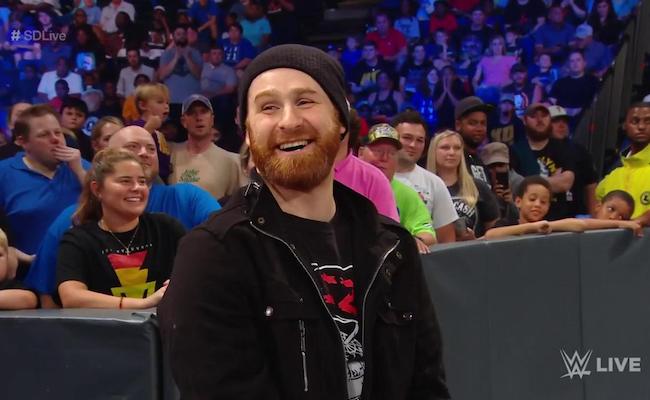 Here are your quick and dirty, editorial-free WWE Smackdown Live results for August 27, 2019. The show featured two King of the Ring Tournament matches, Bayley vs. Lacey Evans and more. Make sure you're here tomorrow for the complete Best and Worst of Smackdown Live column.
WWE Smackdown Live Results:
— Smackdown opened with a recap of Roman Reigns being attacked the last few weeks. Reigns said he'd confront Daniel Bryan and Rowan later in the evening.
— Another highlight package played on Kofi Kingston's rivalry with Randy Orton. Kingston said he deserves to be in the top spot, but Orton doesn't want that. Kingston announced at Clash of Champions that he'll fight Orton again. Orton appeared on the jumbotron to read a letter from Kingston's son and threatened to pay his family a visit in person. Kingston attacked Orton backstage, but got laid out with an Orton DDT.
1. King of the Ring Tournament: Ali defeated Buddy Murphy. Ali earned the pin with the 450 splash. He'll move on to face Elias.
— Lacey Evans told Bayley she's the face of the Smackdown women's division.
— Miz tried to challenge Shinsuke Nakamura for the Intercontinental title. Sami Zayn came down and told him that's not how it works. Miz tried to fight Zayn, when Nakamura attacked him from behind. Nakamura beat Miz down and laid him out with a Kinshasa.
2. Bayley defeated Lacey Evans. Bayley pinned Evans after connecting with a flying elbow drop from the top rope.
3. Randy Orton defeated Big E. The Revival ran down and hit Big E with the ref's back turned, allowing Orton to earn the pinfall with an RKO.
— Kevin Owens cut off an Elias promo and stunned him in the ring. R-Truth tried to make the pin, but Drake Maverick pulled him out of the ring and pinned Elias to become the new 24/7 champion.
4. King of the Ring Tournament: Chad Gable defeated Shelton Benjamin. Gable floated over a powerbomb attempt into a sunset flip for the pinfall. He'll move on to face Andrade.
— Roman Reigns came down to the ring and Daniel Bryan appeared on the jumbotron demanding an apology. Reigns played a video that appeared to show Rowan attacking Reigns. Bryan lost his mind and attacked Rowan, slapping him in the face. Bryan came down to the ring, saying someone put Rowan up to it. When he got in the ring, Reigns speared him.