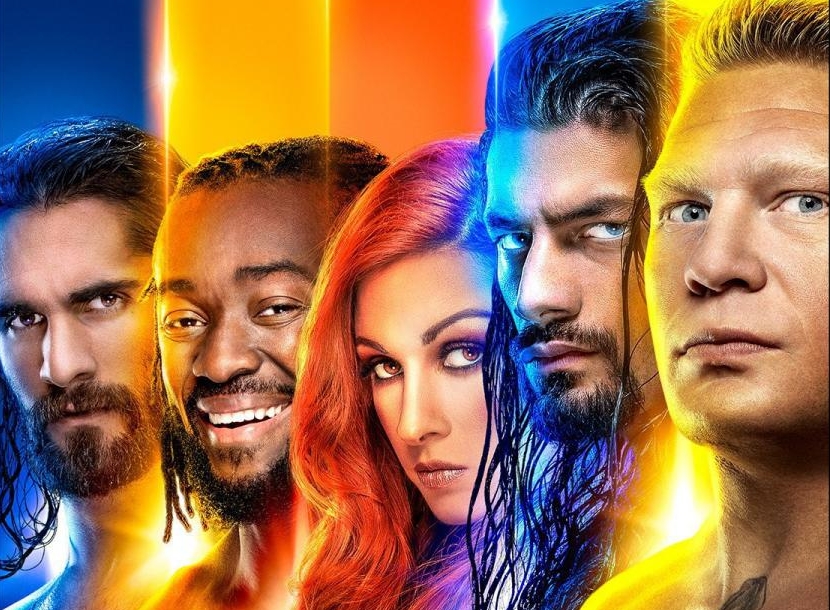 WWE SummerSlam 2019 — The Biggest Party Of The Summer® — airs this Sunday, August 11, live on WWE Network and pay-per-view. WWE's second biggest show of the year features 10 matches, including Brock Lesnar defending the Universal Championship against Seth Rollins, legends Bill Goldberg and Trish Stratus competing, and more.
As always, we'll be here (and in the arena) all weekend with news, updates, results, live threads and more, so make sure you're tuned in to our WWE SummerSlam 2019 tag page through the fallout on Monday and Tuesday. Here's how the card breaks down.
WWE SummerSlam 2019 Card:
1. Universal Championship Match: Brock Lesnar (c) vs. Seth Rollins
2. WWE Championship Match: Kofi Kingston (c) vs. Randy Orton
3. Goldberg vs. Dolph Ziggler
4. Smackdown Women's Championship Match: Bayley (c) vs. Ember Moon
5. Submission Match for the Raw Women's Championship: Becky Lynch (c) vs. Natalya
6. Charlotte Flair vs. Trish Stratus
7. Owens' Career On The Line: Kevin Owens vs. Shane McMahon
8. Finn Bálor vs. 'The Fiend' Bray Wyatt
9. United States Championship Match: AJ Styles (c) vs. Ricochet
10. Cruiserweight Championship Match: Drew Gulak (c) vs. Oney Lorcan
As always, we've got your complete rundown of the card and analysis below, featuring predictions for every match. Make sure to drop a comment and let us know who you think's winning, and be here on Sunday for our open discussion thread and live results.
Here's what we think will happen at The SummerSlam (™ Bret Hart) 2019.
Cruiserweight Championship Match: Drew Gulak (c) vs. Oney Lorcan
What Should Happen: Oney Lorcan is super secretly the greatest. It's not a secret to anybody paying attention, really, but his NXT tag team with Danny Burch has been regularly fantastic and his run on 205 Live has been just as great. That said, he didn't win the opportunity to even have this match until Tuesday night at like 11 PM, so chances are he's getting Gulak'd.
What Will Happen: This will almost certainly end up on the Kickoff Show, but that's not terrible news. One thing we've been forced to accept about Cruiserweight Championship matches on the pre-show is that they at least get some time to work and tell the story they want to tell, instead of being rushed through indifference on the main card. If that's the case, I hope they use the extra hour of pre-show before SummerSlam to give Gulak and Lorcan as much time as they want to strike and grapple the shit out of each other. Gulak almost certainly retains, but I wouldn't be mad to see Lorcan pull off an upset.
Staff Picks
Raj Prashad – Gulak has looked great as champ. Hard to imagine him dropping the belt here.
Emily Pratt – This match is secretly for not only the Cruiserweight Championship, but the Wrestler Twitter Championship, and I could not be happier. I'm guessing Gulak retains, and this could easily be the match of the night.
Elle Collins – Drew Gulak versus Oney Lorcan is a wild thing to contemplate, and I can't wait to be watching it. Drew seems like he's definitely going to win, but they'll put on a hell of a show before we arrive at that destination.
United States Championship Match: AJ Styles (c) vs. Ricochet
What Should Happen: This should be the show-stealer. A lot of the matches on the card are a little iffy either from a booking standpoint (Bayley vs. Moon, for example) or from an in-ring standpoint (Goldberg), so AJ Styles vs. Ricochet could be a godsend. These are two of the best wrestlers in the entire world on anybody sensible's list, and as long as they get time to tell a story without a lot of extracurricular Orange County bullshit, they should thrive.
What Will Happen: Styles definitely retains, though, especially since The O.C. are the Raw Tag Team Champions and aren't defending. No sense in putting together a faction of heels where everyone has a championship belt and then immediately taking the more important belt off the most important guy. This should be killer no matter what.
Staff Picks
Raj Prashad – These guys can go, it's just going to be a matter of if they have the time to or not. Picking Ricochet to get his belt back in a doozy of a match.
Emily Pratt – AJ Styles retains with help from the Club. Luke Gallows cannot have brought the face paint back in vain – well, and to be a tag team champion. But still, the Club's minor championship reign of terror should get the chance to pick up more steam.
Elle Collins – I would kind of love it if Ricochet somehow won this match, but storyline-wise I think the belt needs to stay on AJ right now to establish the dominance of the questionably named OC. On that note, some involvement from Gallows and Anderson seems likely, especially since they don't have a tag team match to worry about.
Finn Bálor vs. 'The Fiend' Bray Wyatt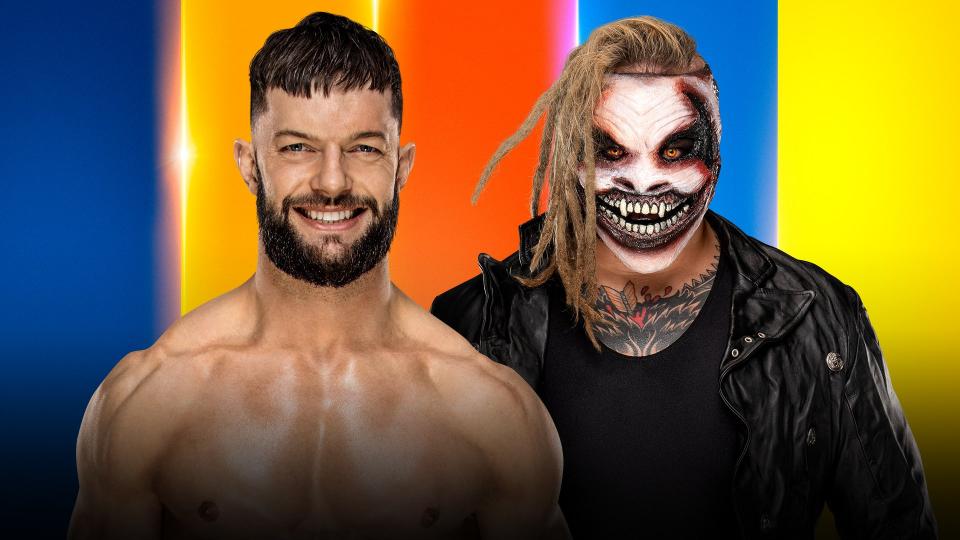 What Should Happen: The Demon appears, only for his entrance lights and fog machines to suddenly shut down. The Fiend appears, absolutely eats The Demon for breakfast, and turns it into one of his Firefly Funhouse puppets for posterity. It's time for a shift in power when it comes to supernatural WWE characters, and The Demon needs to come with something stronger than a belt hat and a waggly tongue.
What Will Happen: Finn Bálor is reportedly taking time off from WWE after SummerSlam, so there's no reason The Fiend doesn't go over here, strong. If anything, they should do the inverse of last year's Finn vs. Baron Corbin match and have it end in three minutes or less.
Staff Picks
Raj Prashad – We're going to get our first look at 'The Fiend' in action, and I can't wait to see if he's changed things up in his time off of television. Going with Wyatt to run through Bálor.
Emily Pratt – I've seen the theory going around that this is finally where the Demon loses, and while I feel like they would have announced the Demon by now if that was going to happen, that is what I would like to see. But I'm guessing Balor loses pretty quickly by Mandible Claw to get him off TV for that break he's allegedly supposed to be taking.
Elle Collins – Bray's getting his new gimmick over, and Finn's taking a leave of absence after this show. In other words, that terrifying clown monster is going to straight-up murder Finn Bálor, demon or no demon. There may not even be anything left when he's done, just a smudge in the ring when the lights come back up.
Owens' Career On The Line: Kevin Owens vs. Shane McMahon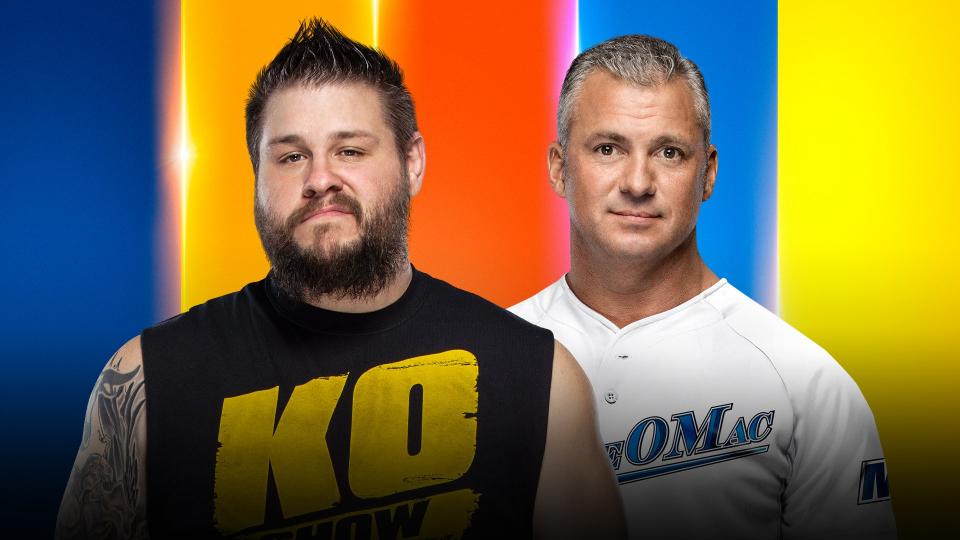 What Should Happen: Kevin Owens uses a (mysterious?) forklift to trap Elias and Drew McIntyre (and whomever else) in the locker room so he can endlessly and effectively beat Shane McMahon within an inch of his life. Shane finally gets the message, we don't see or hear from him for another seven years, and the segments ends with Owens pissing into the Best in the World cup. Or breaking it, either or.
What Will Happen: I swear to God if Shane McMahon wins this match and we get six more weeks of winter plus a "Kevin Owens is forced to quit but returns in a week or two because reasons" thing, I'll … angrily type about it on the Internet. But it'll be very angry. (Please don't do this, WWE.) (Please.) (Give me this one thing.)
Staff Picks
Raj Prashad – I'm going against the grain and going to pick McMahon. The way they've built Owens in the past couple of weeks, it would seem perfectly in line for him to get "fired" and just cause mayhem for a month before earning his way back onto the show.
Emily Pratt – Owens stunners Shane out of his expensive sneakers and, fingers crossed, we are free of Shane wrestling for a good long time. Possibly forever!
Elle Collins – Can you imagine if Shane won this match? And then Kevin was just gone? Even if it was just temporary for a storyline, it would be such a ridiculously terrible choice, with the babyface rise KO has just had. Of course Kevin Owens is going to win. And even though they didn't make it a stipulation, hopefully it leads to Shane McMahon going away for a while. It's time. It's way past time.
Charlotte Flair vs. Trish Stratus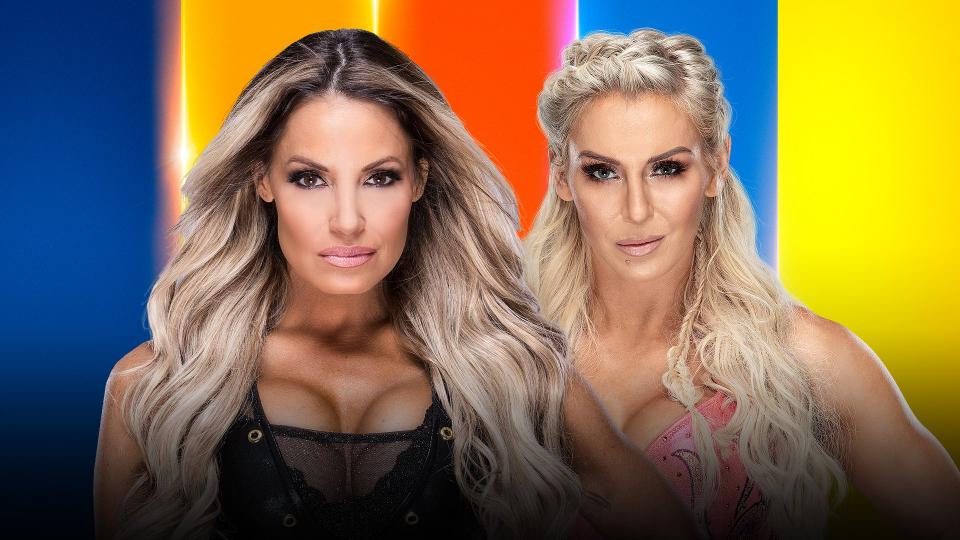 What Should Happen: Looking at it objectively, current Charlotte Flair against current Trish Stratus should go a lot like Goldberg vs. Dolph Ziggler. Trish honestly shouldn't stand a chance against her. That's not how pro wrestling usually works, though, but Charlotte should still get a strong victory. She's the one who has to show up to work next week, after all.
What Will Happen: With the show happening in Toronto and Natalya almost certainly not winning the Raw Women's Championship, my heart says "Charlotte Flair makes Trish Stratus tap out in the Figure Eight after a hard fought match that proves Trish can still go, leading to a sign of mutual respect," but my head says, "Trish wins the match with a surprise roll-up and gets beaten up after the match to give Charlotte her heat back."
Staff Picks
Raj Prashad – Trish in Canada? Going with Trish.
Emily Pratt – I'm not sure how great 2019 singles wrestler Trish Stratus will be, but I'm looking forward to this match. With more relevant wrestlers competing for the other women's titles, it's cool to see one of the women's division's top stars in a match with a legend over who is more legendary. As much as one could be cynical about the return of another Attitude Era star for this show, the upside of this is WWE doing right by the women's division after a period of giving them very little TV time. Flair wins.
Elle Collins – I think it's cool that Trish came back for this. It's not that it does much for Charlotte to beat her, it's just a dream match for fans of WWE women's wrestling. That said, Charlotte will beat her, especially with the other match on this card featuring a retiree obviously going the other way.
Submission Match for the Raw Women's Championship: Becky Lynch (c) vs. Natalya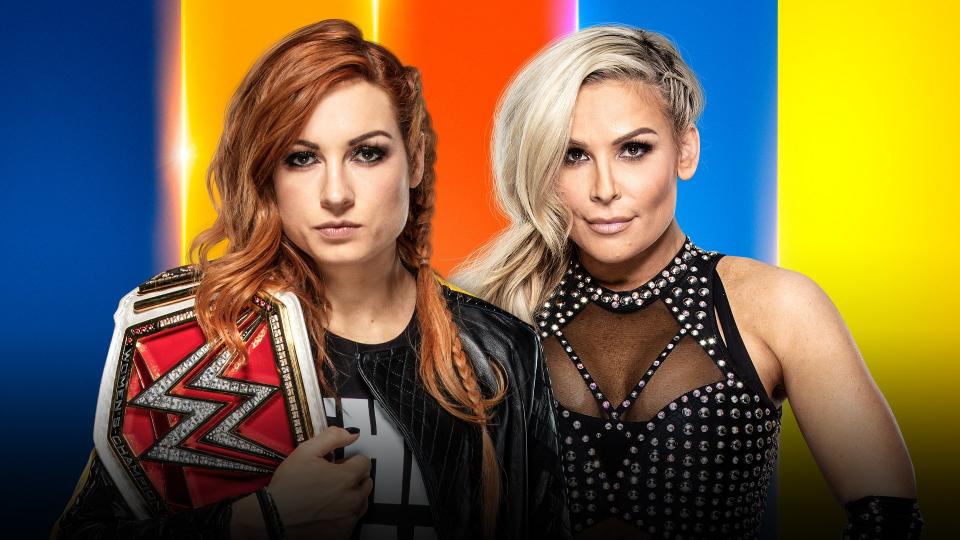 What Should Happen: Bex should wreck Natalya, tap her out to the Disarmer, and then hold it on out of spite long enough for Ronda Rousey to show up to save her "friend" and start that whole thing anew. It'd certainly be fun to FINALLY build to the Four Horsewomen of MMA vs. Four Horsewomen of NXT feud, especially if the "will she or won't she" of Sasha Banks returning to help out is in play.
What Will Happen: Becky definitely wins, because Jesus, why wouldn't she?
Not sure if any of that fantasy booked stuff I typed above is relevant or has any chance of happening, but if we're gonna see Ronda Rousey again at any point between now and WrestleMania, this is probably where she shows up to let us know it's happening. I don't think "it's in Canada" is enough of a reason to put Nattie into a marquee championship match in the year of our Lord 2019.
Staff Picks
Raj Prashad – I like that they've built up Natalya a little bit here, with kind of a mean streak leading into her title match. Still not picking against Becky Lynch though.
Emily Pratt – This whole feud has been dumb, this becoming a submission match when nobody thought it wouldn't end by submission is dumb, and the match should be alright. I don't know why WWE would put one of their top babyfaces in a match that guarantees the heel will do a move that will get a positive local-interest reception. Becky's on the video game cover, so she'll retain and keep retaining for a good long time.
Elle Collins – Natalya's a workhorse who everyone respects, but even in Toronto it would be a stretch to call her a star. They gave her this match for geographical reasons, but giving her the belt would be a step too far. She's tapping to that DisArmHer.
Smackdown Women's Championship Match: Bayley (c) vs. Ember Moon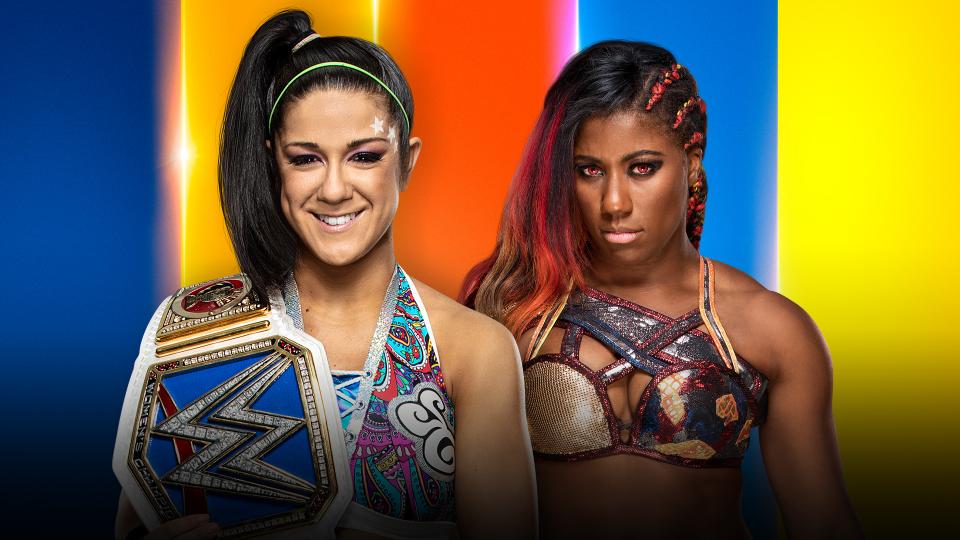 What Should Happen: This should get stuck as the opening match on the pre-show, because they've seriously done both Bayley and Ember Moon a disservice with this heatless, lackluster build. They're both really great at what they do, and both deserve better. This match could rule if it had anything behind it, or had given us any hope that it'd build to something or lead somewhere.
What Will Happen: Bayley wins, I guess? I hope they've got something creative or fun up their sleeves, or at least give them enough time to have the kind of match they can have before we move on to the next thing.
Staff Picks
Raj Prashad – This rivalry has been super weird. Bayley attacks Moon one week, saves her the next week. I have no idea what's going on here, but going to pick Moon since she's been beaten up pretty much every week since they made this match.
Emily Pratt – If this match gets any reasonable length of time, which it probably will, it should deliver. It's great to see both Bayley and Ember Moon getting this platform and they'll probably have one of the best matches on the show. I'd say Bayley retains.
Elle Collins – While I agree that the build to this match has not been stellar, I like both of these women enough to be excited to watch it anyway. I just hope they let it be a proper match. No squash, no shenanigans, just give these two very talented wrestlers a few minutes and let them wrestle. Whether they manage to do that or not, obviously Bayley wins.
Goldberg vs. Dolph Ziggler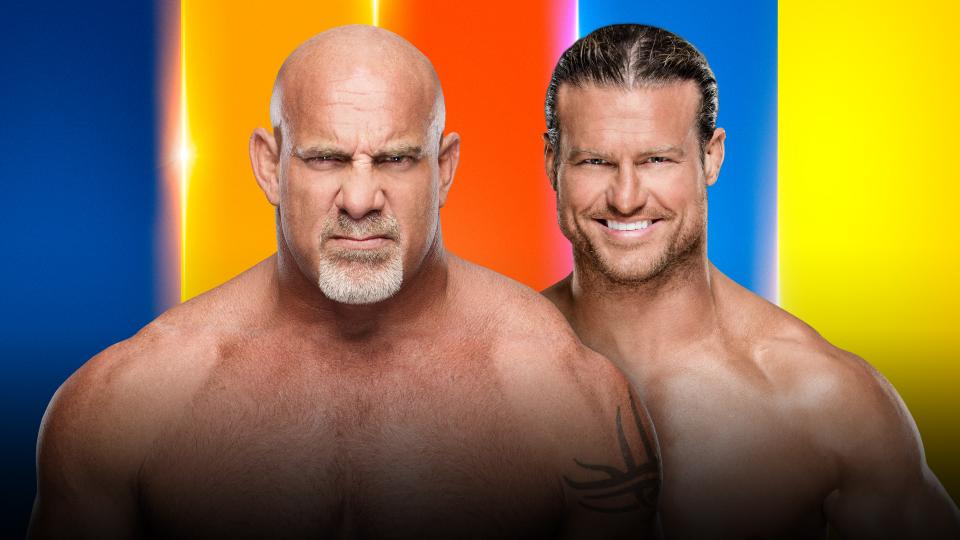 What Should Happen: Dolph Ziggler gets to sit up front because he's a good guy at sports-entertainment and made Goldberg feel better about Super Showdown.
What Will Happen:
Staff Picks
Raj Prashad – Another legend, another Dolph Ziggler beatdown. That's at least what I'm expecting from this one, with Goldberg blitzing through Ziggler in a quick match.
Emily Pratt – Goldberg wins. If this match goes over two minutes, we riot.
Elle Collins – Supposedly Goldberg is here to get the awful taste of his Super ShowDown match with Taker out of everybody's mouth. I don't even watch the Saudi Arabian shows, and that match stunk so bad I felt I like I could taste it. So the smart thing to do here is let Goldberg do his moves and get out — aka the one kind of match he's ever been good at — and let Dolph do the thing he's best at, which is bumping and selling like a madman. So Goldberg wins this quickly, and we can be on our way.
WWE Championship Match: Kofi Kingston (c) vs. Randy Orton
What Should Happen: Given the build and the importance placed on Randy Orton being the guy to prevent Kofi Kingston from rising to WWE Championship level before now, Kofi Kingston has to win. This is the most important match Kofi's had since the Daniel Bryan match at WrestleMania, and the first feud he's had as champ that really rose to the importance of his run. This should be a dark horse contender for match of the night, Kofi should use his Royal Rumble evasion tactics to escape a creative RKO by the skin of his teeth, and Orton should take the clean loss.
What Will Happen: That, I hope. Can you imagine how depressing it'd be if this ended with Randy Orton releasing the doves on the ropes with the WWE Championship around his waist? Again?
Staff Picks
Raj Prashad – I'm probably in the minority, but I've really enjoyed the build to Orton-Kingston. The "stupid" storyline feels like it should get more play, but it's been a bit buried with everything else going on. I've got Kingston to retain.
Emily Pratt – On paper, WWE revisiting this feud is a rare, smart acknowledgment of history. However, while I absolutely want Kingston to kick Orton's ass, I don't necessarily want to watch Orton wrestle for that long. But Orton in action is never as bad as he is in my mind, so I think this match could be pretty good. Kingston retains.
Elle Collins – Hopefully Randy Orton fully shows up for this match instead of just phoning it in, so that it can be the title defense that Kofi deserves. I'd understand if somebody backstage thought they should put the Championship on someone who's held it before in the run-up to the Fox move, but at the end of the day anybody can see that the New Day is the most entertaining act Smackdown has, and Orton's not even in the top five. Kofi should keep that belt, and I think he will.
Universal Championship Match: Brock Lesnar (c) vs. Seth Rollins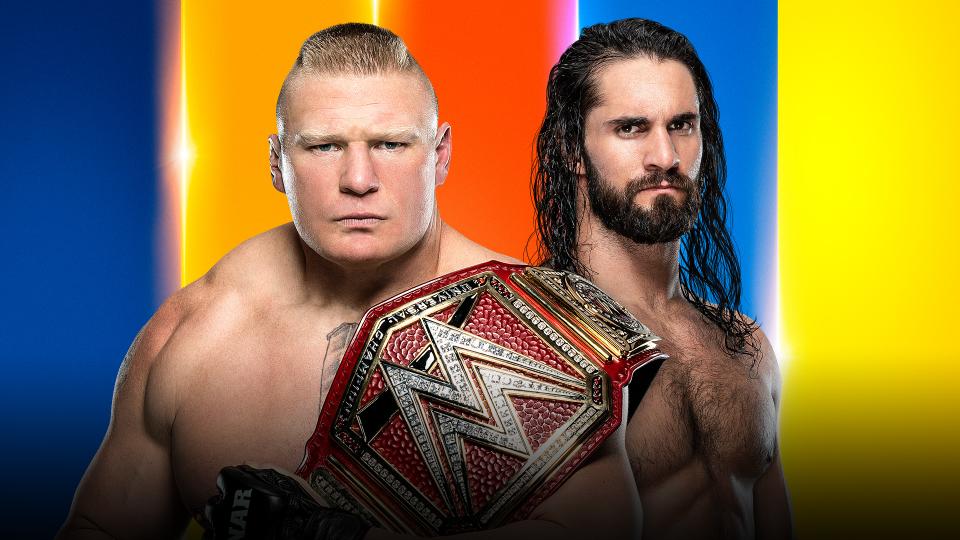 What Should Happen: It feels like the shittiest thing you could feel as a fan, but I honestly kinda hope Lesnar just obliterates Rollins and pins him here. The heroic Rollins/Lesnar interaction has mostly revolved around Seth being willing to punch a dude in the balls a bunch, and the "walking to the ring carrying a steel chair while injured" thing made him look more foolish than brave. The post-match promo being interrupted by indifferent "what" chants didn't help much.
What Will Happen: Rollins guaran-damn-teed that he'd show up to SummerSlam and beat Brock Lesnar, so that's probably what's going to happen. I just hope they've got something in mind for how the match is supposed to play out beyond nut-punches and suplexes, because Rollins being hospital-level injured and coughing up blood doesn't exactly put him on a level playing field with a cornfed monster.
Maybe Triple H will help him win, Rollins will rejoin The Authority, and they'll do a double-turn? I'm just typing out of my ass here.
Staff Picks
Raj Prashad – Rollins has gotten dominated for the last couple of months by Lesnar. No reason to believe he can slay the beast here. Going with Lesnar in another beatdown.
Emily Pratt – Something went wrong with Seth Rollins between him losing the Universal Championship and him getting the chance to regain it. We need to turn Seth Rollins off and turn him back on again. Brock Lesnar should retain and I guess the match should be good, but I'm annoyed in advance knowing I'll probably be rooting for Lesnar here.
Elle Collins – As part of his recent project of being less likable online, Seth Rollin said that he doesn't think intergender wrestling is realistic. What's funny about that is we're almost certainly about to watch Seth win another match against the much bigger, much stronger Brock Lesnar. I'm not even insulting the guy when I say that "realistically," Seth would be a better match for Charlotte Flair than he is for Brock. But he's going to win, because after the beatings he's taken that's the story to tell. That's how wrestling works, whether Seth understands that or not. Of course there's always a chance that Vince will decide at the last minute that Brock should retain, because somehow he doesn't seem to understand wrestling anymore either.
Something Involving Roman Reigns?
While we're not sure if Roman Reigns is actually having a match at SummerSlam or not, this week's Raw and Smackdown were both heavily devoted to the ongoing Final Destination-style attacks on him, and we're getting these predictions up on Wednesday. Maybe they'll add Roman Reigns vs. Rowan to the card at the last minute? Or Roman Reigns vs. Daniel Bryan? Maybe Roman and Samoa Joe against Rowan and Bryan?
No matter what, watch this space for any updates on an official match announcement. Until then, here's some …
Staff Conjecture
Raj Prashad – So I guess it depends what happens at SummerSlam, but I'd imagine we have some kind of unsanctioned brawl that ends with Reigns laid out yet again. Also, can I say how severely disappointed I am that it wasn't Buddy Murphy.
Emily Pratt – Roman Reigns beats Rowan in order to set up a match with Daniel Bryan? Or maybe there's no match and there's just a backstage segment that really kicks off the angle between Roman and these two.
Elle Collins – If there's a match on this card between Reigns and Rowan, then obviously Roman Reigns wins. If it ends up being between Roman and Daniel Bryan, then I think Bryan probably wins. If he's going back to singles competition, he needs to kick that off with a big win, and Roman can afford the loss. So that's my prediction for a match that hasn't actually been booked so far.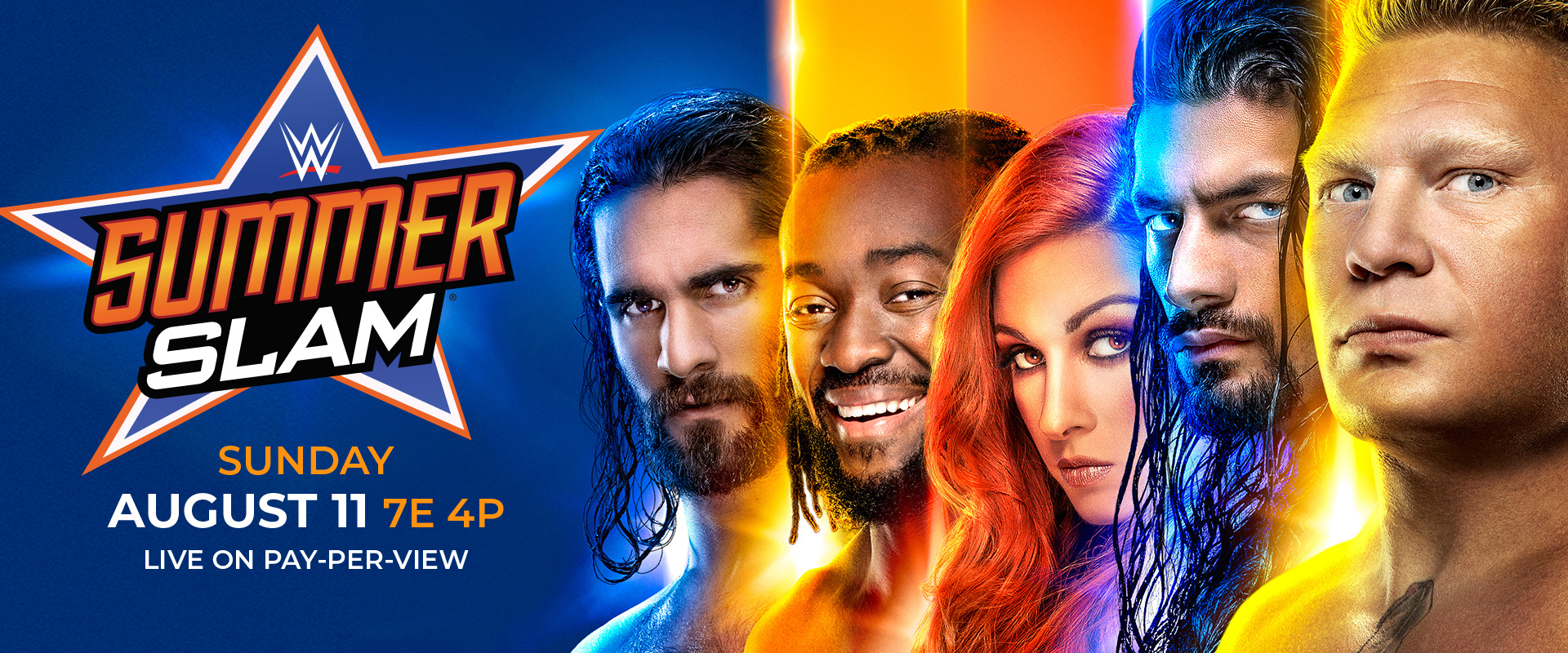 That's it for our exhaustive rundown of SummerSlam. What do you think will happen? Can a near-comatose Seth Rollins slay The Beast again? Will anyone unexpected show up? How many flips with Dolph Ziggler to do sell Goldberg's spear? Maybe Jon Moxley was driving the car all this time? Ignore that last one.
Drop a comment below to let us know what you think's going down, and make sure you're following along with the show's tag page and back here on Sunday to see if you're right.