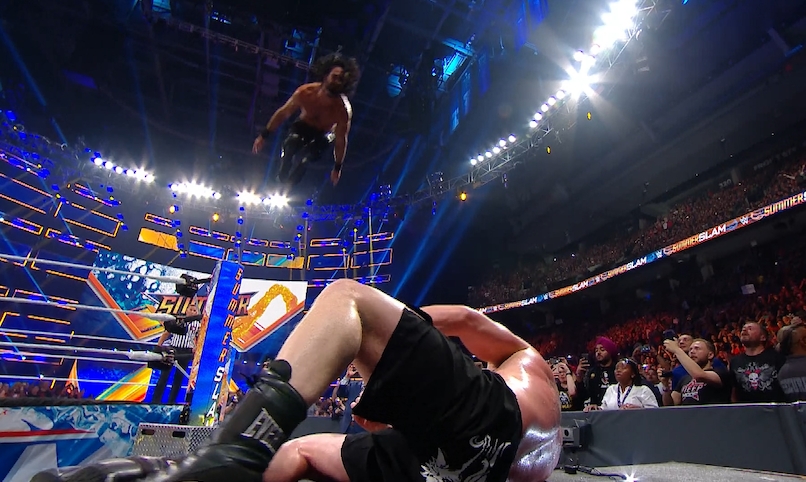 Unsurprisingly, the main event of SummerSlam 2019 was the Universal Championship match in which Seth Rollins challenged Brock Lesnar, who he previously won the belt from at WrestleMania, only to lose it back to him at Extreme Rules, when Brock cashed in his Money in the Bank Briefcase. The build-up to this match was all about Lesnar showing up whenever he wanted and beating the crap out of Seth Rollins, throwing him around and manhandling him like it was nothing.

So it was no surprise when Seth Rollins took off his shirt for this match and revealed taped up ribs. On the other hand it was a little shocking when Brock Lesnar literally picked him up by that rib tape and swung him around in a circle before throwing him down. Seth had gotten in a bit of offense before that, but afterward it began to look like this match would be another extended beatdown.
Then Seth managed to escape from an F-5 attempt on the floor and drive Brock's head into the ringpost twice. Getting back in the ring, Seth hit a flying knee but then suffered another German suplex. From there Brock seemed to get the upper hand again, although Seth continued to stay in it to Brock's frustration. Rollins got the upper hand again as the fight spilled outside the ring. With a kick he managed to knock Brock onto his back on the Spanish Announce Table, and then leapt from the ringpost to drive him through it.
Back in the ring, Seth hit a Stomp for a two-count. Brock almost managed to F5 him, but Seth countered into a kick to the jaw, then hit another Curb Stomp and finally got the pin. Still selling his ribs, and openly weeping from the emotional moment, Seth Rollins raised his newly regained Universal Championship to the sky.