WWE Super Show-Down in Australia — imagine the Greatest Royal Rumble without the propaganda videos — airs this Saturday, October 6, live on WWE Network. The show has a start-time of 6 PM, which equates to a not-at-all-inconvenient 5 AM start time on the east coast of the United States, so just watch the show whenever you want. Here's the complete card as we know it.
WWE Super Show-Down Card:
1. LAST TIME EVER: Triple H vs. Undertaker

2. John Cena and Bobby Lashley vs. Elias and Kevin Owens

3. Number One Contender Match: Daniel Bryan vs. The Miz

4. The Shield vs. Braun Strowman, Dolph Ziggler, and Drew McIntyre

5. The Legendary Bella Twins and Ronda Rousey vs. The Riott Squad

6. No Countout, No DQ Match for the WWE Championship: AJ Styles (c) vs. Samoa Joe

7. Cruiserweight Championship Match: Cedric Alexander (c) vs. Buddy Murphy

8. The IIconics vs. Naomi and Asuka

9. Smackdown Tag Team Championship Match: The New Day (c) vs. The Bar

10. Smackdown Women's Championship Match: Becky Lynch (c) vs. Charlotte Flair
As always, we've got your complete rundown of the card and analysis below, featuring predictions for all ten matches. Make sure to drop a comment and let us know who you think's winning, and be here on Saturday morning for our open discussion thread and live results.
Smackdown Women's Championship Match: Becky Lynch (c) vs. Charlotte Flair
What Should Happen: The custom Becky Lynch poster from Smackdown:
What Will Happen: While I'm usually pretty quick to assume WWE will do the thing that makes the least sense to me, building up Becky Lynch after all this time and pushing through an angle where she and Charlotte Flair get uncommon reactions for playing very clear heel/face roles only to take the championship off of Lynch at an Australian house show a few weeks before Evolution seems like the worst possible idea. Lynch vs. Flair is one of the hottest stories in the company featuring two of the best current performers in your women's division, and they should (if we're being honest) be the main event of Evolution. No amount of the Bella Twins calling Ronda Rousey a loser or whatever can change that. So I say this will either end with Becky actually doing something underhanded to retain her championship (and being cheered for it), or a non-finish to set up an Evolution match with a stipulation. I hope it's something in the way of 2-out-of-3 falls as opposed to "last woman standing" or something.
Staff Picks
Bill Hanstock – This might be the toughest match on the card to predict. Becky SHOULD retain, but WWE doesn't love anything more than letting Charlotte win titles. But since this isn't technically a PPV, I'm sticking with Becky. WAR BECKY.
Raj Prashad – Becky Lynch is the hottest act going in WWE right now, which is why I think she keeps the belt. This program reminds me a lot of Bret Hart-SCSA, with fans cheering the wrong person and ending up flipping the entire rivalry.
Emily Pratt – If the end of this week's Smackdown is anything to go by, I think this will ramp up the aggression from their last match. Since neither of these women has anything set for Evolution yet, I think Flair wins and Lynch gets her rematch at that show and it's awesome.
Robby Kalland – Becky, despite the best efforts of WWE to make her a heel, is the most beloved woman on the roster right now and I hope they let her championship reign continue. She's been an awful lot of fun as champ and I don't think Charlotte winning does nearly as much for her as retaining does for Becky.
Elle Collins – Becky Lynch is a force of nature right now, and while she might lose the belt to Charlotte at some point (although I hope she doesn't), it's definitely not happening in Australia. Becky retains and keeps getting cheered for being nasty.
Smackdown Tag Team Championship Match: The New Day (c) vs. The Bar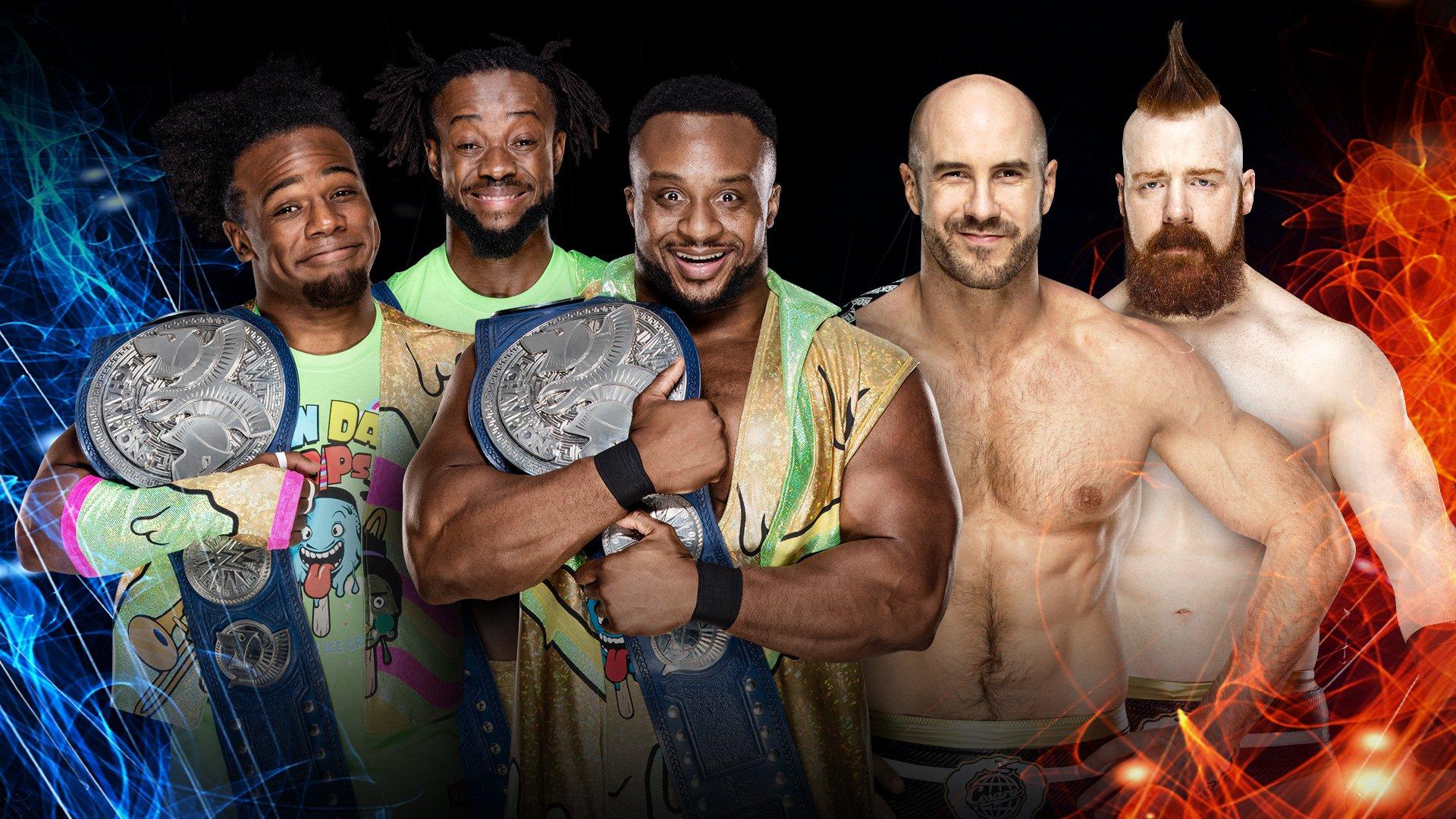 What Should Happen: The Bar should win the Smackdown Tag Team Championship. It's honestly kind of insane that they haven't really done anything important with Cesaro still, and that Sheamus was a WWE Champion not that long ago and is currently 1/2 of a tag team they more often than not forget to put on the shows. Plus, New Day has their "five time" accolade no matter how long they keep the championship, and seemingly only won it in the first place because Erick Rowan got hurt at the worst possible time. So why not give The Bar the straps, elevate a few more tag teams in your division, and let New Day go off and be goofy and sell merchandise? People are forever going to see them as "champs" whether they're currently the champion or not. They're very John Cena in that regard.
What Will Happen: As much as I'd like to see a few of these match results turn out differently, I don't see any titles changing hands at Super Show-Down. Greatest Royal Rumble might've killed my hopes of these shows being important to the canon at all, like actual pay-per-views, so we have to treat it like it's "Starrcade." It's a fun name put on a show we get to watch on the Network, but it's not Survivor Series, or the Royal Rumble, or WrestleMania. That's fine!
Staff Picks
Bill Hanstock – The New Day will retain. I'm just hoping we'll get a fun match out of it.
Raj Prashad – This is going to be an under-the-radar super fun match that should build as a rivalry in the coming months. Going with the Bar to get the win and keep the tag team division on its heels.
Emily Pratt – Mr. Bootyworth must be avenged… but he won't be, fingers crossed! The Bar wins this, I hope. As shown by their time on Raw, they make really good heel champs, bullies you want to see lose but also like to watch wrestle. But whatever the result, I think this will be a straight-up good match.
Robby Kalland – This has a real good chance of being the best match on the card. These two teams in the ring together are pretty much guaranteed to do an awesome match, and I think The Bar will take the titles here. Just give this 20 minutes to do its thing, please.
Elle Collins – This match feels weirdly low-stakes for a title bout. Both teams are fully established and have spent time as champs. So maybe the Bar takes it for a bit of back and forth, but I'm going to go ahead and pick the New Day on the basis of this not seeming like a show that will have many title changes.
The IIconics vs. Naomi and Asuka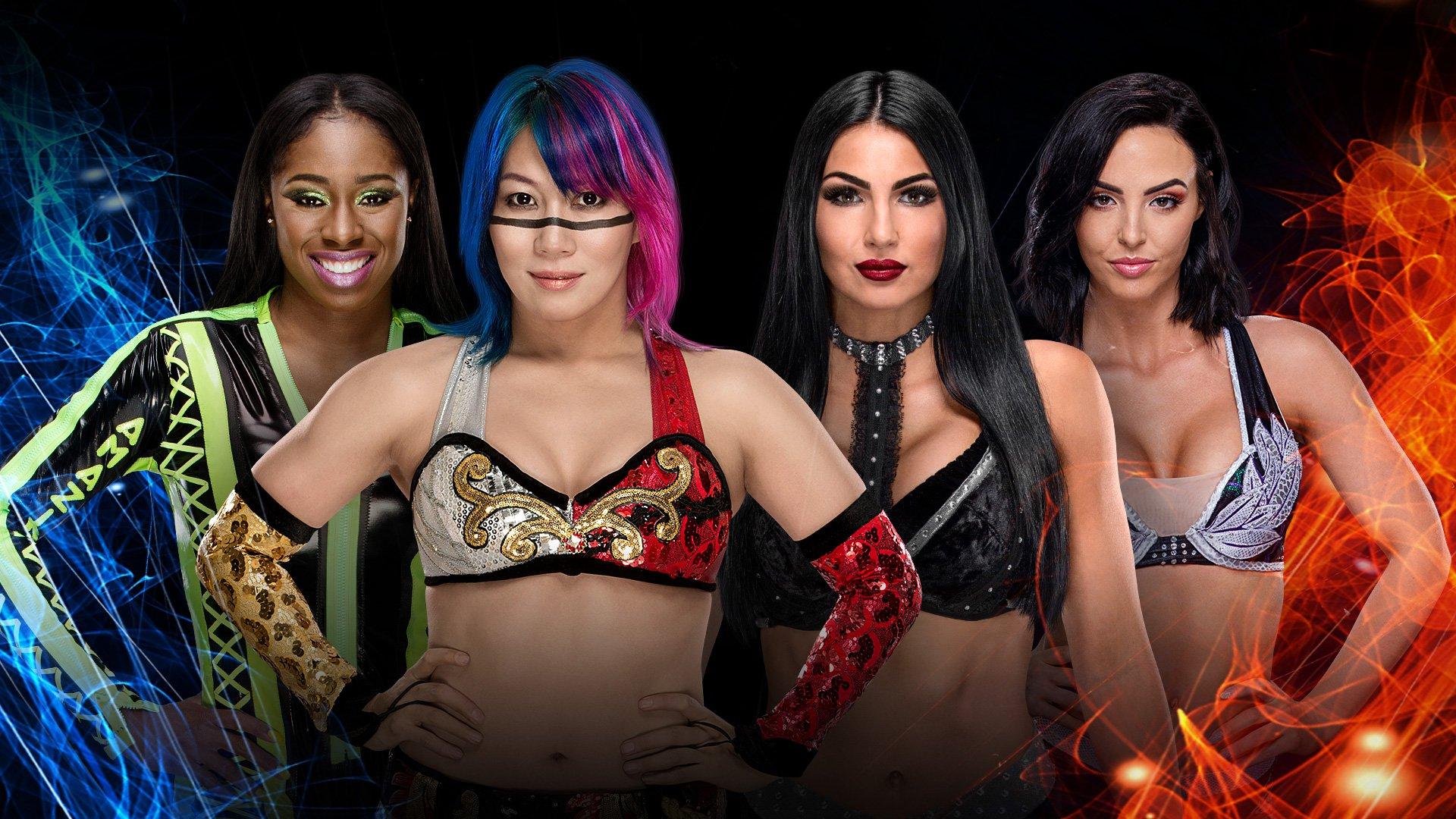 What Should Happen: The IIconics being treated like national treasures and winning a match in their home country to thunderous applause is the #1 thing I'm interested in seeing at Super Show-Down.
What Will Happen: If I'm assuming no titles are changing hands, and the only other Australian on the show is challenging for a championship, that means the IIconics have to win here, doesn't it? Unless they do a segment where Daivari shows up and cuts a promo about how much better Iran is than Australia. Failing that, you've got to give the Aussies one feel-good moment for their troubles, and I don't think Buddy Murphy's the way they're planning to do it. Australia, if you're reading this, be nice and ridiculously welcoming to Billie and Peyton, please and thank you.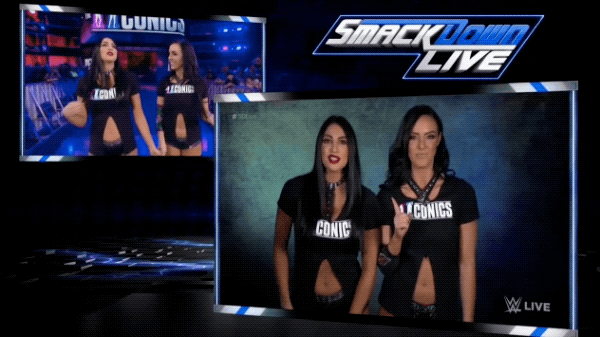 Staff Picks
Bill Hanstock – I'm just here for the ovation the IIconics will receive from the Australian crowd. Nothing else really matters. I don't see them defeating Naomi and Asuka, and I'm hoping they get a promo opportunity before the match to talk about how lame Australia has gotten since they've left.
Raj Prashad – The IIconics have gotten wrecked in recent weeks, and they're overdue for a win. Pinning Naomi seems the route to go here.
Emily Pratt – WWE loves to have people lose on their home turf. The think the Iiconics will win here though because it's the thing that makes sense to keep the feud going. I love Naomi and Asuka as a team and I like the idea of them maybe getting a big, satisfying win (maybe a first women's tag champs big, satisfying win?) at Evolution.
Robby Kalland – Brandon wants The IIconics to win at home more than anything, so naturally they will lose here. Asuka and Naomi are a super fun pairing and I think they're trying to build Asuka back up after discarding her from the main event scene to allow Lynch-Flair to happen without a lot of "uhhh, what about the murder kicking machine on the roster" chatter.
Elle Collins – Both of these teams are great, and it would be even better if they had a tag belt to fight for. I'm giving it to the IIconics, because they're amazing and it will create more drama to lead to further storylines if they win (maybe including the eventual introduction of those tag belts if we're lucky).
Cruiserweight Championship Match: Cedric Alexander (c) vs. Buddy Murphy
What Should Happen: I'd love to see Buddy Murphy finally take the strap here, but as I've mentioned a couple of times already, I don't see that happening. Cedric Alexander has been Cruiserweight Champion since the WrestleMania pre-show, and he accidentally might be Cruiserweight Champion forever. Or at least hold onto it until they see if Rey Mysterio's coming back to be a top guy or to help everyone else. I'm not mad at it.
What Will Happen: Does Super Show-Down have a pre-show?
Staff Picks
Bill Hanstock – There's a lot that I want out of this show that I'm probably not going to get, but the most realistic wish list item is probably Buddy Murphy winning the cruiserweight title in his home country. It would be an amazing moment for the Australian crowd, which really deserves at least one unforgettable moment from the evening. Plus, the Juggernaut is one of the very best performers in the entire company right now, so just give him the title already. Sheesh.
Raj Prashad – Murphy seems like the perfect champ to continue building the 205 Live brand, and if they were wrestling anywhere other than Australia I'd probably pick him. Just don't see him taking the title home here.
Emily Pratt – I think they're taking the belt of Cedric any time now, and this could very well be the time. But most my prediction for this match is just that it should rule.
Robby Kalland – Cedric Alexander is damn near unstoppable right now and I don't think that changes here.
Elle Collins – It would be great to see Buddy Murphy win in Australia, and Cedric's had a good run at this point. Also if they want to give this weirdly big-but-inconsequential show a token title change, this is the obvious place to do it.
No Countout, No DQ Match for the WWE Championship: AJ Styles (c) vs. Samoa Joe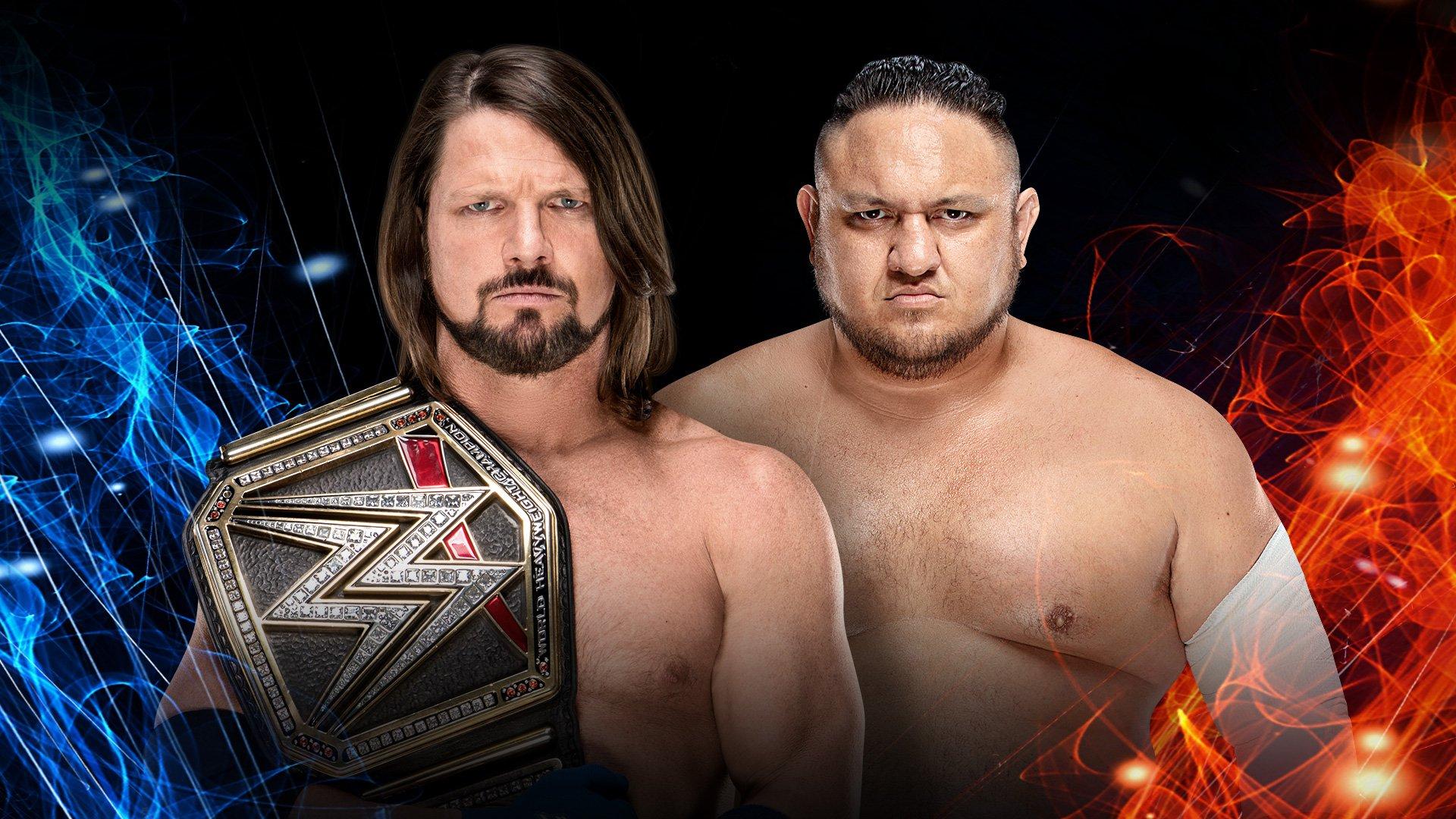 What Should Happen: Samoa Joe should finally, decisively win the WWE Championship here, validating the past few months of him psychosexually stalking AJ Styles' family to get him off his game. If Joe loses again, or there's another wonky finish where we aren't sure who won (or nobody wins), what, do we do ANOTHER month of him stalking Styles' family? It doesn't feel like an Australian house show is going to be the final "blowoff" to the angle, but damn, they should've pulled the trigger on WWE Champion Samoa Joe at SummerSlam. Or at least at Hell in a Cell.
What Will Happen: The curse of the AJ Styles championship reign continues. Much like the Nakamura match at Greatest Royal Rumble (and basically every other Nakamura or Joe match so far), this one will have an underwhelming finish that doesn't really make anyone look good, but keeps the championship on Styles without Joe really "losing." Styles made reference to "burying Joe alive" on Smackdown, so with the no count-out and no disqualification stipulation, I'm going to predict a John Cena to Wade Barrett-style stunt where somehow part of the set falls on Joe or something, and they stop the match without anyone actually being pinned. Something like that. Or Styles falls down a flight of steps, I don't know how they book these anymore.
Staff Picks
Bill Hanstock – Boy, I would love to see Samoa Joe win this one. But it was probably more likely for him to win the title at Hell in a Cell and drop the title back to Styles at this show, so I'm going with Styles to retain. Still, it's going to be very fun to see these guys brutalize each other in a game of one-cucksmanship.
Raj Prashad – Joe Joe Joe. There's been no better time to take the belt off AJ Styles and give one of the baddest dudes on WWE programming a chance to run with the belt. Going with Joe to finally get the win and the WWE title.
Emily Pratt – They should have just changed this to a Buried Alive Walkabout match where it's pre-taped segment in which Joe and Styles have a Buried Alive match in the outback! And then the show closes with one of them staggering back into the arena covered in dirt! This is a huge missed opportunity, WWE!
Robby Kalland – I've been picking Joe to win for months now and they keep giving us these non-finish finishes and my only hope here is we get resolution here. I want it to be Joe, because I think he'll do great things with the belt and, to an extent, champion AJ's stalled out. However I expect Styles to win and all I care about really is that this gets a real finish.
Elle Collins – As much as I'd like to see Joe with the belt eventually, they can't let the creepy guy who threatens the hero's family win. AJ retains.
The Legendary Bella Twins and Ronda Rousey vs. The Riott Squad
What Should Happen: The Bella Twins should stay out on the apron, Liv Morgan and Sarah Logan should also stay on the apron, and Ronda Rousey should have another good singles match with Ruby Riott.
What Will Happen: The rumors all say that Ronda Rousey's opponent for Evolution is supposed to be Nikki Bella, so if the Bellas randomly decide to go rogue on Rousey and give her her first loss, there aren't many safer places to do it. I'm okay with that, especially if it ends up containing Brie Bella to one show instead of two. Really, as long as we get through this without Sin Cara Bella accidentally giving someone two broken arms and brain damage, we'll consider it a win.
Staff Picks
Bill Hanstock – The Bellas AND Rousey together in one match? Yeah, they're not losing to the Riott Squad, no matter how great Ruby is. I think this match could end up being a lot of fun, though.
Raj Prashad – Going with the upset here and picking the Riott Squad. There's no way Ronda takes the L here, but could see her turning into a monster heel and laying out both Bella Twins en route to an Evolution showdown.
Emily Pratt – Does Nikki turn on Ronda here or on the following Raw? I don't know! I don't know what's going on with this. For me with both Rousey and the Bellas right now their matches are kind of like, let's see what happens??? and this is no different.
Robby Kalland – The Riott Squad wins because Nikki Bella turns on Ronda to set up a title shot at Evolution.
Elle Collins – All I want is for the Riott Squad to win. Not just because I love the Riott Squad (although I do), but because if they ever want Ronda to seem like a real pro wrestling babyface whose matches have stakes, she needs to a take loss of some kind, at some point. Anyway, Ronda and the Bellas are going to win. I'm sure Nikki will turn on Ronda to set up their Evolution match, but that will happen after their victory.
The Shield vs. Braun Strowman, Dolph Ziggler, and Drew McIntyre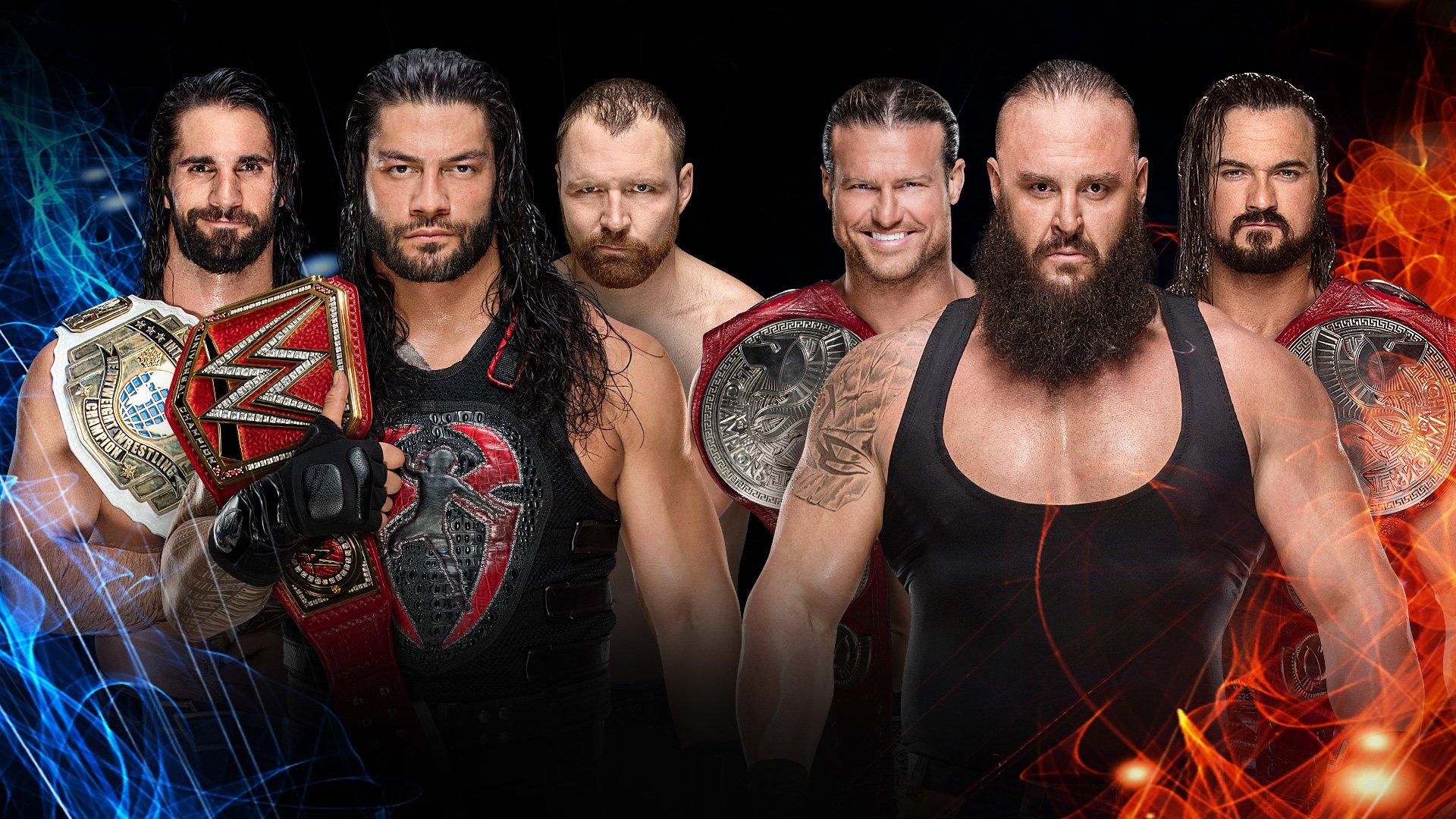 What Should Happen: The Shield should never, ever lose a six-man tag. There's been a lot of Dean Ambrose heel turn teasing, but this isn't the time or place to do it. I just really hope this gets time to be as good of a match as it can be, because it could be really good.
What Will Happen: Again, I think it's pretty ridiculous to book anybody over The Shield, even if it's modern Singles Stars The Shield and not Shield Classic. I could see Ambrose taking a pin here to further the idea that he's the "weak link" of the team — Strowman could pin him, and it wouldn't be that big of a deal — but I could also see Drew McIntyre getting a surprise pin on Seth or even Roman to set up a future title match for Crown Jewel or Survivor Series. I'm interested to see what they choose, but my head tells me "triple powerbomb on Dolph Ziggler," so I'm sticking with it.
Staff Picks
Bill Hanstock – FISTIN THE NIGHT AWAY. I see two options here: The Shield pick up a big victory, triple-powerbomb Strowman through a table, and get the pinfall on Dolph, or the baddies win by the skin of their teeth, with McIntyre getting the pinfall. I think the Shield win is more likely, so I'm going with that.
Raj Prashad – If you were going to give Braun Strowman a win over Reigns, now is the time. Picking his crew to get the victory with Strowman pinning Reigns.
Emily Pratt – IDK, man, it feels like we've already seen this a bunch of times even though we haven't? It should be good though. I think the heels go over to further the Dean Ambrose storyline.
Robby Kalland – The Shield will win. I can't see too many ways this isn't a lot of fun, simply because Ziggler, McIntyre, Rollins, and Ambrose have been putting on amazing matches for like three months straight. Hopefully the Roman/Braun part will be to hoss it up around the rest of the action.
Elle Collins – The Shield are winning this one. The point of the Shield is supposed to be dominance (not so much justice, whatever the shirts say), and now's the time to be dominant.
Number One Contender Match: Daniel Bryan vs. The Miz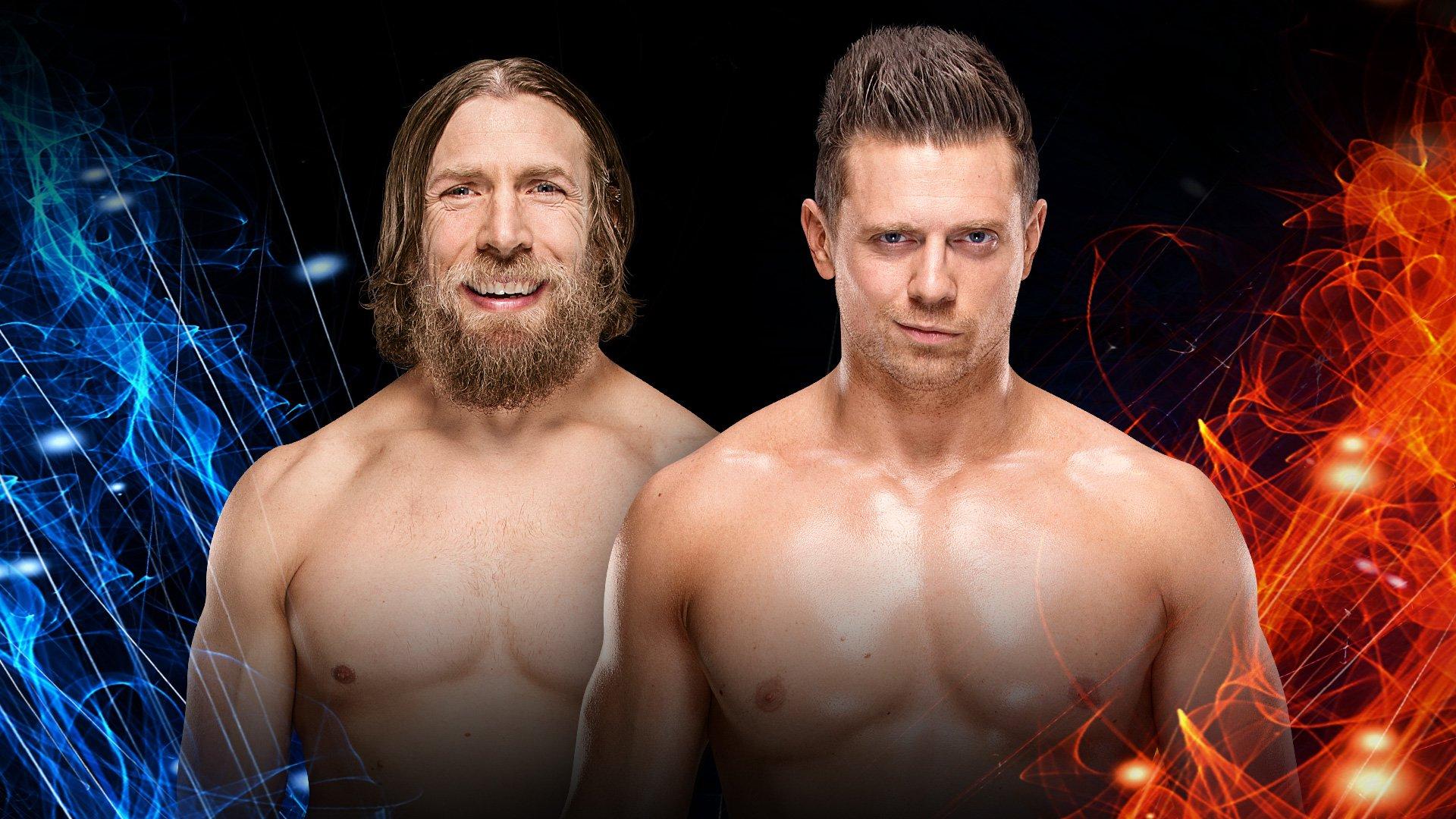 What Should Happen: There's nothing more in the world I want to see right now than The Miz trouncing AJ Styles and taking the WWE Championship, but Miz has also won the previous two encounters with Bryan; one at SummerSlam, and the mixed tag at Hell in a Cell. The smart money would be to have Bryan win, and have Miz get involved in his eventual title match with Styles. You'd think the big play would be Miz costing Bryan the match because he hates him, but I'd love to see Miz actually HELP him win, because he's endlessly confident about his ability to beat Bryan, and thinks it's an easy way to transfer the championship to himself.
What Will Happen: Nothing that involved, probably, but I do think Bryan will win. Bryan's kind of a loser by trade, but the two straight losses to Miz make me think it's time to give Bryan a leg up, and give Miz a new reason to become even more focused on ending the little goat's career.
Staff Picks
Bill Hanstock – Everyone's really hoping that the Miz gets the win and the title shot, and the title, and eventually gets to defend it against Bryan at WrestleMania, because that would rule. But here's the thing: if we get what we want, that's great. If we DON'T get what we want, we still get a WWE Championship match between AJ Styles and Daniel Bryan. So basically, we win no matter what. That's a real rarity in WWE these days, and I'm excited about it. That said, I think we'll get what we REALLY want, and that the Miz will pick up a dastardly victory, sending Bryan to the back of the line.
Raj Prashad – This is probably the toughest match on the card to predict. Should WWE shotgun Bryan to the title, or give Miz a run leading up to a WrestleMania showdown? I'm going with Bryan here, only because I'd love to see him take the title off Joe while Miz proves himself by running the gauntlet and landing a spot in the main event of 'Mania.
Emily Pratt – Bryan vs. Miz is probably the best-booked feud (at least on the main roster) in WWE right now, and I think that continues with Miz winning this match. Miz continues his beating-Bryan-on-PPV streak and hopefully forever-underdog Daniel Bryan beats him for the WWE Championship at WrestleMania 35.
Robby Kalland – I'm taking the Miz here. Everything suggests Daniel Bryan wins here. He's now lost twice to The Miz under dubious circumstances (once by brass knuckles and once in a mixed tag when Brie took the pin), but I don't think they're ready to end this story here. The Miz is at his best when he's got a belt to lord over everyone else, and I think the best way for them to continue is to have Miz win here by nefarious means once again, go on to win the title, and then refuse to give Bryan a title shot because he's already beaten him three times, only for DB to win the Rumble and take it off of him at WrestleMania.
Elle Collins – Obviously it's the Miz to further (re)build Bryan's underdog saga. There will most likely be shenanigans involved.
John Cena and Bobby Lashley vs. Elias and Kevin Owens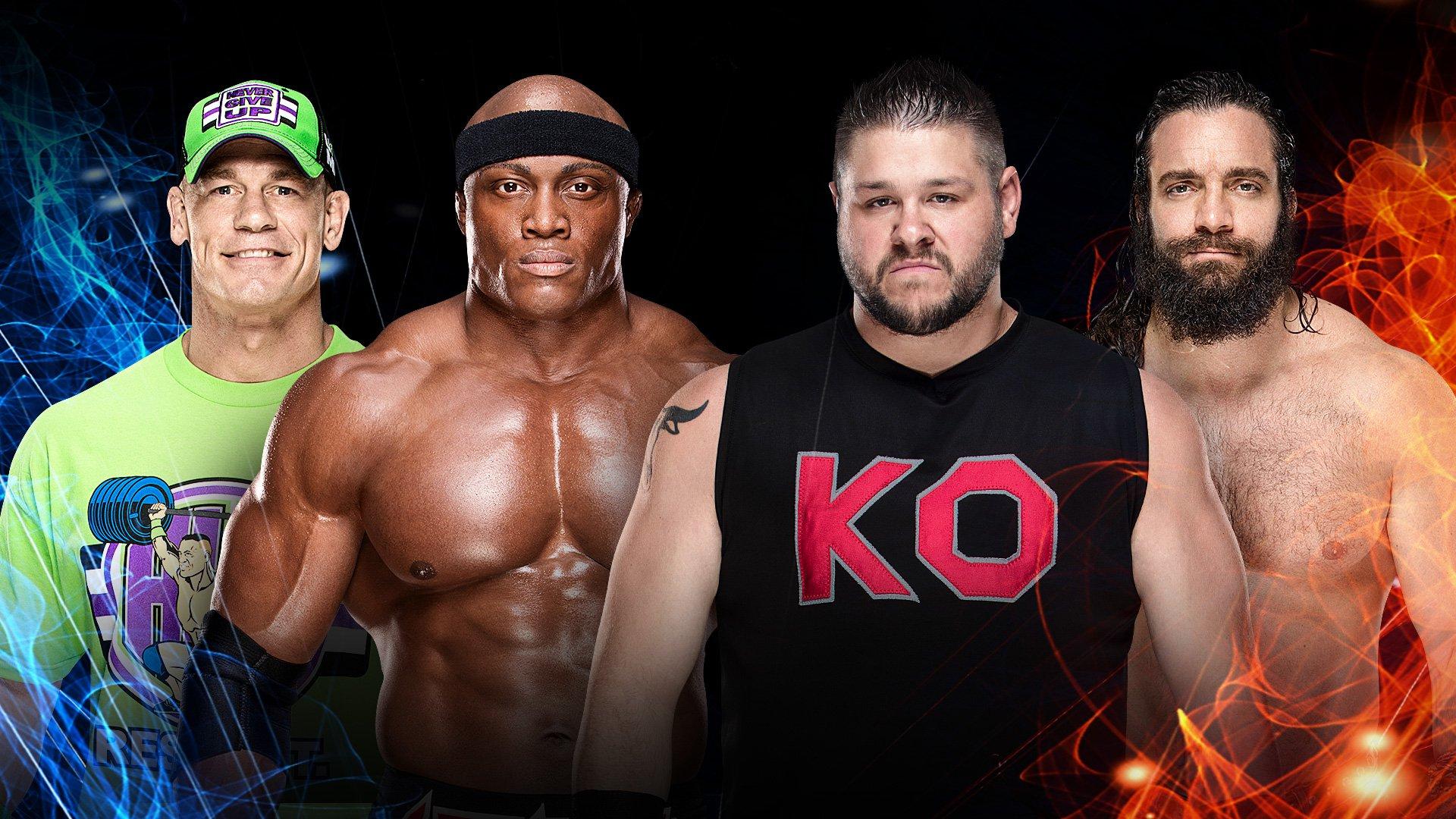 What Should Happen: Cena should show up with a new Hong Kong Hollywood persona with his weird ripped physique and some sunglasses, pretend he's completely above Bobby Lashley — which he is — and end up costing Lashley the match. It'd give Cena some personality without "turning him heel," because it's not like we're going to cheer Bobby Lashley for any reason, and could give Elias and Kevin Owens a much (much much much) needed win to follow up their hilarious segment in Seattle on Monday.
Yes, I know the likelihood of this happening is the same as monkeys flying out of my butt, so I'll say ignore everything I just typed and hope Cena wins the might with LIGHTNING FIST, the dumbest and funniest move in wrestling.
What Will Happen: Simultaneous Attitude Adjustment and Vertical Suplex for the easy pin.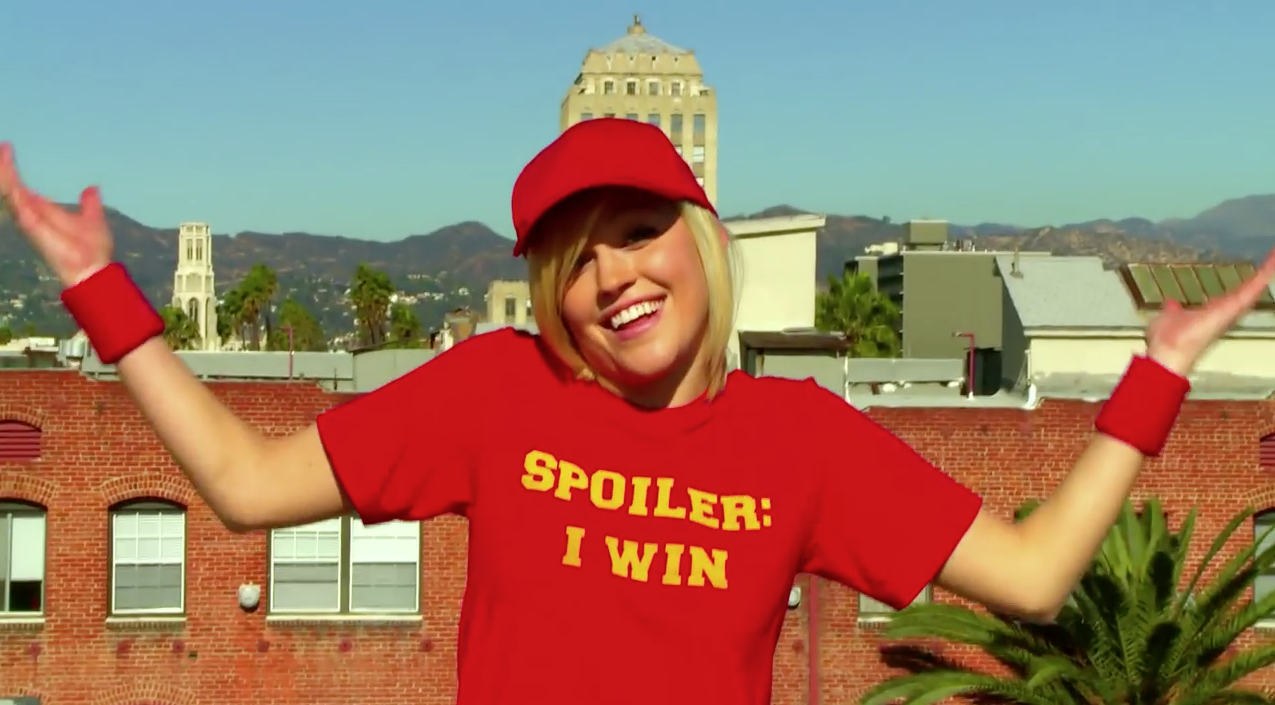 Staff Picks
Bill Hanstock – Cena and Lashley will make short work of Elias and Owens, but here's hoping Lio Rush gets to jump a lot and/or the Australian fans get to boo a lot when Elias tries to thwart them in a game of knifey-spoony.
Raj Prashad – If Elias doesn't walk out with a SuperSonics-branded Elias shirt, I won't know what to do with myself. As for the match, taking SuperCena and Lashley here to walk away with the win.
Emily Pratt – I desperately want to see Elias and Kevin Owens win this, and I think they both need the W. But that makes me think Cena and Lashley will probably win! Two questions: 1) will Lio Rush be there and will he interact with Cena? 2) if Cena and Lashley don't do the Predator handshake what is the point of any of this?
Robby Kalland – Cena and Lashley will win, but I just hope we continue to put Elias into bigger matches so folks can realize how good he is in the ring and that he can start getting actual PPV matches that don't involve him exclusively getting bludgeoned by musical instruments.
Elle Collins – John Cena hasn't been around in a while, and I don't think he's losing his first match back for the sake of putting over Elias and KO (although I kind of wish he would). Cena and Lashley take it.
LAST TIME EVER: Triple H vs. Undertaker
What Should Happen: You know, WWE should take a note from Japan and put these nostalgia matches in the early-to-middle of the card instead of at the very end, so you aren't confused into thinking the guys from 20+ years ago are still supposed to be more important than the active champions and stars. BRB, punching myself in the face for writing that
I really don't think the Undertaker has much left in the tank these days, so no matter what happens, I think it'd be smart to keep it short and sweet, like the Cena match at WrestleMania. People care more about seeing Triple H and Shawn Michaels and Kane and The Undertaker than they do watching any of them wrestle for 20 minutes, so get it, get your shit in, so some signature moves, have some miscommunication to set up your future things, and get out. If this goes more than 8 minutes, you're tripping. With Triple H involved, though, I'll be surprised if it comes in under 28.
What Will Happen: Undertaker loses when Shawn Michaels superkicks him, giving Triple H the win he's been desperate to get back forever, and setting up Undertaker vs. Shawn Michaels for ONE LAST RIDE at Survivor Series. And a tag team match for Crown Jewel. And probably something at the Royal Rumble!
Staff Picks
Bill Hanstock – I mean … the Undertaker wins, right? What's the point of the Undertaker's un-retirement tour if he's not going to beat everyone who isn't named Roman Reigns? [listens in earpiece] I've just been told there is no point. If this is around the same length of time as the Cena match at WrestleMania, it could be fun. SO fun, in fact, that we'll do it again at Crown Jewel!
Raj Prashad – With Kane and Shawn Michaels on the outside, the chances of this match going sideways and all hell breaking loose are through the roof. Going with Triple H here only because he and HBK got laid out on Monday. It only seems right that a Shawn Michaels super kick could give this rivalry legs over the next few months, if that's the real plan here.
Emily Pratt – Rest… in… peace…. to me, when I fall asleep watching this match. This will probably kind of a fun, novelty thing for the live audience, but 2018 HHH ain't no 2018 John Cena and 2018 Undertaker is still 2018 Undertaker, so I think it's probably slow and bad and Taker wins.
Robby Kalland – Triple H wins after some shenanigans involving Shawn Michaels and Kane. If they're going to run it back in tag-team form in Saudi Arabia, the only thing that makes sense for why Taker would want a rematch would be if he feels like he's aggrieved in a loss. Whatever the result, I have no doubts that these guys will play the hits and, really, that's all we want.
Elle Collins – We always expect Triple H to lose these days, but the Undertaker isn't a young guy who needs the rub, and they're building to further Seniors Division matches. With all that in mind, I think Trips wins, probably with help from HBK.
That's it for our predictions. Now it's up to you to:
drop down into the comments to let us know what you think will happen at the show
share the predictions on social media to get your friends and acquaintances in on the conversation
be here at 5AM on Saturday morning (whew) or whenever to participate in our open thread
check back on Saturday throughout the day for news breakouts, updates, and results
boo the woo